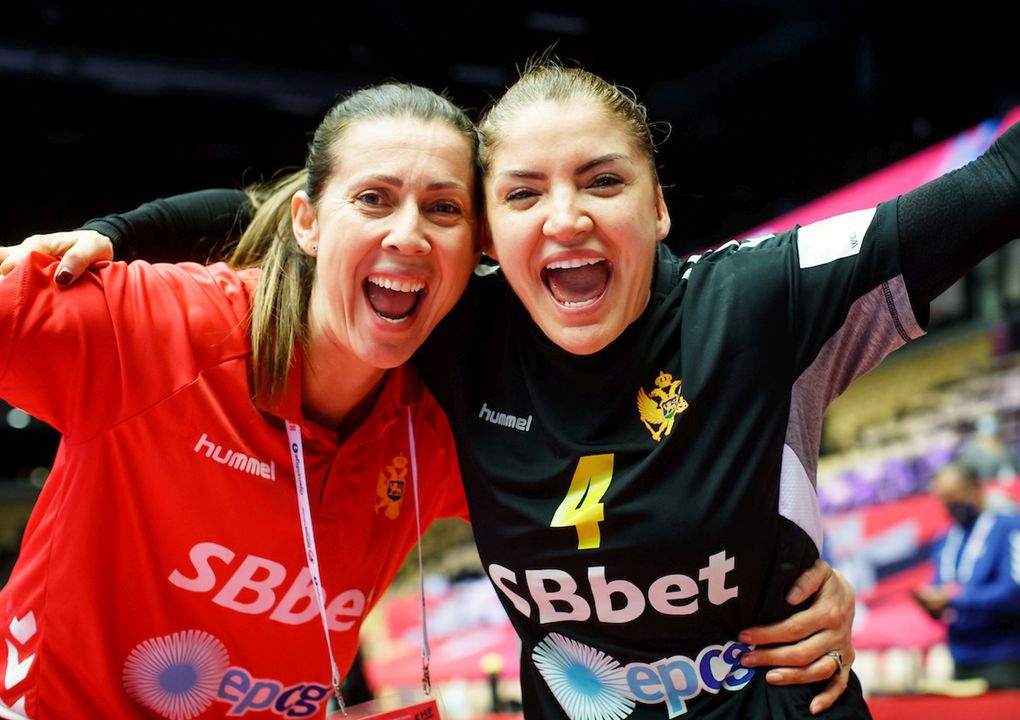 Women at the heart of the game: Bojana Popovic's determination
'Women at the Heart of the Game' is a weekly series in the build-up to the Women's EHF EURO 2022 that features former stars who have transitioned into a new role.
In this fourth episode: Bojana Popovic, a former top handball player with a silver medal from the Olympic Games 2012 and six EHF Champions League titles, who is now head coach of WHC Buducnost BEMAX and Montenegro's national team.
Along with Slovenia and North Macedonia, Montenegro will host the Women's EHF EURO for the first time. Europe's best will play with heart for the trophy, and handball fans will have a unique chance to support their favourites from the stands in a quest to reach new success.
One of the players who was part of Montenegro's biggest handball success is now leading the team. Bojana Popovic: a six-time EHF Champions League winner, three-time EHF Champions League top scorer, awarded the best sportsperson in Denmark and Montenegro, a bronze medal winner at the IHF Women's World Championship 2001 with FR Yugoslavia, silver medallist from the Olympic Games in 2012 with Montenegro and the only female head coach in EHF EURO 2022 and EHF Champions League.
Bojana Popovic has been crucial for Buducnost and Montenegro's success. A passionate player and now a coach, she lives and breaths handball, even though there were times she thought she would not do it. Today, a proud mother is thankful for her family's support, a crucial component for success. At the start of her career, one family member influenced her decision to pursue handball.
"It was a different time when I was a child. We used to do every sport during our school time. We didn't have to choose early which sport would be your number one. I used to do athletics, play football and basketball. Our teachers were showing us how much sport is important for us. I was only 10 when I decided to take on handball because my sister was playing it. So I decided to join her at the training," said Bojana Popovic.

Since choosing handball in Nis, her hometown, and playing for DIN Nis, Popovic has come a long way. She is one of four players in history who has won six EHF Champions League titles, and she did so with only three clubs: Buducnost, Slagelse FH and Viborg HK. Her specific style of play, leadership skills and willingness to strive for the top put her name among the best handball players in history. How does coach Bojana look at player Bojana?
"I would like to have one Bojana in my team, haha. It would be easier with some moves on the court and tactics. Since I became a coach, my role is to teach younger players. When you are a coach, you always seek to have one experienced player who will be a leader to others, the link which connects the whole team. Your role as a coach is to find a player for the future, a player who will be that leader, sometimes the player is born, and sometimes it is your job to direct them in the right way," said Popovic.
The experienced left back returned to Buducnost in 2010 after 10 years in Denmark for an ambitious project connecting the club and Montenegro's national team, with a strong wish of lifting trophies. Two years later, Popovic was part of the glory before ending her rich career. Today, we know her as a coach, but in 2012 she never thought she would be in that place.
"I never thought I would be a coach. When I finished my handball career in 2012 after the Olympic Games, I was tired of handball – after so many years at the top level and chasing my own goals. 10 years in Denmark went by quickly and I decided to come back to Buducnost to win another trophy with the club and the national team before saying goodbye, which we did."
"My decision was not to be so close to handball after my retirement, because those last two years I was living and breathing handball. I needed a break. After six months I realised I miss it and after a few phone calls, I joined as a sports director. With time, I started to help young players and I realised everything is going in the direction of being a coach. I knew if I want to continue and get all the required licenses, I have to go back to school and get my coaching degree," said Popovic.

Bojana Popovic knows that being a coach is an important role. To transfer your experience and knowledge to younger players, still unaware of all things they might encounter in their career. That is why Popovic emphasises that handball tactics are the easiest part of her daily job.
"It is easier when you're a player. Every coach that used to play at the top level knows that. For me as a coach, handball is the easiest part of being a coach. In training, those who want to work will work. As a coach, there is more psychology and understanding of their wishes – and in women's handball even more. There is a challenging week every month, hormones, all coming from different backgrounds, you have to have a different approach for every individual. That's why I think it is a little advantage if a coach is female."
"Younger players these days don't have clear goals. That is what slows them down in a way. They want to achieve many things too soon. I knew what I wanted in my career, I was aiming for the best and I was patient. So, it is our job as a coach to be their support to take care of them, both on and off of the court. That is especially important in Montenegro as we have a small handball base. We are a small country and if we want to continue with good results, we have to take care of all our players," explained Popovic.
2022 marks the 10-year anniversary of the golden generation winning over Norway 34:31 after double extra time in the EHF EURO 2012 final. Bojana Popovic was not part of the team as she retired only four months prior with a silver from the Olympics, but she has no regrets. Every medal for the national team should be celebrated.
"We were the team's greatest support. It wasn't easy, but I don't have any regrets. We all should be proud of the medal for Montenegro, whether we were part of it or not. I retired after Olympic Games and the team showed that the medal was the result of the great work we have been doing in those two years prior to it. They proved every past and  present player was an important part in building the team's success. We were all happy for them," said Popovic.

For women, it can be hard. After you finish your playing career, many of us want to become mothers. You lose a couple of years there, then if you want to start a coaching career you have to finish school to get the licence, which takes a couple of years too. Many of them give up, unfortunately.
Bojana Popovic is one of the few female head coaches that have been part of major international women's competitions. At the 2021 IHF Women's World Championship in Spain, she was one of four female coaches. But at the Women's EHF EURO 2022, she is the only one. It is the same when it comes to the EHF Champions League Women. There are many female coaches, working with children, and lower-tier competition. Top-level handball still misses them.
"I think their time is coming and the changes will come soon. There are many more female referees, delegates and more women in important roles in handball, and it should not be much different when it comes to coaching. I think it would be great for the development of women's handball to have more female coaches at the top level. There are many former top players who are great coaches and who can transfer knowledge to others," said Popovic about the subject.
"For women, it can be hard. After you finish your playing career, many of us want to become mothers. You lose a couple of years there, then if you want to start a coaching career you have to finish school to get the licence, which takes a couple of years too. Many of them give up, unfortunately," added Popovic.

Popovic did not give up. She was persistent, just like she was once on the court in attack, and with help from her family, Popovic reached another set of goals.
"I was doing everything in parallel. Giving birth, studying and training younger players. It was really hard. Family, school and handball court is everything you have in life. You are away a lot, someone has to take a lot of work on their back, in my case my husband who had help from the rest of our family If you want to chase that dream, you have to have your whole family involved. I was happy I had that and I accepted life like that," said Popovic.
With Slovenia and North Macedonia, Montenegro are co-hosts of the Women's EHF EURO 2022. Montenegro's top players will have a chance to chase another success in women's handball in front of their fans, known to be handball lovers.
"It is always great to play at home. Home court gives an advantage and I hope people from Podgorica and Montenegro will recognize that. I know that it is not very easy to buy tickets in today's economy, but I hope they will be our eighth player and give us additional wind in the wings against Spain, Poland and Germany. It means a lot," said Popovic.
In group D, Montenegro will face Spain, Germany and Poland. This is a challenging group for Popovic's team, but Montenegro can keep up with their opponents if the team is ready and complete.
"We have a tough group and I only hope we will have an injury-free team. Then we can dream of something. In the last two years, we had many changes in the squad and had problems with injuries. We have a small handball base and it is hard if you don't have every player available, those important links for success."
"In comparison, our whole country has almost the same number of people as Norway has handball players. When I have to fill the squad list for the EHF, I struggle to find all 35 names. That's why I hope people will recognize our passion and support us in Podgorica, and I hope later in Skopje or Ljubljana," concluded Popovic.