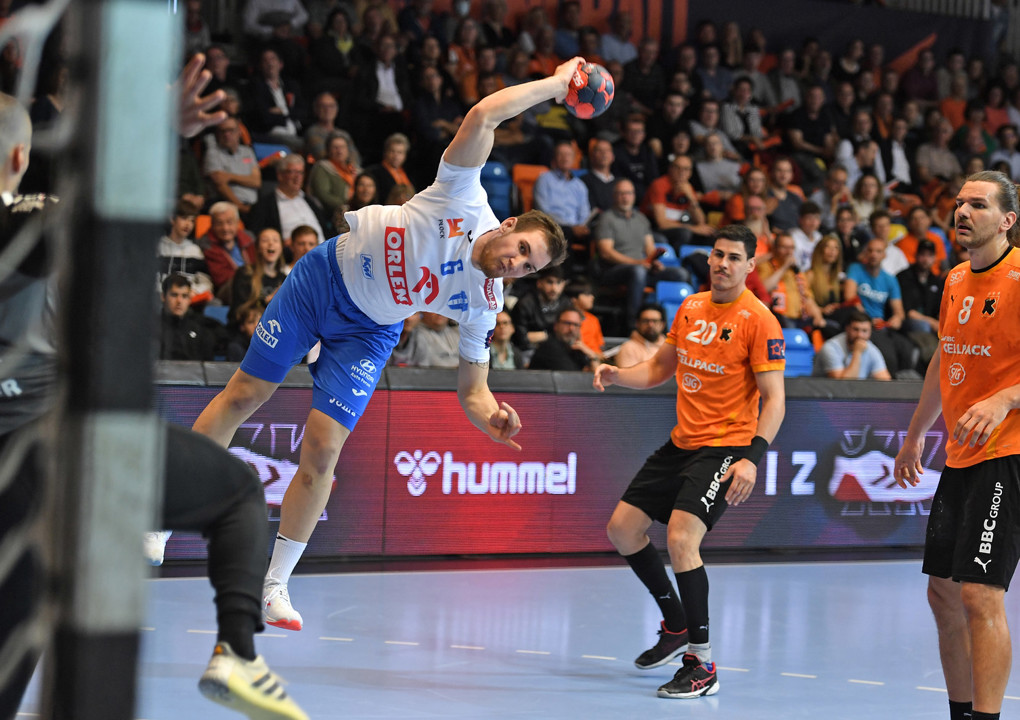 Quarter-finalists going all-in for EHF Finals Men ticket
It is make or break on Tuesday night for the eight remaining teams in the EHF European League Men 2021/22. The second leg of the quarter-finals will determine which four teams will qualify for the EHF Finals Men 2022 on 28/29 May.
Titleholders SC Magdeburg (28:25 against HBC Nantes) and Orlen Wisla Plock (33:31 against Kadetten Schaffhausen) are strong favourites to advance to their second straight EHF Finals after their first-leg away wins last week.
Also, SL Benfica carry a seven-goal buffer (36:29) to Slovenia when they visit RK Gorenje Velenje, while GOG are trying to make up their five-goal away defeat (32:27) at RK Nexe in the first leg.
QUARTER-FINALS, LEG 2
GOG (DEN) vs RK Nexe (CRO) – first leg 27:32
Tuesday 3 May, 18:45 CEST, live on EHFTV
both top scorers, Halil Jaganjac for Nexe and Jerry Tollbring for GOG, also were the leading scorers in the first leg with nine and seven goals, respectively
Nexe have not advanced beyond the quarter-finals of a European competition before; GOG reached the final of the Cup Winners' Cup in 1996
in the first leg, GOG scored less than 30 goals only for the sixth time in 17 EHF European League matches this season
Nexe's key is their strong defence; GOG, missing a few players, will rely on their fast attack again
Nexe top scorer Halil Jaganjac: "It will be a very difficult match, perhaps the most difficult this season. GOG play even more aggressively and faster at home than away. These five goals difference from the first game will not mean much to us if we do not have a quality approach from the first to the last minute"
GOG ware coming off a 29:24 win against Aarhus in the Danish league play-offs; Nexe defeated Varaždin 49:25 in the Croatian championship
The whole European League is a reward for our good performance last season. On Tuesday, we will try to show our best game. If we are going to correct the mistakes of the first leg, I think the game will be tight and then all we need is a little bit of luck. Hopefully we can create a miracle.
RK Gorenje Velenje (SLO) vs SL Benfica (POR) – first leg 29:36
Tuesday 3 May, 18:45 CEST, live on EHFTV
Benfica enjoy a seven-goal lead, but they have lost their last two away matches: against GOG in the group phase and against Fenix Toulouse Handball in the Last 16
Velenje have won four of their six home matches so far – including a seven-goal win over USAM Nimes Gard in the Last 16
Velenje had a 32:32 home draw with Ribnica on Saturday and rank third in the Slovenian league
Benfica are also third in the Portuguese league; they defeated Vitória FC 30:18
Benfica line player Rogério Moraes: "Velenje are a very complicated team to play against at home; the hall will probably be full with the fans pushing them to get the win. We must go to Slovenia focused and imagine that it is 0:0 to get the win."
Benfica's right back Tadej Kljun, who arrived from RK Celje Pivovarna Laško last summer, faces a team from his native Slovenia
SC Magdeburg (GER) vs HBC Nantes (FRA) – first leg 28:25
Tuesday 3 May, 20:45 CET, live on EHFTV
both team's leading scorers in the first leg, Valero Rivera and Omar Ingi Magnusson, are also their team's best shooters throughout the season so far
Magdeburg are the only still unbeaten team in the competition
Magdeburg have not lost a home game in a European competition since 2012; the last team to earn a draw on Magdeburg's court were Nantes, in 2013
Magdeburg line player Magnus Saugstrup: "After the exciting game in Nantes, we are now looking forward to a great second leg in front of our fans in the GETEC Arena."
leaders Magdeburg edged Füchse Berlin 28:27 on Sunday as they remain on course for the Bundesliga title
Nantes, runners-up in the French league, were surprised on home court by third-ranked PAUC on Saturday, losing 26:25
I have played in European competitions a lot of years, but I enjoy it more and more, and I can still learn new things. We all want to get to the EHF Finals and win it. I hope we will have a great match and the fans can enjoy it.
Orlen Wisla Plock (POL) vs Kadetten Schaffhausen (SUI) – first leg 33:31
Tuesday 3 May, 20:45 CEST, live on EHFTV
Plock seemed on course for a bigger win in the first leg in Switzerland last week, but Kadetten scored the last four goals of the match
the bigger variety, mainly in the back court, and the international experience surplus were key to Plock's win in the first leg
Plock have won four of their five previous duels against Kadetten
the hosts can make their second EHF Finals; for the visitors, it would be their first European semi-final since 2010
Plock are on a 10-match unbeaten run (nine wins, one draw) in the competition; Kadetten won just one of their six away matches since the start of the group phase
Plock, second in the Polish league, beat Kalisz 39:28; Kadetten advanced to the semi-finals of the Swiss league after beating Bern-Muri 3-1 in a best-of-five quarter-final tie