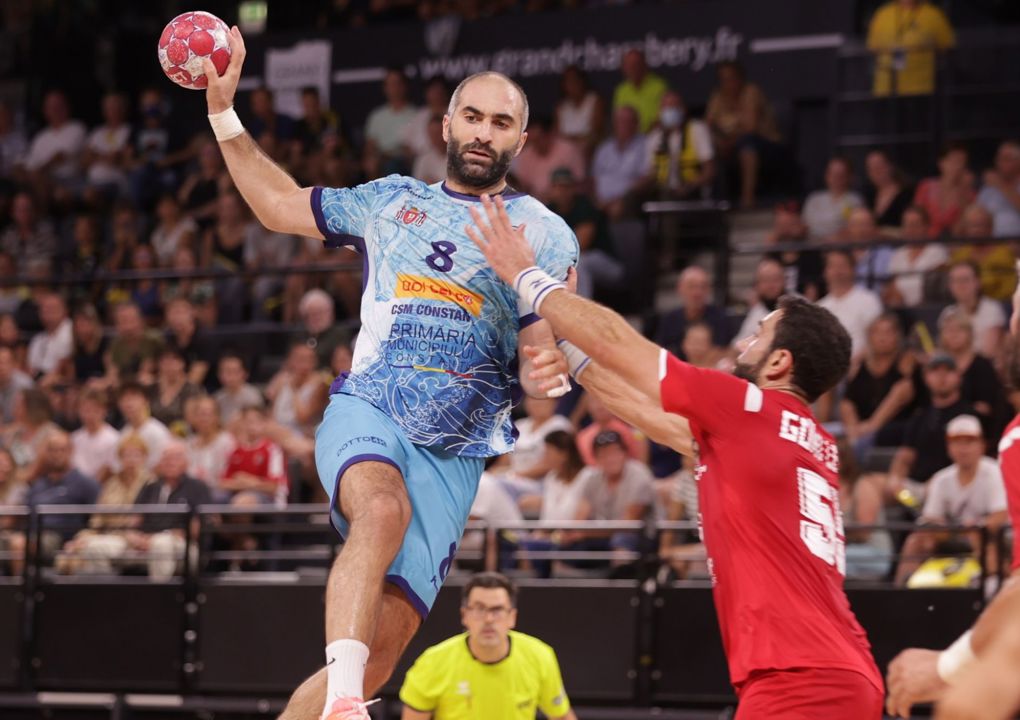 Georgian players clash in crunch second leg
Ahead of Saturday's clash between CSM Constanta and Chambery Savoie Mont Blanc HB in qualification round 1 of the EHF European League Men, we speak to Constanta left back Irakli Chikovani about Georgian handball and his time in Romania.
Georgian and Romanian are two totally different languages, with few common words. Therefore, settling down in a new country might have been difficult for Irakli Chikovani, especially as the Georgian left back came to Romania when he was only 22 years old, in 2011.
11 years later, Chikovani considers Romania to be his second home, after spending time at three different clubs – HC Odorheiu Secuiesc, AHC Dunarea Calarasi and Politehnica Timisoara – before signing for CSM Constanta in 2018.
"One cannot see Georgia on the other shore of the Black Sea, but I know it is there and it is a nice feeling to have," said Chikovani about the town he currently plays in, one of the Black Sea's most important ports.
Chikovani speaks perfect Romanian, having learnt the language during the past decade. First, there were only the common words and the ones that were crucial in handball, but everything just clicked from that moment on.
"Another Georgian player, Vladimir Rusia, called me in 2011 and asked me to come to Odorhei, because they needed a back. I said yes and it was one of the best decisions I took, because it really helped me develop as a player and as a person," added the 33-year-old left back.

Chikovani developed in the Romanian league and also had the chance to gain some important experience at international level, where he had several seasons in the Men's EHF Cup and also featured in the qualification rounds of the EHF European League Men in the past three seasons.
Constanta, who were champions in Romania and have also played in the Machineseeker EHF Champions League in the past, are a staple of Romanian handball. However, Constanta have failed to reach the group phase, and they are still trying to build a strong team with a mixture of young talent and experienced players.
After undergoing a rebrand, they are now named CSM Constanta instead of HC Dobrogea Sud, the name of the historical province where the town is situated.
"I am feeling very good here, in Constanta, because we have a strong team, some great players and we are trying to become even better," said Chikovani.
Whether that will translate to success on the court is still to be seen. Progressing to qualification round 2 requires a comeback in the second leg against Chambery Savoie Mont Blanc Handball, after the Romanian side lost the first leg, 27:23.
"The competition is tough, sure, and we are a little bit disappointed, because we could have done more in the first match. However, we can bounce back, I am sure of it and I hope that we will do that on our home court, in front of our superb fans," added the Georgian left back.

For Chikovani, the tie against Chambery has also created an interesting encounter with a teammate from the national side: left back Nikoloz Kalandadze.
The 20-year-old left back scored one goal in the first leg, but he is one of the most promising talents in Georgian handball. Georgia have made big steps in recent years towards moving from an emerging nation to an established side in Europe.
In fact, Georgia won the IHF/EHF Trophy 2021 with four wins on their home court, including a 32:18 win in the final against Cyprus, adding to their trophy cabinet, which already had the IHF Emerging Nations Championship trophy, where Chikovani was a member of the side which won the gold medal.
"Handball is growing in popularity in Georgia, but there are other sports which are more popular still. I want the team to get better and better and hopefully, with some young players, which are developing at a fast pace, things will be better.
"What I want for them is to grow up in a better environment that my generation did, with better infrastructure. Because winters tend to get cold in Georgia, the arenas need to be heated properly, while in summer the temperature needs to be colder in the arena. But, step by step, everything is going the right way, I think," added Constanta's left back.
Chikovani and Kalandadze are not the only Georgian players who will play in the EHF European League Men this season. Right back Giorgi Tskhovrebadze, who also has huge upside, will play for Montpellier HB, who signed him in 2018.
Tskhovrebadze, 21, has scored six goals for Montpellier in the second-tier European competition in the 2020/21 season and added 23 last season for Swiss outfit Pfadi Winterthur, where he was on loan.
Tskhovrebadze, whose potential is massive, was named the MVP of the 2019 IHF Emerging Nations Championship and the All-Star right back at the IHF/EHF Trophy 2021, where he scored 36 goals in four games.
"I hope that Georgia will get even better and improve to qualify for a final tournament once. That would be amazing," concluded Chikovani.
Photos used in this article belong to CSM Constanta.