EHF European League
Summary: Quarter-final boarding complete after thriller in Germany
23:13
The European League has let us down all season, tonight was an epic evening of action. Congrats to all the teams that have made it to the quarter-finals. And to the teams that are departing us here: we will see you another time. 

The first leg of the quarter-finals is on 26 April and the return leg is on 03 May. We will see you then!








22:50
A nice stat from Twitter's most famous handball fanatic...
22:33
QUARTER-FINAL PAIRINGS
Kadetten Schaffhausen vs Orlen Wisla Plock
RK Nexe vs GOG 
SL Benfica vs RK Gorenje Velenje 
HBC Nantes vs SC Magdeburg
22:31
RESULTS 
SC Magdeburg 36:35 Sporting (65:64)
USAM Nimes 35:30 RK Gorenje Velenje (57:59) 
22:27
Drama, drama, drama and then some! 

Wow, I have to catch my breath after that. Sporting were dealt the most unfortunate blow of double two-minute suspensions right at the end to give us 4 vs 6 for large parts of the last seconds of the game. An open goal converted by Mertens sealed the deal for SCM who won the tie by a single goal. Big shoutout to Sporting for giving us one of the games of the season. 
22:13
Move over the Karabatic brothers - the most exciting brothers in handball at the moment: Martim (eight goals / 19 years old) and Francisco Mota da Costa (eight goals / 17 years old). 

How about some in-flight goals to each other, in the Last 16 of the EHF European League... against SC Magdeburg: 


22:09
We have to go way back to the last home defeat for SCM in European Cup competitions: 22 April 2012 - 25:30 against Dunkerque. While the last draw on home ground: 9 March 2013 - 26:26 against Nantes.
22:06
So Sporting... love it.
22:05
Francisco Mota da Costa, 17 years old and playing like a seasoned vet. He is on five goals and looks like a real leader for Sporting out there in attack. The big stage doesn't frighten this man. 
22:00
Some of this one-vs-one game that SCM is employing is really hurting Sporting. If it's not two-mins or the red cards adding up it is a seven-meter throw. It looks like a nightmare to deal with but this game is still very neck-and-neck, 28:28.
21:57
Make that three red cards for Sporting! They aren't doing themselves any favours here. Edmilson Araujo is off for the rest of the game after he made a high tackle on SCM's Weber. 

Red cards for Sporting so far: Edmilson Araujo, Jonas Bruus Tidemand & Mamadou Gassama
21:52
Sporting will have to do without their Danish hard-hitter Jonas Bruus Tidemand who saw red after his third two-minute suspension.
21:51
Remi, Remi, Remi! His six saves so far are helping the French hosts Nimes to a bit of a rally. They are just two behind on agg. Join us here to see if they can get over the line... 


21:47
We are back level. Salvador for Sporting netted one of the slowest goals you will see all day. He bounced it in from 10/11 meters and it put Green on his butt; the Dane didn't look to happy with himself. SCM 23:23 Sporting
21:33
HALF-TIME:
SC Magdeburg 21:19 Sporting (50:48)
USAM Nimes 18:15 RK Gorenje Velenje (40:44) 
21:26
The young guns showing up again...
21:20
It is an evening of comebacks! Nimes have not mounted their own, Mathieu Salou nets his second of the evening to bring it 18:14 for the hosts. 
21:16
Things are really heating up here. SCM opened up a two-goal lead and Sporting were working the defence before Green pulls off a HUGE save - they go on the fast break and Smits pops up to net a goal to bring it to +3 for the hosts. 
21:01
What a start! There was nothing between them after 60 minutes in Portugal, and so far, they are neck-and-neck again: SCM 10:10 Sporting




















20:37
Our last two Last 16 games are on their way at 20:45 over on EHFTV.com 
SC Magdeburg vs Sporting (29:29)
USAM Nimes vs RK Gorenje Velenje (22:29) 
20:35
What a talent, it won't be the last time you hear this name...
20:30
QUARTER-FINALS: What we know so far...
Kadetten Schaffhausen vs Wisla Plock
RK Nexe vs GOG 
Benfica vs Nimes/Velenje 
HBC Nantes vs SC Magdeburg/Sporting 
20:20
RESULTS
Sävehof 34:28 (60:60) Kadetten (Kadetten through on away goals)
Benfica 36:30 (70:68) Toulouse (Benfica through)
Plock 28:28 (59:56) Lemgo (Plock through) 
Pelister 22:21 (47:51) Nexe (Nexe through)
GOG 31:33 (63:59) Irun (GOG through)
Füchse 30:33 (54:58) Nantes (Nantes though)
20:16
Drama all the way in Sweden we have finished 60:60 after 120 minutes handball between Sävehof & Kadetten Schaffhausen and it will be the Swiss side that goes through after more away goals (having scored 28 tonight and Sävehof 26 in the first leg)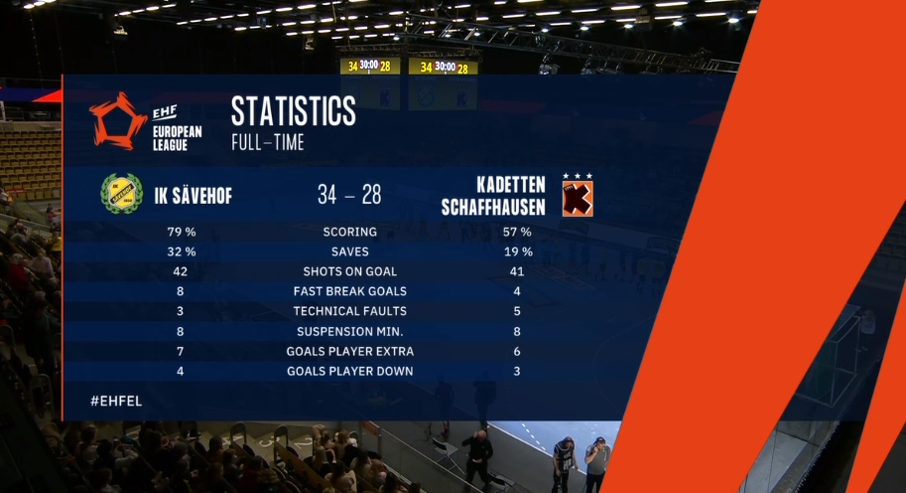 20:12
A huge night is right! The boys in red have turned their tie right around at home in Portugal. After being down by four after the first leg they fought back and with a MASSIVE 14 goals from Petar Djordjic they are now +2 overall...
20:06
And we are level in Sweden as Sävehof have mounted an epic comeback. Ellefsen a Skioagotu showing us why he is the next big thing with seven goals; Karlsson is also on seven for the Swedish side. 
20:03
Don't look away! Just like that and we are back level at 25:25 in Berlin and not it's a timeout for the hosts. Monar with two and Balaguer with one brings us back level and now it is HBC going to the quarters! You gotta love handball... 
20:00
So many big games and so little time! We are level again in Poland for Plock vs Lemgo, so it is still +3 for the Polish side. If Lemgo fail today it will be also the last international match for Swedish international Jonathan Carlsbogard, who will leave in the summer. 
19:58
The crowd in Berlin are on their feet! Holm and Marsenic net to give the Foxes a 25:22 lead and a +2 on agg. Are Füchse heading to the quarters? 
19:51
Sävehof have pulled it back to just one goal overall thanks to an epic 40 minutes of handball. Kadetten will be shaking after having dropped a six-goal lead from the first leg. Sebastian Karlsson is having a huge day with his six goals. 
19:49
Paul Drux just made a lovely bit of space for Fabian Wiede. A switch you would see taught at underage handball but the simple things, done well, are best. Wiede almost took the net off the goal, that's +2 for Berlin (+1 overall).
19:39
A real throwback from the big man! 


19:23 
HALF-TIME SCORES
Sävehof 19:15 Kadetten (Kadetten +2)
Benfica 17:15 Toulouse (Toulouse +2)
Plock 12:13 Lippe (Plock +2) 
Pelister vs Nexe (Nexe +3)
GOG 20:12 Irun (GOG + 10)
Füchse 15:14 Nantes (Level)
19:08
If there is one man for the big nights in Europe...
19:00
Meanwhile, Lemgo mean business in Poland. They are up 7:5 against Plock and now only trail by one on agg. 

Bjarki Mar Elisson doesn't want this to be his last game in Europe for the Lemgo boys, he is on four goals already for the German side. Elisson will join EHF Champions League side Telekom Veszprém next season. 
18:53
We are off! And 41-year-old Igor Vori nets his first goal in a European cup competition in four years. Füchse Berlin 2:2 HBC Nantes. 
18:44
Heads-up: Should there be a draw over the two legs we will go straight to a seven-meter shootout.
18:42
We will of course be keeping an eye on all of tonight's matches but for the blog we will be mainly keeping a closer eye on Füchse vs Nantes and Plock vs Lemgo. Should anything major start kicking off elsewhere, I will be bringing it to you - no worries!
18:35
We are just 10 minutes away from throw-off and we are pumped for what's to come. Don't forget that the goal difference for this first bunch of matches means... 

+6 Sävehof vs Kadetten (26:32)
+4 Benfica vs Toulouse (34:38)
+3 Plock vs Lippe (31:28) & Pelister vs Nexe (26:29)
+2 GOG vs Irun (30:28)
+1 Füchse vs Nantes (24:25)









18:10
The pressure builds with throw-off to our first round of matches coming up in just 40 minutes on EHFTV.com! 
16:59
Another highly anticipated match involves the other finalist from last last season, Füchse. They face Nantes in a high-profile Last 16 tie, losing the first leg in France 25:24 and leaving all to play for tonight in Berlin.
EHF journalist Björn Pazen caught up with Füchse back Paul Drux for this interview on the eve of the return game:

16:46
One of the teams under pressure tonight are defending champions Magdeburg. They were held to a 29:29 draw by Sporting last week, and the Portuguese side have come to Germany in good spirits, as coach Ricardo Costa explains:
We know Magdeburg are one of the best teams in the world but we worked a lot and we know we can make a surprise today. We know it will be hard and the draw at our home just gave us more motivation to play this game and bring home a victory for our club and fans.
16:34
To refresh your memory of what happened last week, here is another overview of tonight's eight matches once again – but now ranked according their goal difference from the first leg:
+7 Nimes vs Velenje (22:29)
+6 Sävehof vs Kadetten (26:32)
+4 Benfica vs Toulouse (34:38)
+3 Plock vs Lippe (31:28), Pelister vs Nexe (26:29)
+2 GOG vs Irun (30:28)
+1 Füchse vs Nantes (24:25)
0   Magdeburg vs Sporting (29:29)
16:19
After the first leg last week, you feel none of the eight ties of the Last 16 has really been decided so far. Of course, some teams have taken a substantial lead (Velenje, Kadetten), others won away matches (Plock, GOG), but it is still all to play for tonight.
Here is the preview with details on all eight pairings:
16:15
Good afternoon and welcome to the live blog for what promises to be a hot night of EHF European League action!
We are going to follow the decisive second-leg matches in the Last 16. At the end of the evening we will know which eight teams advance to the quarter-finals and will battle it out for a place at the second edition of the EHF Finals Men, on 28/29 May 2022.
Here is the playing schedule for tonight: