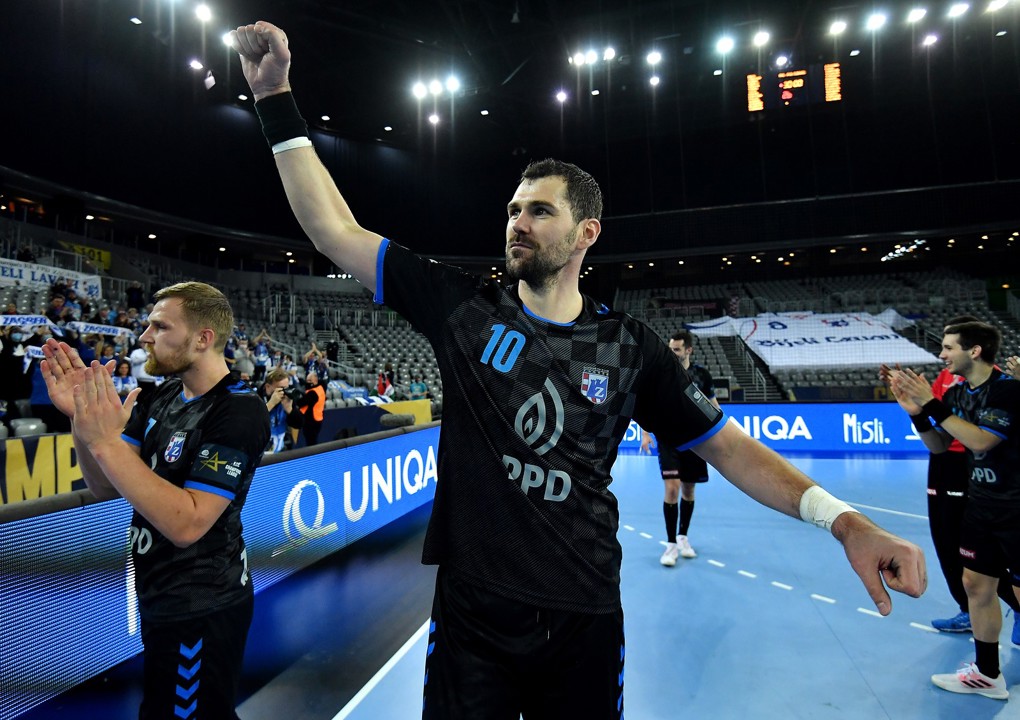 Summary: Surprise wins for Zagreb and Vardar highlight round 11
23:15
Here ends our coverage of the first round of 2022 in the EHF Champions League Men. It feels great that the competition is back and we can't wait for round 12 next week, when Barça against Veszprém on Thursday night will be the featured Match of the Week. Wow!
We leave you with the match reviews from the three games that were played tonight. For now, it is goodbye and see you next week!
23:07
One more time Zagreb. Watch what tonight's win means to them:
23:03
Let's hear from Zagreb's Slovenian left back Aleks Kavcic after his team took two deserved points against Szeged in the last match of this midweek schedule:
We started off really well, we could feel the energy and atmosphere rising. We scored five quick goals in the beginning, before the match even started. Defence was the key to, in the end, a well-deserved win for us today.
22:52
The EHF Champions League has woken up from its winter sleep. Round 11 has opened 2022 with high-class action and drama. Here are some of the best moments of the three Thursday games:















22:35
Zagreb's win over Szeged concludes this week's action in round 11. We say "this week's action" as round 11 is not complete: the match between HC Motor and Paris Saint-Germain HB had to be postponed amid the current situation in Ukraine.
Here are the results from the seven games that did take place yesterday and tonight. For me, the wins of Zagreb and Vardar, who defeated group A leaders Montpellier in France, stand out: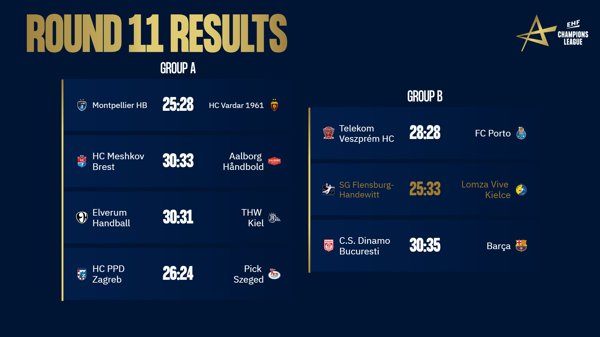 Well done to Zagreb, who keep their upward trend from just before the winter break going in the first round of 2022. Sando Obranovic with seven and Ivan Cupic with six are the leading scorers for the hosts, who now join Elverum on eight points in fifth place.
22:07
One more team timeout Zagreb. Can they hold on to a two-goal lead (23:21) over Szeged in the last five minutes?

22:52
Let's hear from Dinamo head coach Xavi Pascual, after his current Romanian side lost 35:30 against his former Spanish side, Barça:
Barça deserved to win, but I don't think we deserved to lose with so many goals. My team fought until the end of the match and I have nothing to say to the players. They must move on and show the same dedication in the next match.
21:45
Szeged are working their way back into this match. They have reduced the gap to one - and it helps when you have a goalkeeper like Roland Mikler between the posts:
21:26
Back in his native Norway and playing in front of over 8,500 fans, this is what Kiel left back Sander Sagosen said after the 31:30 win over Elverum:
It was an amazing feeling to be back in Norway tonight. Hats off to Elverum for making this game a big handball party. It was amazing to be on the court, but it was a really hard game. I am really proud of my team today, we stood up in a difficult time.
A strong first half and a four-goal lead for Zagreb! Sandro Obranovic and Ivan Cupic with four wach lead the way for the Croatian champions. Can Szeged coach Juan Carlos Pastor inspire his team to a second-half comeback?
21:07
Team timeout Zagreb. They were 8:3 up but Szeged have reduced the deficit to three: 8:6.

20:59
Earlier tonight Mohamed Mamdouh scored nine times again Barça. This clip gives a nice impression of the many different ways Mamdouh is able to find the net:
20:56
Convincing start for the hosts as Ivan Cupic converts a penalty for a 5:1 lead for Zagreb over Szeged in less than 10 minutes.

20:49
This is the decisive moment that secured Kiel the win against Elverum: see how Niklas Landin denies Kasper Lien a buzzer-beater:
20:36
Time flies as we are already approaching the last game of round 11 for this week, as Zagreb host Szeged in the Croatian capital.
Zagreb took five of their six points in the last four matches in 2021, including two wins against Brest and Vardar. And Szeged? With six victories, two draws and two defeats, they currently rank third in group A on 14 points but could catch up with leaders Aalborg and Montpellier both 16.

Like so many times, Niklas Landin wins the match for Kiel! With his team two players down for the last eight seconds, the Kiel goalkeeper saves a final attempt from Elverum over the right wing to help the 2020 champions hold on for a narrow one-goal win!
Eric Johansson scores eight for Elverum, which pleases the 10,000-crowd but is not enough for a point as the Norwegian side are now on a five-match losing streak.

Congrats to Barça, who come away with a decent win over Dinamo on a court where the likes of Veszprém and Kielce were beaten earlier this season.
And mind you, this is only the second away win for the defending champions this season, and the first since the opening round in September when they won in Flensburg.
20:09
Team timeout Kiel. It is 30:30 and we have just over five minutes left in Lillehammer. This really is anybody's game now!

19:59
Elverum vs Kiel is really going to the wire, so let's focus on that game from here. Barça seem cruising in Bucharest now with a 28:23 lead and 12 minutes left.

19:50
Meanwhile, Kiel seem to find their rhythm and the match against Elverum is fully balanced. Elsewhere, Barça have opened a four-goal gap over Dinamo now.
19:44
They did it before against Paris Saint-Germain HB in the autumn of 2019, they are doing it again tonight against THW Kiel: this is how it looks and feels when Elverum Handball move their home game to the Håkons Hall in Lillehammer, a venue used for the 1994 Winter Olympics.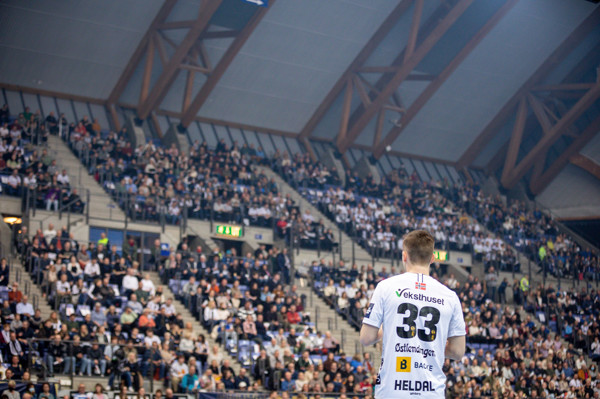 Elverum and Barça have both been in the lead almost throughout the first half, but both matches remain too close to call. No one has scored more than three in Norway so far, while in Romania the best scorers are Raul Nantes and Mohamed Mamdouh for Dinamo and Haniel Hangaro for Barça - all with five goals.
19:11
Exactly what more than 8,500 fans want to see:
19:05
We are about halfway through the first half of our first two matches tonight, and both Elverum (at home against Kiel) and Barça (away at Dinamo) have opened a three-goal lead.
Still early days, of course...

19:01
If I Had a Hammer... by Dika Mem:
18:46
We are off and running in Lillehammer and Bucharest. That scenery in Norway... just goosebumps!

18:38
Elverum will receive massive support from the stands in that gigantic Håkons Hall - but will it help them to keep the points at home against Kiel? The reverse fixture in Germany was a true goal fest, with Kiel winning 41:36. Elverum will be keen to stop their slump after losing the last four matches before the winter break.
18:29
So, can coach Xavi Pascual cause an upset with Dinamo against Barça? They lost the first game in Spain 36:32 - but on the other hand, Dinamo have gained all their six points so far in home matches, beating Veszprém, Kielce, and Motor in Bucharest.
18:21
When the master meets his former pupils...

18:11
So, we throw off with two matches at 18:45 CET, and each has its interesting flair.
Dinamo host defending champions Barça, and that means that the legendary former Barça coach and now the man in charge in Bucharest, Xavi Pascual, is set to face the club he celebrated so many successes with over the past decade.
Also, Elverum against Kiel is special because the hosts have moved the match to that stunning Håkons Hall in Lillehammer to give Kiel's Sander Sagosen and Harald Reinkind a warm welcome to their native Norway. Expect more than 8,500 fans (!) in the arena - simply brilliant!  
18:00
Welcome back to the EHF Champions League live blog as we are about to wrap up round 11 with three more matches tonight.
This is what we have coming up for you:
Wednesday 16 February
23:15
What a start of the EHF Champions League in 2022! More to come tomorrow, as we have three matches on the schedule for you:
18:45 CET: Dinamo vs Barça
18:45 CET: Elverum vs Kiel
20:45 CET: Zagreb vs Szeged
Here ends our live blog coverage for tonight. Thanks for joining us and we see each other same time, same place, tomorrow!




















23:10
Round 11 has been off to a spectacular start tonight, with Vardar upsetting Montpellier, Porto earning a surprise point in Veszprém, Aalborg stretching their winning streak, and - last but not least - Kielce winning the MOTW by eight goals in Flensburg.
Here you can read all you want to know about these four matches:
22:58
Let's hear from Igor Karacic, one of Kielce's leading players in the MOTW tonight:
We win against Flensburg, for me one of the best teams in the world. But we prepared really good for this game. I hope we will stay on the first place, for sure. It will be much easier for us in the next two months without play-offs. We go just step-by-step and then we will see.
22:42
Welcome to Circus Kielce:
22:22
The Player of the Match was an easy pick today: Andreas Wolff stood out, not just for the penalties he crucially saved early in the match, but for his overall performance: world class!

Kielce leave no doubt: they win the first MOTW in 2022 by a massive eight goals from Flensburg and cement their status as the leading team in group B. Flensburg, meanwhile, still need to make sure they finish in the top six and make the play-offs.
Leading scorers Emil Jakobsen for Flensburg and Dylan Nahi and Igor Karacic for Kielce, all with six goals.
22:06
Team timeout Kielce. Talant Dujshebaev gets his players together one more time - but he knows: we are not going to give this away anymore! Kielce lead Flensburg by 28:24 in the MOTW with five minutes on the clock.

21:56
Kielce manage to keep Flensburg at distance. Alex Dujshebaev just netted to keep the gap at four (24:20) with just over 12 minutes left in this first MOTW of 2022.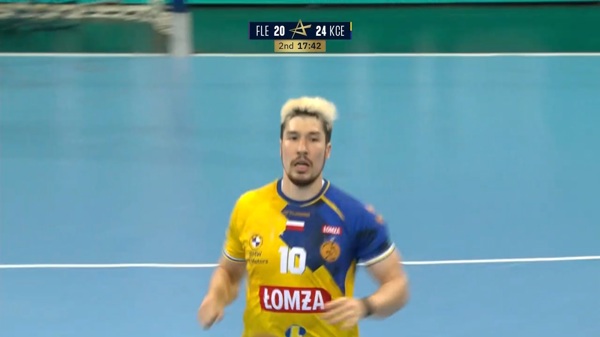 21:41
We have got the footage for you: here is Andreas Wolff, a.k.a. the penalty killer:

21:27
The break in the MOTW gives you time to catch up with our Timeout With Champions Instagram live session, in which Hannah was joined by Alex Dujshebaev and Lasse Svan. Not to be missed!

An enjoyable first half from the Flens Arena, with Kielce taking a commanding early lead but Flensburg closing the gap towards the end. Outstanding performer so far: Kielce goalkeeper Andreas Wolff, who has saved three penalties!

21:15
Sometimes the best way to the opponent's goal is the straight one, thinks Flensburg's Franz Semper:
21:04
Early initiative for Kielce, with a key role for Igor Karacic:
20:56
Team timeout Flensburg. Maik Machulla sees his team drop four goals behind Kielce in the opening minutes of the MOTW. Still very early in the match, of course.

20:40
It is time for the Match of the Week as we head to Germany for Flensburg vs Kielce, what an end to this exciting opening night of round 11!
Kielce might be leading group B, but they share a very well-balanced head-to-head stat with Flensburg, so this one might become close again:


Aalborg start 2022 in the same way they ended 2021: winning. A decent victory in a tough away game sees them now go level with Montpellier on top of group A, both with 16 points from 11 matches.
Veszprém were 25:23 down against Porto with 10 minutes left but at least have come away with one point, after a balanced match in which a draw seems the fair result. Veszprém go into second place for now, while Porto catch up with Motor in sixth place.
Crazy scenes in Montpellier, where Vardar take a surprising three-goal win, ending an eight-match unbeaten streak for the French team that leads group A. A pivotal result for Vardar also regarding their fight to get in the top six and earn a play-off spot.

20:07
Team timeout Vardar. They lead by four with four minutes left in Montpellier...
This would be really some result for the 2017 and 2019 champions, who have not won an away game in the EHF Champions League since 24 February last year in Elverum - losing all games since apart from a draw at the start of the current group phase, again in Elverum. 

19:53
This is getting serious: halfway through the second half, Vardar have extended their lead over Montpellier to seven (= 7!) goals: 23:16! Good-old Olivier Nyokas leads for the visitors with five.
Is there a way back for the group A leaders from this?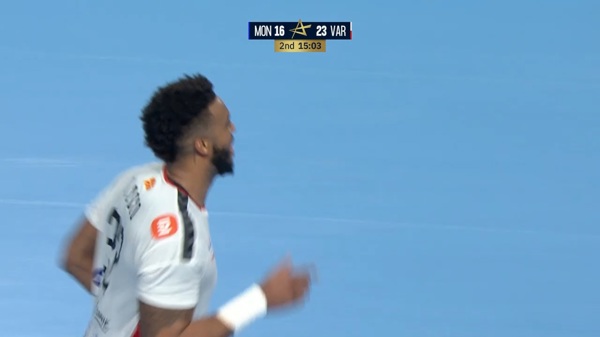 19:28
Stas Skube has found the net five times in the first half for Brest but Aalborg are in the lead. The gap, however, was five goals (14:9) at one point so Brest did well to reduce the deficit.
19:21
Interesting start to round 11! Montpellier are really given a hard time by Vardar. Remarkable fact: Vardar have already 10 different players on the scoring sheet and none of them has netted more than twice so far.
Also, Veszprém still have it all to do in the second half as Porto are keeping the game tight, and the visitors have been in the lead a few times, as well.
19:17
Porto are keeping up well with Veszprém in this first half, also thanks to goals like this one from Daymaro Salina:
19:11
Wow, Vardar! Timur Dibirov & Co. might have lost their last seven games but they have now opened a four-goal gap over group leaders Montpellier: 11:7 after 22 minutes.
19:08
Pass? No pass! Clever move by Nikolaj Læsø for Aalborg:
18:46
The Champions League is back! Three matches in Belarus, France, and Hungary started at 18:45 CET mark the return of the competition in 2022. Enjoy!

18:27
The third match starting in the first session tonight takes place in Hungary, where second-ranked Veszprém host Porto in a group B encounter. Veszprém have not lost on home court since 4 February 2021, so can Porto become the first team to take both points here since over a year?
Porto are currently seventh, not enough to make it to the play-offs, but the margins in the bottom half of this group are small so still all to play for.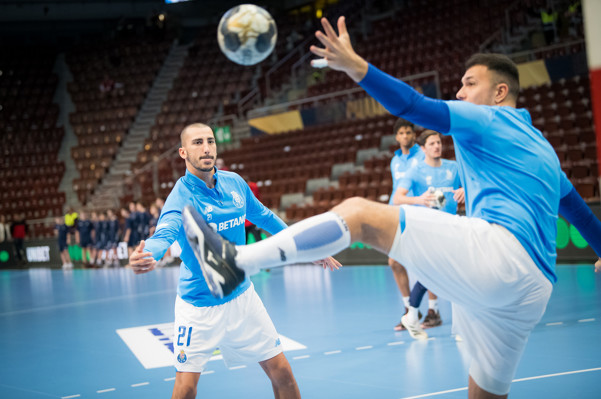 18:12
Meshkov Brest, bottom of the table in group A, know they must gain more points soon to stay in the race for the play-offs... but unluckily for them, Aalborg are coming to town tonight. The Danish finalists from last season have won their last three matches before the winter break and are currently ranked second.
Can Brest cause an upset and boost their play-off hopes?
17:55
Only 50 minutes left... Three matches are coming up at 18:45 CET, and those include the leaders of group A, Montpellier. The 2018 champions are having a great run in the competition with seven victories and a draw.
Their opponents are coming off a seven-match losing streak, but Vardar have turned to a new coach - David Davis. Can he help the two-time winners (2017, 2019) get back on track?
17:22
Contrary to Kielce, Flensburg ended the calendar year 2021 on a high, winning four of their last five matches. Troubled by a large amount of players missing, the German side had a rough start to the group phase but have gradually found their rhythm.
One of their key players is Johannes Golla, who became the youngest captain ever of the German national team before the EHF EURO and who is eager to help Flensburg proceed - on both sides of the court, as EHF journalist Björn Pazen writes:
17:09
It will be really interesting to see how Kielce are picking up their game again after the two-month break. The Polish champions had a terrific run of seven straight wins – which included two victories over Barça – but left the court as the losing team in their last two games before Christmas, against PSG and Porto.
The MOTW in Flensburg is definitely the right occasion to get going again, and no doubt Talant Dujshebaev will have his men fired up for this one. Talking about Kielce's head coach, he recently featured in out This is me... series:
17:02
We take a close look at the tonight's first three matches once we get closer to the throw-off time of 18:45 CET. With the MOTW between Flensburg and Kielce coming up at 20:45 CET, let's focus on that standout game first:
16:53
It has been 68 days without Champions League action... so, it feels to great to be back. And what better way to restart Europe's biggest club handball competition than with both group leaders taking the court: Montpellier host Vardar in group A at 18:45 CET, and Kielce travel to Flensburg in group B for our featured Match of the Week at 20:45 CET.
Here is the complete schedule for tonight and tomorrow:

16:45
Your stars are ready to shine again! The EHF Champions League Men 2021/22 resumes tonight following its two-month break for the holidays and the Men's EHF EURO 2022. So, welcome to the live blog for round 11!
We throw off in two hours' time so get a sneak peak now of all the action today and tomorrow in our round preview: