EHF Champions League
Summary: Porto's draw with Barça ends thrilling round 6












THURSDAY 28 OCTOBER
22:20
We finish up tonight with a reminder of all the results, and the match reviews from tonight. The EHF Champions League Men will take a break now until Wednesday 17 November, when we're back for round 7.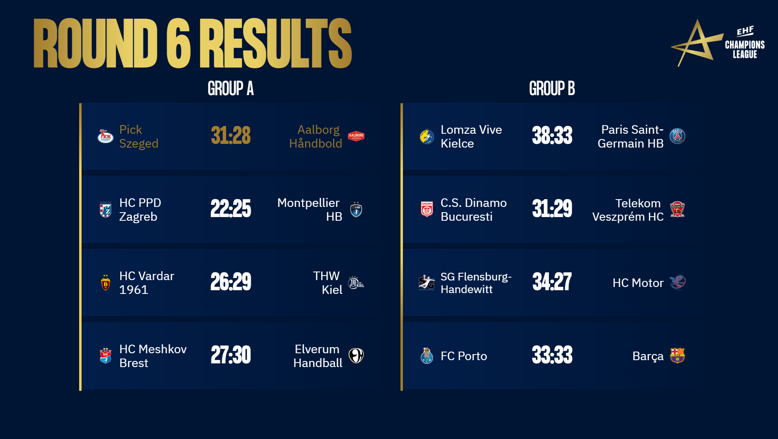 We are a little disappointed, and it sounds crazy saying this after playing against Barcelona, even when we were close to losing in the end. We made a few mistakes and it was too many.
22:52
What a round this one has turned out to be. So many close, exciting matches and some results that might shake up the next few rounds too. We're almost halfway through the group phase already and here's how the standings look: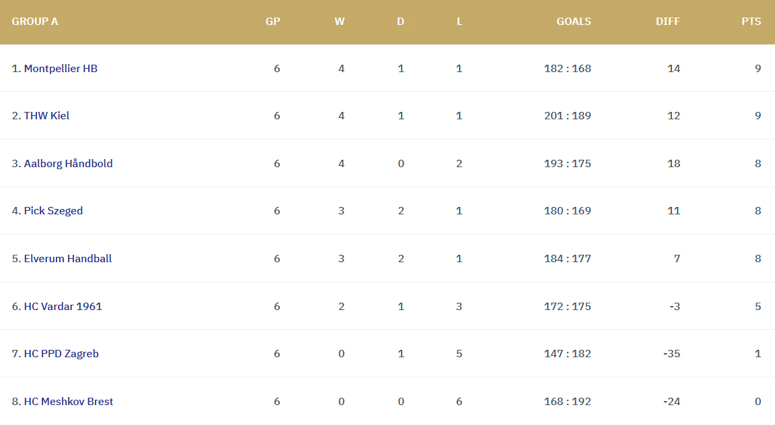 Group A is awfully close, with five teams on eight or nine points. Meshkov Brest and Zagreb are struggling at the bottom of the table - Zagreb have a point, Brest none. Round 7 in three weeks' time sees Kiel host Aalborg while Montpellier visit Elverum, so more shake-ups are likely.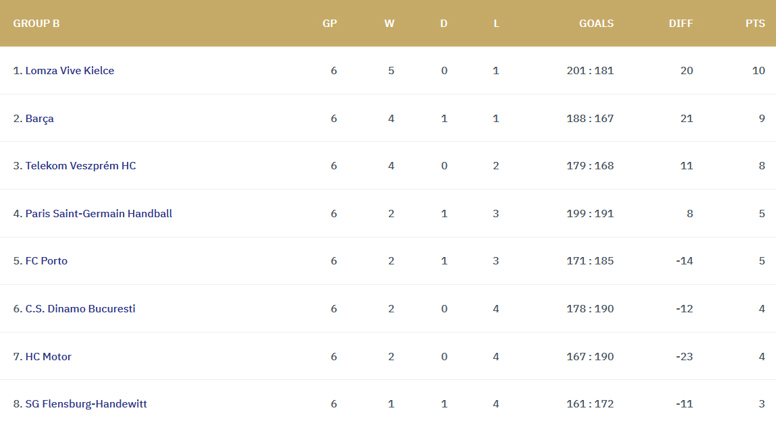 In group B, Kielce now top the group after yesterday's win against PSG. The rest of the table is so tight, with Flensburg's win tonight just adding extra spice to the mix. In round 7, Barça and Kielce play for top spot, PSG host Porto, and it's Motor's turn to host Veszprém.
22:32 | FULL-TIME
Flensburg have broken their run of losses with a solid win against Motor, although it won't change their group B ranking at all. While their goalkeeping efficiency dropped off in the second half their attack efficiency improved. At the other end of the court, the brilliant first half from Gennadiy Komok was followed by a horrible second half in which he and Maksym Viniuk stopped only two of Flensburg's shots on goal. 
Hampus Wanne added another eight goals to his season record. 
With Ivan Sliskovic on a two-minute suspension for the last two minutes, and the teams level, everything became incredibly tense. Inside the last minute Timothey N'guessan scored to even it up and Porto gained possession, but as so often Gonzalo Perez de Vargas stepped up to block the shot. 
Barça were on a fastbreak and looked to have scored, but the referees stopped the match as the timeout buzzer went off. After a discussion the ball went back to Perez de Vargas for the last five seconds, only for the final shot to be blocked by Djibril Mbengue - and it was a draw.
Although Porto were winning for so long, Barça's comeback was impressive and perhaps a draw reflects the match well. Aleix Gómez was incredible in the second half, largely responsible for the draw with 11 goals from 13 shots overall.


22:10
Aleix Gómez steps up for a penalty and every Porto fan is looking somewhat like this lady. It's tense. It's not over.


22:04
In Porto both the goalkeepers have changed, with Nikola Mitrevski and Leonel Maciel between the posts. Maciel is having more luck and his 50 per cent save rate has helped Barça equalise - we're in for a thrilling last eight minutes or so. It's Porto's fighting spirit against Barça's experience.
21:55
The ebbs and flow of handball are on full display right now. While Flensburg have extended their lead against Motor, and seem to be in full control, Porto found themselves faced with a full-power Barça attack that reduced a seven-goal lead to two. Aleix Gómez has been especially impressive in this period, scoring half his eight goals.
21:48
It takes Barça more than five minutes to score their first goal in the second half. Porto are dominating, defending hard and taking full advantage of every second of possession.
Flensburg continue to lead Motor by three goals. Jim Gottfridsson has not had a good night, however - he's yet to score, despite several attempts. 
21:43
Pedro Veitia Valdes receives his second two-minute suspension of the match, but goes off after chatting fairly amicably to some of the Barça players including Gonzalo Perez de Vargas. Porto are now playing with an empty goal, but Perez de Vargas misses an attempt at it. Porto still in control ...
What a half from Porto! The team have really matured over the last few years and are now capable of taking charge against any European side on their home court. In a packed "Dragao Arena", the Portuguese champions started well, faltered, but then made a superb comeback, showing the same gritty attitude that made them strong.

The last-second goal from Ivan Sliskovic encompassed Barça's woes in this game. They missed easy chances and were easily broken through in defence. The Spanish powerhouses are facing their second loss this season in six games. Can they turn it around?
21:27 | HALF-TIME
SG-FLENSBURG HANDEWITT 13:11 HC MOTOR
This is turning into an interesting game. Motor had much the better start and were looking like they would move out to a decent lead, but Flensburg rallied. A two-goal lead is not a huge one, but it should give the home side confidence that they might be able to take their first win of the season - especially if Hampus Wanne and Kevin Møller can carry on playing the way they are.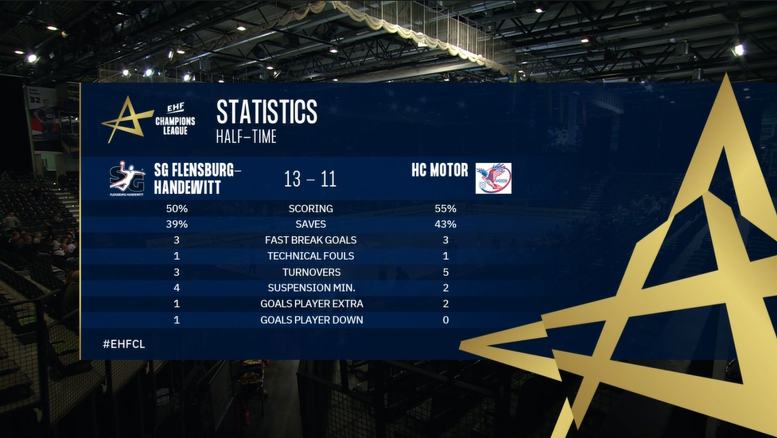 FC PORTO 17:14 BARÇA
Ivan Sliskovic scores a brilliant direct free throw to give Porto a three-goal lead. It's not often those go in. Porto have attacked from the whistle and are looking really good against Barça, who with recent losses have perhaps lost that aura of invincibility they had last season.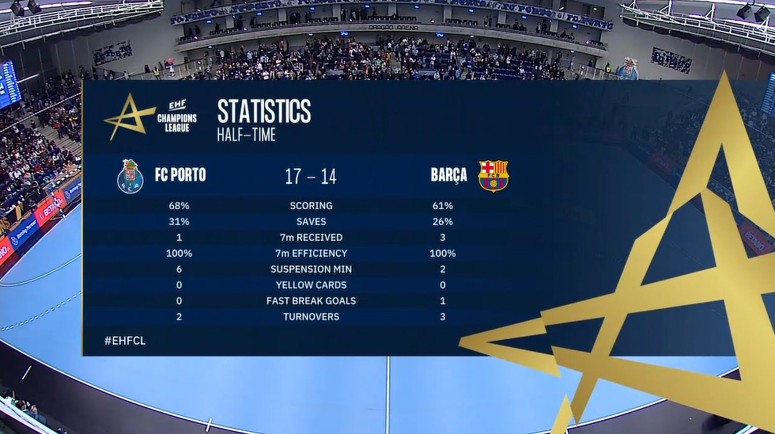 21:17
Flensburg's season top scorer Hampus Wanne is at his usual tricks - netting five goals already and the first half isn't over yet. 
After a period of almost five minutes without scoring, Motor netted twice in quick succession to stop Flensburg from getting further ahead. There have been plenty of shots from both teams, but also plenty of stops from the goalkeepers.
21:09
Tactics time for Barça, who are level with Porto now and beginning to look more threatening - although Porto have had some great moments, with Pedro Veitia Valdez reacting very quickly to a shot by Dika Mem that hit the posts.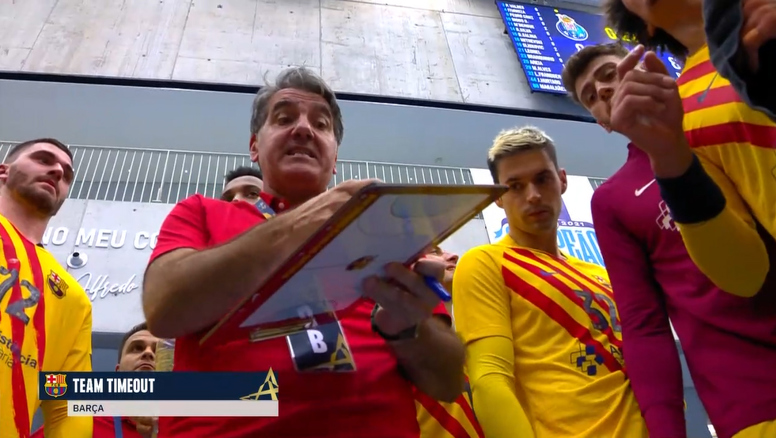 21:02
After a slow start and a timeout, Flensburg have got into more of a groove and drawn level with Motor. It's turning into a bit of a goalkeeper battle, as both Kevin Møller and Gennadiy Komok have saved four of 10 goals.
20:49
One hour of round 6 to play. Both arenas are reasonably busy with fans and in Porto the home team are taking full advantage and an early three-goal lead, to the delight of the crowd.
Playing at home is a special motivation as Oporto is my city. Porto are a very balanced team and very good. They know how to play handball and their 7 on 6 is very dangerous. They have players who can make the difference.
20:35
Take a deep breath, grab a drink and some popcorn, and settle down for the finale of round 6. 
Flensburg will take on Motor, while Porto host Barça in what is sure to be a lively Iberian derby. 
Flensburg and Motor have played each other four times, with the score level so far. Flensburg need a win and should fancy themselves to challenge Motor in Germany.
Porto and Barça have never met before, but players are familiar with each other. Barça's Luis Frade joined from Porto this season. 
20:25 | FULL-TIME
As last week against Montpellier, Meshkov were often playing on an equal level to their opponents - but it's Elverum who take the win and make it three teams in group A with eight points (alongside Aalborg and Szeged). 
Tobias Grøndahl adds another nine goals to his season tally - making him fifth overall at this point.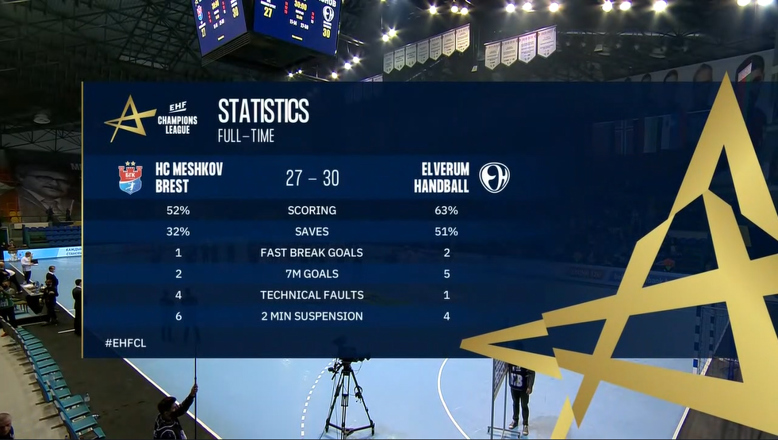 Dinamo break Veszprém's winning streak and earn their second win of the season, to the delight of the small number of fans able to attend the game. Amine Bannour finished things off just before the buzzer, but Petar Nenadic is the outstanding player of the evening with nine goals from 12 shots, including the last goal for Veszprém. He's now equal third in the top scorer rankings with Dika Mem, although Mem is likely to add to his tally in a short while.
Those two points could prove important for Dinamo as the season progresses.
20:12
Meshkov fought back to within a goal of Elverum, but the Scandinavian team picked up their pace and have regained that five-goal advantage. 
Veszprém have equalised with Dinamo and the last five minutes will be drama indeed.
20:08
The referees in Bucharest are being kept busy. Robert Militaru has now received a red card and joins Adrián Sipos in the stands. But Dinamo are hanging on to their lead.
20:00
Khalifa Ghedbane, who has been excellent for Dinamo in goal tonight, receives a suspension - Mohamed Mamdouh is also suspended and it's an opportunity for Veszprém to make up some of the margin the home team have. Kentin Mahe and Petar Nenadic promptly take advantage, and Dinamo lead 24:22 with just over 12 minutes left in what is an intensely physical contest.
19:50
With two Meshkov players suspended as well as Elverum's Stig-Tore Moen Nilsen, there's lots of space on the Brest court. Sindre Heldal takes advantage of the Meshkov empty net to score a long-range shot. Slowly, Elverum seem to be extending their lead. 


19:47
Veszprém's luck hasn't improved in this half. Rasmus Lauge has to be carried off court by his teammates after slipping and injuring himself - his match is over. 
19:35
A huddle for Dinamo: the second halves are just moments away.


19:29 | HALF-TIME
HC MESHKOV BREST 11:14 ELVERUM HANDBALL
Brest's first win is still looking elusive. They have had patches of strong play in the first half, but Elverum are stronger. Emil Imsgard in goal is helping, saving eight shots (42 per cent efficiency) compared to six for Ivan Pesic (30 per cent).
Tobias Grøndahl continues to shine, with five goals from six attempts.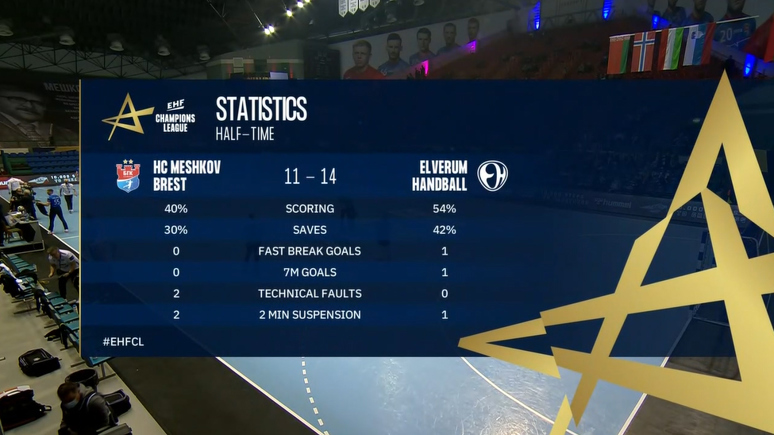 C.S. DINAMO BUCURESTI 14:13 TELEKOM VESZPRÉM HC
It's difficult to call this game at the moment. On paper Veszprém are favourites, but Dinamo have been aggressive and that's really paying off. Their depth is impressive - nine players have scored already.
Rodrigo Corrales has not been on his usual form and Vladimir Cupara came in to improve saving efficiency a little - let's see who Momir Ilic picks to start the second half between the posts.
19:15
Amine Bannour is fouled by Adrián Sipos and goes down hard, clutching his face. It's a direct red card and Sipos heads off to the tribunes for the rest of the match. 
19:09
Dinamo steal the ball and with a flourish Christian Dissinger sends it home on the fast break. The home team have rallied superbly to take a three-goal lead with a 5:1 run.
19:00
One of the outstanding players for Elverum so far this season has been 20-year-old centre back Tobias Grøndahl. He's played a key role in all their victories and looks on track to do the same again tonight, with two of Elverum's four goals already. 
Elverum had a better start than Meshkov Brest, but have got back level. In Bucharest, it's the opposite, with Dinamo having had a good start but Veszprém starting to show their form. 
18:47
And we're off ... can Dinamo and Meshkov Brest rise up the rankings with valuable home wins, or will this be a night for the visitors?
18:37
As ever, if you can't work out which match to watch, watch two at once on EHFTV.


18:23
This is the first time Dinamo have played Veszprém since 2005, apart from one friendly game, although they have met several times before then. So it is likely to be an emotional meeting, as they share memories of line player Marian Cozma. Cozma began his career at Dinamo before moving to Veszprém in 2006, when he made an instant impact. However he was tragically stabbed in 2009 and passed away. 
There is a banner with Cozma's name and number at every Dinamo game, and his number was retired at Veszprém. There is a statue of him in front of the Veszprém arena too. 


16:20
Also throwing off at 18:45 CEST tonight is Meshkov vs Elverum — a clash with a very important two points on the line. For Elverum, the two points would mean staying with the group leaders, as only three points separate the Norwegian side from Montpellier and Kiel in first and second. Szeged and Aalborg are only two points in front of Elverum, who count a tally of six. 
Meanwhile, Meshkov Brest are the only team yet to gain a point this season, and are desperate to climb out of that hole — if they do not, the gap between the Belarusian side and the top six positions will only widen and become more impossible to overcome as the season progresses. 
The good news for Meshkov is that last time these sides met, in 2020/21, each team won the home encounter. Can Brest capitalise on the home court advantage and end their wait for a taste of victory in 2021/22? 
I expect a very tough battle as Dinamo Bucharest is a quality team. They have defeated Kielce in the first round and lost to Barça only by four goals. We are well aware of their strengths.
16:05
Veszprém are among the first to take the court tonight, facing Dinamo Bucuresti in Romania in what is the first meeting between the sides in over 15 years. Dinamo have lost their last four matches while Veszprém have won all but one of their games so far in the Champions League 2021/22.  
Veszprém back Mate Lekai shared his thoughts on the upcoming clash: 
"I expect a very tough battle as Dinamo Bucharest is a quality team. They have defeated Kielce in the first round and lost to Barça only by four goals. We are well aware of their strengths. They signed an excellent coach, Xavi Pascual, this summer. We need to be fully focused throughout the whole game. We respect Dinamo, but we are determined to reach our goals and for that we need two points from Bucharest."
15:25
Welcome to our continued live blog coverage of round 6 of the EHF Champions League Men 2021/22!
Tonight we have four thrilling clashes set to close the round, following a big night of opening action on Wednesday. 
Thursday's schedule: 
18:45 CEST Dinamo Bucuresti vs Telekom Veszprém 
18:45 CEST Meshkov Brest vs Elverum Handball
20:45 CEST Flensburg-Handewitt vs Motor
20:45 CEST FC Porto vs Barça








WEDNESDAY 27 OCTOBER
22:05
That's all from the blog tonight, but be back tomorrow for more EHF Champions League Men coverage - the drama will keep on coming!
At 18:45 CEST, Brest host Elverum and Dinamo play Veszprém. At 20:45 CEST it's the turn of Flensburg vs Motor and Porto vs Barça.
I have to say I'm getting sick of us playing well and losing matches in the end. I really can't wait for us to finally win the game and boost our confidence. It was a great first half from us but in the second their rotation proved to be the key as well as the incredible Marin Sego between the posts.
22:57
Four matches in round 6 have now been played and here are our match reviews, analysing the key moments and the key players in each of tonight's games. 
22:50
Going back to Match of the Week, here's some thoughts from Juan Carlos Pastor about the key to Szeged's victory.
I think today we won the match three or four times. In the end we deserved the victory. There was a critical point in the second half for us. Aalborg were playing with seven-against-six and they almost managed to equalise, the difference was only one goal. In that point our team showed its character and in the worst situations we could score very important goals
22:33
So, tonight's results have made a few changes in the rankings.
In group A, Montpellier and Kiel now both have nine points, with Montpellier ahead on goal difference. Aalborg and Szeged both have eight points, and Aalborg has the goal difference advantage (+18 compared to +11). 
In group B, Kielce go top with 10 points, but Barça and Veszprém both get the chance to match that tomorrow night. The drama just keeps continuing in the EHF Champions League Men!
22:18 | FULL-TIME
Despite missing key players like Sander Sagosen, Kiel showed their experience and depth in the second half.
However, Timur Dibirov was really outstanding for Vardar - his 10 goals put him back on top of the top scorer ranking, ahead of Mikkel Hansen who scored eight for Paris Saint-Germain earlier on.
Led by Julien Bos with seven goals, Montpellier gave Zagreb no chance in the second half. They got better in attack and defence, and Marin Sego improved in goal too. The win is a fourth straight victory for Montpellier, while Zagreb are still hunting for solutions.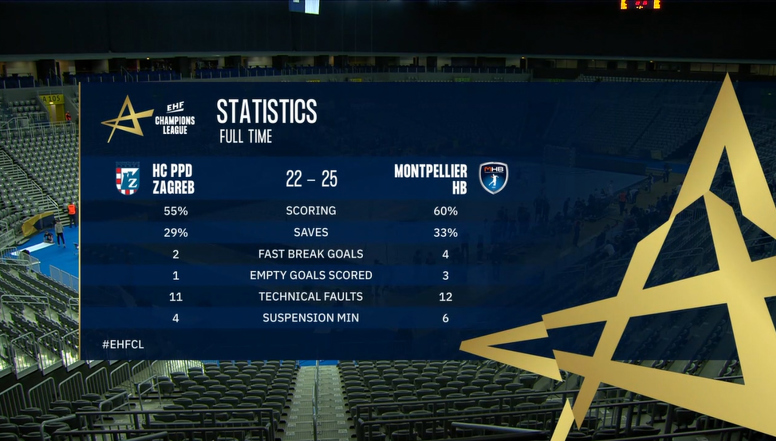 22:08
The Vardar vs Kiel match has become quite physical as both sides put all their effort into scoring. Kiel found themselves two players down as Rune Dahmke and Pavel Horak were both suspended, seconds between the offending fouls, but managed to limit the damage for Vardar's power play period, and still lead by two goals with three minutes left.
21:57
Montpellier are being brutal in the second half. Zagreb have managed to score just twice in 18 minutes, and the six-goal lead now held by the French side looks pretty convincing. In particular, the visitors have massively improved their attack and their accuracy on goal.
21:48
Vardar have failed to score for five minutes, and a 3:0 run by Kiel has given them the lead. Domagoj Duvnjak is leading from the front, netting two of those goals for six overall.
Veselin Vujovic takes a short timeout - keeping his words brief and pointed. Vardar cannot let Kiel slip away.


21:40
Two goals by Julien Bos and Montpellier have their first lead. The 23-year-old right back has been superb for Montpellier all season - he's played for the club his whole career, and scored his first EHF Champions League goal way back in February 2017 when he was still only 19, but this season he's Montpellier's top scorer and has been critical to all their victories. 
He is the oldest player on court, but has made the most counter-attacks, scored the most goals, and looks the fittest of all. Vardar left wing Timur Dibirov is making the difference in a match in which Vardar look fresher, and in which Kiel still have to replace their back court forces Sander Sagosen and Steffen Weinhold due to Covid infections. At the other end of the court there is another reason why Vardar managed to run that many counter attacks: outstanding goalkeeper Martin Tomovski, who saved more than 50 per cent of Kiel's shots.
21:25 | FULL-TIME
HC VARDAR 1961 13:10 THW KIEL
Faced with that goalkeeping masterclass from Martin Tomovski, and a goalscoring masterclass from Timur Dibirov (seven goals already), Kiel are finding Vardar tough nuts to crack tonight. A goal on the buzzer puts the home side, roared on by a crowd in full singing voice, three up.


HC PPD ZAGREB 13:12 MONTPELLIER HB
In Croatia, another former champion is also in a little trouble. Despite Covid restrictions preventing Zagreb from playing in front of a full arena, they are attacking as though they have thousands of fans cheering them on. Montpellier have improved from a poor start, but will need to carry on in the same way after the break if they want another two points.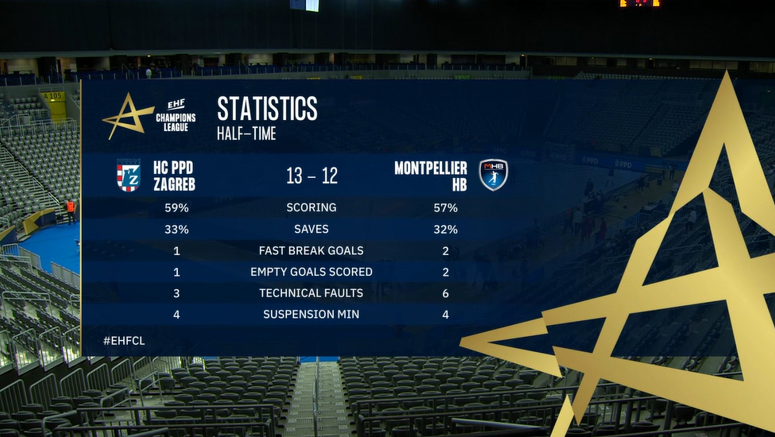 21:17
In a night of impressive goalkeeping, Vardar's Martin Tomovski is standing out. The 24-year-old has saved half of Kiel's shots - 10 out of 20 - keeping the 2020 champions from making the impact you might otherwise have expected. 
21:07
A four-goal lead by Zagreb has been whittled away to one by Montpellier, who are adjusting to the way their opponents are playing and gradually getting back on terms. Ivica Obrvan has taken his first timeout, but it was followed quickly by Montpellier's sixth goal.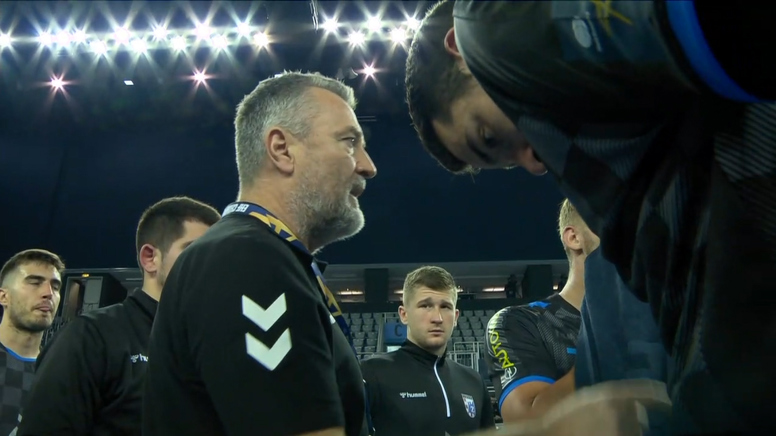 20:59
After well over three minutes of stalemate in Skopje, and a host of missed and saved shots, it's Kiel's goalkeeper Niklas Landin who equalises for the visitors into an empty net. It's been a tense sort of start to this match.
20:49
Both matches are underway, and after four minutes, it's 2:1 to both home teams. A decent start as the visitors are the favourites in these games.
20:35
Don't go anywhere, we have two more games to go tonight! 
They're both in group A, and could further shake up the rankings. Vardar host Kiel, and Zagreb host Montpellier. If either (or both) of the away teams win, they will go to the top of the group ahead of Aalborg and Szeged.
Vardar, currently on five points, have lost their last two group matches against Montpellier and at Aalborg
Kiel gave up a seven-goal lead against Szeged last week to tie 32:32 in the previous round - but have two points more than Vardar on their account
after his nine goals against Aalborg last week, Vardar left wing Timur Dibirov is the second top scorer of the competition with 30 strikes
Zagreb are still waiting for their first victory in the group phase; the only point they took was against Elverum
Montpellier have won their last three group matches and beat the former winners Kiel and Vardar to be on seven points, equal with Kiel
20:24 | FULL-TIME
Szeged maintain a strong record against Aalborg and earn a win that puts them level with the Danish club at the top of group A, for now. With three players scoring five times - and only three field players not scoring at all - it was a real team showing for the hosts. 
Aalborg showed their quality in the second half, repeatedly putting pressure on Szeged, but they just weren't able to easily find a way past Player of the Match Roland Mikler.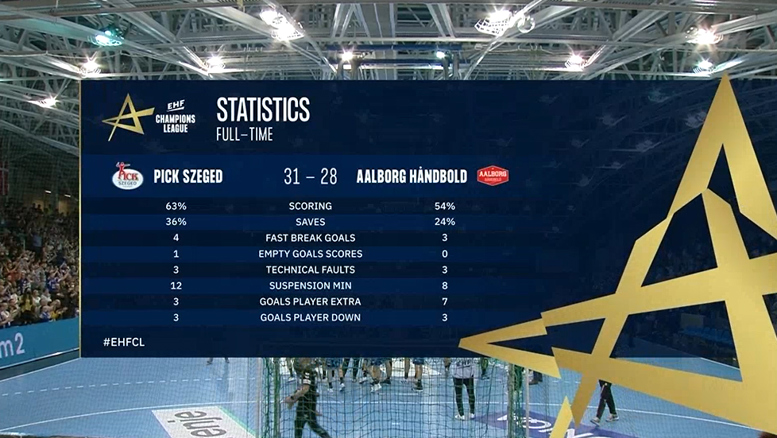 Kielce make it five wins in a row with a strong showing against PSG. In a game between two of the best attacks in the competition, the goals came thick and fast. Mikkel Hansen scored eight, while Elohim Prandi, Szymon Sicko and Dylan Nahi all netted six.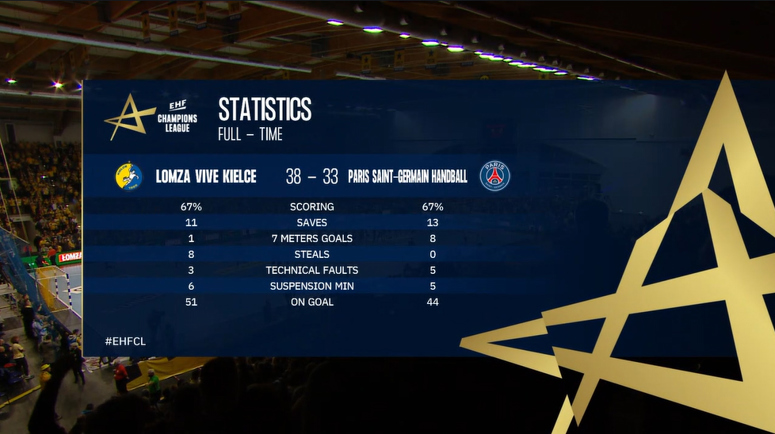 20:13
In Kielce, Igor Karacic has scored the home team's 37th goal of the game - and their 6,000th in the EHF Champions League. What a milestone to hit. 


20:10
In that timeout Juan Carlos Pastor told Mario Sostaric to go fast, and he does - picking up Dean Bombac's steal and scoring into the empty Aalborg net on a fastbreak. Szeged were threatened by a late Aalborg comeback, but they seem full of confidence again as they regain a two-goal advantage.
20:05
A timeout for Szeged. "Mario, go fast!" Juan Carlos Pastor tells Mario Sostaric. 
Aalborg are putting the pressure on the home team now. Simon Gade's goalkeeping has massively improved and the Aalborg attack is being more effective, although they still face Roland Mikler's brilliance.
Felix Claar sneaks the ball past Mikler, though, and it's a one-goal game!
19:54
The face of a man who has just stopped Jesper Nielsen and then Aron Palmarsson in quick succession. Roland Mikler is posing real problems for Aalborg. He's now up to 13 saves and Szeged lead by five with 15 minutes to play.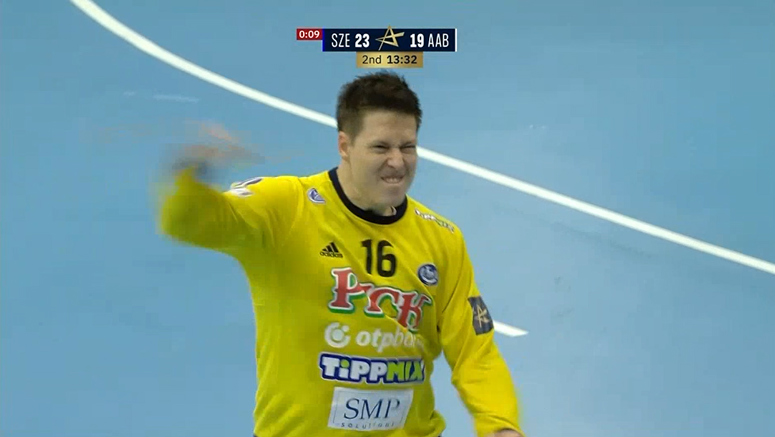 19:50
Dean Bombac is having an impact in the second half, scoring twice and being effective in Szeged's attacking play. The Slovenian star was definitely missed by Szeged the past couple of rounds.
19:39
Aalborg are making the running in the early moments of the second half. Szeged have just lost Sebastian Frimmel to a direct red card; in a penalty his shot skimmed the top of Simon Gade's head and he is sent off. (Gade is, luckily, fine - the two exchange an embrace).




Aalborg are trying hard to play their traditional Scandinavian way, but Pick has adapted well to this match play, and are hitting Aalborg with their own weapons – speed and many goals. Roland Mikler is winning the goalkeeper duel, and Sebastian Frimmel is playing extremely well on the wing. Aalborg definitely need to strengthen defence and goalkeeping if they want to turn the match around.
19:29 | HALF-TIME
PICK SZEGED 17:13 Aalborg Håndbold
Aalborg are not finding an easy way past Szeged. Sebastian Barthold has scored four times as one of six Aalborg players to have found the net, but eight Szeged players have scored. Borut Mackovsek leads the scoring with five goals.
Roland Mikler is outperforming the Aalborg goalkeepers too, and it all adds up to a healthy half-time lead for the hosts.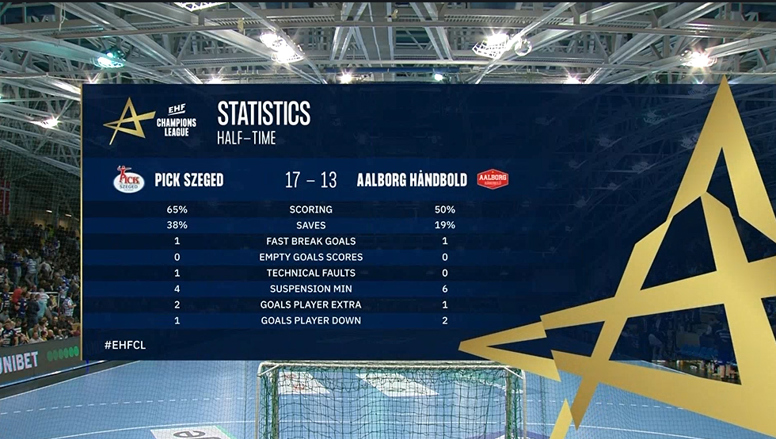 LOMZA VIVE KIELCE 19:14 PARIS SAINT-GERMAIN HANDBALL
There's a five-goal lead in Kielce for the hosts, and it's a similar picture to Szeged in many ways. Andreas Wolff is outperforming the PSG goalkeepers - saving eight shots, 38 per cent. Former PSG left wing Dylan Nahi is using all his knowledge of the visitors and has netted five out of five for Kielce, who are showing why they're at the top of group B at the moment.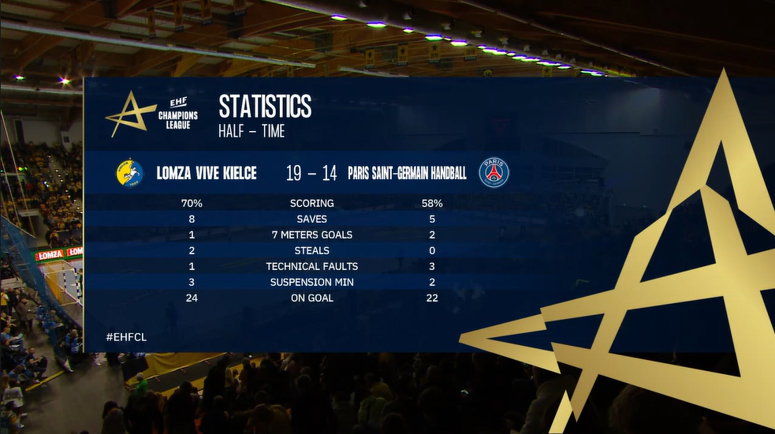 19:18
Signs of improvement for Aalborg, says Chris O'Reilly on the EHFTV commentary, as Aalborg edges back - but then Szeged rally. Stefan Madsen has switched Simon Gade out of goal and put Nichlas Ludvigsen in, which is having some effect.
19:11
Stefan Madsen calls his first timeout, with names including Bence Banhidi coming up in an intense period of discussion. 
Unfortunately with the possession that follows, Martin Larsen's shot hits the crossbar and he's then suspended for a foul. Richard Bodo scores.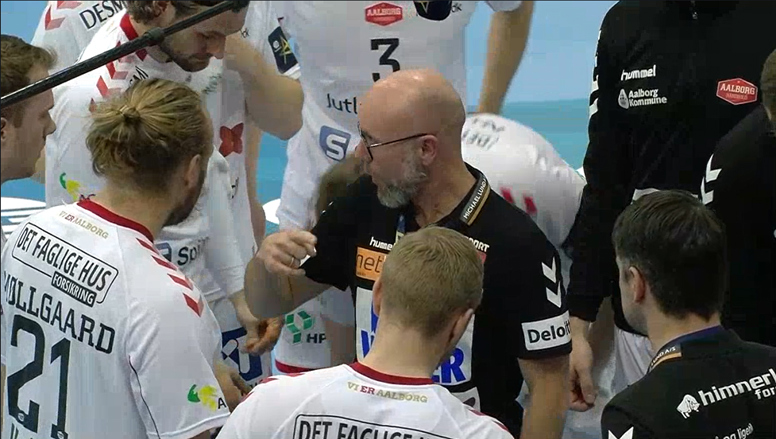 19:07
A bit of luck by Aalborg as, after some discussion over a potential early substitution, the referees declare a foul and award a penalty which Sebastian Barthold scores. That puts them back within two goals of Szeged.
19:03
Szeged are outplaying the group A leaders at the moment, with more success in attack and good defending helping them hold a decent lead. They're more accurate in their shooting, and they're also passing well and making the most of their possession.
18:55
A combination of a brilliant start by Roland Mikler and three Borut Mackovsek goals have put Szeged up 5:3 after about 10 minutes. There's plenty of noise from the Szeged supporters in the hall.
18:45
The squads for Match of the Week have been revealed - Dean Bombac is back for Szeged, Aalborg are missing goalkeeper Mikael Aggefors through injury, as well as Buster Juul through illness.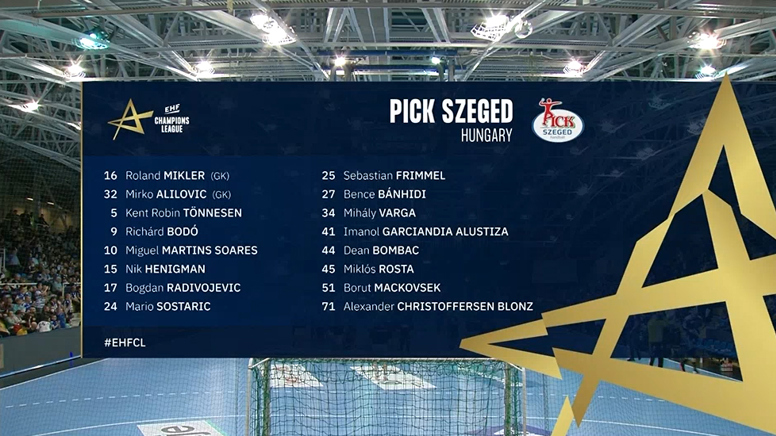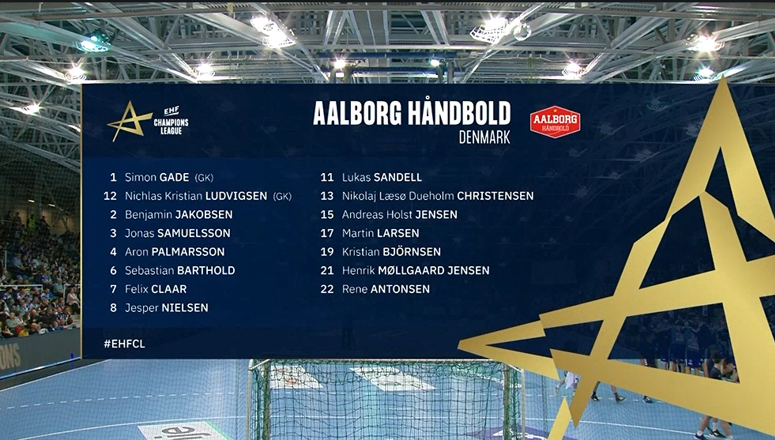 18:40
Coverage has begun on EHFTV for both games, with Chris O'Reilly commentating for MOTW. He's noted that this is likely to be the last Match of the Week from the Varosi Sportcsarnok Szeged, before Szeged move to their new home in the Pick Arena. 

18:30
We'll bring you the squads for MOTW soon, but Aalborg did confirm that unfortunately left wing Buster Juul has not been able to travel to Hungary through illness. The rest of the squad is fit and well, apparently.
It'll be a very difficult game. Aalborg plays really fast handball. In attack they have great leaders like Aron Pálmarsson and Felix Claar and their defence is so tough with Henrik Møllgaard.
18:00
With less than an hour before throw-off, take some time for dinner with Kent Robin Tønnesen of Szeged and Kristian Bjørnsen of Aalborg, who spent some time chatting with Hannah Jackson earlier today. Check it out on Instagram.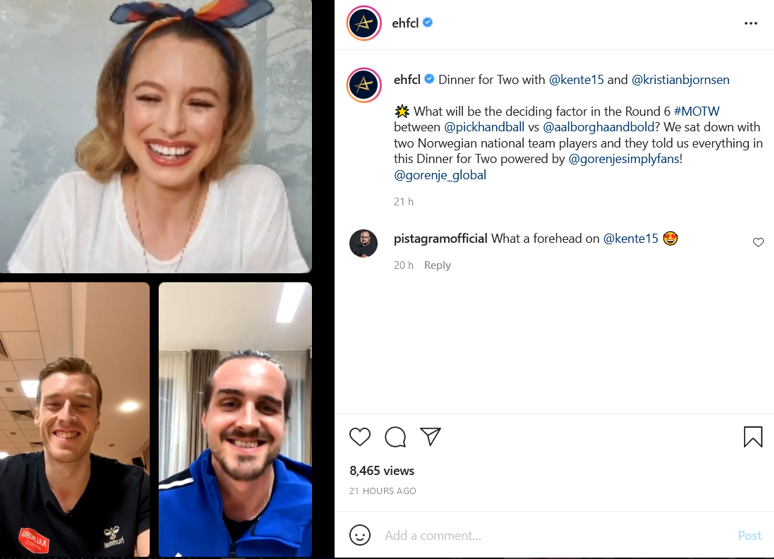 17:00
In Poland, we see another meeting between Kielce and PSG, the two teams that played those two all-time classics in the 2018/19 quarter-final...
We could be in for a goal fest tonight with two of the most scoring attacks facing each other: Kielce with 163 and PSG with 166 goals. No other team in group B netted more, not even defending champions Barça. 


16:54
Let's start with the Match of the Week. Last season's finalists Aalborg are doing very well in the 2021/22 campaign, with only a defeat against HC Vardar 1961. Szeged dropped two more points on their way so far, with draws at Montpellier HB and TWH Kiel and a surprise home defeat against Elverum Handball.
Szeged have lost just one of their previous six duels with Aalborg - and the last four matches included two wins for the Hungarian side and two draws.
One of Szeged's standout players this season is new arrival Sebastian Frimmel. EHF journalist Björn Pazen caught up with the Austrian international for this interview:
16:47 
Well, it is hard to imagine a better start to a Champions League round than the one we have coming up tonight: Match of the Week between Pick Szeged and Aalborg Håndbold as well as Lomza Vive Kielce against Paris Saint-Germain both start at 18:45 CEST.
(Don't worry, you can watch multiple games on EHFTV at the same time on one screen!)
That means the leaders of group A - Aalborg - and the shared leaders of group B - Kielce - are both in action in the first batch of matches. Wow!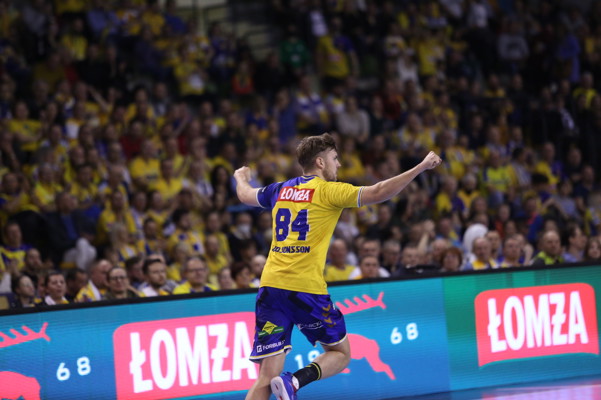 16:36
The eight matches couldn't have been spread any better, with two games to look forward to in each of the two time slots (18:45 and 20:45 CEST) tonight and tomorrow.
Our weekly round preview will get you up to date on all eight matches:
16:30
It is Wednesday afternoon and handball fans across Europe know what that means: another round of EHF Champions League Men matches is coming your way very soon!
Welcome to the live blog covering round 6 of the group phase. We throw off in just over two hours' time. But first, here is the full schedule for today and tomorrow: