EHF Champions League
Kielce win MOTW; Barça, PSG and Porto take points
Round 2 of the EHF Champions League Men saw big wins for Barça, PSG and Szeged; a MOTW victory for Kielce; a goalfest in Kiel; and Porto taking their first points.










THURSDAY 23 SEPTEMBER
23:15
That's all from the EHF Champions League Men for tonight. We hoped you enjoyed round 2 as much as we did! Next week we face the tantalising prospect of games including Veszprém vs Barça, Vardar vs Aalborg, and Dinamo vs Porto. 
Keep following our social media accounts and of course eurohandball.com for reaction, photos, videos, previews and exclusive interviews with all the stars of the biggest handball show.
22:45
The joy among the Porto players and their fans as they won their match was something to behold. Enjoy Antonio Areia's penalty that gave the home team the victory over Flensburg.

22:40
Here's a reminder of all the results from the last two evenings, in case you missed anything.
22:28
So group B is shaping up to be rather exciting. After round 2, Barça are the only undefeated team, and Flensburg the only team to have lost two matches. Everyone else has one home win and one away loss to their names. 
In group A, Aalborg and Kiel have won both their matches. We know it's still very early days and everything could - and probably will - change, but make your predictions now. Of the three undefeated teams, which is most likely to end up at the EHF FINAL4 in Cologne?
22:18  - FULL-TIME
Another high-scoring match ends with PSG's first win of the season, and what a comfortable win they had. Cedric Sorhaindo scored nine times for Dinamo but that couldn't stop the French side, who had seven players scoring four or more goals. It was an impressive return to form for PSG.
What a remarkable end to the match. Again, Flensburg took a three-goal lead and again Porto fought back. A string of saves from Sebastian Frandsen and missed goals gave them the opening they needed, and when Mads Mensah Larsen's shot with 20 seconds on the clock was saved Porto gained possession. They forced a foul by Flensburg, and in the last second Antonio Areia stepped up for a perfect rocket of a penalty. Thrilling stuff!

22:00
Hampus Wanne and Jim Gottfridsson - surely Flensburg's most valuable duo - pull their side ahead and the visitors briefly hold a three-goal lead. But Porto, fighting hard, waste no time in coming right back and it's again a match exchanging goals. Flensburg might just have the better momentum, but Porto are deploying their favoured seven-on-six tactic to try and stay on terms.

21:44
It's just a goal-fest for Paris now. They're averaging more than one goal a minute, to the delight of their fans and the irritation of Dinamo who can't find the key to reducing their deficit. 
In Porto, the second half has picked up as the first half ended, with Porto narrowly ahead but Flensburg responding to every successful attack with one of their own. 
21:25 - HALF-TIME
There's two very different matches going on right now!
PARIS SAINT-GERMAIN 21:11 CS DINAMO BUCURESTI
Dinamo have not been able to find the form they shows in last week's triumph against Kielce yet. PSG, in front of a good home crowd, are showing why they're one of the favourites to go all the way this season.
FC PORTO 13:12 SG FLENSBURG-HANDEWITT
This one's a pretty equal clash. Porto just have the edge in the goalkeeper statistics, with new signing Sebastian Frandsen saving 37 per cent of shots to Benjamin Buric's 28 per cent, but otherwise there's not much splitting them. Last time these two met Flensburg roared back after the break, but that was in Germany ...
21:16
Dinamo are in serious trouble, trailing by seven goals. They're struggling to find ways around PSG's rapid attack and generally solid defence.

21:06
The match in Porto has become a close game. Porto have missed a couple of shots through bad luck - Pedro Valdez saw his first attempt ricochet off the crossbar - and Benjamin Buric is effectively stopping quite a lot of their attempts. He's on a 36 per cent save rate right now.

PSG are well ahead against Dinamo and Nedim Remili is having a blinder with five goals scored already. They're less than 20 minutes in.
20:54
Six and a half minutes in, and Porto had scored three times while Sebastian Frandsen had saved three times to give Flensburg a very slow start. Lasse Svan finally got the visitors on to the scoreboard in the seventh minute.
Dinamo had the better start in Paris, but Mikkel Hansen has just given his team the lead. 
20:45
Next up, two more matches to close the round. Paris Saint-Germain are hosting Dinamo; after last week's loss to Veszprém the French team will be hoping they can turn things around at home.
Porto and Flensburg both lost last week, so the points up for grabs are key. They met once last season, with Flensburg winning 36:29 at home. Porto's new-look, young squad are probably the underdogs here, but they are always strong on home court.








20:35
Player of the Match of the Week goes to Alex Dujshebaev. He didn't start the match, but when he did take to the court what an impact he made! Two goals in the first half, and five in the second out of 10 shots, including one penalty which he rocketed past compatriot Rodrigo Corrales. And let's not forget the seven assists to his teammates. 
20:20 - FULL-TIME
Veszprém threw everything into the last quarter, but despite nine goals for Petar Nenadic and a significant part played by Rodrigo Corrales in the second half, it's Kielce who take the win and the two points in MOTW. 
That will definitely lift the Polish side's confidence after last week's disappointment, and shows how exciting group B will be this year. 
After a pretty close first half Barça made things look straightforward, as they cruise to their second win of the season. Dika Mem is again his team's top scorer, and Gonzalo Perez de Vargas again solid between the posts, but this was a group effort - only two players failed to score tonight for the home side.

20:12
An update from Barcelona: the defending champions shook off Motor's challenge and now lead by 10 goals. 
20:10
Alex Dujshebaev is playing a key role in keeping Kielce in front - not just scoring, but also assisting with some spectacular moves. He's such an impressive player to watch.

20:05
MOTW is ebbing and flowing. Veszprém did come back from four goals down last week at home, but you get the sense that the momentum is with Kielce here. Every time Veszprém seem to be getting back on terms, Kielce regroup.
19:55
Veszprém have conceded far more penalties than Kielce, which is one reason for the difference in score - five to two, so far. However, Rodrigo Corrales has saved two out of the three he's faced and he's helping Veszprém stay in touch.

Kielce's fans are in full song, mostly standing up and clapping their team onwards.
19:45
The second halves of both matches have started. Veszprém are missing chances again, and Kielce have a six-goal lead.
Barça have also had a good beginning to the second half, moving out to a five-goal lead in the first couple of minutes. 
After their weak performance last week, Kielce are like a phoenix from the ashes in the MOTW. Veszprém had enormous problems in attack, but were luckier in the last minutes before the break. And it is not team captain Andreas Wolff but Mateusz Kornecki standing strong in the goal, backing the really strong defence with a 40 per cent save efficiency.
19:28 - HALF-TIME
LOMZA VIVE KIELCE 17:12 TELEKOM VESZPRÉM HC
Alex Dujshebaev gives Kielce a five-goal lead on the buzzer, his second of the game. The Polish side look like a different outfit to the one that lost to Dinamo last week.
Igor Karacic and Petar Nenadic lead the scoring at the break, each with four goals, in a game that has seen a total of 13 players hitting the back of the net.
BARÇA 16:13 HC MOTOR 
Dika Mem is playing an outstanding game for Barça, leading his team to a three-goal half-time lead. Motor are not out of it, though. 
Both goalkeepers - Gonzalo Perez de Vargas and Gennadiy Komok - are on form, saving over 30 per cent of shots.
19:20
Is Veszprém's luck changing? Rodrigo Corrales has come on in goal for Veszprém and immediately saves a penalty from Arkadiusz Moryto. Then Artsem Karalek receives a direct red card for a dangerous foul; THEN Petar Nenadic scores two in quick succession including a great empty-goal shot from the other end of the court. Suddenly, there's just three goals in it.
19:10
Over in Spain Barça cruised into a big early lead against Motor, with saves by Gonzalo Perez de Vargas, and four goals by Dika Mem, giving them a five-goal advantage by 15 minutes in.
Motor have just had a run of goals that have pulled them back to a two-goal deficit, and might be finding their way back into the match.

19:05
Uladzislau Kulesh has scored his first goal of the EHF Champions League season, and it's worth a watch. 

19:01
"This is a nightmarish start for Veszprém," says commentator Chris O'Reilly, and he's not wrong. They trail 2:7 and even a timeout by coach Momir Ilic doesn't seem to have made much difference.
Kielce's keeper Mateusz Kornecki is also pretty important to their lead. He's saved a whopping 75 per cent of Veszprém's shots so far.
18:55
Five Kielce players have scored now and the home team lead 5:2. Veszprém's defence is beginning to wake up, and they need to do so to get back on terms.
18:50
In front of a busy yellow-clad crowd Kielce have moved to an early lead, scoring the first two goals in a confident start - although Artem Karalek is already serving a two-minute suspension, which is less than ideal.
18:38
Before the match starts, pop over to Instagram and watch the Breakfast for Champions with Anja Althaus, who today talked to Dylan Nahi and Kentin Mahe about tonight's clash!


18:30
We've been asking Twitter followers to vote on who they think will win tonight's MOTW today, and currently Veszprém have the edge. 
The stats are on Veszprém's side - in 14 previous matches with Kielce, they've won 10, drawn one and lost three. However, both teams earned domestic wins this week so will have confidence.
18:15
A must-read before MOTW begins is our interview with new Kielce signing Dylan Nahi, who seems to be enjoying his move from Paris to Poland so far.
18:00
Welcome back to the live blog for the second night of the EHF Champions League group phase round 2. 
Tonight is of course the Match of the Week, in which Kielce are hosting Veszprém. 
Last week the Polish side suffered a surprising loss away to Dinamo, while Veszprém beat Paris in a solid showing at home. That puts the pressure on Kielce, who really must win today to get back on track. It throws off in 45 minutes and there will of course be commentary on EHFTV. 
Kielce fans will no doubt be happy that this man is recovered from injury and ready to play.







WEDNESDAY 22 SEPTEMBER
22:59
We'll leave it here for tonight as we do it all again on Thursday with group B in focus, highlighted by an epic Match of the Week in prospect between Kielce and Veszprém. I'm certain you'll join us for that and thank you for joining us this evening!
22:34
This is a very good question. It is certainly among the highest-scoring games of all time. A game for the fans to enjoy but you get the feeling that both coaches, Lund and Jicha, will tossing and turning in bed tonight, thinking about their defence.
22:21 - RESULT: Vardar 35:27 Brest
It's like the good old days (of just two years ago) for Vardar with fans in the arena and impressive victories on home court. Few could have expected such a comfortable win in the end and at times it wasn't comfortable at all. But a brilliant shooting performance from Kevynn Nyokas and 10 saves from Martin Tomovski made the difference as the Skopje side made their presence in this group well and truly felt tonight.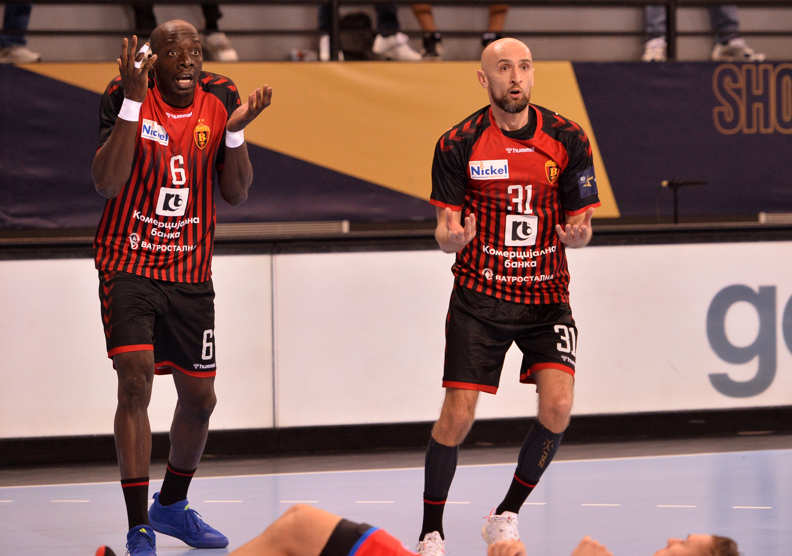 Well, that was probably not the evening Kiel had in mind as they came into this game but they came through it thanks to an improved second-half performance.
Elverum have so many positives to take away from this game, not least the performance of 21-year-old Eric Johansson and his seven goals tonight.
Kiel's win puts them joint-top of the group with Aalborg, while Elverum head to Zagreb in search of an important win next week.
22:07
The introduction of both Landins, Magnus and Niklas, have helped Kiel gain the upper hand here and they now look certain to claim victory. While Sagosen has been fairly quiet, Kiel's other Norwegian Harald Reinkind has had a great day, scoring seven so far. 37:34 with 4 minutes remaining.
22:03
Still three goals between the sides in Skopje and some nerves appear to be creeping into the contest. A pair of Yoel Cuni goals gave Vardar a 5-goal lead but it didn't last for long. 26:23 with 12 minutes left.
21:56
After 45 minutes, Sander Sagosen finally gets himself on the scoreboard against his fellow countrymen. Kiel with a measure of control in the game now but Elverum are not giving this one up without a fight. Simen Pettersen cuts the gap to 31:29!
21:53
Vardar find themselves in a spot of bother with a double suspension and their advantage cut down to three goals with a Stas Skube steal and goal. Stojanche Stoilov settles the nerves a bit with a well-taken goal on the line but Brest are back in this contest - 23:19 after 41 minutes.
21:45
As expected, Niklas Landin has come in between the posts and has been joined on court by a more composed Kiel team. 8 minutes into the second half and they now lead 27:24. What have Elverum got left to throw at them?

21:26 - HALF-TIME: Vardar 19:13 Brest
Vardar turned it on big time in the final 8 minutes of the half, scoring 8 goals and taking full control of the game. 
Brest are not playing terribly in attack but will have to get their defence in order if they want to make a game of this.
21:21 - HALF-TIME: Kiel 20:20 Elverum
40 goals in the first half!
Elverum are playing out of their skin here and now have 15 minutes to relax, reset and go again. Kiel know they can control this if things click but that is simply not happening in defence so far. I have a feeling we'll see Niklas Landin enter the fray after the break.
21:16
Elverum still hold the lead! It's 18:16 with four minutes left in the first half. Whatever happens here, they have a lot to be happy with.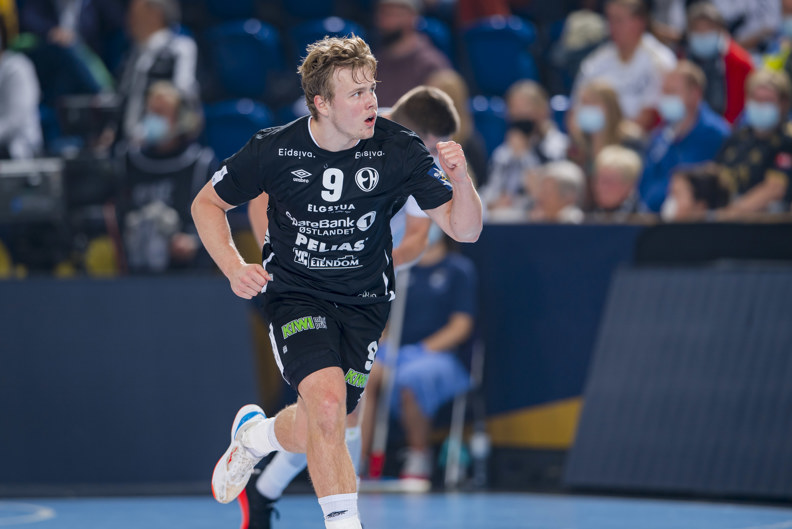 21:09
Vardar are doing something they haven't really been able to do for a couple of seasons - use their bench. Plenty of rotation in the squad and it is paying off with six goalscorers and an 11:7 lead after 19 minutes.
20:58
Elverum have been fearless and gutsy in their approach and it has paid dividends, they still lead against Kiel - 11:10 after 14 minutes. Kiel beginning to pile on the pressure now though...
20:55
Yoel Cuni has scored all three of Vardar's goals so far as they lead a tense opening exchange with Brest, 3:2.
20:50
It has been a glorious start for Elverum in Kiel, racing into a 4:1 lead. How long can they keep this up?
20:39
2020 champions THW Kiel face Elverum for the first time and I think we all know what their expectant home crowd expects tonight.
Elverum coach Börge Lund played for Kiel in the past and won this competition with them in 2010. Lund is also part of the Norway national team coaching staff and hopes to put that to good use against Kiel's two Norwegian internationals Sander Sagosen and Harald Reinkind.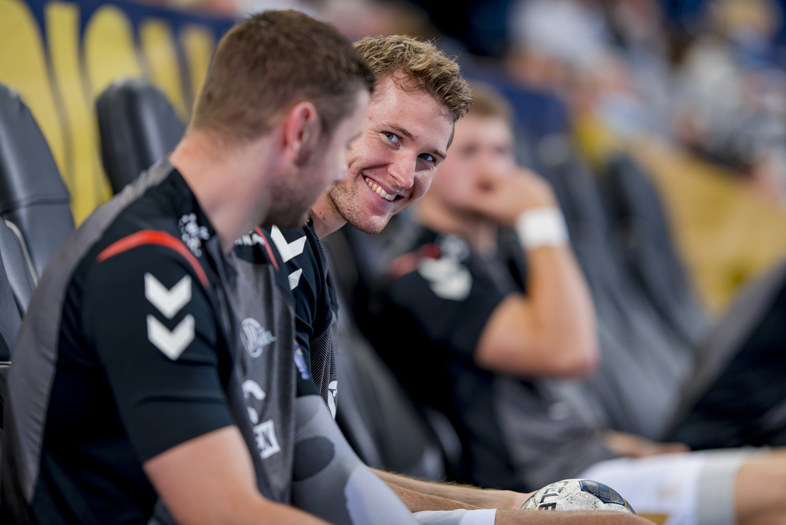 20:30
We push on with our next two games, set to begin at 20:45 CEST - Kiel vs Elverum and Vardar vs Brest.
Of these four teams, only Kiel have recorded a victory and will be hoping to join Aalborg at the top of the group by the end of the evening. Vardar and Elverum shared the points last week and Brest are in search of their first in Skopje.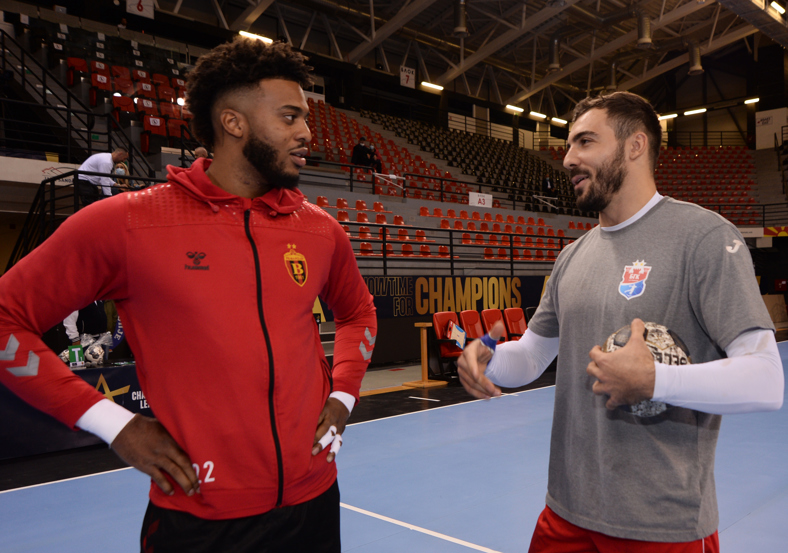 20:15 - RESULTS
Two very similar results in the end but the journeys to that point were very different.
Aalborg 36:28 Montpellier
This feels like a harsh final score for the 2018 champions but Aalborg were not messing around in that final quarter, they found another gear and pressed home a big advantage.
Sandell ends the match on 11 goals, supported by six each by Buster Juul and Felix Claar on what was a joyous first home game of the season.
Szeged 30:21 Zagreb
It is clear to see that this new-look Szeged side is still finding its rhythm but when they finally got going, nothing Zagreb had at their disposal could stop them.
Wings Mario Sostaric and Sebastian Frimmel led the way with 13 goals between them, while Miguel Martins was best of the back court scorers, providing four goals and four assists.
20:09
Alilovic hasn't been quite as prolific as he was in the first half but he and his team are getting the job done against a tricky Zagreb outfit - 26:19 with 5 minutes left on the clock.
20:02
Aalborg have just about withstood Montpellier's advances and now seem to have regained a measure of control. The injured Aron Palmarsson watches on as Nikolaj Læsø scores his first goal of the game to make it 27:23 with 11 minutes remaining.
19:58
Much like their game against Aalborg last week, Zagreb have been shut down in the all-important third quarter of the match and look destined for another heavy loss.
Kent Robin Tönnesen makes it 22:14 on the 46-minute mark.
19:51
We have a game on our hands in Aalborg. Kevin Bonnefoi is making saves and the home side's attack ain't looking so formidable anymore...for now. To make matters worse, Jesper Nielsen has left the court with an ankle injury. 23:21 after 42 minutes.
19:44
That is much better by Szeged. Bence Banhidi beginning to throw his weight around and his teammates are finding him or their own routes to goal - 15:9 to the home side.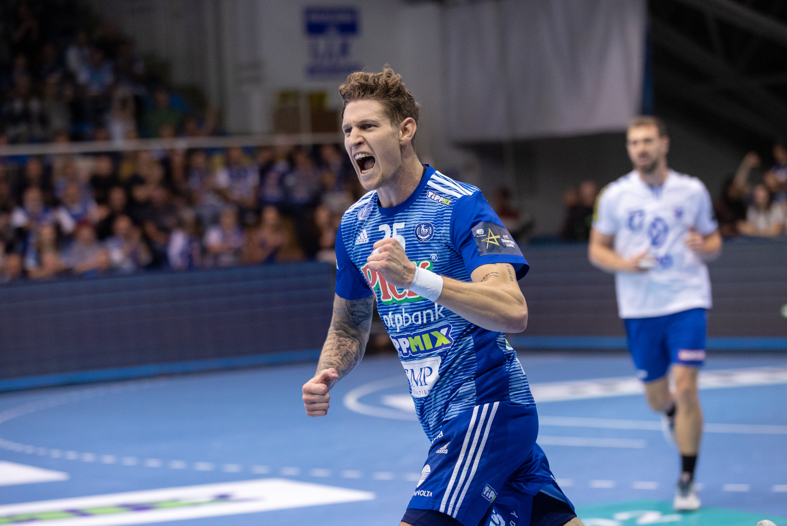 19:39
Montpellier looking much improved at the beginning of the second half as a quickfire hattrick of goals by Kyllian Villeminot brings his side within three - 19:16.
If Montpellier are missing some key players tonight, it certainly is not the problem for them, as the defensive intensity is clearly missing for the French side. Lukas Sandell is doing everything he can on the court, and when he is not scoring from open positions, his teammates are finding solutions on fastbreaks. If Montpellier want to be back in the game, they must strengthen their defence. And quickly.
19:21 - HALF-TIME: Szeged 10:7 Zagreb
It hasn't been a classic so far but that will suit Zagreb as they go in hunt of a surprise result. Szeged with the advantage now but they will not be resting on their laurels, especially when you consider their keeper Mirko Alilovic has bailed them out with nine saves so far.
19:19 - HALF-TIME: Aalborg 18:13 Montpellier
It is all about Lukas Sandell so far tonight! 8 goals for the Swedish right back as his side have been simply brilliant in attack. 75% scoring, six fast-break goals and it is difficult to see a way back for Montpellier in this form.
19:16
Szeged slowly building their lead, 9:6 after 26 minutes, but Zagreb are refusing to roll over here and if they can limit the damage until half-time, they will feel they have a chance here.
19:09
Aalborg beginning to put the squeeze on their guests now. Fast breaks and confident back court shooting taking its toll as they open up a 13:9 lead.
19:02
We're being treated to two very different games at the moment. 17 goals in Denmark after 15 minutes, just 7 in Hungary.
After a slow start, Szeged are finding their way in this match against Zagreb, who are still looking solid in defence, trailing just 4:3.
18:56
It is all about the right backs so far in Denmark. Montpellier's Marko Panic has scored a goal with both his left and right hands so far but that pales in comparison to Lukas Sandell, who has scored five from five attempts in the first 11 minutes as Aalborg lead 8:5.
18:50
A high-tempo opening four minutes in Denmark, where three of the first four goals were scored by Swedes, two for the previously mentioned Sandell and one for Montpellier's Pellas. 
Buster Juul then gives Aalborg their first lead of the day from the penalty line - 3:2 after 5 minutes.
18:44
The warm-ups are over, let's get this evening of handball started!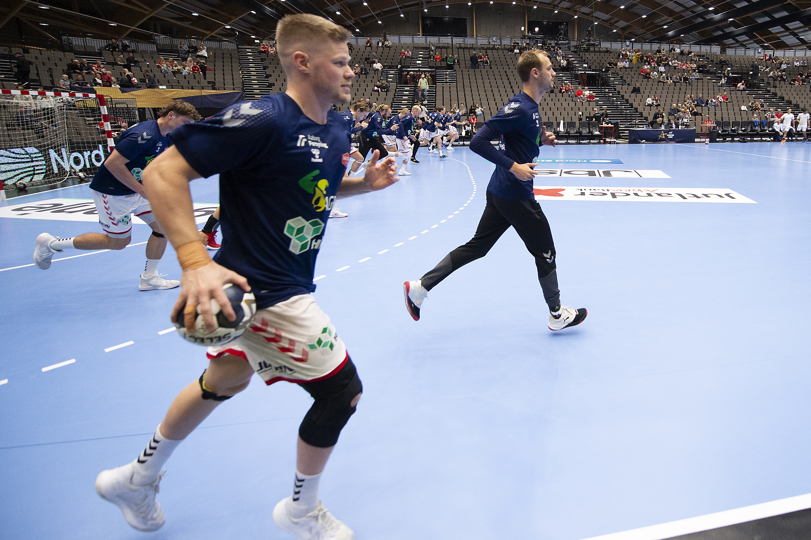 18:33
The upcoming match against Montpellier looks set to be Aalborg's first major test of the campaign, a campaign in which they will attempt to emulate last season's brilliant run to the final.
This year, they will have to handle increased pressure from media, supporters and opponents. But that does not seem to worry Lukas Sandell.
"We only enjoy it — and most of all we enjoy having our supporters back in the arena," says Sandell.
"It is natural since we have added players like Aron Palmarsson, Kristian Björnsen, Jesper Nielsen and Martin Larsen. But we have not noticed the increased pressure — not yet at least.
"The biggest change is having our supporters back in the arena, which we really enjoy," said Sandell in an interview published yesterday. It will be exciting to see the full arena in Denmark for the game beginning in just over 10 minutes.
18:17
Montpellier and Szeged are back in action in the early throw-offs after their exciting draw last week in France. The 2018 champions have a much-changed squad this season but a solid overall team performance will give them plenty of hope for their clash in Denmark tonight, while Szeged will be expecting to claim their first win at home to Zagreb.
18:08
Before the action begins in just over half an hour, it's the perfect time to download the new Home of Handball app. The app has everything you need as a handball fan on the go, including this live blog - maybe you're already reading this on the app and if so, welcome!
Go download it here.
17:49
Hello one and all and welcome to the start of round 2 in the EHF Champions League Men.
It's all about group A today with all four matches coming from what already appears to be quite an evenly matched octet as two of the last week's encounters were draws, while group favourites Kiel and Aalborg scored away wins.
Here's today's schedule.
18:45
Aalborg Håndbold vs Montpellier HB
Pick Szeged vs HC PPD Zagreb
20:45
THW Kiel vs Elverum Handball
HC Vardar 1961 vs HC Meshkov Brest