Summary: Toulouse, Irun advance; four Last 16 spots still open
round 8 of the EHF European League Men 2021/22 group phase
12 matches on Tuesday include double-digit wins for Füchse (35:23 vs Irun), Plock (29:15 vs Presov), GOG (34:23 vs Cocks), and Magdeburg (39:28 vs PAUC), as well as crucial wins for Velenje (31:30 vs La Rioja), Sporting (34:26 vs Tatabánya) and AEK (34:30 vs Nimes)
Toulouse (30:27 vs Pfadi) and Irun (despite the defeat vs Füchse) book their Last 16 ticket, joining the 10 teams that were already through after last week's round
check the updated group standings
Eric Willemsen reporting on Tuesday night
23:15
Here ends our coverage of round 8. What a night it was; the EHF European League just never fails to deliver! We are back next Tuesday (1 March) with the penultimate round of the group phase. Until then, stay healthy and see you next week!
Of course, we leave you with the best images of the night - 12 matches, 12 photos:












23:08
You want to read more about the match of your favourite team? We have you covered! Under this link you get access to all match reviews from round 8.

23:04
Tilen Sokolic's last-minute penalty made the Velenje left wing the match winner against La Rioja: 32:31. Here is what Sokolic said after the match:
The game was tense from start to finish. As we expected, two very similar teams. Today we reached our goal to take two points and stay in the fight to advance in the European League.
22:51
What do we know after round 8? The tickets to the knockout phase are selling fast - but they are not sold out yet! With two more rounds to go in the group phase, some teams can still hope to make it through.
12 of the 16 teams for the Last 16 have now been confirmed;
10 teams were already through before tonight: Plock, Füchse (both from group A), GOG, Benfica, Nantes, Lemgo (B), Magdeburg, Sävehof, Nexe (C), and Nimes (D);
Fenix Toulouse and Bidasoa Irun locked up their positions in the top four of group A tonight, so they will advance, too,
that leaves four open spots: one team from group C and three teams from group D.

22:44
So, that is a wrap for round 8. Here are all results once again for you: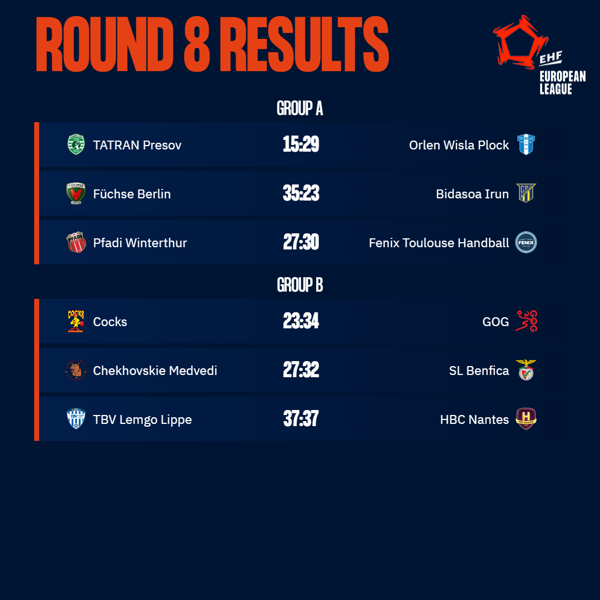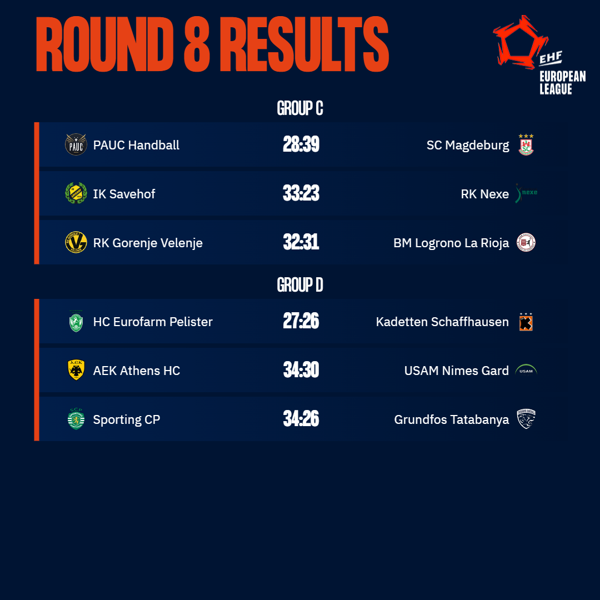 22:18 RESULTS
A - Pfadi vs Fenix 27:30 (17:15)
B - Lemgo vs Nantes 37:37 (17:20)
C - Velenje vs La Rioja 32:31 (16:15)
D - Sporting vs Tatabánya 34:26 (15:13)
22:13
Wow, what a finish to that crucial game for Velenje! A penalty from Tilen Sokolic for his eighth goal of the match gives them a 32:31 lead over La Rioja with 20 seconds left, and a last-second save from Aljaz Panjtar denies Angel Rivero the equaliser.
21:52
Velenje and La Rioja fight a close battle, nothing separating them in the second half.
21:36
Hot spin:

21:23 HALF-TIME SCORES
A - Pfadi vs Fenix 17:15
B - Lemgo vs Nantes 17:20
C - Velenje vs La Rioja 16:15
D - Sporting vs Tatabánya 15:13
21:19
Team timeout La Rioja. They trail Velenje by two (16:14) just before half-time in a pivotal clash for a Last 16 spot from group C.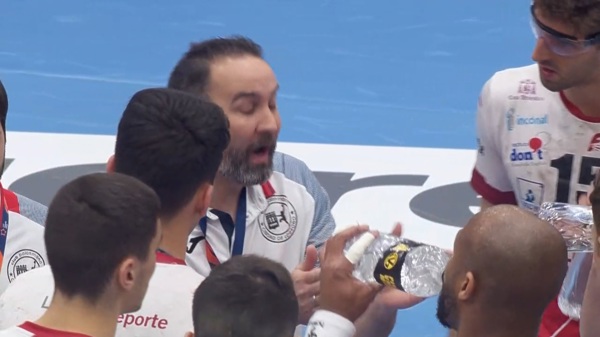 21:07
No room to get past the goalkeeper from that angle.
Oh, wait...
21:04
Let's hear from AEK coach Dimitris Dimitroulias after tonight's win against injury-hit Nimes:
If someone told me we would have six points with two victories against Nimes, I wouldn't believe him. Nimes had some players missing because of injury and we made good use of that. After the game against Tatabánya we were all too sad, but now we are smiling. We have to build the team spirit.
20:50
The last four matches of round 8 are underway. Meanwhile, you can find the first match reviews from the 18:45-CET session here on eurohandball.com: Presov vs Plock, Cocks vs GOG, and PAUC vs Magdeburg. The rest to follow soon!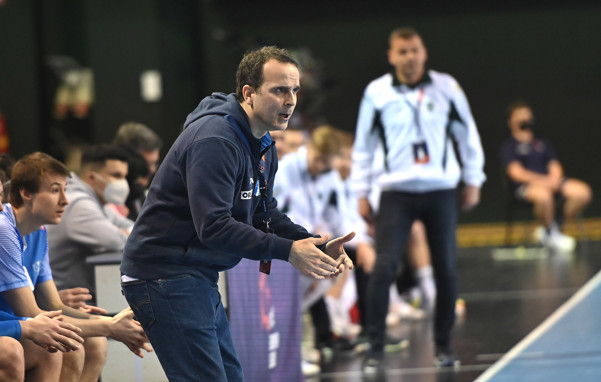 20:42
Hungry for more?

20:31
The first batch of matches is done and dusted. What do they mean for the battle for Last 16 berths?
group A: despite their big loss, fourth-ranked Irun will book their ticket if Pfadi also lose later tonight; Presov are out of the race
group B: the top four had already been confirmed
group C: PAUC are left with a purely mathematical chance for now after their drubbing by Magdeburg, but they are officially out of the race if La Rioja get a point from Velenje tonight
group D: fifth-ramked AEK keep their hopes alive with that surprise win over leaders Nimes
20:17 RESULTS
A - Füchse vs Irun 35:23 (16:10)
A - Presov vs Plock 15:29 (8:13)
B - Chekhov vs Benfica 27:32 (15:17)
B - Cocks vs GOG 23:34 (13:22)
C - Sävehof vs Nexe 33:23 (16:12)
C - PAUC vs Magdeburg 28:39 (13:20)
D - AEK vs Nimes 34:30 (15:16)
D - Pelister vs Kadetten 27:26 (15:12)
20:06
Awesome AEK:
19:59
OK, we had a through-the-legs assist earlier, let's do a behind-the-back assist now:
19:52
Impressive stuff from AEK tonight. They need a win over group leaders Nimes to keep their Last 16 hopes alive and halfway through the second half, they do indeed lead by three: 27:24. Patrick Toniazzo leads with eight goals.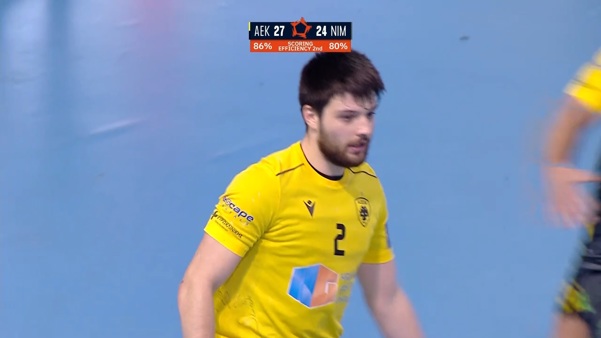 19:44
PAUC are well behind Magdeburg, but this is a lovely goal:

19:24 HALF-TIME SCORES
A - Füchse vs Irun 16:10
A - Presov vs Plock 8:13
B - Chekhov vs Benfica 15:17
B - Cocks vs GOG 13:22
C - Sävehof vs Nexe 16:12
C - PAUC vs Magdeburg 13:20
D - AEK vs Nimes 15:16
D - Pelister vs Kadetten 15:12
19:12
Perfect control:
19:10
Sävehof and Nexe are in for a close battle. The Swedish hosts had an early three goal lead but meanwhile it is 10:9. Crucial match this for second place in group C.
19:07
More of this, please:
18:58
After the opening 10, 12 minutes in the first eight matches, we see two teams with a big lead: defending champions Magdeburg are cruising in France against PAUC (11:3), and - less expected - AEK are leading group D leaders Nimes by 9:4!

18:36
A quick overview of where we stand before round 8 throws off in a few minutes:
in group A, Füchse and Plock are through, and they can be followed by Toulouse, who only need one point at Winterthur, and even by Irun, if both Winterthur and Presov lose;
all four teams proceeding from group B are known: GOG, Benfica, Nantes, and Lemgo;
group C (qualified: Magdeburg, Sävehof, and Nexe) have only one spot left, with the duel between Velenje and La Rioja potentially decisive;
group D is the most wide-open, as only leaders Nimes are through with the three remaining spots yet to be decided.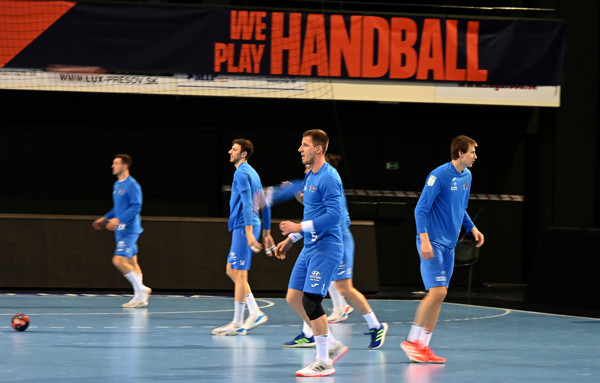 18:23
Here is a closer look at two matches that start at 18:45 CET: AEK face a must-win game against group D leaders Nimes, and Sävehof and Nexe continue their battle for second place in group C: 
18:11
One of the teams that are fighting for their chance to advance to the Last 16 is RK Gorenje Velenje. They reached the European Cup semi-finals last year, but the Slovenian champions have to be careful their European season does not end in the European League group phase this time.
EHF journalist Danijela Vekić caught up with Velenje left wing Tilen Sokolic ahead of the team's match against La Rioja tonight (at 20:45 CET):
17:51
Round 8 of 10 tonight, so slowly but steadily we are getting answers to this question: which teams are going to make it to the Last 16?
After round 7 last week, already 10 teams have secured their place in the knockout phase, so we are looking for six more teams to advance from this season's group phase. Who will book their spot tonight?
Here in the round preview are the most important facts about each of the 12 matches:
17:45
Hello, and welcome to another night of EHF European League fun!
We have progressed to round 8 of the group phase and we have a full schedule coming up for you this evening: 12 matches across the four groups. Here they are: