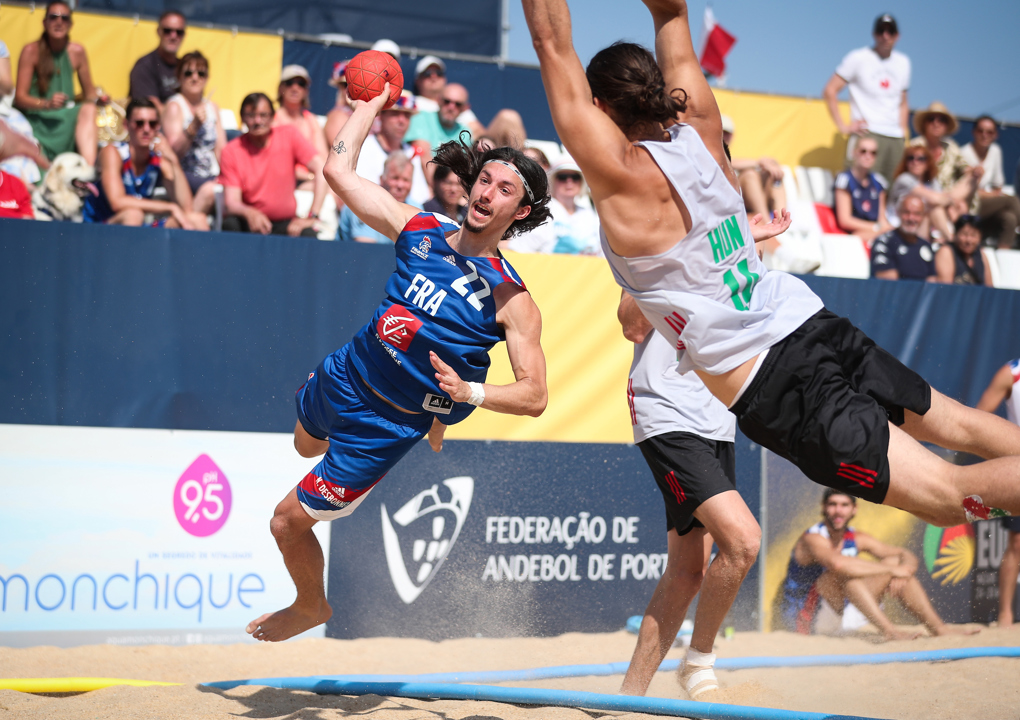 The Desbonnet brothers, starring on the beach and indoor
The younger brother is with the French national team at the EHF Beach Handball EURO 2023 in Nazaré, the older with Montpellier HB at the EHF Finals Men 2023 in Flensburg. Nicolas (22) and Rémi (31) Desbonnet are both playing in an EHF final tournament this weekend. A double interview.
They are brothers and both French internationals – but they are still so different.
While Nicolas Desbonnet dazzles on the sandy courts of Nazaré on the Portuguese coast this weekend, more than 2,700 kilometres up North, Rémi Desbonnet is stopping shots on the indoor court of the Campushalle in Flensburg.
Once they were both beach handball players and playing together. 'Nico' was able to dedicate much of his time to the outdoor version of the sport. For Rémi – who remarkably was a left wing, not a goalkeeper, in beach handball – his development into one of Europe's best indoor goalkeepers ended his beach ambitions.
Catching up with both Desbonnet brothers on Friday – Nicolas in Nazaré, Rémi in Flensburg – they kindly answered the same five questions.
How do you stay informed about the tournament your brother is currently playing in? How often are you in touch with each other?
Rémi: "We are not very closely connected at the moment, as we are both in crucial competitions in the key part of the season. In general, of course, I follow the results and try to see his matches if I have the time."
Nicolas: "Nothing special, we are just sending messages and have a few calls about the results. We also talk a bit about technical stuff."
What are the biggest strengths of your brother as a handball player?
Rémi: "He has all the skills a beach handball player needs: he can jump, he is quick, he is good in anything you need to be a successful player."
Nicolas: "He is always focused on the game, and he always has the wish to win the game – if it is an important game or a training game, he always gives 100 per cent. He is a natural leader, he can really help his team."
Rémi, as the older brother, what have you taught Nicolas about handball? And Nicolas, what have you learned from Rémi?
Rémi: "I have never put any pressure on him to play handball. He could decide, and funnily enough, he loves playing handball, too. This was not related to me. The most important thing is that he is happy with it."
Nicolas: "I learned from Rémi to focus and to not get mad about mistakes and stuff. You have to be focused all the time to be at your best level."
What have you learned from each other in beach handball?
Rémi: "I took some things on my own from my time as a beach handball player. It was perfect to keep the shape in the summertime. But now, when you play in the indoor national team, the summers are full of matches, too."
Rémi: "I taught him a few things, like how to shoot behind the back."
Away from handball, how would you describe your brother in three words?
Rémi: "I left our house when I was 16 years old and made it to the youth academy in Montpellier. Therefore, I did not see him that much in the last years. But I know that he is a good kid."
Nicolas: "Describing Rémi in three words? Arrogant, nice cool guy, and perseverant. Oh, he is going to kill me when he hears the first thing I said, hahaha."
photos © Uros Hocevar, Jozo Cabraja / kolektiff (Nicolas); Ingrid Anderson-Jensen, Patricia Glorion (Rémi)