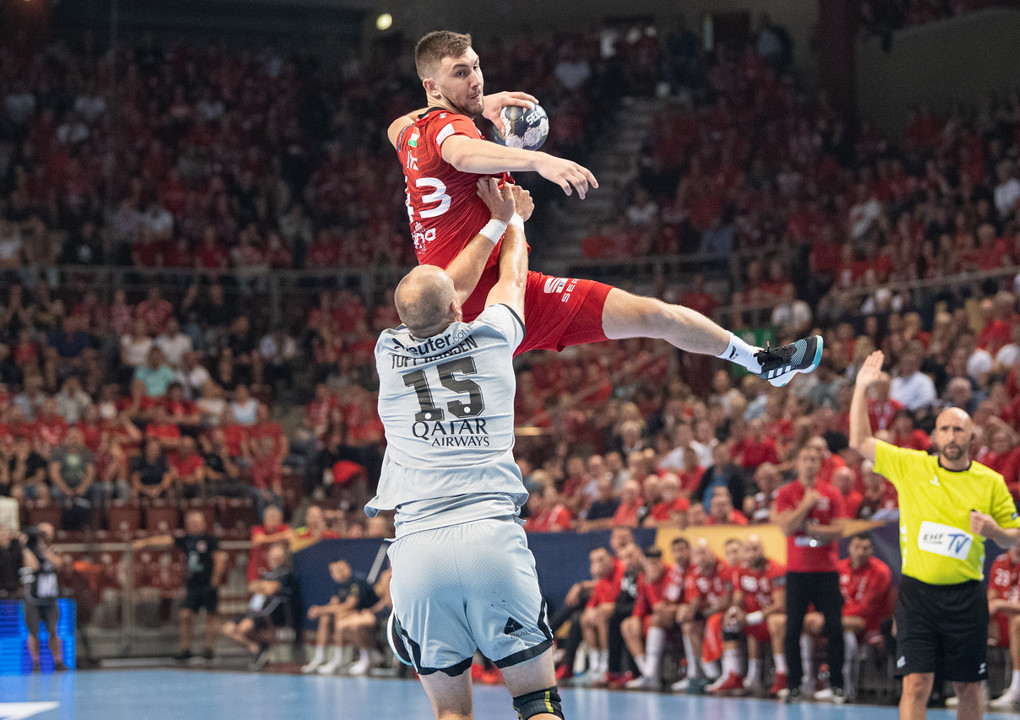 One quarter-final and one play-off ticket left to decide
After 13 rounds, little is left to be decided in the Machineseeker EHF Champions League 2022/23. Three of the four teams bound for the quarter-finals are already known, while all the play-off tickets but one have found an owner.
In group A, Telekom Veszprém HC must get a better result than Magdeburg if they want to finish second in the group – but that will not be an easy task while they visit group leaders Paris for Match of the Week In the meantime, SC Magdeburg will host C.S. Dinamo Bucaresti, who are in a battle with GOG for fourth. HC PPD Zagreb and Orlen Wisla Plock will be competing for the last play-off ticket, with the Croatian side currently one point ahead.
In contrast to group A, almost all decision are already taken in group B, with only the final ranking of the teams in places three to six yet to be confirmed. The group will close with a rematch of the 2022 final as Industria Kielce try to become the first team to beat Barça this season.
GROUP A
MOTW: Paris Saint-Germain HB (FRA) vs Telekom Veszprém HC (HUN)
Wednesday 1 March, 20:45 CET, live on EHFTV
Paris have already qualified for the quarter-finals and secured top spot in the group after their 32:26 win in Plock last Thursday
Veszprém, on the other hand, still do not know what their fate is. The Hungarian side can still finish second and book a quarter-final ticket, but they must get a better result than Magdeburg
if they do not manage to do better than Magdeburg in the last round, Veszprém will finish third, having lost once and drawn once against SCM
the first game between the two teams, in the first round, resulted in a Veszprém win on home court (36:34)
injured players Luka Karabatic, Dainis Kristopans and Kamil Syprzak all made their return with Paris last week, while Veszprém suspended Petar Nenadic until further notice last week
last weekend, Paris took the points in the French league against Nîmes (41:33) while Veszprém enjoyed a similar fate in FTC (40:30)
Paris are one of the best teams in Europe. They have world-class players in every position. It will be a tough match with a great atmosphere. For us, it is really important to win against PSG and get direct ticket to the quarter finals. They will play without extra pressure. We have time to analyse them and prepare well against them.
GOG (DEN) vs HC PPD Zagreb (CRO)
Wednesday 1 March, 20:45 CET, live on EHFTV
GOG have already secured their play-offs presence, for the first since 2006, but have still something to play as they have to do a better result than Dinamo if they want to finish fourth
Zagreb lost to Porto 26:28 in the postponed round 12 game on Sunday, meaning they need at least a draw to be sure of progression
the Danish side won the first confrontation between the two teams in Zagreb in round 1 (31:27)
GOG announced last week the signing of Swedish EHF EURO 2022 winner Linus Persson, who plays for HBC Nantes this season
four GOG players are in the top 15 Champions League scorers this season: Emil Madsen, Simon Pytlick, Morten Olsen and Lukas Jørgensen
last weekend GOG defeated Ribe-Esbjerg in the Danish league (40:31)
I definitely don't think it will be easy, even if we won the reverse game in Zagreb. Since then they have beaten both Veszprém and Wisla Plock, so there is no doubt that it is a good team that we will meet. We will try to play our own game, where we keep a high tempo in the attacking part, because they have one of the best defences in the group and we need to open that up.
SC Magdeburg (GER) vs CS Dinamo Bucuresti (ROU)
Thursday 2 March, 20:45 CET, live on EHFTV
while both teams have already secured their play-offs qualification, they also have something to play for in their last group phase game
Magdeburg are chasing a direct quarter-finals ticket, but they must at least take the same number of points as Veszprém in the last round
Dinamo can finish fourth in the group, but in order to do so, they must take the same number of points as GOG, as they won once and drew once with the Danish team
in round 1, Magdeburg won by two in Bucharest (30:28)
two players feature in the top 10 scorers so far: Magdeburg's Gisli Kristjansson (74 goals) and Dinamo's Andrii Akimenko (66 goals)
Magdeburg lost their weekend's derby in Leipzig on Sunday (32:33) while Dinamo took the Bucharest derby against Steaua (31:28)
We created the chance to skip the round of 16 on our own. And we want to use this together with our fans on Thursday.
FC Porto (POR) vs Orlen Wisla Plock (POL)
Thursday 2 March, 20:45 CET, live on EHFTV
Porto are already out of the race for the play-offs while Plock still have a chance to qualify, only one point down from Zagreb with one game to go
if Plock want to go through, they have to win in Porto on Thursday and hope that Zagreb lose in GOG on Wednesday
the Polish side won the first confrontation between the two teams at home this season (27:23)
Plock have only taken one point away this season, in Zagreb in round 5 (26:26)
Plock have the least efficient offence of the Champions League, with 346 goals scored across 13 games
Porto won on Sunday night against Zagreb (28:26) in a postponed game from round 12 while Plock took the points in Zaglebie in the Polish league (35:24)
The match against Porto is currently the most important match for us. We still have a chance to pass the group, so we will prepare well for the match and our goal is to win.

GROUP B
Elverum Handball (NOR) vs THW Kiel (GER)
Wednesday 1 March, 18:45 CET, live on EHFTV
eighth-ranked Elverum are already out of the race for the play-offs, while Kiel fight with HBC Nantes for third – both have 14 points
THW have won all three previous duels against Elverum, including a 36:26 victory in round 1 of the current season
Kiel's 21-year-old Swedish left back Eric Johansson played for Elverum until last summer, and is now among THW's five best Champions League scorers with 35 goals
Three Norwegian players are part of Kiel's squad: Sander Sagosen, Harald Reinkind and Petter Øverby
Kiel remain in third place in Germany after a 28:22 win against Lemgo, while Elverum did not play in Norway last weekend
OTP Bank-Pick Szeged (HUN) vs HBC Nantes (FRA)
Wednesday 1 March, 18:45 CET, live on EHFTV
both sides have already qualified for the play-offs and lost last week against 2022 finalists: Szeged were defeated 25:35 at Barcelona, while Nantes lost 30:33 at home against Kielce
Szeged are currently sixth with 10 points, one point below Aalborg. As they lost the direct encounter against the Danish side, they need to win and hope Aalborg do not win
Nantes are third, equal with Kiel on 14 points. If they lose at Szeged they could drop to fourth
Nantes won the reverse fixture 35:30 and have won five of the six last matches against Szeged
six Spaniards will lock horns: coach Juan Carlos Pastor and Imanol Garciandia from Szeged; Valero Rivera, Jorge Maqueda, Ruben Marchan and Kauldi Odriozola from Spain
Nantes won in Ivry in the French league (36:32), while Szeged took a close 25:24 at Balatonfüred to remain equal with Veszprém in the Hungarian league last weekend
We are not in an easy situation, as several of our players are injured and ill. Every day we have fewer players, so it is very difficult to prepare for the match. We are looking for a win against Nantes because we want to get another two points. The most important thing is to prepare as efficiently as possible with those players that we have at our disposal.
RK Celje Pivovarna Lasko (SLO) vs Aalborg Håndbold (DEN)
Wednesday 1 March, 18:45 CET, live on EHFTV
after losing at Kiel last week, Celje are out of the race for the play-offs, while Aalborg secured their play-off ticket last week by beating Elverum 31:24
the match will be a special one for Aleks Vlah: the current Champions League top scorer (83 goals) will have his last international match for Celje against Aalborg, which he will join this summer
the visitors won the first duel 36:32 after a close fight for more than 50 minutes; the overall balance includes five Aalborg victories and only one (in 2018) for Celje
if Aalborg at least take one point, they will confirm their fifth position in the final ranking
Celje coach Alem Toskić: "Aalborg are a top team with exceptional stars. Will will do everything in our power again. I believe that the spectators will come again and enjoy the show. We we will really do our best."
Aalborg won their league match against Sönderjyske 35:24 and remain on top of the table in Denmark
There is no doubt that we want to end the group phase in the best possible way. We have had some trouble keeping the same high level through the games, and against a team like Celje, we need to play concentrated during the whole match. They have surprised multiple times this season beating Kiel and came very close on doing the same against Barca previously.
Lomza Industria Kielce (POL) vs Barça (ESP)
Thursday 2 March, 18:45 CET, live on EHFTV
in the 2022 final in Cologne Barça took their tenth trophy by beating Kielce after a penalty shoot-out
Kielce was the last team to beat Barça in the Champions League, 29:27 on November 2021, after also conquering the Palau Blaugrana the week before (32:30)
Barça have won eight of 13 duels against Kielce while three were won by the Polish champions, twice at Barcelona
the coaches have won a combined 12 Champions League trophies: Carlos Ortega won six as a player and one as a coach (all with Barça); Talant Dujshebaev won with Santander as a player and as a coach of Ciudad Real (three) and Kielce
three current players play or played for both clubs: Luka Cindric, Blaz Janc (now at Barça) and Daniel Dujshebaev (now at Kielce)
in the domestic leagues Barça took their 19th victory in the same number of matches in Spain with a 46:26 win against Puente Gentil, Kielce won 42:31 against Kwidzyn and remain second below Plock
Photos © Roland Peka, Sascha Klahn
We are Barça and we have to win all the games we play, no matter if we are already first. We will have less pressure but these games are always huge. I am sure both teams want to win and maybe we will play more time with players who did not play that often. But our goal is to get those two points.