Next MOTW ties revealed as competition hots up
With the Machineseeker EHF Champions League 2022/23 heading towards the crucial matches that will decide which sides remain in the running for the knock-out phases of the competition, the next two Matches of the Week have been revealed.
In round 11 Aalborg Håndbold will host OTP Bank - Pick Szeged in a clash that could be critical to determine which team in group B seals the final play-off spot.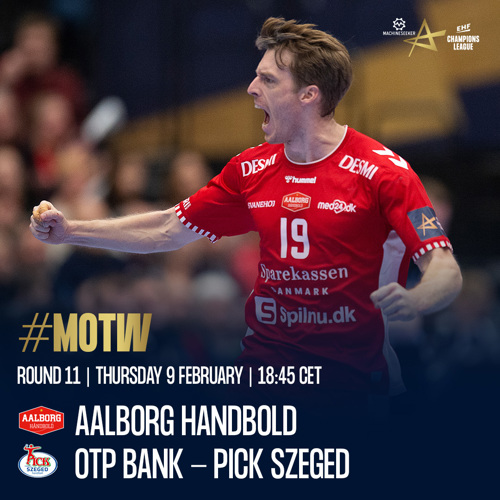 Back in October Aalborg earned a decisive 41:29 victory against Szeged in Hungary, but they restart the competition after the international break hoping to break a four-match losing streak. In contrast, Szeged finished 2022 on a high with a 34:32 away win against Elverum.
Round 12's Match of the Week will go to Germany, where SC Magdeburg will host Telekom Veszprém HC. After 10 rounds, Veszprém are second in group A, and level with first-placed Paris Saint-Germain Handball with 16 points, while Magdeburg sit third with 14 points.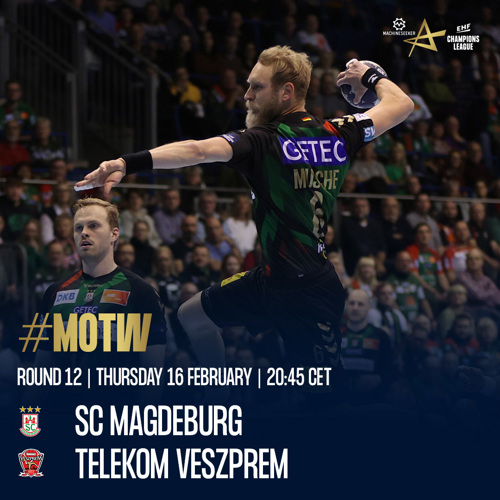 The two sides last met in round 5, with Magdeburg earning a 35:35 draw in Hungary. Magdeburg ended 2022 with a four-match unbeaten run, while Veszprém took a loss, a win and a draw in the last three games.
A win for either team in this MOTW could be vital in their efforts to book an automatic quarter-final place and avoid the play-offs. 
The MOTWs for rounds 13 and 14 will be decided depending on the results of rounds 11 and 12, and the standings going into the last two games of the group phase.
Likewise, the final two group phase MOTWs for the EHF Champions League Women will be announced after rounds 11 and 12 have been played.
Match of the Week rounds 11 and 12
Round 11: Aalborg Håndbold vs OTP Bank - Pick Szeged, Thursday 9 February, 18:45 CET
Round 12: SC Magdeburg vs Telekom Veszprém HC, Thursday 16 February, 20:45 CET