Summary: Eve of semi-finals; Twitch show now live
The final weekend of the 2021/22 season is here! And it will see the EHF Champions League Men title decided over two action-packed days, with Barça aiming to defend their 2020/21 trophy against fellow EHF FINAL4 participants Telekom Veszprém, Lomza Vive Kielce and THW Kiel. The semi-finals will be played on Saturday and the finals on Sunday. 
coverage of the last day before the EHF FINAL4 Men 2022 throws off on Saturday
semi-finals coming up Saturday: Veszprém vs Kielce at 15:15 CEST; THW Kiel vs Barça at 18:00 CEST. Watch live on EHFTV
finals on Sunday: final at 18:00 CEST; 3/4 placement at 15:15 CEST
on Friday, the season's All-star Team has been was announced, the semi-finalists participated in media calls, and the 54-hour live Twitch show began. Watch the Twitch show here
Courtney Gahan reporting live from Cologne throughout the event, with input from journalist Björn Pazen and EHF FINAL4 photos by EHF/kolektiff
21:37
It is time to say goodnight from the live blog — a big day is coming tomorrow! In less than 24 hours, we will know the two finalists that will battle for the 2021/22 trophy on Sunday. 
A reminder of the schedule for Saturday's semi-finals:
15:15 CEST Veszprém vs Kielce 
18:00 CEST THW Kiel vs Barça
While the live blog is wrapped up, the live Twitch show will be running throughout the night, bringing you plenty of entertainment related to the EHF FINAL4 but also handball around the world! Watch it here. 
21:15
The opening party of the EHF FINAL4 Men returned for the first time since 2019 today — and what a return it was! Enjoy the best photos of the event below.










20:58
Think you know the EHF FINAL4 Men and the 2022 semi-finalists? It's time to double check that. Test your knowledge with our trivia quiz below!
20:51
The EHF FINAL4 Men is an event that welcomes the shattering of records and new milestones — and that is not only on the court. 
Our TikTok channel has reached a milestone of its own...400,000 followers! Thank you for joining us on the journey so far and we look forward to sharing all that is to come as our community grows. 
20:33
Exciting news from Cologne, for Cologne — and the EHF Champions League Men — today: The German city has been confirmed as the host of the EHF FINAL4 Men for another two editions, in 2025 and 2026! 
The city has become synonymous with the title-deciding weekend in the men's top-flight competition, and teams will now have another two seasons of dreaming of making it to LANXESS arena.
Speaking of making it to LANXESS arena, do you dream of being part of the 2023 edition? From Tuesday 21 June, at 10:00 CEST, ticket sales for the EHF FINAL4 Men 2023 will be open! Visit the EHF ticket sales site to both purchase and set up sales alerts here. 
20:06
It's been a big day of getting LANXESS arena ready for the weekend ahead! Shout out to everyone involved in getting the arena prepared for the matches. We cannot wait to see it with the players on court and finally full of spectators again, for the first time since before the Covid-19 pandemic. 







19:13
Aside from their appearances at the media calls and some relaxation time before the big weekend, the semi-finalists have also had a run at the training venue. 
Below, check out the photos of THW Kiel, Veszprém and Kielce's training sessions. 
There has been a lot of talk about Kiel finding some new tactics given the absence of Sander Sagosen and Hendrik Pekeler due to injury — and below we spot three-time back-to-back All-star Team goalkeeper Niklas Landin apparently having a turn at back. This probably isn't the secret tactic though...



































18:58
Friday evening in Cologne and we are now some hours into the live Twitch show, with special guests Pascal Hens, THW line player Bjarte Myrhol and Barça goalkeeper Gonzalo Perez de Vargas now on. 
The opening party at LANXESS arena is also underway, during which the teams all take their turn on stage in front of the very vocal fans enjoying the first such event at the EHF FINAL4 Men since 2019. Since then, Covid-19 has meant the EHF FINAL4 has taken place without spectators, and the return of the great atmosphere is certainly welcomed by all. 
As Kielce coach Talant Dujshebaev said earlier in today's media call, "For us, it is amazing to be here after the pandemic with spectators, with journalists. It is the most important show in our career." THW Kiel Patrick Wiencek also commented on how the return of spectators will impact the event, with his side playing on home soil:
"Two years ago, we were here and, of course, we had no spectators. Now we have the opportunity to play in front of our spectators, so it will be a different tournament."
16:24
We've heard from all the teams at the media call and their words have left us with some interesting insight. Let's have a closer look at the meaning behind the words — which were particularly interesting in the case of the Barça vs Kiel semi-final. 
One thing is clear: the idea that anything can happen in Cologne is held steadfast throughout all the teams and everyone around the event, so all players agree the semi-finals are totally open. As Igor Karacic said, every team has a 25 per cent chance to clinch the title. 
Karacic's side, Kielce, will meet Veszprém in the opening semi-final. Veszprém back Rasmus Lauge acknowledged Kielce have had an exceptional season, but highlighted how the Hungarian team have improved throughout and had some particularly strong results towards the end. In particular, Lauge focused on how the team has changed over the past year, saying they were "in chaos" at this point last season.  
In the recent This is me installment with Veszprém coach Momir Ilic, Ilic spoke about the importance of team spirit, and this has surely been one element the Serbian coach has focused on in his first season at the helm. "Team really means everything and gives additional wind in the wings," said Ilic. "That is what we all have to strive for in handball: team spirit." 
Will this development over the past year be the key to Veszprém progressing to the final and perhaps lifting the long-awaited trophy? 
Injuries give Kiel more potential for surprise
The second semi-final sees the two most recent champions meet: 2020/21 winners Barça and 2019/20 victors Kiel. No question the teams know each other well, and Kiel wing Magnus Landin found there is no room for surprise given the familiarity.
But Barça disagree. The German side have been struck with two big injuries — to back Sander Sagosen and line player and 2021/22 All-star Team best defender Hendrik Pekeler. Both Aitor Arino and Blaz Janc noted how Kiel are even more dangerous given they will need to change their systems a little, and can therefore surprise Barça's defence. 
"The match against Kiel is dangerous for us, as they have new players in the team. As their important players Sander Sagosen and Hendrik Pekeler are out, they will play with a new style. Miha Zarabec and Nikola Bilyk will take more responsibility," was Arino's analysis. 
Will Kiel be able to capitalise on the element of surprise? 
Read more of the quotes from today's media calls right here. 
16:00
The build-up to the EHF FINAL4 Men 2022 is about to kick into higher gear, as our 54-hour live Twitch show has begun! Join us now, live from LANXESS arena now, right here.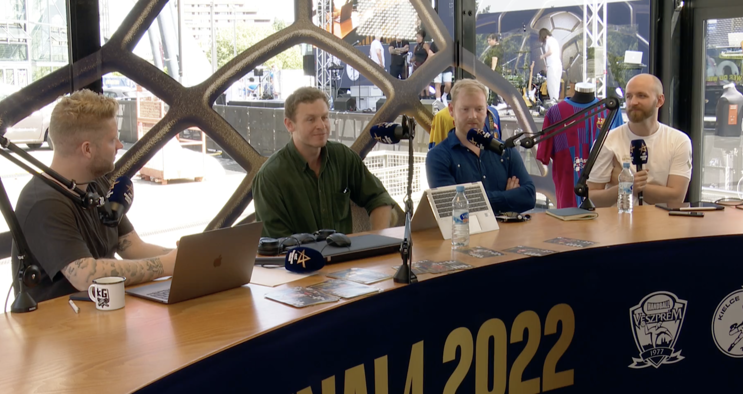 In 2020, I was here with the team, but could not play due to an injury. Now I am here to play, which was one of my main goals and dreams as a player. It is great to be part of this event and it is nice to be the same hotel with all teams. You meet so many well-known faces, and it is fun to see them in a relaxed atmosphere before the matches.
14:57
THW Kiel are the last but not least team to take their turn in the media call, so we will be hearing from the German side shortly. 
Meanwhile, check out what the other players have shared so far below. After we heard from Kielce's Igor Karacic and Barça's Blaz Janc, we caught up with Janc's teammate Aitor Arino as well as Veszprém's Rasmus Lauge. 
Lauge will turn 31 on Monday, and also mentioned how the trophy would make it the best birthday of his life: 
"If we win, this would definitely be the best birthday of life. I hope that in this case I am allowed to bring the trophy to my house for my birthday party."
We do not care what others say about our team this season and the chances we would have or not have at Cologne. We believe in ourselves and in our system, which we implemented this year with a new coach and a transition in the club. We changed so many things and compared to the same time in 2021, we are much, much stronger. Last season, this team was in a state of chaos. Now we turned it around completely. We played an outstanding season so far, therefore, we are sure that we have a good chance to win this time.
All Barça players who have won four or more trophies are legends of the club and legends of handball. Gonzalo Perez de Vargas and I have the chance to get closer to those legends if we win our fourth trophy on Sunday. This would be a magic moment for us.
14:15
The media call is almost finished and journalist Björn Pazen spoke to Kielce centre back Igor Karacic and Barça wing Blaz Janc. As Barça prepare to face THW Kiel, who are depleted by injuries, Janc had some interesting thoughts to share on how this affects the match — the Slovenian wing finds that it will make it far more difficult, rather than easier. 
It makes it more dangerous for us, as you do not know how they will play. When you miss some of the most important players, the remaining players give even more. Kiel think we are the favourites, but sometimes this situation is dangerous for the favourites. It does not make the match easier for us without those two players, but even harder.
My first year at Kielce was affected by Covid. This was difficult. My second season, some things went wrong. Now I am overjoyed to be here with Kielce in this hotel, in this place, in this arena. We deserve to be here. We played so good the whole season. We were first in the group, and now we are here, and I really feel so excited
13:38
While we will be keeping you updated on every minute of the unfolding weekend in Cologne, soon you will not have to wonder, as our 54-hour live Twitch show will begin. The Twitch show will run from 16:00 CEST on Friday to late into the evening on Sunday night, and feature plenty special guests — both former and current stars of the EHF Champions League, expert analysis and match watchalongs for the 'handball nerds', and other bonus behind-the-scenes content. 
Watch the Twitch show here and read more about it here.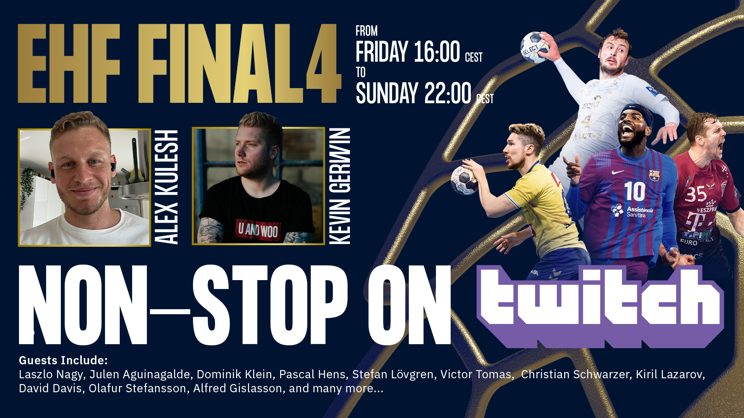 13:24
Friday afternoon at the EHF FINAL4 Men means the media call, where TV, radio and written press have the chance to interview all the semi-finalists. The media call has started with Kielce first up, and we will soon be bringing you all the best quotes as the players and coaches share their thoughts on the semi-finals and the weekend overall. 
Stay tuned!
11:10
The 2021/22 All-star Team is here! This season's final selection of 10 individuals includes five returning names and five newcomers. 
Kiel goalkeeper Niklas Landin and Barça wing Aleix Gomez are both back for the third straight time, while Veszprém left back Petar Nenadic is the first non-PSG player in that position since 2015/16. Coincidentally, the last player to be named All-star Team left back other than PSG's Mikkel Hansen and (at that time) Sander Sagosen, was Nenadic's coach at Veszprém, Momir Ilic. 
Read more about the All-star Team here. 
🌟 EHF Champions League Men 𝑨𝑳𝑳-𝑺𝑻𝑨𝑹 𝑻𝑬𝑨𝑴 𝟮𝟬𝟮𝟭/𝟮𝟮 🌟 You were so many to vote! Here is your official All-Star Team of the season! ✨ #ehfcl #ehffinal4 #AST2022 pic.twitter.com/JK0aHnGBly

— EHF Champions League (@ehfcl) June 17, 2022
10:55
Defending title holders Barça have something of a tradition of being the first to arrive in Cologne, so were first on site on Wednesday.
The remaining three sides arrived in sunny Cologne on Thursday, and our photographers joined Kielce in the bus on the way to the hotel, capturing some great shots. Plus we caught THW Kiel and Veszprém's arrivals at the hotel — where the players were greeted immediately upon arrival by the sight of the trophy they will be playing for, on display in the lobby. 
Check out the best photos of the team arrivals below. 
















It is always great to be back in Cologne. I played so many matches here at my second home; now I made it as a coach. We wanted to pass from the group stage. Now we are among the four best teams of the season — simply unbelievable, but we deserve to be here. And everybody knows, in Cologne everything is possible.
10:22
Let's get you started with some catching up! The semi-finalists arrived in Cologne on Wednesday and Thursday, and you can find our story on their arrivals below. 
Also be sure to check out the preview of the semi-finals, which features all the key facts about Saturday's encounters. Plus, a reminder of how to follow the EHF FINAL4 Men 2022. 
Friday 17 June
9:55
Hello Cologne! The EHF FINAL4 Men is upon us and all four semi-finalists are in the German city on the Rhine undergoing their last preparations before the big event in LANXESS arena. 
Here is what we have to look forward to this weekend: 
Saturday — semi-finals
Telekom Veszprém vs Lomza Vive Kielce at 15:15 CEST
THW Kiel vs Barça at 18:00 CEST
Sunday — finals
3/4 placement match at 15:15 CEST
Final at 18:00 CEST
All matches will be streamed live on EHFTV (geo-restrictions may apply). You can also find out more about how to follow the event here. 
Be sure to follow the EHF Champions League social media channels for plenty of behind-the-scenes coverage brought to you direct from Cologne: Facebook, Instagram and Twitter.