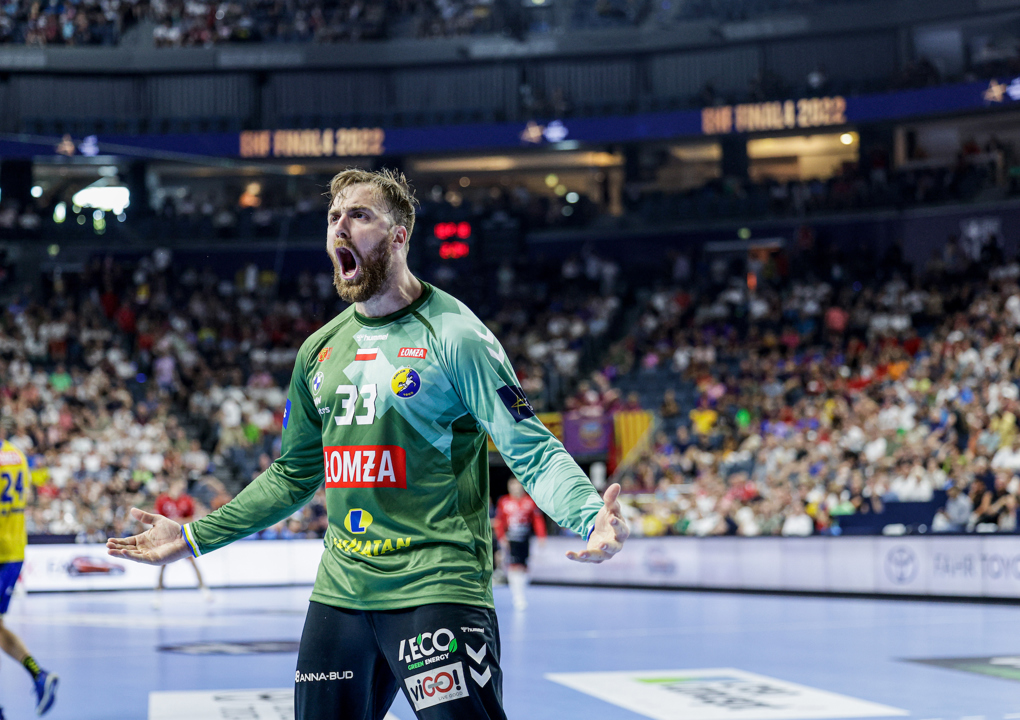 Summary: Kielce and Barça to final after thrilling semis
The semi-finals of the EHF Champions League Men 2021/22 took place on Saturday in a sold-out LANXESS arena, Cologne. The first match of the penultimate round saw Kielce overcome Veszprém thanks to a superb second half, before Barça earned the chance to defend their title on Sunday with a victory against THW Kiel. 
Kielce became the first finalists of 2021/22 with a memorable win against Veszprém in the opening semi-final
Barça will continue their title defence following a 34:30 victory over THW Kiel in the second semi-final
finals on Sunday: final Kielce vs Barça at 18:00 CEST; 3/4 placement Veszprém vs Kiel at 15:15 CEST
54-hour live Twitch show underway since Friday afternoon. Watch here
Courtney Gahan reporting live from Cologne throughout the event, with input from journalist Björn Pazen and EHF FINAL4 photos by EHF/kolektiff
20:38
Kielce and Barça are set for the trophy match; Kiel and Veszprém will battle for third — and that brings us to the end of the live blog coverage of the EHF Champions League Men 2021/22 semi-finals!
But that does not mean the end of the coverage from Cologne, as our live Twitch show is still running. 
Join us right here on eurohandball.com tomorrow for the coverage of the finals. 
Here is the schedule for Sunday: 
15:15 CEST 3/4 placement match THW Kiel vs Veszprém
18:00 CEST final Barça vs Lomza Vive Kielce
See you tomorrow! 
20:19
A superb win for the defending title holders as they overcame THW Kiel in the second semi-final. Read all about Barça's victory, as they booked a final date with Kielce, below!
In the second half we didn't really get back into the game even though we gave our best. However we have a great club and great fans who stand behind us. The team stands together and wants to bring the season to a good end.














It was a nice game and Kiel were missing key players, but gave a tough fight. It feels great to be again in the final. We are one step ahead of the trophy, but the last step is the most difficult one. Kielce beat us twice this season, but we are much better now than in November.
Kiel saw a brief glimpse of hope before Timothey N'Guessan netted a hammer shot from the back court to secure the win, as he pulled Barça in front by four and left Kiel little chance for a comeback so late. Although Nikola Bilyk answered for THW, Blaz Janc added one more goal for the Spanish side to solidify their victory. 
And on the Gomez record watch: the right wing did not equal the record for most goals in one EHF FINAL4 game, but joins Icelandic legend Olafur Stefansson in second on these all-time standings, with 12 goals. 
19:33
This is Cologne alright! Three minutes on the clock and THW Kiel are back within reach at 29:32 — can the pull the game back within their grasp? 
19:28
Six minutes remain and Barça remain clear in front at 32:26. It's the moment of truth for THW Kiel, with such a distance soon to become insurmountable. 

19:19
We are about to enter the final 10 minutes of the second semi-final, and Barça are maintaining control at 31:26. 
Barça wing Aleix Gomez has become the first player since 2010 to pass 10 goals in one game at the EHF FINAL4, now holding a tally of 12 — just one shy of the all-time record. 
But Gomez will hardly be counting his goals as his team hungrily look towards the final ticket. However, the stats are fun for us, and journalist Björn Pazen has shared one more: Barça have only ever lost a final in Cologne against German teams (Kiel in 2010 and 2020; Hamburg in 2013), so that would seem a good omen for the Spanish side should they reach the trophy match, where they would meet Polish team Kielce. 
19:13
Timeout called by THW Kiel coach Filip Jicha as Barça take firm control, pulling away from their two-goal lead to 27:23 at the 43-minute mark. 
Kiel goalkeeper Niklas Landin exits the court to be replaced by Dario Quenstedt as the German team look for answers. 
THW will be hoping their story does not unfold the same way as Veszprém's did earlier in the evening, when they saw Kielce take charge early in the second half and were unable to pull off a comeback. 
19:02
Five minutes into the second half, Aleix Gomez continues his scoring rampage and nets his 10th of the game, equalling his own personal record for one match at the EHF FINAL4 after he scored the same number in the 2020 final — and taking Barça in front to 22:20. 
Given how early Gomez has reached this milestone, it seems likely he may be set to equal or break the record for most goals in one game at the EHF FINAL4 overall. That record is currently held by Juanin Garcia, who netted 13 goals in 2010.  
Aside from the individual record, this match saw Kiel and Barça equal their own record for most goals, combined, in the first half of an EHF FINAL4 match. In the very first EHF Champions League final played in the EHF FINAL4 format, the two sides scored 37 goals (20:17 for Barça) in the opening half, just as they did today. 

18:45 HALF-TIME THOUGHTS | BY BJÖRN PAZEN
It's time to hear from journalist Björn Pazen, with his half-time thoughts on the second semi-final. 
"When the biggest gap in the first 29:30 minutes of a match is one goal, it says it all. The first half of the second semi-final was fully equal, and full of emotion, power and goals.
"Kiel started with a well-organised, movable defence, while Barça counted on their speed — their wings Aleix Gomez (top scorer of the game with seven goals) and Angel Fernandez, as well as genius moments from Dika Mem and Luka Cindric.
"In the absence of the injured stars Sander Sagosen and Hendrik Pekeler, THW Kiel used an usual weapon: line player Patrick Wiencek scored more than five goals (six) in only one match of this Champions League season, in the 33:32 win against Paris in the second quarter-final. But in the giant duel against Barça, the German line player already has six goals in his account after only 30 minutes. Besides Wiencek, Harald Reinkind was the crucial factor for Kiel before the break, being unstoppable from the right back." 
18:41 HALF-TIME | THW KIEL VS BARÇA 18:19
A very tight first half until the final minutes before the break, when Barça created the first two-goal distance of the match thanks to Dika Mem. Is that the beginning of the defending title holders pulling away, or will Kiel keep them contained?  
18:31
Five minutes until the half-time break and it remains a very equal contest, with All-star Team right wing Aleix Gomez netting what is already his sixth to pull Barça in front by one, 16:15. 
Kiel have played several minutes of their attack at seven-against-six, taking out goalkeeper Niklas Landin to bring in second line player Bjarte Myrhol. It has not helped them take the advantage against Barça, but Kiel coach Filip Jicha had spoken about keeping close in the first half being the most important task, and they are achieving that. 
When not playing seven-against-six, Patrick Wiencek was an enormous asset on the line, netting many of Kiel's early goals. He leads the German team with five strikes so far. 
18:23
It's a completely equal match so far in the second semi-final, with the score at 11:11 at the 20-minute mark — and not only that. The teams are completely equal on shooting efficiency (79 per cent) and very close on attack percentage as well. In goal, both Barça's Gonzalo Perez de Vargas and THW Kiel's Niklas Landin have made some great stops that have energised their teams, but are nursing low save rates just above 20 per cent. 
But the saves they did make were great — enjoy one from Perez de Vargas below. 
18:11
The clock hits 10 minutes in the second semi-final with the score level at 4:4. 
There was plenty of discussion surrounding the absence of key players for Kiel, Sander Sagosen and Hendrik Pekeler, but early on Patrick Wiencek is showing he is well up to the task on the line, playing an important role so far for the German team. The interesting question seems to be what the impact will be when Wiencek needs a breather, as he will be replaced on court by Bjarte Myrhol, brand new to the team. 
On Barça's side, the top scorer of the EHF Champions League 2021/22 Dika Mem is yet to score a goal, after Petar Nenadic passed him on the season's standings in the opening semi-final. Kiel made clear that shutting Mem down was one of their main tasks in order to win the semi and they have accomplished that goal so far...
17:57
A reminder that you can add even more to your viewing experience of the semi-final by watching with our experts on our live Twitch show. With their help, you will not miss one detail of the action as the second finalists are decided! 
17:51
Our break is over and it's time for the second semi-final, THW Kiel vs Barça. The players are now making their entrance in the sold-out LANXESS arena! 
Tune in now on EHFTV or see where you can watch on TV, based on your location, below. 
We have a bad memory about playing against them in Cologne but we watched the video many times and looked at the statistics. It's good to learn what they did well and what we need to do in order to win.

They're missing key players but they are still dangerous playing in Germany, in Cologne. It's going to be fun playing against one of the best teams in Europe. The way we have been playing, we have every chance to win.




















I know that we are definitely not the desired opponent of Barcelona. We have to profit from that. We can't let Barcelona get rolling. We have to stop their run. That will be a Herculean task. If we can keep the match open until in the second half, we have a chance. We'll put everything into it. And Cologne and this arena are always good for that little sporting sensation.
17:41
One semi-final down, one to go — and not long to wait at all, with just 19 minutes until the starting whistle in THW Kiel vs Barça. 
Let's take a look at some key facts surrounding this encounter. 
Kiel and Barça share the record for titles won at the EHF FINAL4 (since the format was introduced in 2010) — with three trophies each; Barça have won nine EHF Champions League titles in total, and Kiel four. Barça are also the record participants at the EHF FINAL4 and are playing in Cologne for the 10th time. 
In terms of their overall head-to-head record, Barça lead Kiel, but the German team won both times the teams met at the EHF FINAL4 — the finals in 2010 and 2020. In fact, Kiel have never lost against a Spanish team at the EHF FINAL4. Regarding that fact, wing Magnus Landin said at the media call on Friday: "This statistic speaks for itself, and it's a nice one, and I hope that it will not change on Saturday."
The two teams are the dominant ones from their nations when it comes to the EHF FINAL4: No Spanish club other than Barça has reached the EHF FINAL4 since 2012 (Atlético Madrid), and no German club other than Kiel has done so since 2014 (SG Flensburg-Handewitt). 
Kiel are missing two key players from their lineup: Sander Sagosen and Hendrik Pekeler. They have been reinforced with line player Bjarte Myrhol, who had ended his career before receiving the call to join THW. 
And the last fun fact: Kiel head coach Filip Jicha played for Barça from 2015 to 2017, after his stint as a player for THW. 
17:34
What a victory for Kielce! Two completely different halves from both teams in this opening semi-final, with Veszprém clearly holding the momentum in the opening and Kielce turning the tables early in the second. 
Recap on how it all unfolded with our match review, courtesy of Björn Pazen, below!
























The result after 60 minutes is most important, not the half-time result. In the first half we did not play so bad, but our goalkeepers had only five saves. Veszprém had eight. This was the difference. But after the break Andreas Wolff showed some great and important saves and gave us power. This changed the match. Andy's saves were decisive.
Kielce are the first finalists of the EHF Champions League Men 2021/22! The Polish side defeat Veszprém by two and book their first final since the Polish team won the title in 2016. 
17:00
Inside the last two minutes, Veszprém have pulled the distance back to 33:35, thanks to a goal from Gasper Marguc. 
Will it be too little too late for the Hungarian team? 
16:54
Five minutes on the clock in the opening semi-final and Kielce hold a not-decisive but promising advantage, 34:31. 
Veszprém have just been dealt a two-minute suspension, for Patrik Ligetvari, which does not help their comeback. But there is still time enough for the Hungarian side...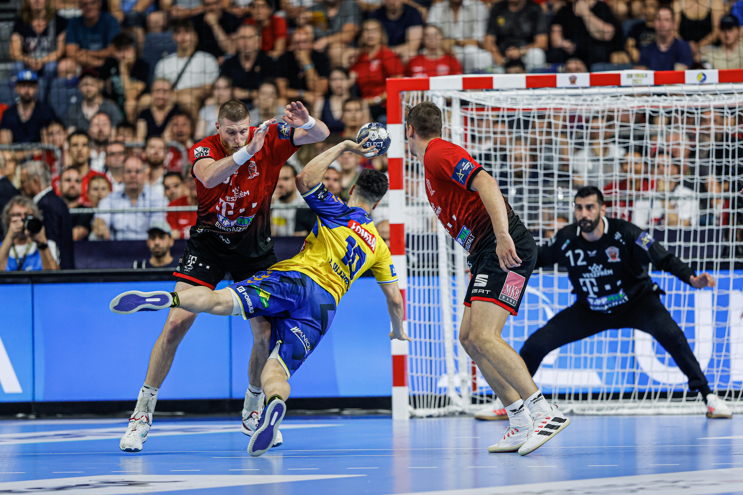 16:43
We enter the final 10 minutes in semi-final one and tension is running high on court, with Kielce still in front, 30:28, and Veszprém throwing everything they have into the comeback task. 
Rodrigo Corrales has returned to Veszprém's goal, while in attack, two wings are leading the scoring chart — Manuel Strlek for Veszprém and Arkadiusz Moryto for Kielce, both with six goals. 
It's crunch time and Veszprém know it. Can they pull the game level in time to secure at least an extra time period, or even take the lead to clinch a regular time victory? Or will Kielce keep going with the fire they have behind them and become the first finalists of the EHF Champions League Men 2021/22?  
Below, check out an other-worldly goal from Yahia Omar, as he finds a gap that does not even seem to exist to slip this shot past Andreas Wolff. 
16:33
Let's talk goalkeepers. 
After Kielce's keepers recorded a combined rate of 25 per cent in the opening half (six saves), Andreas Wolff has dramatically improved his form and sits on a rate of 43 per cent for the first 14 minutes of the second period. His saves have opened the door for Kielce to pull ahead, and they now lead 27:24. 
The partial for the second half so far is 11:6 for Kielce. 
Meanwhile, at Veszprém's end of the court, Rodrigo Corrales' saves slowed — in fact, he did not manage any in the second half and has therefore been replaced by Vladimir Cupara. But it is not Cupara's half either, as he has so far recorded no stops. 
16:22
Seven minutes played in the second half and the momentum has certainly shifted, with Andreas Wolff adding more saves in Kielce's goal that have allowed the Polish team to take the upper hand for the first time since the eighth minute. They now lead 21:20. 
A critical blow for Veszprém within the first five minutes back, as Blaz Blagotinsek was dealt a direct red card for a mid-air foul. With that, Blagotinsek — twice best defender of the EHF Champions League Men — becomes the first player to receive three red cards at the EHF FINAL4, after 2019 and 2020. 
Below, enjoy the important penalty save from Andreas Wolff, which turned the match on its head. 
16:14
The match resumes and Kielce are quick to level the game, 18:18, before Andreas Wolff saves a penalty that could be the turning point for the German keeper.
After a slow start, Wolff was replaced in the opening half. Kielce coach Talant Dujshebaev knew how important his performance would be to his team's success, saying in the media call on Friday: "We need to have players that show their best performance during this day — that is very important. We need to be a little bit lucky and need to have a good performance from our goalkeeper Andreas Wolff."
It seems it was important for Wolff to have a moment off court to collect himself in the first half and Dujshebaev will be hoping this great penalty save will provide the needed boost to turn on the best form. 

16:00 HALF-TIME THOUGHTS | BY BJÖRN PAZEN
Let's hear from journalist Björn Pazen with his thoughts on the opening half of the first semi-final at the EHF FINAL4 Men:
"For the first time since the EHF FINAL4 Men 2019, the LANXESS arena is fully packed with almost 20,000 fans for a handball match — a simply brilliant atmosphere. The heat outside is extreme, and so is the tension inside. Before the match, there was already an equal fan battle in terms of volume and songs outside and inside the 'Cathedral of handball,' but on court Veszprém took control quite easy. Despite early suspension against their middle block players Blaz Blagostinsek and Patrick Ligetvari, their wall on six metre was impressive, as it put extreme pressure on Kielce.
"And when the 2016 winners managed to shoot, there was goalkeeper Rodrigo Corrales, who saved an extraordinary number of 10 shots before the break. Kielce had to rely on individual actions from the likes of Alex Dujshebaev and Nicolas Tournat, while Veszprém were collectively in flow. At 9:8, already seven different players from the Hungarian record champions were on the scorer list. A double strike from Petar Nenadic — who is now number two of the overall top scorer list of the season, with 88 goals — provided Veszprém with their first three-goal advantage at 14:11. Nenadic even added his 89th season goal 38 seconds before the break for 18:15 — a masterpiece and highly important, as his side were shorthanded.
"The match is intense, emotional and thrilling — the perfect return to the LANXESS arena we know!"
15:58 HALF-TIME | VESZPRÉM VS KIELCE 18:16
Nicolas Tournat has the last say in the half, bringing Kielce within two goals before the break. The match is still completely open but Veszprém have also been in command for the majority of the first half. 
We definitely have another full-throttle half ahead!
15:50
Less than two minutes to go in the first half, and Veszprém have stretched their lead to three goals, 17:14. 
Remember you can watchalong with our experts on the live Twitch show for a great complementary viewing experience of the action. 
15:40
Just under 20 minutes gone in the first half and Veszprém maintain their edge, 11:10. 
I mentioned Rodrigo Corrales' outstanding form in Veszprém's goal, and below you can enjoy some proof — what a save! Corrales has now stopped seven shots and maintains a save rate above 40 per cent. 
At the other end of the court, Kielce have changed their man in goal, with Andreas Wolff coming out for Mateusz Kornecki. 
15:32
The second top scorer of the season (at this point), Petar Nenadic, always gives us a show with his unique goals. The Serbian back, who was named in the All-star Team for 2021/22 — the first from a club other than PSG since his coach Momir Ilic back in 2015/16 — enters the court for the first time in the semi-final and immediately scores a tricky ground shot. 
Nenadic's goal takes Veszprém to an 8:6 lead, after Kentin Mahe gave the Hungarian side their first two-goal advantage on the 10-minute mark. 
15:26
Nine minutes played in the opening semi-final and so far it's a level contest in a very atmospheric LANXESS arena, with neither side able to put in a two-goal gap yet. Veszprém are leading the charge 6:5. 
As is so often talked about, the performance of the goalkeepers is key at the EHF FINAL4, and so far Veszprém's Rodrigo Corrales is delivering just as he will need to if the Hungarian side are to go all the way and take the title this weekend. The Spaniard has saved four shots at an impressive rate of 44 per cent so far. 
Below, check out a show-y goal from Kielce. 
15:18
Yahia Omar nets the first goal of the EHF FINAL4 Men 2022 as the match throws off.
Journalist Björn Pazen highlighted the back-court battle between Omar and Kielce's Alex Dujshebaev as particularly key in this encounter, and it looks like the 24-year-old Egyptian is ready to deliver. 
15:10
It's time! Veszprém and Kielce are on court ready to throw off the opening semi-final at the EHF FINAL4 Men 2022. 
Join us now on EHFTV or check how you can follow the match here. 

















14:34
The first semi-final is edging closer and closer. Some more key facts about this opening clash, Veszprèm versus Kielce! 
Veszprém and Kielce have already played against each other this season — in the group phase, with each team winning their home match: 32:29 in Poland and 35:33 in Hungary. 
Individually, Veszprém back Petar Nenadic is the second top scorer of the season still in the competition, with 85 goals. He is five behind Barça's Dika Mem before the semi-finals begin. Kielce's three leading scorers are close together: Dylan Nahi with 69 goals, Alex Dujshebaev with 67, and Arkadiusz Moryto with 65. 
Veszprém are making their seventh appearance at the EHF FINAL4, while it is the fifth time for Kielce. The Hungarian team reached the final on three of those appearances, while Kielce made it once, when they won the trophy — against Veszprèm. The two sides also met at the EHF FINAL4 2019, with Veszprèm winning the semi-final 33:30. 
Both coaches have won multiple titles in the Champions League, though Veszprém's Momir Ilic took his two as a player. Kielce coach Talant Dujshebaev hopes to take his sixth trophy, which would be his fifth as a coach, and second leading the Polish team. Of course, they will have to make it to the final in order to have the chance to do so...
And one last bit of info, regarding their domestic form: Veszprém lost the final of the Hungarian league on the away goal rule to Szeged, but won the Cup; on the other hand, Kielce became unbeaten champions of the Polish league, but lost the Cup final against Plock. 
14:27
The first EHF FINAL4 Men with full capacity for spectators since before the Covid-19 pandemic began — and we are sold out! For those following at home, I hope the atmosphere we are experiencing on site will translate to the screen...if not, it's almost time to buy tickets for the 2023 edition to experience it yourself. 
14:17
We are still waiting for Kielce to return to the court, but Veszprém have made their main 'warmup entrance' to loud cheers — and LANXESS arena, which is sold out but far from full yet, is already giving us a great atmosphere. 
And no wonder, with fans like these...
14:06
Veszprém and Kielce have arrived and taken their first steps on court, having a little run and play with the ball before the real warmup begins. 



























13:29
Have you caught any of the 54-hour live Twitch show? As I write, former Kielce star Julen Aguinagalde is on with with Alex Kulesh, reliving one of the most memorable finals in EHF FINAL4 history, when the Spaniard scored the winning penalty goal after an absolute thriller.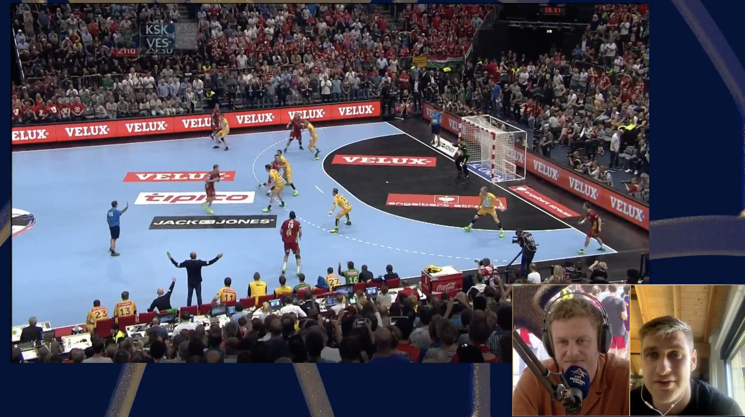 See the full programme for the weekend below and watch the show here. 
13:21
Less than two hours until we are underway with the opening semi-final, Veszprém vs Kielce. 
It's time to dive into the details. Let's take a closer look at the season up to this point for the four semi-finalists. 
THW Kiel
finished second in group A
10 wins, one draw and three losses in the group phase
427 goals scored; 395 conceded
Lomza Vive Kielce
finished first in group B
10 wins, zero draws and four losses
449 goals scored; 415 conceded
Barça 
finished second in group B
nine wins, two draws and three losses
420 goals scored; 369 conceded
Telekom Veszprém HC
finished fourth in group B
eight wins, one draw and five losses
449 goals scored; 423 conceded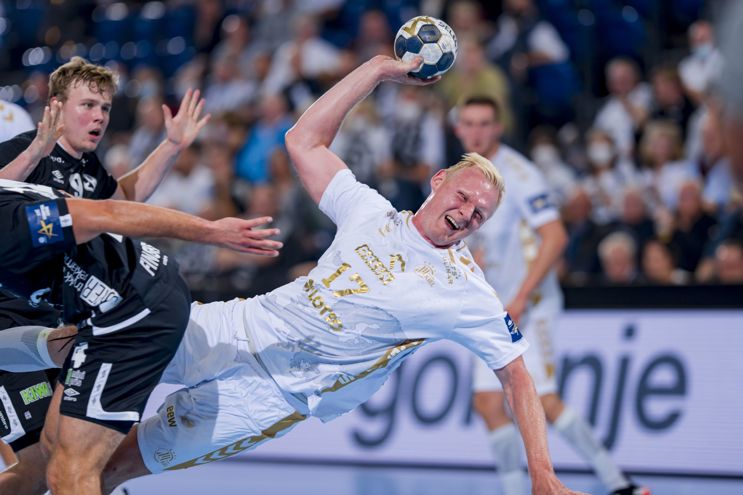 Play-off records
Kiel, Barça and Kielce skipped the play-offs due to ranking among the top two in their groups. 
Vespzrém defeated Vardar 61:53 on aggregate — 30:22 away in the first leg; 31:31 at home in the second. 
Quarter-final records
Kielce earned the biggest win in the quarter-final stage, defeating Montpellier, while Kiel had the narrowest victory, beating PSG by one. See all the results of the final obstacle before Cologne below!

12:02
Numbers, numbers, numbers! Want to know the statistical favourites for the title? There aren't any — and we explain why in the feature below. Also check out the stories on how experience and age play into the event and on multiple winners of the EHF Champions League Men. 
In the world we have three best teams: Barcelona as the number one, after that coming Kiel, after that coming Veszprém. After these three teams other teams are coming, but these three are the biggest ones. For us, to be here is amazing and fighting against these monster clubs is very nice, very beautiful. Everybody can win, but for me, Barça, as the title defenders, are the favourites.
11:42 PRE-MATCH THOUGHTS | BY BJÖRN PAZEN
Some more pre-match thoughts from our journalist guiding you through the weekend here on eurohandball.com, Björn Pazen — this time on the second semi-final, THW Kiel vs Barça. 
"Will LANXESS arena see another fairy tale story, or will the favourite role provide Barça with another final? This is the main question prior to the second semi.
"Which aces does THW coach Filip Jicha hold in his hands, as Sander Sagosen and Hendrik Pekeler will miss the EHF FINAL4 due to long-term injuries? Two players were named as Kiel's potential heroes for this giant's duel: Miha Zarabec and Nikola Bilyk — one (Zarabec) famous for his one-against-one-actions; the other (Bilyk) for his powerful long-range shots.
"But on the other side, you will see the masterclass of attacking: Barça have so many options to break Kiel's defence, like Dika Mem's hammer shots, the counter attacks by Aleix Gomez or the incredible strong line player duo Ludivic Fabregas and Luis Frade. Barça's hunger to be the first team to defend the title in Cologne and to win their 10th EHF Champions League trophy is huge.
"Kiel feel very comfortable in their underdog role. And Barça coach Carlos Ortega named the potential game-changing factor right after the EHF FINAL4 draw took place — the "Niklas Landin effect." Even the history speaks for THW: Kiel never lost any match against a Spanish team at Cologne.
"In my opinion, this series will end on Saturday — the depth of the squad will decide this match in favour of Barça."
We have nothing else on our mind but winning.
11:18
Not so easy being patient in these last hours before throw-off, waiting for the excitement to begin. At least we have plenty of reading material to keep you occupied! 
Let's start with some special features on each of the teams. Read our stories with Veszprém wing Manuel Strlek, THW Kiel goalkeeper Niklas Landin, Kielce wing Arkadiusz Moryto, Barça coach Carlos Ortega and Kiel coach Filip Jicha below. And a bonus on Kielce assistant coach and former player for the side Krzystof Lijewski. 
11:04
Fun fact about this EHF FINAL4: It is the first time ever that all four head coaches have won the EHF Champions League as players — and two of them, Momir Ilic and Filip Jicha, even won it together, twice with THW Kiel. 
Since they left the court, Jicha and Talant Dujshebaev have won the trophy as coaches as well. 
Who will take the title this weekend? Have your say below! 
10:40 PRE-MATCH THOUGHTS | BY BJÖRN PAZEN
Today's semi-finals open with Telekom Veszprém versus Lomza Vive Kielce. Our journalist for the weekend Björn Pazen shares his last thoughts on the encounter: 
"Mental strength is always an indicator for what to expect at Cologne — and when you talked with the players and coaches of Telekom Veszprém HC and Lomza Vive Kielce on the day before the semi, they were full of power and confidence, even more on the Veszprém side. Despite their unlucky defeat in the second leg of the Hungarian league final against Szeged, they have boosted their self-assurance. The clear mission of Veszprém is to continue their top form in the Champions League. 
"In the end, you can cut down the duel to two positions: goalkeeper and right backs. Andreas Wolff versus Rodrigo Corrales and Alex Dujshebaev versus Yahia Omar — if this double duel ends equal, then it will be the middle block. In his form like in the previous weeks, Wolff can be the key for Kielce, but also the neutral spectators can be a factor: as both sides have thousands of fans at Cologne, it will be thrilling to see who the fans of Kiel and the remaining crowd support. I expect a close Kielce win, maybe even after extra time."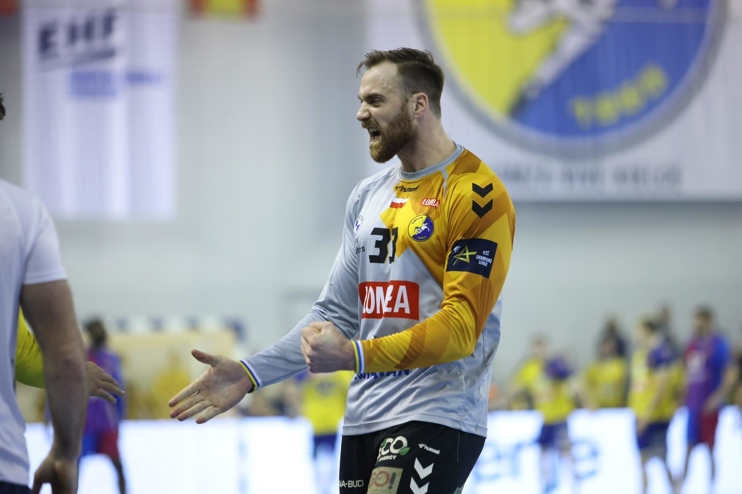 10:28
The semi-finals are getting closer and closer, but before things get too serious, there is time for fun. We put Veszprém's Patrik Ligetvari, Gasper Marguc and Vladimir Cupara's artistic skills to the test, with hilarious results. Check it out below.  
SATURDAY 18 JUNE
10:08
Good morning and welcome to semi-finals day! The business end of the EHF Champions League Men 2021/22 is here, and in a few short hours the teams will be taking the court for the penultimate battles of the season. 
Here's what's coming up: 
15:15 CEST Veszprém vs Kielce 
18:00 CEST THW Kiel vs Barça
Read the match preview below to brush up on all the key facts before throw-off and be sure to catch the 54-hour live Twitch show, which has been running since Friday afternoon and will be live all weekend to guide you through the action.