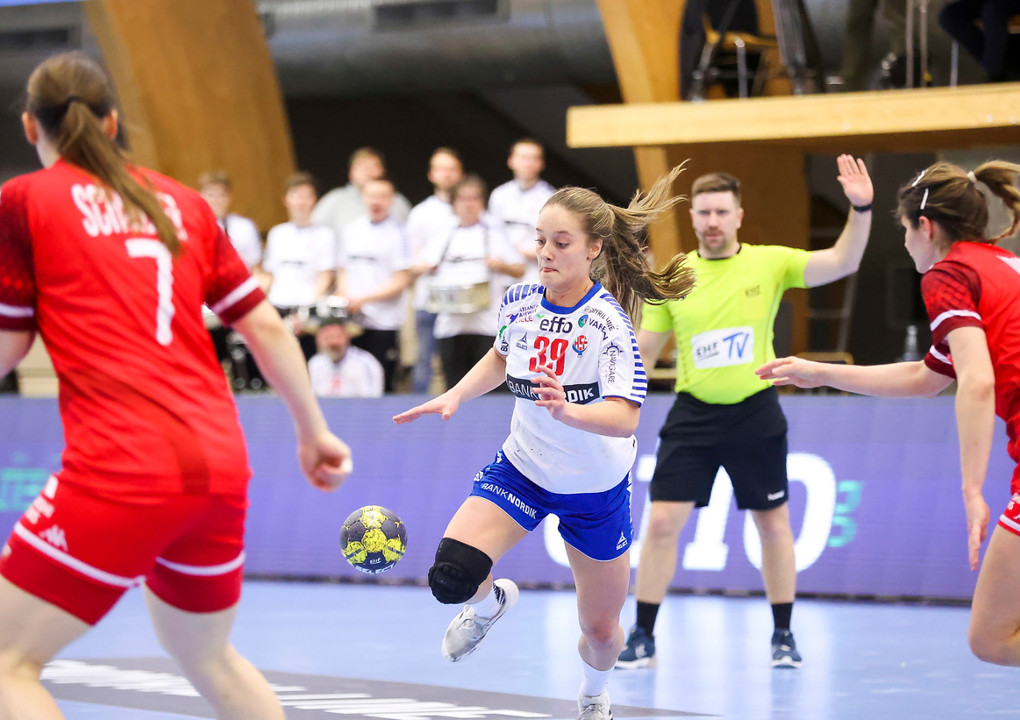 Jana Mittún: A leading light for Faroe Islands' bright future
Faroe Islands is the gift that keeps on giving for handball romantics. The North Atlantic archipelago has an incredible connection with the sport and is beginning to make its mark on the international stage.
While the men's team is already making a splash, the women's team turn is next as they usher in a new generation of talented players – led by Jana Mittún.
Mittún was just 17 when she made her competitive senior debut in October's Women's EHF EURO 2022 qualifier against Romania.
"I did not really know if I was going to play but midway through the first half, I came in and actually played a good match. It was a special experience; a lot of people were watching the game and it was a great atmosphere."
The speedy back court player made an immediate impact, scoring four goals as Faroe Islands stayed in touch for three quarters of the contest before losing 26:19.
"I had to get a feel for how good they were, I did not actually think I would score a goal, so that was a surprise. There were a lot of people in the hall yelling, I did not have much of a chance to think about what to do, I just went for it."
Having taken to senior international handball like a duck to water, Mittún has played an increasingly large role in the team and top scored with six goals in last month's home clash with Austria.
Although Faroe Islands have yet to claim a point in the group, the signs of improvement and increased confidence are there as they prepare to face Romania at home on Wednesday evening.
"We played two good games against Austria but feel like we could have done even better. We want to be able to compete against the likes of Romania and Austria but we know that it will take a lot more improvement in our game to match up with Denmark."
The qualifier campaign ends with an away trip to Denmark, where they will hope to put into place some lessons learned from the 39:19 loss in the reverse fixture.
"I learned that you can lose by 20 goals, ha, I do not think I experienced that before, but it was really big to play against all the stars you see on TV and see if you can match them in some way and see what it takes to play at the highest level. It takes a lot, so it was a really good experience and also not so good."

Taking the next step
Excitement for the sport on the islands is bigger than ever, a natural result of some very promising results and exciting talent coming through the ranks.
The men's national team recorded a win over Czech Republic last year in the EHF EURO qualifiers and did themselves proud in a loss to Germany last week in World Championship qualifiers.
"The men have had some really great results. I watched the game against Germany on Saturday with a full hall and it makes me really excited for our game against Romania. People in the Faroe Islands really get interested in handball when things are going so well.
"It is a really exciting time for handball here. It is only a matter of time before the men qualify for a championship. The women are maybe a little behind but I think we will be competing against the better teams in a couple of years.
Jana Mittún has been part of underage national teams with knowledge of how to beat the bigger nations. As the senior team continues its player transition, the 18-year-old sees how they can put themselves in a position to qualify for future championships.
"First, it is important that more of our players play outside the Faroe Islands. I think our players can play really fast handball, so we have to focus on that style of play.
"On the other hand, we have changed coaches a lot in recent years, so it would be good if we can have more consistency there and build for the longer term."
Extended handball family
The Faroe Islands player on everybody's lips at the moment is Elias Ellefsen á Skipagøtu, the 20-year-old super talent who has thrived for club and country since moving to IK Sävehof in Sweden. Surprise surprise, Elias and Jana are cousins and her younger brother Óli, described as a unique talent at 16, will also make the move to Sweden this summer.
Both the Ellefsen á Skipagøtu and Mittún families have three handball-playing siblings, ensuring the sport stays firmly in the spotlight at home.
"We also have a big sister, who has never been a big handball fan, so when we come home, she wants to talk about anything else. My father is also a coach and my mom loves handball. Elias has two brothers who also play, so there is a lot of handball in the family.
"The boys were always in the hall near our home and I was with them a lot when I was younger. They have been playing handball every day for years.
"I think it is great to have so many people to talk about what you love and nice to be able to follow Elias and soon Óli at Sävehof."
With her brother and cousin soon to be playing together in Sweden and some national teammates in Denmark, a move to Scandinavia also appears to be on the cards for Jana once she finishes school next year.
"I think Scandinavia is most similar to the Faroe Islands, so maybe that would be on my radar first – Denmark perhaps."

Special experience with H71
Mittún has also been a leading light for her club H71, who went on an unprecedented run to the quarter-finals of the European Cup.
"In the European Cup, the way it ended with the decision regarding the war in Ukraine was very disappointing for us, even though there was nothing we could do about it, because it was such a good experience.
"We had a really serious team this year. It is a bit different from the national team because these are players you grew up with, so that makes it special to play in Europe.
Her 48 goals in seven matches helped the Hoyvík-based club beat clubs from North Macedonia, Switzerland and Serbia and leaves her hungry for more if H71 can find a way to deal with the financial burden of competing in Europe's third-tier club competition.
"We did not expect to get that far. When we played the first match, I just hoped we would not lose by 20 goals but we won by 17. Since then, we just took it one game at a time until the quarter-finals.
"I really hope we can play again next season but it is so expensive. I really do not know if we can but it would be fun to try again."
Hearing from the best to taking them on
All signs point towards a professional career in the sport for Jana Mittún and she had an opportunity to learn about how that can work when attending an EHF Respect Your Talent camp in December 2019, on the back of being selected for the W17 Championship All-star team.
"I remember we were all so young, 16 at the time, so it was challenging to go to another country and speak English but it was a good atmosphere and the players there were really nice.
"When we played against Galychanka, there was one girl on the team who was on the Respect Your Talent camp and I follow some of the girls I met there from Sweden on Instagram, so it is fun to follow their journey as well."
At the camp in Vienna, the likes of Andrea Lekic, Kari Grimsbø and Ana Gros were present to share their experiences and offer advice to the rising stars.
"They spoke about dual careers and how they managed to play handball and balance life with it. It was interesting to hear about how you can have a career in handball as a woman and have them shed light on that. It was inspiring to see what they had achieved," concludes Jana Mittún, who in the space of just two years has gone from hearing from the best to taking them on as she and Faroe Islands face the likes of Cristina Neagu and Sandra Toft in this week's EHF EURO 2022 qualifiers.