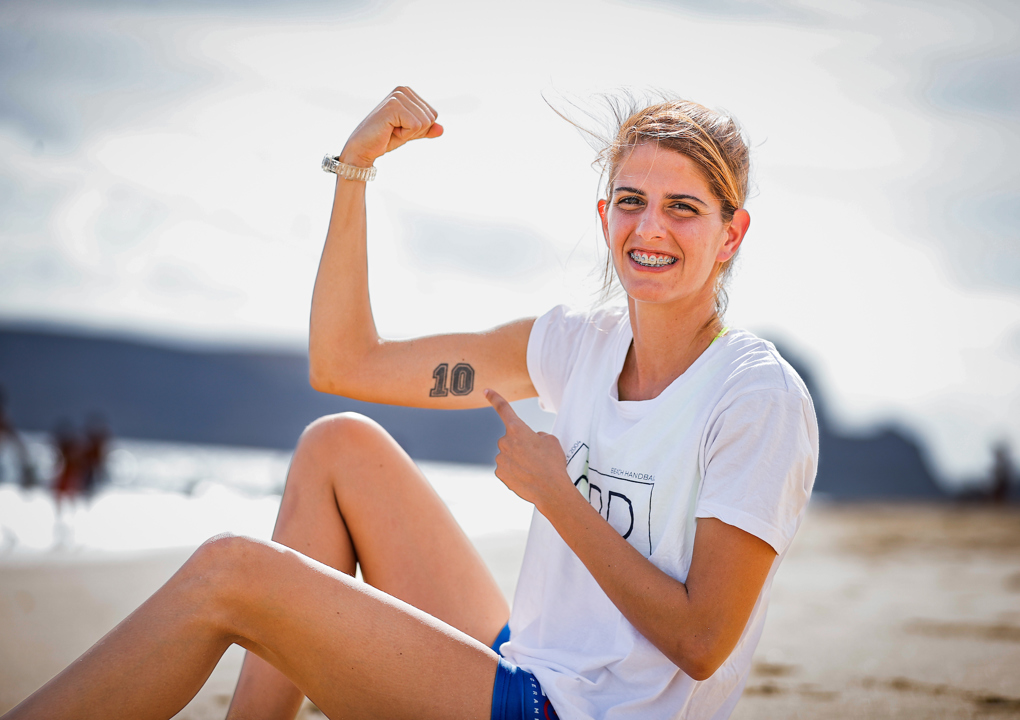 Humans of beach handball: Catarina Oliveira
"I do not usually go to the beach by myself to soak in the sun, to enjoy the sea or the ocean, even if I live two blocks away from one in Matosinhos."
For a beach handball player, this surely sounds a bit anticlimactic. Or even quirky at times. But make no mistake, Catarina Oliveira loves the beach and especially beach handball. She has become one of the top players in Europe over her career, in spite of all the challenges she faced on her way there.
And, really, it could have been so different; a few years ago, her career could have just been stopped in its tracks. Yet motivation, hunger and, especially, the enjoyment of the sport were all there. Throw in the excitement brought by beach handball and the mix was perfect.
"It is all about nature and enjoying the breeze at times, or every little thing of playing in open air. Obviously, sometimes we get the beating sun, otherwise it is overcast or it even rains. But it is all part of the sport, it is all part of the plan, it is exciting to play in every possible setting," says Oliveira.
"I remember we played in Sicily with an excellent setting, with trees near the beach. Or we went to Romania, in Baia Mare, and we had a beach court in the city centre. It is always something new, it is always something amazing."
The start of it all
But how did everything start? How did the relationship between Oliveira and beach handball develop, especially as the sport was not so popular over 15 years ago, when things clicked?
"I was 12 years old and was playing indoor handball. When I was told about beach handball, I immediately said yes, because it looked like a lot of fun, plenty of excitement and trying the sport I love played in a different way. What could go wrong?" adds the Portuguese player.
But starting to play and becoming a good player are two totally different things. And challenges always pop up unexpectedly. It is only a matter of how one navigates hardships and how great your resilience is.
Fortunately for Oliveira and also for beach handball, these ingredients were in the right proportion to provide a platform for her to develop, enhance her natural qualities and progress.
New beginnings
The most difficult challenge? In 2016, things were looking worse and worse for Oliveira, who was close to calling an end to her career. But a phone call from her former coach made her reconsider everything. She had worked too hard and was going to miss the atmosphere in the circuit too much to stop.
When Oliveira's current team, GRD Leça - Love Tiles, was formed, she became one of the first players to sign up. It was a decision she was never going to regret, not only extending her career, but also offering an excellent platform to express herself and still improve.
But for Oliveira, it was not necessarily about winning trophies or medals and being recognised as a star. In fact, far from it. It was all about the spirit, the human quality of the teammates and opponents and the big family which we all hear about when talking of beach handball.
Make no mistake, these are extremely competitive athletes, trying to win all the games they play. But it is also about new friendships, soaking up new cultures, learning more about the world and just enjoying the company of like-minded individuals who are more than ready to create relationships.
"It is difficult to put a finger on it, to say why I love the sport. Because this is what I feel, a true love for beach handball. I think there are a few factors – the creativity of the sport is an important part. But I really like the feeling of playing against other teams and then go out and feel good," says Oliveira.
"We go against each other at full throttle, then go to a party or to a restaurant and enjoy each other's company so much. I really feel blessed, because I have so many friends who are my opponents on the court and they make me go harder every time, motivate me to become better and better."
The importance of family
It is reassuring to hear a player, competitive by nature, talking like this, especially when winning matters the most in the majority of cases across different sports. But for beach handball, things look different.
It is about a sense of commitment, a sense of togetherness, a sense of being a true family that can improve the sport and create a better future for the players, as beach handball looks to have its popularity soaring throughout the world.
"When I started playing, I feared that my family would not support my decision. They did and they are always asking about when my next game is, they want to follow it and see me play. It is an amazing feeling. And this is what I want to also leave as a legacy, to see other players starting to play and enjoying handball," concludes Oliveira.
A nice story for Catarina, who does not go to the beach to enjoy it, even if it is literally in her backyard.
Photos © Kolektiff Images