EHF EURO 2024: We are "here to play"
With the Men's EHF EURO 2024 in Germany just 100 days away, the European Handball Federation together with the German Handball Federation is proud to unveil "Here to Play", the new campaign video showcasing the championship's core message.
The 49-second campaign clip embodies the spirit of the Men's EHF EURO 2024, giving a voice to those who make this event one of a kind: Athletes. Legends. Fans. 
EHF EURO 2024 ambassadors such as Stefan Kretzschmar and Swedish football player Fridolina Rolfö, handball legends like Victor Tomas, Luc Abalo, Kiril Lazarov and Anja Althaus, plus active players including Gonzalo Perez de Vargas, Angela Malestein and Andreas Wolff have all come together to convey the unified message: we're here to play.

Just like the protagonists, the handball community comes together with the same energy, will, and dedication, even though we all come from different places and speak different languages.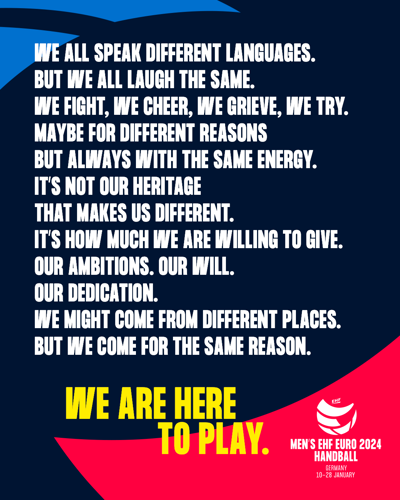 The message is not just to showcase the stars, but also the fans, so now it's your turn to get involved!
Record your own version of the manifesto. Get together with your friends, family and teammates and upload it here! You have the chance to win a signed jersey or a signed ball from your favourite team.
Show that you, too, are 'Here To Play'.
Meanwhile, another major batch of EHF EURO 2024 tickets went on sale on Wednesday 13 September, with tickets for all venues and all competition phases, including even limited amounts for the highly sought-after opening matchday at the MERKUR Spiel-Arena in Düsseldorf on 10 January and for Germany's preliminary round matches in Berlin at the Mercedes-Benz Arena on 14 and 16 January.
Tickets are available via the official ticketing websites heretoplay.com and tickets.eurohandball.com.