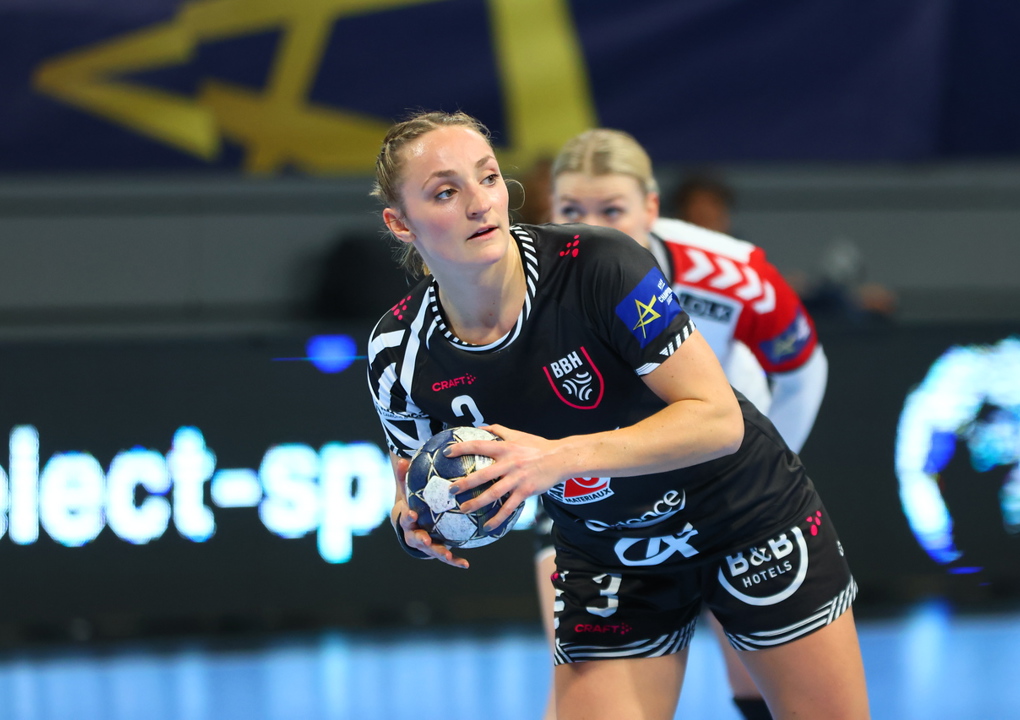 Crunch time to be key for Brest
Throughout the course of the EHF Champions League Women and the Machineseeker EHF Champions League, data analyst Julian Rux provides the handball community with deep insights into the numbers behind the game, analysing what the data says about teams' and players' performances.
The story of last Sunday's first leg in the EHF Champions League play-offs between Brest Bretagne Handball and Team Esbjerg leading into this week's Match of the Week were the goalkeepers. Before the first play-off leg both teams had almost identical save percentages at 32.9 per cent, although in other areas the Danes were marginally better.
But on Sunday goalkeeper Anna Kristensen made the difference, saving an outstanding 42.9 per cent of the 42 attempts on her goal (43.5 per cent from the field, 33.3 per cent penalty throws). So far this season a goalkeeper has had to face more than 40 shots 34 times. Only Krim Mercator Ljubjlana's Barbara Arenhart – also against Brest – was even better than Kristensen, saving 47.5 per cent.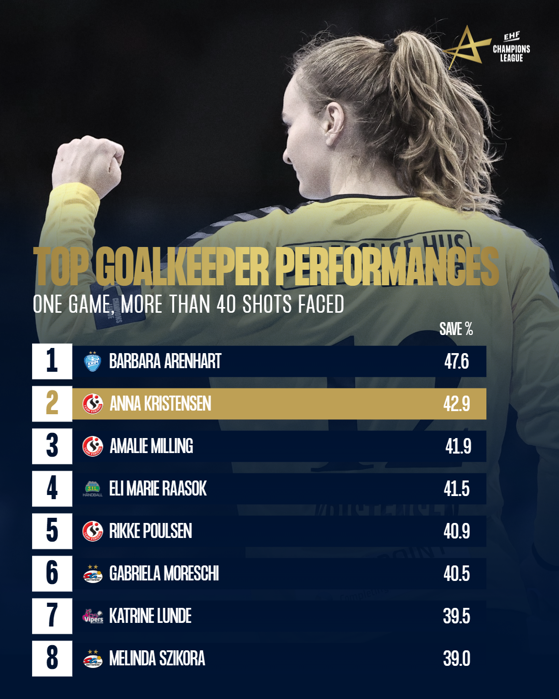 Brest Bretagne's Julie Foggea on the other side had anything but a bad day, as she saved 35 per cent of shots. Together with Darly Zoqbi de Paula, who was in goal for the last few minutes, they saved 33.3 per cent. Teams with a save percentage like that or better lost only 22.2 per cent of their games this EHF Champions League season.
But the team with the higher save percentage lost only 16.5 per cent of their games this season and won 77.5 per cent. Together, Kristensen and Amalie Milling, who was in goal for one seven-metre penalty, saved 41.9 per cent, which is 8.5 percentage points better than Brest. When the difference was as high no team with the lower save percentage was able to win even one game out of 65 this season.
Further outliers in both directions
Despite Esbjerg's good defensive performance on Sunday, defence has actually been more of their problem area so far this season, while they have excelled in attack. With 29.2 goals per 50 possessions their offence is still the best of the competition. The main reason for this is their outstanding shooting percentage of 68.1 per cent, which is better than everyone else as well.
But Brest were able to hold them to just 26.9 goals per 50 possessions, Esbjerg's third lowest offensive output this season. They scored on just 57.1 per cent of their attempts, which is their lowest this season, but still better than the French average of 55.8 per cent and the 49.0 per cent the team from Brittany recorded on Sunday.
With the poor shooting output, Brest could not take advantage of the fact that they had only five turnovers. On 50 possessions, that was only 4.8, the fewest they have had this season. Throughout the season they were average there, as was the Esbjerg defence.
In this context, it is also noticeable that Pablo Morel's team took more time in attack, but this only had a positive effect on the technical errors. With an average of 36.3 seconds, they only had longer possessions in two games, while Esbjerg with 32.9 seconds were only slightly above their own average of 31.7.
Can Brest make the whole game crunch time?
With all these top and flop values from the first leg, it must of course not be forgotten that these are outliers. If the possession time was a tactical measure, it cannot be expected that this will be repeated in the second leg. Instead, from a statistical point of view, a regression towards the mean is to be expected. So, it is rather unlikely that the Danish goalkeepers will also perform like this again, that Esbjerg shoots that bad again and that Brest takes care of the ball as well.
However, there is one aspect where Brest has outshone the team from the Jutland peninsula as well as everyone else this season: crunch time. While Barça are the crunch time kings, Brest are the crunch time queens.
Crunch time is defined as the last six minutes of a match if the gap between the two teams is two goals or less at least once. This is true for seven of Brest's 15 games. Adjusted to 50 possessions the French score 32.4 goals, which is second best, slightly behind CS Rapid Bucuresti's 33.3 goals. While they are able to improve their shooting percentage from 44.8 per cent to 66.7 per cent it is very noticeable that, as in the first leg against Esbjerg, the number of turnovers drops from 9.5 to 2.7 per 50 possessions in crunch time.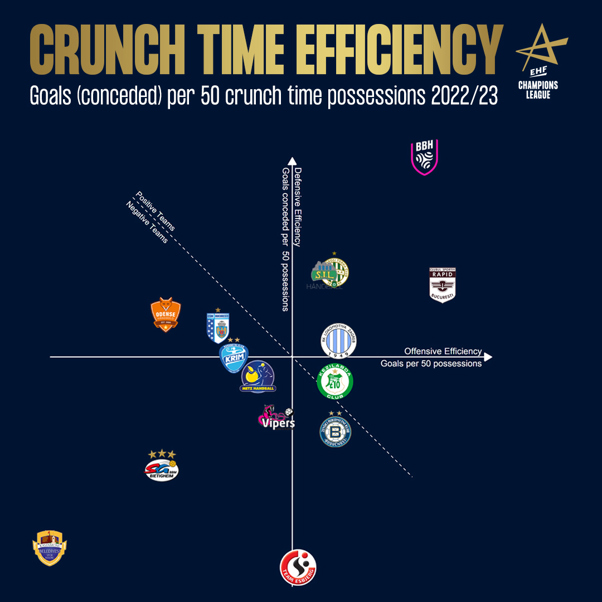 In defence, however, Brest are able to close their goal almost completely in crunch time, conceding only 15.8 goals per 50 possessions. This is clearly the best of all teams, as second placed FTC-Rail Cargo Hungaria concedes 5.6 more. It is especially outstanding that they only allow their opponents to score on 34.3 per cent of their attempts, 22.8 percentage points less than during a whole game.
For Jesper Jensen's team, on the other hand, crunch time is no strength at all. Just four of their games are considered to have ended in crunch time. In these games their outstanding offence drops to average 26.1 goals per 50 possessions while they concede a horrendous 36.4 goals, more than everyone else. Their opponent's shooting percentage improves in crunch-time minutes by 20.7 percentage points to 76.2, while Esbjerg create just 2.3 turnovers per 50 possessions, 7.5 fewer than over the whole game.
So, the marching orders for Brest in the second leg are clear. The whole game and not just the last six minutes have to be crunch time for them to have a chance to make up the three-goal deficit from the first leg.
Julian Rux is a data analyst. More of his work can be found on his website and blog Handballytics.de as well as on social media: Instagram, Facebook and Twitter.
Photo © Olivier Stephan