EHF European League
SUMMARY: The long wait for Magdeburg is over!
Here you will find a summary of the EHF Finals 2021, hosted by Rhein-Neckar Löwen in the SAP Arena in Mannheim, Germany. 
SC Magdeburg picked up their fifth European title after 14 years. 
MVP of the EHF Finals 2021 went to goalkeeper Jannick Green (SCM) with 17 saves in the final.
Emil Jacobsen (GOG) finished top scorer of the season with 96 goals.
In the 3-4 placement match, Rhein-Neckar Löwen picked up bronze over Orlen Wisla Plock, thanks to 11 goals from their top scorer Jerry Tollbring.
Brian Campion was the reporter...
23:11
There you have it! The EHF European League Men 2020/21 season has come to a close. And we couldn't have asked for the better EHF Finals 2021 weekend. Full of grit, drama, some tears and pure joy from everyone in SC Magdeburg. They have been knocking on the door now for a long time, and were often picked at favourites at past EHF Cup Finals events but never managed to seal the deal. But there was something very different about this SC Magdeburg squad this weekend, they we brimming with confidence and all backed up by a goalkeeper who pulled off one of the best final performances you'll ever see, it was magic. I hope you enjoyed the coverage, so until next time. But remember the handball season, isn't fully over just yet....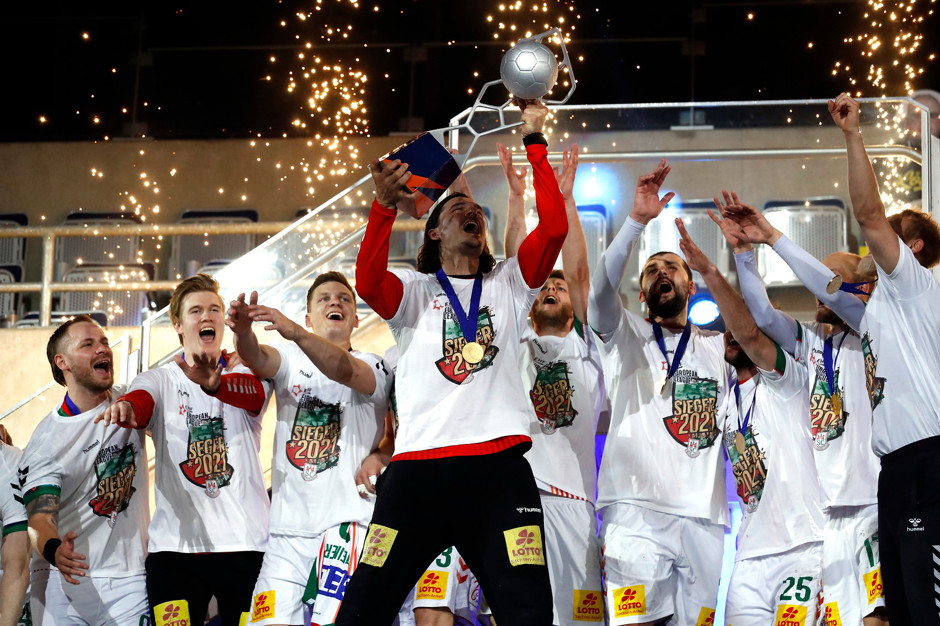 We did all the small things right this weekend. We ate and slept well, rested when we needed to, studied our video, worked on helping each other and focusing on what we all needed to do ourselves. I think it is small things like this which bring big success.
22:20
MVP: Jannick Green (DEN), SC Magdeburg
I think an MVP selection has never been easier, when the going got tough for SCM this man, Jannick Green, was right there to pull off save after save. He was the backbone of the win tonight, while SCM looked amazing on the break, in set attacks they did make some big mistakes in defence but Green was there to pick up the pieces. A well-deserved award, congrats!
22:05
RESULT: SC Magdeburg 28:25 Füchse Berlin
21:59
They say you need a huge goalkeeper performance to win a European title and Jannick Green has just done it. Two key saves stopping Lindberg and Freihöfer! Just amazing. Maybe his best ever performance!
21:54
Can you believe this? We are in a two-goal game! Where did this come from? Berlin have not played well but have been 100 times better in the second. And a hattrick of seven-meters from Hans Lindberg helped close the gap.
21:48
Greeeeeen again (14 saves)! Wow, what an outing for the man between the SCM sticks tonight. He was one vs one against Andersson after a fast break and pulls off a HUGE save. He is worth his weight in gold tonight. Just four in it!
21:42
The SCM wingers tonight are just looking like world-beaters. Mertens on the left is 3/3 and Hornke on the right is lighting up the Füchse goal with his six. But the work Bezak, Damgaard and Magnusson are doing in the backcourt to create this space is the real story here. 
21:36
Berlin have for sure improved in the second, looking a lot more settled in front of goal but it's unclear if they can claw back the five-goal deficit. But not if they pick up too many more double 2-mins like Gojun and Anderrson picked up.

And when you see SCM goals like this from Tim Hornke (5/7)... it's hard to compete: 
21:29
Christian O'Sullivan has to be taken off as he took a knee to his thigh but it doesn't look serious, I am sure we will see him feature again. 
21:23
SC Magdeburg are picking up from where they left off. They are looking so sharp in attack. Such lovely handball to watch, how the vary the pace of the ball then to their bursts of speed with their feet. It has Berlin looking like a distance second best at the moment. 
21:13
Björn Pazen first half breakdown...
"Do Magdeburg have one hand at the new trophy already? After their 14-year-long wait, only 30 minutes separate them from their fifth international title. Or not? Berlin caused so many "unforced errors", missed passes and turnovers over 30 minutes, which wouldn't be normal for a whole match. Füchse definitely will improve in the second half.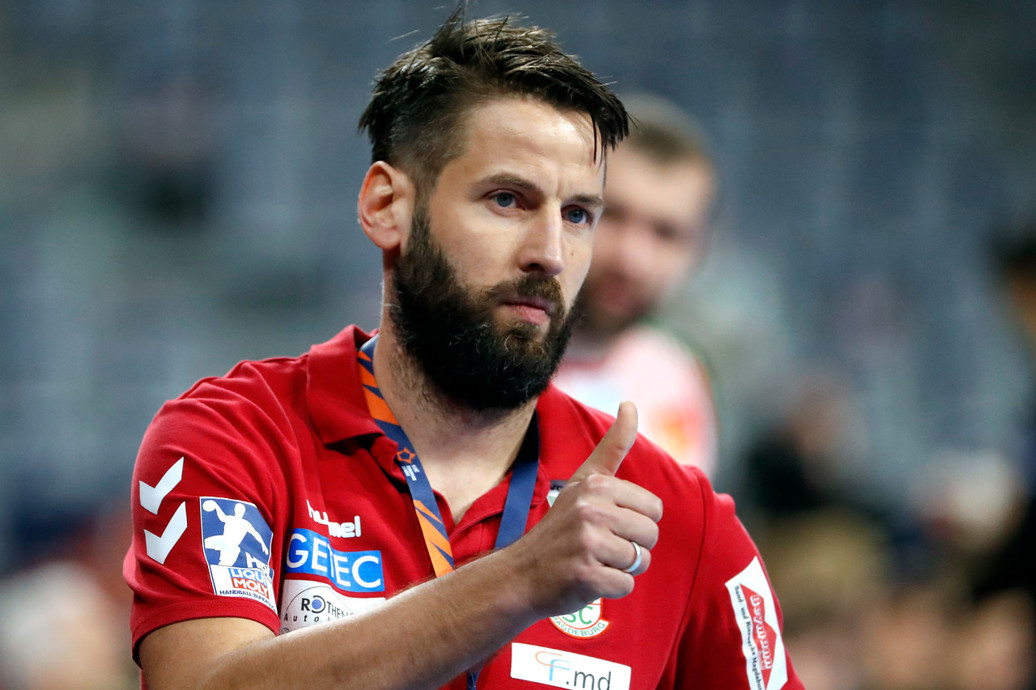 But Magdeburg's performance was a statement, mainly how goalkeeper Jannick Green does not only save shots, but how he starts the attacks. The saving percentage of the Dane is 53% - and combined first with the three 1-vs-1 goals of Michael Damgaard or later on the cold-as-ice counter-attacks on both wings they were crucial for a 12:6 gap in the 21st minute - followed by the second time-out of Füchse coach Jaron Siewert. He needs to find a solution, how his team can back Lasse Andersson, who is far away from his yesterday's performance - and even more: how to turn 15:8 around at the break."
21:07
HALF-TIME: SC Magdeburg 15:8 Füchse Berlin
Want to know what the difference was in the first half? Answer: Jannick Green (53%, 9 saves)
21:01
I'd imagine Siewert just wants half-time to come now to regroup his Füchse side, as they look shook. Good saves from Green (46%) in the SCM goal and no confidence from their star Andersson (0/1), they need to change things up. 
20:55
Nothing is going right for Füchse Berlin! He calls a time out and tells his men that "It's a (explicit) final, come on" 

SC Magdeburg are flowing in attack and Damgaard and Merten linked up to maybe score the goal of the weekend, I will make sure to get that to you right here. SCM 12:6 Füchse
20:42
Damgaard is picking up where he left off yesterday, he has three of SCM's goals so far. Not the same can be said for Lasse Andersson (who had a huge semi-final), he doesn't seem to finding foot at the moment, his only real bit of action was launching it over the SCM crossbar. 
20:35
Oh no! What do we have here? Füchse look a little bit asleep here, falling 3:0 down after 3 minutes. Milosavljev is letting his side hear it, a slow sub situation results in an easy open goal for Magdeburg.
20:33
And we are off and Damgaard gets on the scoresheet to open scoring for the evening, 1:0 to SCM!
20:26
It's been 14 years since SCM took home some silverware, can Bennet Wiegert mastermind a win? Or will it be the young 27-year-old coach Jaron Siewert who will help the Foxes pick up their third European cup?

Time to find out, join David Bregazzi here on EHFTV.com 
20:20 
As the laser show fills our screens over on EHFTV! The sides of SC Mageburg and Füchse Berlin are ready to clash for the EHF European League 2020/21 title! 
If you play at a final tournament, you want to make it to the final and you want to win the trophy. We failed at both, but in the end - and after a series of four defeats in a row in different competitions - we won against Plock. They were a strong team, so we are happy with the result. I guess our strong 5:1 defence was the key for this victory.
19:30
RESULT: Orlen Wisla Plock 27:32 Rhein Neckar-Löwen 
19:21
Rhein-Neckar are really starting to flex now and Plock have lost their concentration: Szita and Toto on the line having a total miscommunication resulting in a pass to Tollbring to picks out Groetzki on the break who nets an easy open goal. Sabate calls a time out for his Plock side and really lays into them for their lack of concentration. 
19:17
It is the Jerry Tollbring show! Not a perfect game he is 8/12 but he is really having fun out there today. 
19:00
Zoltan Szita is a serious player! He has really settled into this second half nicely, scoring three in the second (5 in total), one of which was an amazing standing shot - almost took the net off the goal. His vision and timing of his shooting is a joy to behold. Playing the defence like an orchestra. 
18:40
Björn Pazen's first half breakdown
"The first half clearly proved, how a goalkeeper performance can turn a match around. In the first twelve minutes, Adam Morawski did not save any Löwen shot and conceded some unlucky strikes. Löwen easily pulled ahead for a 7:3 gap - mainly thanks to their wings Patrick Groetzki and Jerry Tollbring (both on four goals at the break).
But when the Polish international improved, Plock improved, almost bridging the gap at 8:9. Morawski boosted the confidence and mainly David Fernandez took the responsibility in attack, netting five goals before the break.
Funnily enough, when Plock upped their game, Löwen goalkeeper also Nikolas Katsigiannis improved, finishing the first 30 minutes on a 40% saving rate - now pushing his side ahead for a quite comfortable cushion at 14:10 - and Löwen kept in a clear gap until the half-time buzzer."
18:37

HALF-TIME: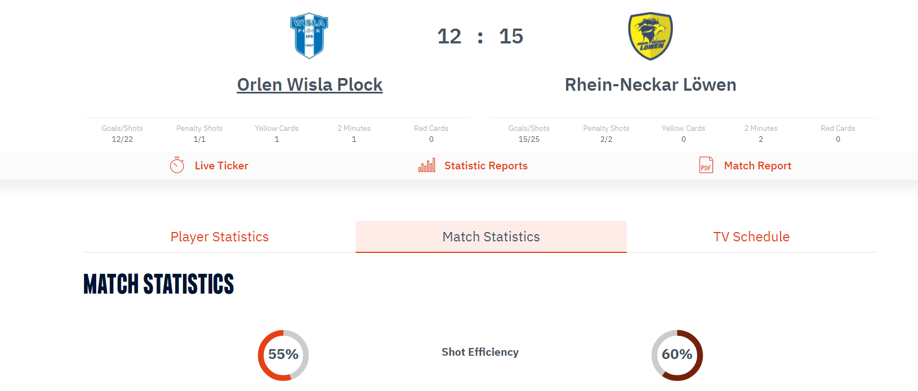 18:23
What are Löwen thinking? The do a switch in the backcourt to open up space for Jerry Tollbring on the wing, his shot is stopped by Morawski and what is the next plan of action? An identical move and the ball out to Tollbring, and I think you know what Morawski did? He saved it, of course. What do they say when you do the same thing twice and expect a different result? Plock 10:12 Löwen.
18:16
The Lions are looking much better today, an extra spring in their step for head coach Martin Schwalb's last international game for them before he moves to Hamburg. 16 minutes gone and 9:6 to the hosts. 
Kim Ekdahl du Rietz nets his first goals of the season and his first in a year, welcome back!


18:00
Some changes in the Rhein-Neckar Löwen squad for today's game: Uwe Genheimer will sit out today's game being replaced by 19-year-old Kaspar Veigel and for Plock Philip Stenmalm picked up a bang to his head and will also not feature. 
17:54
The winner of this EHF Finals 2021 3-4 placement match will win prize money of 40,000 EUR, the fourth ranked side will receive 30,000 EUR.
17:22
Schmid didn't feature as much as a lot of people wanted yesterday, so there were some questions asked about his fitness or if had he picked up a knock. But he is in the squad today and ready to play. He will be the engine today should the Löwen pick up a bronze.
17:04
Two world-class wingers will battle it out in the 3-4 placement match, coming up in just under an hour on EHFTV.com. Both men their team's top scorers.

This game will also be Jerry Tollbring's last international game for the Löwen before he moves to Denmark to join GOG for next season.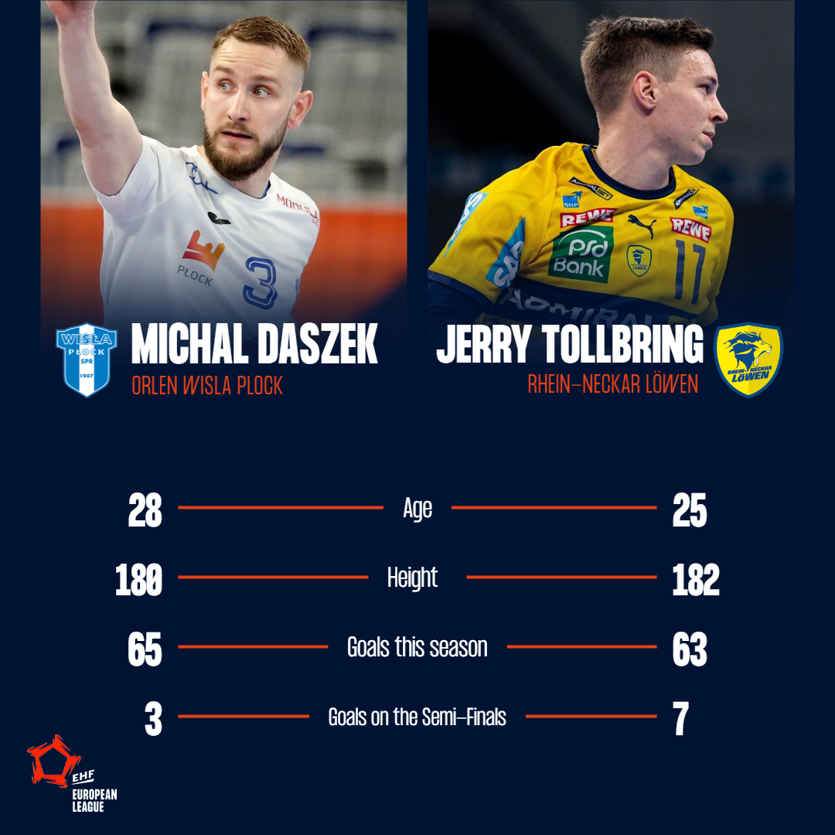 12:50
Our expert Björn Pazen's predictions...
3-4 Placement Match:
Orlen Wisla Plock (POL) vs Rhein-Neckar Löwen (GER)
"Plock arrived without any pressure, Löwen were eager to win a trophy on home court and now both face in the placement match 3-4. From the psychological perspective, the Polish side has an advantage, as they did not fall that deep, losing their semi against Magdeburg on Saturday after a brave fight. For them, it is still a success to be in Mannheim, if they can keep their fighting spirit in defence and easiness in general, Xavi Sabate and his side have good chances to finish third.
Löwen had so many problems in their semi at both ends of the court, and as he had to leave the court early, maybe even their mastermind Andy Schmid is in danger for the placement match (but he is in the squad list). In the international farewell for Martin Schwalb, it is all about bring an end a run of four defeats in Bundesliga and European League."
FINAL:
SC Magdeburg (GER) vs Füchse Berlin (GER)
"Magdeburg or Berlin - this is the question that will have an answer come Sunday evening. And what does the crystal ball predict? Both sides were challenged in their semis, Magdeburg had to fight harder to bring Plock down, but had two hours more to recover, Berlin partly showed a sensational supremacy against hosts Löwen, but could not rotate the bench much.
Though two German sides clash in the final, it will be a Scandinavian-dominated match: Berlin's top scorers are both Danish - Hans Lindberg and Lasse Andersson, who was brilliant on Saturday. Besides that, Johann Koch and Jacob Holm are Danes just like Magdeburg's goalkeeper Jannik Green or left back Michael Damgaard. Taking in account the Norwegians such as Magnus Gullerud or team captain Christian O'Sullivan and add their top scorer from Iceland, Omar Ingi Magnusson, it is a Scandinavian/Nordic mixture.
Magdeburg have won the last eleven matches in the European League and beat Füchse twice in Bundesliga this season - but this does not guarantee the trophy. SCM need to play with high-speed in attack, as when Füchse defend back on six meters with their tall and powerful players such as their Balkan wall (Gojun, Marsenic, Kopljar), it is hard to crack them open.
On the other hand, Füchse seem to have more options in terms of attacking, either from nine meters or via fast-breaks and on the line. So, everything is open on Sunday, no clear favourite at all."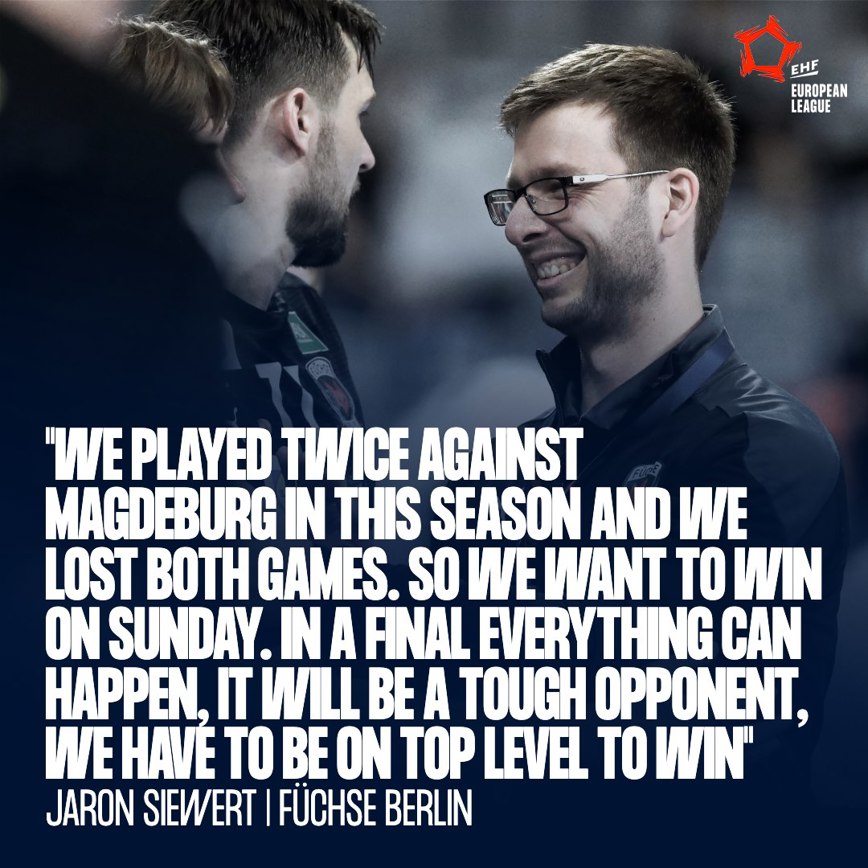 12:25
TOP SCORERS' RACE...
Magdeburg's right back Omar Ingi Magnusson is on 87 goals after his six goals in the semi-final against Plock.
Should he score ten goals in the final today, he will be the top scorer of the season and will overtake Emil Jacobsen (GOG), who is the current top scorer with 96 goals.

Sounds like a tall task but he has scored plus 10 goals four times this season against IFK Kristianstad, Montpellier, Besiktas and Eurofarm Pelister and picked up 8/9 goals in a few other ties. It seems to be either he scores 2 or his is pushing the 10-goal mark, so we could well see the Icelander being crowned the first ever top scorer of the EHF European League.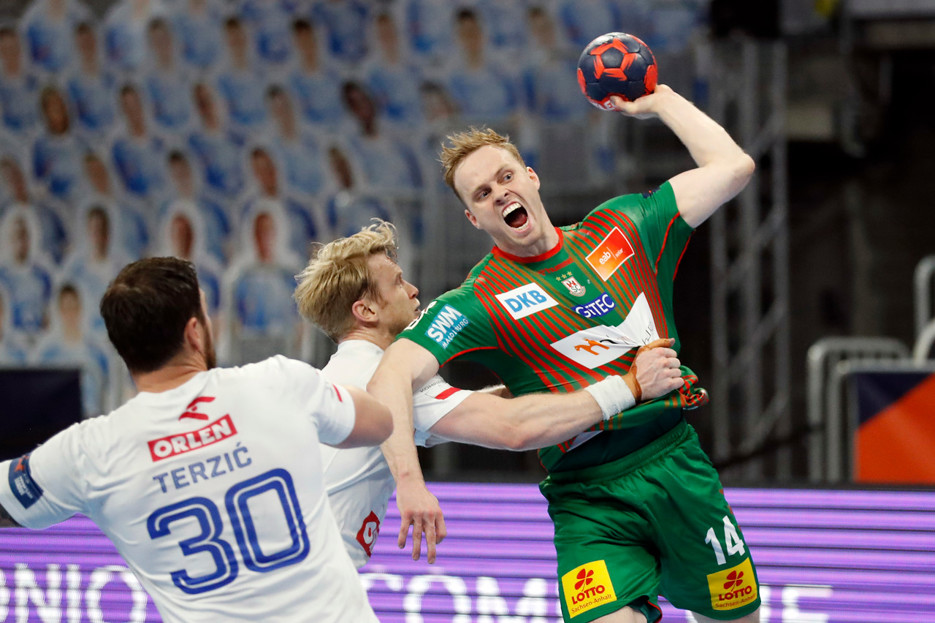 12:17
Andre Schmid (Rhein-Neckar Löwen) and Przemysław
Krajewski (Orlen Wisla Plock) are on the squad lists for today for the 3-4 placement match after both men were suspected to have picked up knocks, but good to see they are selected today!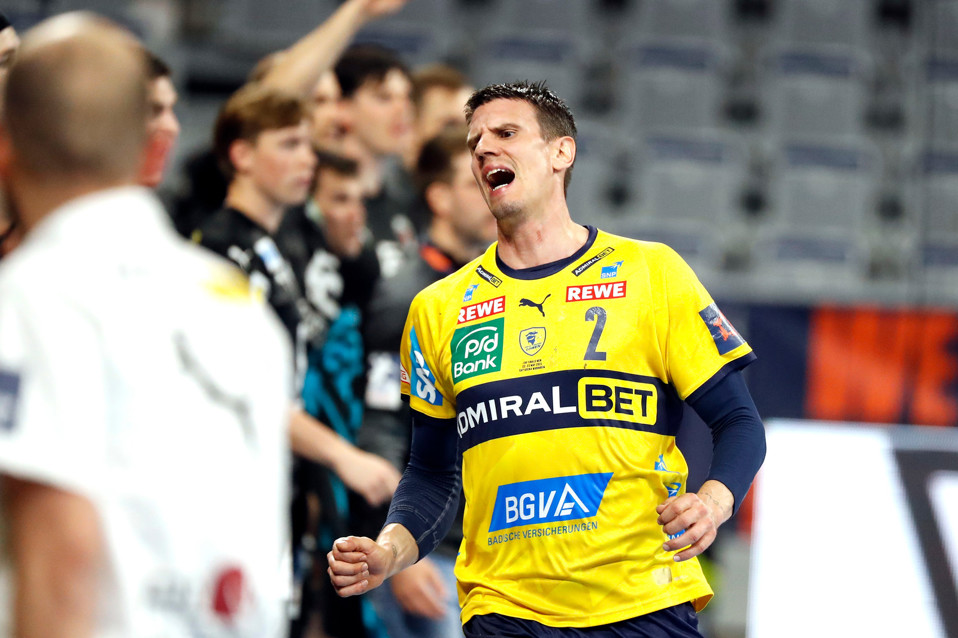 12:11
One man who has been there and worn the jacket plenty of time before is Hans Lindberg of Füchse Berlin. He can win his third trophy in total, after winning the EHF Champions League with Hamburg in 2013 and the EHF Cup with Berlin in 2018. 

At the grand age of 39 the Danish winger has had another great season netting 60 goals (Füchse's top scorer) in the EHF European League so far.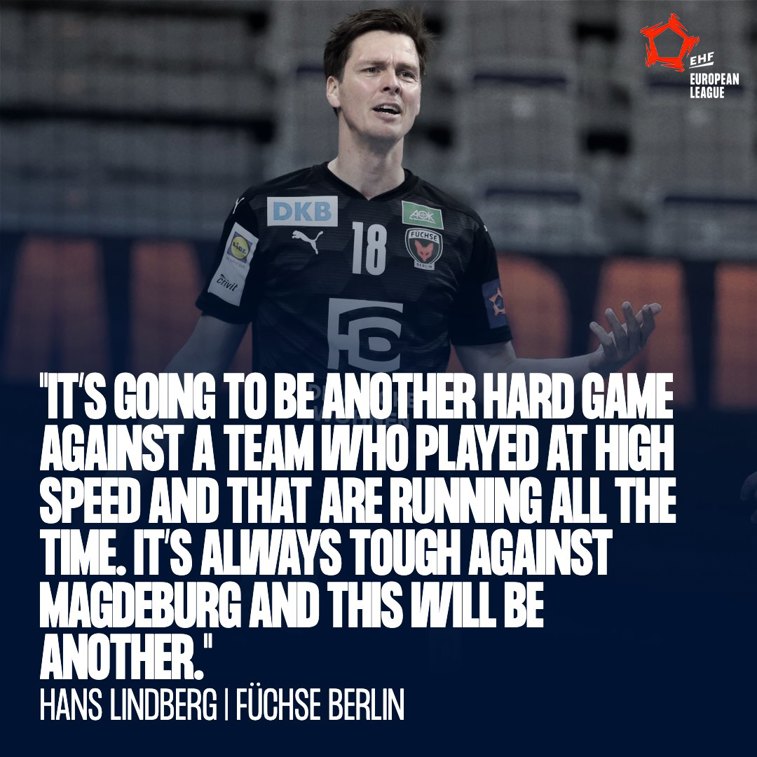 12:07
Good day! It's final day and it's time to find out who the kings of the EHF European League 2020/21 will be with the gold-medal match between SC Magdeburg & Füchse Berlin is coming your way at 20:30 (CEST), 15 minutes earlier than yesterday's late throw-off. 

First thing is first, I have dropped the preview by our expert Björn Pazen below, it is a must-read before we get things rolling here, so get your teeth into that first! 

Saturday
23:33
Far from an evening of free-flowing handball, this was pure grit and determination - just what the EHF European League is all about. And what better final could you ask for than tomorrow's deciding match. We saw SC Magdeburg today having to push through some real adversity and showing the nerve not to throw it all away when they themselves were being chased by Plock. While Füchse came out with a serious point to prove sticking to a team that were cast by many at the beginning of the season as favourites, Rhein-Neckar Löwen. And the pure joy of watching Füchse's Lasse Andersson today, and to see him reach new heights was a pleasure to behold.
We will leave you with this tweet from Tim Dettmar, who sums it up nicely - tomorrow will be a hot one, stay tuned!
23:29
After today's performances who do you fancy to be crowned the first-ever EHF European League champion? 
RESULT: Rhein-Neckar Löwen 32:35 Füchse Berlin
It was a real fight on both ends of the court but Füchse seem to have Löwen's number now, doing the double over on them in the space of two weeks. Massive games from Holm and Wiede who netted six each and your player of the match was easily Lasse Andersson who is looking like he finding some serious form with highlight after highlight goals today, really impressive. 
22:21
Lasse Andersson is the king of the clutch! He is the difference in the last few minutes and was clearly the single best performance today!
22:16
Two goals in it once again and RNL switch to a 4-2 defence in order to force some turnovers, a risky move but they need to close that gap. 
22:09
If you missed this goal earlier here it is again: Jerry Tollbring showing us some serious balance and timing here with this amazing full-court in-flight goal! 
22:03
Gislason sees red for his third two-minute suspension after a high tackle on Holm. Jacob had gotten the better of him earlier in a very similar situation (below) and an over-eager Gislason caught the Dane around the neck and sits out the rest of the game. 
21:56
This has to be one of the most bizarre semi-finals we have seen in a European Cup competition. Just when you think Füchse were pulling away and taking control of the game again we get a run of goals from Tollbring, Gislason, Lagarde and we are back to a two-goal game. The game is riddled with technical errors, poor shots and wild passes at times but it doesn't lack tension!


Half-time breakdown by expert Björn Pazen
"What a show by foxes and lions! What a goal fest; such ups and downs! In the first 20 minutes, The Berlin side was even stronger than 16 days ago, when they beat Löwen in the same arena in Bundesliga 27:24. Boosted by their back-court aces Fabian Wiede and Lasse Andersson, Berlin ran over Löwen for almost ten minutes. Füchse forged ahead from 2:2 to 11:3, as the hosts caused series of technical mistakes, missed passes and missed shots. Despite the comebacks of Uwe Gensheimer, Ilija Abutovic and Romain Lagarde and the short-term transfer of Kim Ekdahl du Rietz, Löwen lost their pace completely.
But what happened then was even more spectacular, as Löwen turned the roller-coaster cart around again. With full speed attacks and much higher efficiency, Uwe Gensheimer & Co. turned a 13:6 into a 17:15 within in ten minutes of a crazy match - still Füchse are ahead at the break, but in a match like this, a 19:16 lead doesn't hold huge significance."
21:22
Here we go! Löwen turn up the pace and have their heads finally in the game and they pull it back to within two goals! Three goals from the left side, two from Tollbring and one from Lagarde bring them back within touching distance!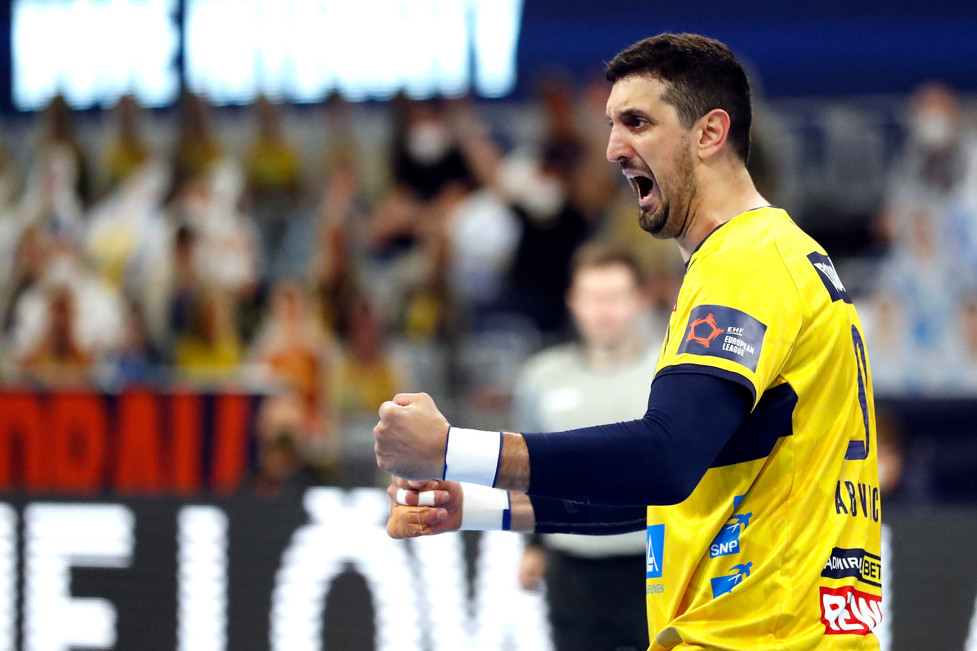 21:18
Lasse is looking like a world-beater tonight! Just letting them fly from way downtown!
21:10
This is almost hard to believe! Rhein-Neckar Löwen look like they are totally out of ideas here. They are currently seven goals down. Fabian Wiede is on fire and is 4/4 at the moment, Gislason in the RNL saw this and hit him really hard in the air in one attack (picking up 2 minutes) with Wiede hitting the ground hard but he seems to be alright. Andersson is 5/7 and top scorer of the game for Füchse. 


20:57
What a start! End-to-end stuff with some great goals and saves. And it is Füchse who have started strongest! They come out with a 6:3 lead with Andersson not wasting any time, he's 3/5 already.
20:36
Remember that only 11 days ago Füchse Berlin got the upper hand over the Löwen in the Bundesliga, while a lot of people outside of Germany see the hosts as the big favourites, it could be a very close tie. 
20:20
He was stealing headlines since the Rhein-Neckar Löwen had their media call on Friday! The return of Kim Ekdahl Du Rietz shocked almost everyone in the handball world. Taking a break from his studies in Hong Kong, the Swedish powerhouse joins the Lions after a year out of handball, going to be very interesting to see what his form is like. 
20:15
BUILD-UP: And we are onto our next semi-final, this time the all-German clash of hosts Rhein-Neckar Löwen vs Füchse Berlin! 
It was a tough game and I think Plock were a bit tired in the second half. We seemed to have more power than they did and I think that was the real game changer in the end.
19:34
RESULT: SC Magdeburg 30:29 Orlen Wisla Plock
Wow, it wasn't the nicest game of handball you would have ever seen but boy was it full of nerves and entertainment! SC were behind for massive parts of the game and showed real heart to claw back and keep the lead being tested over and over again!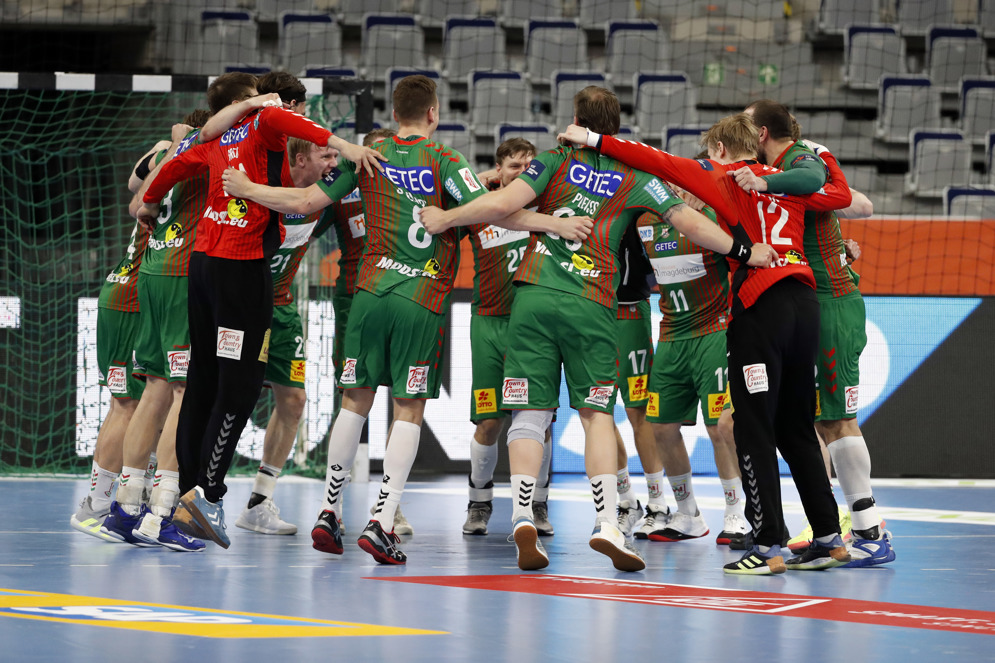 19:28
Two minutes left and we back to a one-goal game! SC hold onto the smallest of leads! Chrapkowski gets a two-minutes suspension for dangerous play, and Krajewski was happy to net the penalty. 
19:25
And SC Magdeburg have found another gear! They pull three goals ahead again! Gullerud, O'Sullivan & Mertens net to give the German side the lead once again. This game is full of nerves, makes for great viewing!
19:18
Just when it looked like SC Magdeburg would open up a big gap Plock pull back a three-goal deficit. Damgaard is now on 6 for SC, much improved in the second half (four alone in the second).
19:09
And for the first time since the first minute of the match, SC Magdeburg have taken the lead 20:19 thanks to a Moritz Preuß goal!
19:04 
There is one name of the second half: Adam Morawski he has pulled off three huge saves in the second half and brings his tally to eight saves. Plock have him to thank for not falling behind. It is neck-and-neck at the moment. SC Magdeburg 19:19 Orlen Wisla Plock. 
19:00
SC Magdeburg are already looking much better in the opening minutes here. Damgaard is finding his stride and moving onto the ball much better and as opened up the Plock defence well. SC Magdeburg 16:17 Orlen Wisla Plock
18:42
Half-time breakdown by expert Björn Pazen:
"Plock brought huge amounts of concrete with them to their first-ever European semi-final in Mannheim, as they had built an extremely solid defensive wall in the first 20 minutes. Magdeburg did not find the means to get through, caused missed passes and turnovers, while on the other end of the court, Plock's Hungarian Zoltan Szita and Spaniard Niko Mindegia were strong in attack. SCM coach Bennet Wiegert constantly changed his attack tactics - and was most successful when they played with two line players, Zeljko Musa and Moritz Preuß.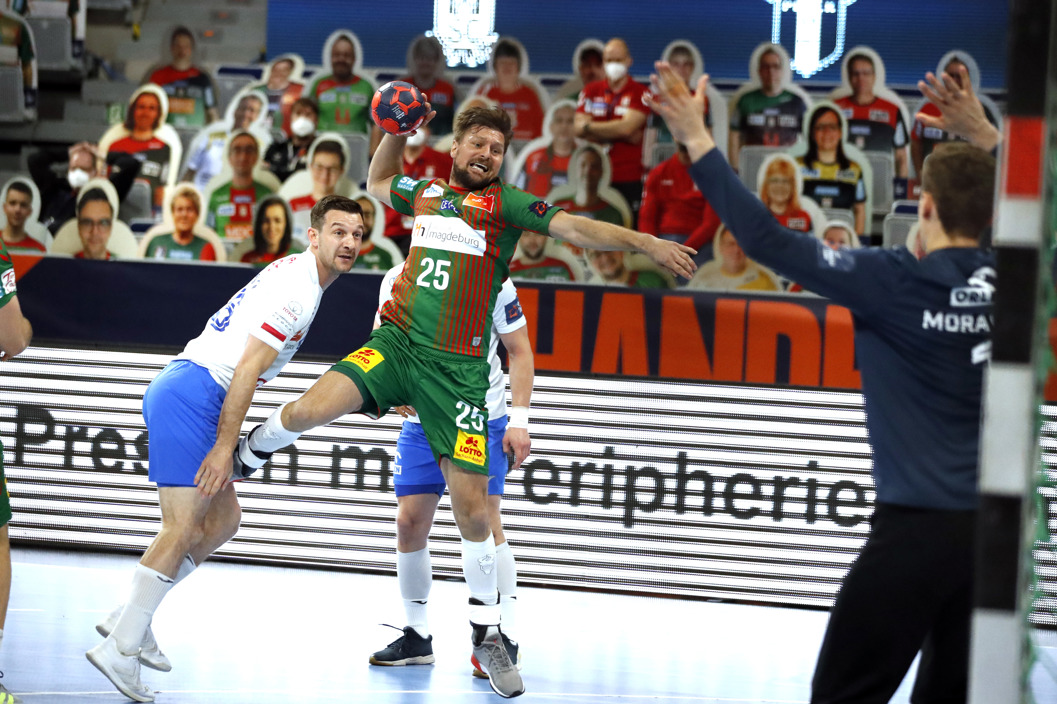 Magdeburg could not profit that much from Plock's suspensions and surprisingly were down by 11:8, before they intermediately improved and were boosted by the goalkeeper change from unlucky Jannick Green to Swedish Tobias Thulin. But still, SCM were close to heading to the dressing rooms with a four-goal deficit, but Plock missed their last chance and Omar Ingi Magnusson netted to make it 15:13 (to Plock) at the half-time buzzer.
Let's wait and see, if Magdeburg can cheat the semi-final curse - as they had lost the 2017 and 2018 semis in the EHF Cup against Göppingen and Saint-Raphael."
18:34 
A goal by Omar Inge Magnusson is having a bit of a mixed bag of a performance. Is 2/4 so far in front of goal but has made some really silly mistakes resulting in turnovers and simple Plock goals. A lot of expectations are on the Icelandic player's shoulders, he will need to sharpen up as he is key for the German side.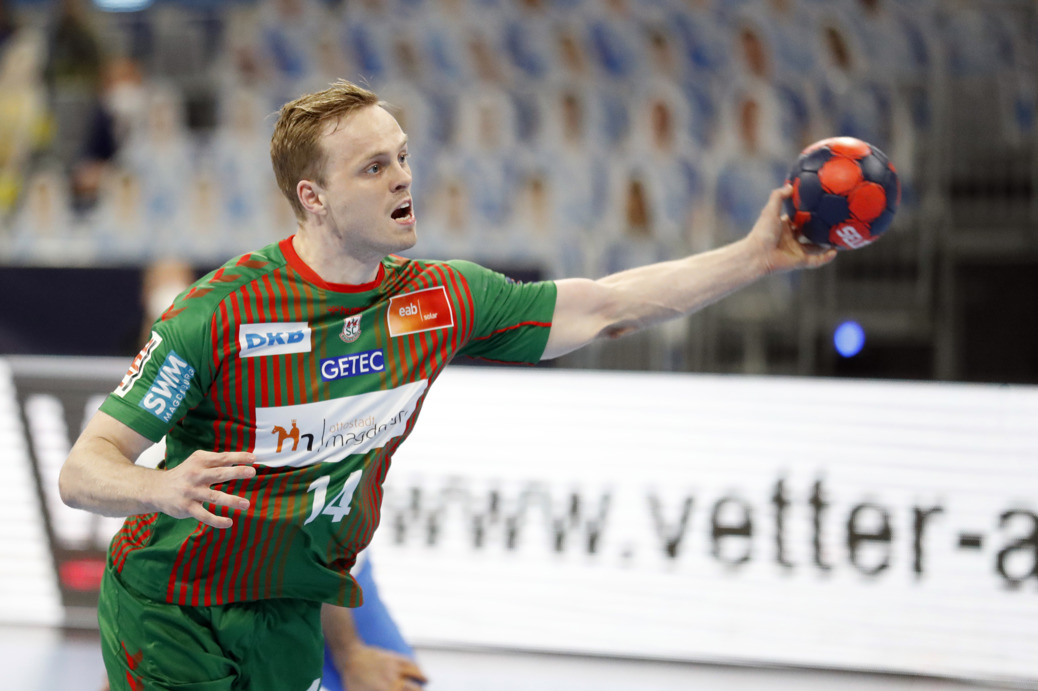 18:26
Clutch shot! Wow, Zoltan Szita (3/4) is looking really good in the opening half here. The ref's hand was up, Plock had one shot left and the Hungarian international with a massive jump over the wall and puts it past Green in goal. Best goal so far. The Polish side are +3.
18:15
The biggest takeaway for me so far with the opening 10 minutes is that the Plock defense has the set plays of SC Magdeburg rattled. Christian O'Sullivan will need to settle their play and start to work better with the line. 
18:10
It is hectic stuff so far, you can see both teams have some nerves to settle. Biggest proof of that was the last SC Magdeburg attack when they simply threw the ball into the stands off a totally uncontested set play. To be expected, the score is: Magdeburg 2:3 Orlen Wisla Plock. 
18:03
Game on! And we have our first goal of the EHF Finals 2021! How fitting we see Piotr Chrapkowski SC Magdeburg's sole Polish player net after a fast break against the Polish side, Plock. 

Let's go! 
17:57
Always lovely to see it. Musa of SCM and Stevanovic for Plock sharing pleasantries before throw-off, don't be fooled there will be no love lost when the game begins! 
17:51
We welcome David Bregazzi back to the commentary box, the Irish man who has been living close to Mannheim for many years now, knows these German teams very well. 

Join him now on EHFTV.com for the first semi-final!
17:35 
Follow the weekend's action also on Instagram stories where you will get behind-the-scenes content from the SAP Arean in Mannheim. Click on the image for a direct link!
17:27
Looking around on Twitter and there is a good bit of international support for the only non-German side in the mix this weekend, Orlen Wisla Plock. With the squad looking very sharp in the Polish league and with them playing some really attractive handball all season long, I can understand the love; could this be their year? 
17:15
Warm-up: SC Magdeburg vs Orlen Wisla Plock 
Captain and top scorer (62 EHF European League goals) Michal Daszek for Orlen Wisla Plock is looking very focused here in the warm-up. Tensions will be running high so Daszek will need to lead by example like he has been doing all season long. Plus the man is great for some highlight reel goals, today shouldn't be any different!





13:10
The line-ups for today's semi-finals have been revealed! And when you look at Rhein-Neckar Löwen line up for their tie against Füchse, it's amazing to see Uwe Gensheimer back in the team after injury, plus Abutovic, Lagarde back fighting fit, if that wasn't enough, you have the cherry on top: Kim Ekdahl du Rietz casually coming out of retirement to join the pack. 

The only notable name missing for Füchse would be left winger Milos Vujovic who has solid cover in youngster Tim Matthes (37 goals). 

The line-ups for SC Magdeburg vs Orlen Wisla Plock can be located here (just click on player stats).
12:40
In the build-up to the EHF Finals 2021, we sat down massive names from each team: for Plock, we talked to captain fantastic Michal Daszek, the Polish winger eager to lead the only non-German side in Mannheim to the title. Who else would we talk to but pack leader, Martin Schwalb - head coach of hosts Rhein-Neckar Löwen. For SC Magdeburg there is one name on everyone's lips: Ómar Ingi Magnusson, one of the most in-form players in the EHF European League and Bundesliga at the moment, he will need a huge weekend. And lastly Dejan Milosavljev, who needs no introduction; Milosavljev is no stranger to titles having won the EHF Champions League title with Vardar in 2019. Read all our interviews and get a feel for each side going into today's games...
12:28
Fans take to the stands...
All four clubs were hard at work making sure their fans made an appearance at the EHF Finals 2021, with cardboard cut-outs of fans filling the SAP Arena in Mannheim; this for sure adds a bit of handball community feel to the event - we love it! Maybe you will spot someone you know! 





12:01
Predictions from an expert 
One man we will be hearing from a lot this weekend is EHF journalist Björn Pazen, he will be our expert for the weekend and with vast experience and insight we are looking forward to seeing what one of handball's best journalists has to offer. What better way to start than to see what his predictions are for each semi-final!
SC Magdeburg vs Orlen Wisla Plock, 18:00 (CEST)
"A German side with Scandinavian tactics faces a Polish club with Spanish influence - this is EHF European League at its best. From experience and the individual class of the players, SC Magdeburg take the favourite's role - but at final tournaments, nothing is normal. Plock have nothing to lose, the longer, they keep the match level, the bigger the pressure will be on Magdeburg. Coach Xavi Sabate has a huge toolbox of tactics and options. But as both coaches agree that defence and goalkeeping are the keys to victory, it will be Plock's day, if they manage to keep Magdeburg below 25, 26 goals. If SCM's goal machine Omar Ingi Magnusson scores like in the knock-out stages, Plock have no chance. Funnily enough, the situation in the domestic competitions is completely different: Magdeburg have lost some Bundesliga matches over the last week, while Plock have not lost any Polish league matches in 2021."
Rhein-Neckar Löwen vs Füchse Berlin, 20:45 (CEST)
"In nature, it would be obvious that lions are too strong and dominant for foxes, but in handball it is an open fight. 16 days ago, Füchse took a 27:24 victory at the Lion's den in the SAP Arena - OK it was the Bundesliga, not a European cup semi-final. Today it will be different, as many Löwen players, who were injured are back - and the EHF Finals 2021 host have the element of surprise on their side with their short-term transfer of experienced Kim Ekdahl du Rietz and the comeback of team captain Uwe Gensheimer. Those two can be X-Factors for Löwen.
But when you compare the squads - it is heavy-weights and world class players on both sides: Former EHF Champions League winners in goal (Palicka vs Milosavljev), former EHF Champions League top scorers on the wings (Gensheimer vs Lindberg), master class players in the back courts (Schmid vs Drux/Wiede/Andersson) and pure intensity on the line (Kohlbacher vs Marsenic) - definitely a Champions League outfit in the EHF Finals 2021. And the winners? There is no home advantage for Löwen without fans - so in the end, it is all decided on court. Löwen had a poor run in the Bundesliga recently, while Berlin's form improved over the last weeks, but today, Löwen will need to rise like a Phoenix, but might need extra-time to make it to the final."
11:00
Welcome to the EHF Finals 2021, 22/23 May, Mannheim, Germany
With all the final preparations complete it is time for us to build-up the semi-finals of the EHF Finals 2021. With so facts & figures to digest, why not start with getting your teeth into a break-down of all the important numbers by EHF journalist Björn Pazen (below) 
Final training session: check