EHF European Cup
Live blog: Malaga beat Zagreb in first leg of European Cup final
Follow both legs of the EHF European Cup Women 2020/21 final between Rincon Fertilidad Malaga and RK Lokomotiva Zagreb on 1 and 8 May.
Malaga beat Zagreb 32:28 in the first leg of the final on Saturday
the second leg will be played in Zagreb on Saturday 8 May at 20:00 CEST
both games will be streamed live on EHFTV
read the preview for the first leg

21:05
So that's the first leg of the EHF European Cup Women final done, and it's Malaga who have the advantage going into the second leg - but what difference will the home advantage make for Zagreb? If Nenad Šoštarić is well enough by next week to coach, that could potentially be key. Tune in at 21:00 CEST on Saturday 8 May to find out who will take the trophy!
20:30 | FULL-TIME
A strong effort from Zagreb does close the gap to four goals, but nevertheless Malaga will take a healthy advantage into the second leg in Croatia next week. Larissa Kalaus was astonishing, scoring 11 goals from 11 attempts but seven goals from both Sara Bravo Baldomero and Silvia Arderíus Martin were key to Malaga's victory.

20:20
Another 3:0 run for Malaga have given them a 29:22 lead and Zagreb call another timeout, but with less than six minutes to play they don't have long to make this up. 
20:15
Sara Bravo Baldomero has been a key part of helping Malaga stay ahead, with three goals since the break and seven so far including this rather nice effort from the wing.
20:04
Zagreb are not making much impression on Malaga at the moment and the Spanish club continue to lead, extending the gap to four goals before Zagreb close back to three. At 12 minutes into the half, the score is 20:16 and it's looking like Malaga may take an advantage into the second leg.

19:55
Five minutes into the second half, and the position remains the same with Malaga leading 16:13 - and Larissa Kalaus has added two more goals to her tally!
19:48
The stand-out player so far has to be Larissa Kalaus, who's scored five from five. It's an impressive performance from the Zagreb left back, who also impressed at the EHF EURO in December.

19:40 | HALF-TIME
RINCON FERTILIDAD MALAGA 14:11 RK LOKOMOTIVA ZAGREB
Malaga's great start is helping them now as they stay ahead of Zagreb, although the match is far from over and Zagreb are fighting hard. 
The Croatian team are missing their coach Nenad Šoštarić today; he was unable to travel to Spain as he is recovering from Covid-19. However, you can be sure they will want to produce a good performance for him.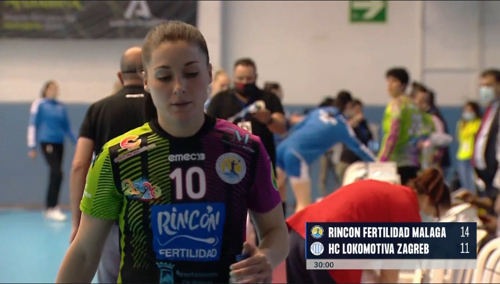 19:28
Zagreb trail by two goals as the first half runs out. Larissa Kalaus has scored five of her side's nine goals, but this one by Tena Japundža off a Lucija Bešen assist is particularly nice.
19:20
Zagreb have rallied impressively, and a 3:0 run has put them back in touch - it's 8:6 to Malaga.
19:15
Malaga have really taken control of the match and lead 6:3. Four of their goals have been scored by the López Jiménez twins, Soledad and Esperanza - Zagreb have a further two sets of twins on their team, Larissa and Dora Kalaus, and Stela and Paula Posavec!

19:05
There's a good atmosphere in Malaga, with plenty of noise from the crowd. That's helped the home team take a 4:1 lead after just over five minutes and prompted the first Zagreb timeout.
Malaga's Soledad López Jiménez has scored twice already, adding to the 38 goals she's already scored this season.
19:00
Throw-off is imminent - here are the squads. Zagreb's team includes a number of the Croatian team who won bronze at the Women's EHF EURO 2020, while Malaga also has players with international experience including goalkeeper Mercedes Castellanos.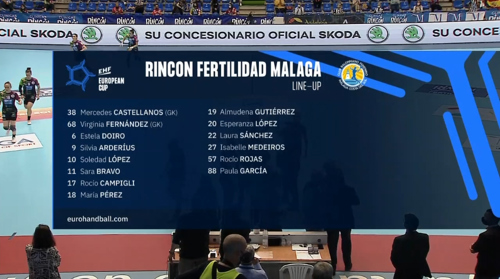 18:45
The teams are warming up and the fans allowed into the arena are taking their seats - the final is only 15 minutes away. Tune into EHFTV now (geoblocking restrictions may apply, depending on your location).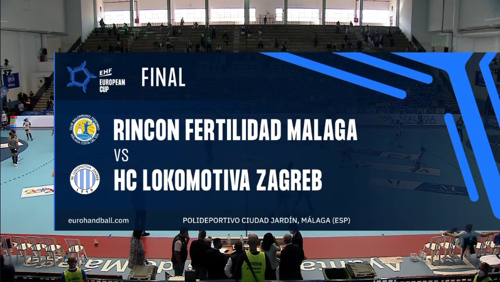 18:35
Malaga have made this final in the face of adversity, and EHF reporter Adrian Costeiu found out more about how the death of coach Diego Carrasco less than two years ago affected the club, and how they bounced back - well worth a read.
18:20
Finals day is here for the EHF European Cup Women 2020/21 and Rincon Fertilidad Malaga will host RK Lokomotiva Zagreb in the first leg.
It's the first ever European final for the Spanish club and they get to play the match in front of around 400 fans in the Ciudad Jardin Arena.
Both sides have had strong seasons; Zagreb comfortably won all of their games, while Malaga lost only to A.C. PAOK in the return leg of the quarter-final. Find out more about the two sides in our final preview.