Summary: Metz win MOTW; Györ and Esbjerg on top of their groups
The EHF Champions League Women 2023/24 bows out for 2023 this weekend as it reaches round 8, ahead of the women's international break for the 2023 IHF Women's World Championship. The weekend's matches are all mirror images of round 7, giving teams a second chance against sides they just met. The highlight is Match of the Week from Metz, after the French side beat Krim 28:22 last week in Slovenia.
18:25
With that we're slowly bringing our live coverage for the day to an end! Thank you for being with us, hope you've had a great day enjoying FTC and Esbjerg prolong their winning streak, and Metz delivering a splendid performance at home against Krim in the MOTW. 
This marks the end of the first part of the EHF Champions League Women season which will continue first weekend in January! However, in only three days, Machineseeker EHF Champions League handball is back with some amazing games, so make sure to stick with us again! Have a great Sunday night, and see you soon!
#clw round 8️⃣ has brought some intense battles and interesting results ⚔️

Who was your favourite player this weekend? 🤾#ehfcl #DareToRise pic.twitter.com/8WSenNk6Wo

— EHF Champions League (@ehfcl) November 19, 2023
18:10
Hatadou Sako of Metz Handball had seven saves today, and was pleased with the way her team played on the defensive side of the court: ''It was far from an easy game I'd say, but started it off really well! We were looking really tough, and strong on the defensive side of the court, while at the same time using all the opportunities we've had on the other side of the court. Of course I'm happy with today's win. We're trying to grow every time we're out there, and I have to say I'm happy to be a part of this team really!''
Tjasa Stanko (Krim) was obviously not as delighted after the game: ''We've committed way too many mistakes on both sides of the court today. That's not the way to play definitely. The difference in the end is really, but that's how sport is - sometimes you win, sometimes you lose. We've got to analyze the game, and grow from here'', concluded Stanko. 
18:02
Our daily review, as always, features everything you need to know about the matches we've seen today, so definitely make sure to check it out!
17:55
With today's results, we've now completed the Group B for the first part of the season. Esbjerg have managed to keep the top position with another win over Ikast, and Metz are following them with two new points next to their name from the game against Krim. 
Ikast remain third, now two points behind Metz. 
Following them are Vipers, Krim, FTC-Rail Cargo Hungaria, and Rapid Bucuresti - all with seven points. Zaglebie are bottom-placed, and yet to win a point. 
17:45
With the final three games of the round behind us, it's time to check out some of the best photos from Lubin, Esbjerg, and Metz!









17:32 FULL TIME
Another win over Ikast helps Esbjerg secure the top spot in Group B heading into the winter break. Kristine Breistol was absolutely unstoppable with 12 goals, while Michala Moller added five. Ingvild Bakkerud netted nine for Ikast, while Emma Friis scored seven. Amalie Milling and Anna Kristensen combined for 11 saves, while Irma Schjött finished the game with five for Ikast. 
17:30
An outstanding performance helps Metz secure another win over Krim. Chloe Valentini - today's MOTW POTM and Kristina Jörgensen score eight each, while Jovanka Radicevic netted ten for Krim. An amazing way for Metz to wrap up the first part of the season, while Krim clearly have to work hard during the winter break to get back into the rhythm from the beginning of the season when they had three wins in a row. 
17:23 FULL TIME
17:18
A big 12-goal Metz leading as we're heading into the final five minutes of the MOTW! 
17:15
What a game for Kristine Breistol so far! Just wow!
Kristine Breistøl is 𝐔𝐍𝐒𝐓𝐎𝐏𝐏𝐀𝐁𝐋𝐄 ❌#ehfcl #clw #DareToRise | @TeamEsbjerg pic.twitter.com/DWbPO3De7D

— EHF Champions League (@ehfcl) November 19, 2023
17:08
Metz widens the gap to ten (29:19) as we're entering the final quarter of the game. Eight goals for Valentini, seven for Jörgensen, five for Hansen. Jovanka Radicevic is shining with nine, but that does not seem to be enough for Krim to stay close in this one. 
17:00
Six-goal lead for Metz just over five minutes into the second half. Seven goals for Chloe Valentini so far. 
Nine goals for Kristine Breistol so far, as Esbjerg lead 23:17.
16:53
An absolute thing of beauty here from Line Hougaard.
These are some 𝐧𝐞𝐱𝐭 𝐥𝐞𝐯𝐞𝐥 moves from Line Hougaard 😵#ehfcl #clw #DareToRise pic.twitter.com/3VrKSbYl6F

— EHF Champions League (@ehfcl) November 19, 2023
16:45
An amazing first-half performance from Metz who are eight goals ahead at the break. Kristina Jörgensen is having a great day with six goals so far, while Chloe Valentini netted five. Jovanka Radicevic scored six for Krim in the first half. 
In Denmark, Esbjerg is four goals ahead at the break against Ikast. Kristine Breistol has five for Esbjerg, while Ingvild Bakkerud netted four for Ikast. Amalie Milling, and Anna Kristensen have combined for 11 saves in the first half. 
16:38
16:32
Djazz Chambertin scores her second goal of the night to make it 20:10 as we're entering the final minutes of the first half. It's been a half-time to forget for Krim so far. 
16:30
Kristina Jörgensen sets the tone with a couple of quick transition goals to start the game.
𝑄𝑢𝑖𝑐𝑘 𝑡ℎ𝑖𝑛𝑘𝑖𝑛𝑔 from Kristina Jörgensen🤓#ehfcl #clw #DareToRise | @MetzHandball pic.twitter.com/m7z0WNPSFX

— EHF Champions League (@ehfcl) November 19, 2023
16:22
An amazing start of the MOTW for Metz who are now 14:7 ahead just over 15 minutes into the encounter. Krim simply can't find a way to slow down their transition, and the advantage just keeps on growing in these moments. 
In Esbjerg, the result is levelled at 12:12. Kathrine Heindahl has three goals for Esbjerg, while Ingvild Bakkerud has just as much for Ikast. 
16:12
Metz take on early, commanding 7:3 lead. Chloe Valentini, and Kristina Jörgensen with three goals each so far, while Jovanka Radicevic netted two for Krim. 
16:05
Five minutes in, Metz has a 4:3 lead at home against Krim in the MOTW! Three goals for Kristina Jörgensen already. 
15:58
The stage is set, and we're only minutes away from the opening whistle in France! Watch the game live on EHF TV (geo-restrictions may apply). 
15:50
There is no better way to prepare for what's waiting for us in the MOTW, but to check on the Media Guide prepared by our journalists and analysts. 
• Metz play their 25th CL season, Krim their 29th.
• Last week, Metz defeated Krim 28:22 in the reverse fixture in Slovenia.

• That result marked the fourth straight win this season for the French side, who had started with two
defeats from their first three matches.

• Metz are now two short of their 100th win in the CL; only six other teams – including Krim – have
reached that milestone before.

• Krim started the season with three victories but have not won since, though they got a draw against
titleholders Vipers Kristiansand in round 5.

• With nine wins from their 17 duels so far, Krim still lead the head-to-head comparison with Metz.

• However, Krim have not beaten Metz for 10 years since a 27:21 win in Ljubljana in November 2013.

• Krim are two-time CL winners, in 2001 and 2003, but have not qualified for an EHF FINAL4 (since 2014)
yet; Metz have not lifted the trophy yet but competed at the EHF FINAL4 two times, in 2019 and 2022.

• Already the all-time CL top scorer, Krim right wing Jovanka Radicevic became the first player to reach the 1,100-goal mark when she scored twice against Metz last week.

• Jovanka Radicevic is also Krim's top scorer this season, with 31 goals; two Metz players have netted
more times: line player Sarah Bouktit is on 44, and centre back Kristina Jørgensen on 43.

• Kristina Jørgensen announced this week that she will join Györi Audi ETO KC next season.

• Metz's Hatadou Sako leads the CL goalkeeper ranking with 90 saves, including 18 from the match
against Krim last week; Krim's Barbara Arenhart is 10th in this ranking with 60 saves.

• Two current Krim players wore the Metz jersey in the past: French centre back Allison Pineau (2009-
12) and Slovenian left back Tjaša Stanko (2020/21).

• Metz's Chloé Valentini and Krim's Allison Pineau were both part of the French national team that won
gold at the Tokyo 2020 Olympics.

• Both head coaches this MOTW won a major title with a national team: Metz's Emmanuel Mayonnade
led Netherlands to the world title in 2019 in Spain; Krim's Dragan Adzic was coach of Montenegro when
they won gold at the EHF EURO 2012 in Serbia.
15:38
We've got the final two games coming up in under 20 minutes, with Ikast playing Esbjerg on the road, and Metz hosting Krim in our round 8 MOTW!
15:30
Another confident win for FTC over Zaglebie. Greta Marton and Andrea Lekic scored seven each for the guests from Hungary, while Angela Malestein added five. Amazing 16 saves for Blanka Bode-Biro. Karolina Kochaniak-Sala ended up scoring 11 for Zaglebie. 
A great way to secure their third win of the season for FTC, with Andrea Lekic' 1,000th EHF CLW goal being just an additional reason for celebration, as last season's finalists close the first part of the CLW season with three wins in a row. 
15:25 FULL TIME
3:20 p.m
If you were wondering, 𝐓𝐇𝐈𝐒 is the moment when Andrea Lekic hits the 𝟏,𝟎𝟎𝟎-𝐠𝐨𝐚𝐥s 𝐦𝐢𝐥𝐞𝐬𝐭𝐨𝐧𝐞 👇 #ehfcl #clw #DareToR ise https://t.co/LzhrzwlwDB pic.twitter.com/4EHnGDhlQF

— EHF Champions League (@ehfcl) November 19, 2023
15:12
With just under 15 minutes left to play in the game, Andrea Lekic scores her fifth goal of the night joining Anita Görbicz, Cristina Neagu, and Jovanka Radicevic as only the fourth player ever to hit the 1,000 EHF CLW goals milestone. Congratulations!
3:08 p.m
A great second-half performance so far from Dragana Cvijic. 
A line player's job is never easy 🥵 But Dragana Cvijic does it wonderfully 🤩 #ehfcl #clw #DareToRise pic.twitter.com/FnYFRsfYo9

— EHF Champions League (@ehfcl) November 19, 2023
3:00 p.m
Ten minutes into the second half, FTC have managed to widen the gap to eight goals (17:25). Seven goals for Greta Marton. Andrea Lekic is still at four. 
2:47 p.m
Beautifully executed here by Daria Michalak for Zaglebie!
Ready for take-off? ✈️

🦸‍♀️ Our captain: 𝑫𝒂𝒓𝒊𝒂 𝑴𝒊𝒄𝒉𝒂𝒍𝒂𝒌 #ehfcl #clw #DareToRise | @MKS_ZL pic.twitter.com/gtmsxKD1E9

— EHF Champions League (@ehfcl) November 19, 2023
2:40 p.m
After a very good first part of the first half, Zaglebie slowed down a bit, allowing FTC to open the gap and go to the break with a three-goal advantage. Greta Marton finished the first half with six goals for FTC, while Andrea Lekic has four which means she misses only one more to become the fourth ever member of the EHF CLW 1,000 goals club. Karolina Kochaniak-Sala netted six for Zaglebie, Daria Michalak has five. In a duel between the posts, Monika Maliczkiewicz (7) has a one-save advantage over Blanka Bode-Biro (6). 
2:35 PM HALF TIME
14:26
Zaglebie are looking much better in the first half today, than they were a week ago in Hungary, and they owe a lot to a solid performance from their goalkeeper Monika Maliczkiewicz who has six saves already. 
2:20 p.m
FTC overtakes the lead again in Poland, as Greta Marton shines with four first-ahlf goals so far. It's 10:11 in favor of the Hungarian team, with ten minutes left to play until the half-time buzzer. 
14:12
Two unanswered goals help Zaglebie overtake the lead at 7:6 ten minutes into the game. Monika Maliczkiewicz delivers with three saves early into the encounter. 
14:09
Two early-stage goals for Andrea Lekic as FTC leads 5:6 in Poland. Angela Malestein has two as well, while Karoline Kochaniak-Sala netted four for Zaglebie already. 
14:00
The match is under way! Hosts with the opening possession. 
13:55
Andrea Lekic has her 👀 set on her 1,000th goal in the #ehfcl. Can she do it today? 🤔

🕰️ 14:00 CET | @MKS_ZL 🆚 FTC-Rail Cargo Hungaria#clw #DareToRise pic.twitter.com/ImJxYb1UTz

— EHF Champions League (@ehfcl) November 19, 2023
13:49
The arena in Lubin is slowly filling up, and the teams are ready to take the court. 
13:40
Coming up later (16.00 CET) today, Ikast will be looking for revenge after last weekend's one-goal defeat to Esbjerg at home. We're once again expecting a high-scoring thriller between two teams that have certainly already proved what they are capable of this season. 
In France, Metz will welcome Krim Ljubljana a week after defeating them 22:28 in Slovenia. Will we see another Metz win, or will Krim manage to snap a four-game winless streak?
13:30
Andrea Lekic of FTC needs only five more goals to join the 1,000 EHF CLW goals club, and she'll surely be aiming to achieve that on Sunday afternoon in Poland. Lekic is also the top scorer of the competition with 45 goals scored so far. 
13:17
Despite the big win last weekend, Katrin Klujber of FTC-Rail Cargo Hungaria feel like they have to be careful on the road in Poland. 
''With the national championship win over Györ behind us, I can feel that the team is really focused on what's waiting for us in Poland. We know what the aspects of the game are that we have to give special attention to. We are aware that it's surely not going to be an easy game, but I hope the result will in the end be similar to the one from a week ago.'', said Klujber. 
13:10
Yesterday we've concluded Group A, and today final three games of the round will clear out a picture on Group B heading into the winter break. Polish Lubin will host the first game of the day in which the hosts will be looking for what would be their first ever win in the competition. Bozena Karkut, head coach of Zaglebie Lubin, knows what her team was doing wrong a week ago in Hungary when they lost to FTC by a big margin
''We committed way too many mistakes in the game in Hungary, on both sides of the court allowing FTC to widen the gap and sail towards a new win. We definitely have to do our homework analyzing that one, and play much better at home on Sunday!', concluded Karkut. 
1:03 p.m
Welcome back to the live blog coverage of the final EHF Champions League Women round of the first part of the season. Five games are already behind, which means we've got three more coming up today starting with Zaglebie Lubin welcoming FTC (14.00 CET). Always, sit tight and enjoy the ride with us!
SATURDAY NOVEMBER 18






20:45
That's the end of today's coverage - join us again tomorrow from about 13:00 CET, when we'll bring you the last three EHF Champions League Women games of the year including Match of the Week in Metz!
20:31
Group A is now done for the year, and here are the standings as we go into 2024 (!)
Györ are perfect at the top, with the best defence of the group - the only team to concede fewer than 200 goals (24.8 on average). Odense have the best attack, scoring a huge 277 goals in eight matches (an average of 34.6).
Buducnost have the weakest attack, with just 183 goals scored (22.9 on average), but Sävehof's defence is letting them down badly and they have conceded 272 goals, or 34 per match.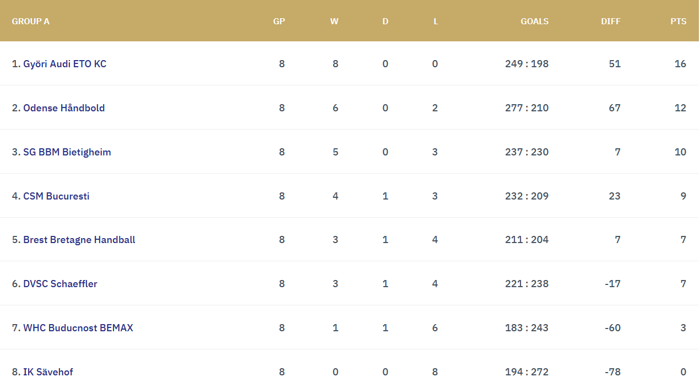 20:12
Here's some reaction from some of the winning teams today - there's a sense of satisfaction, but everyone knows nothing is yet certain.
We showed more discipline than in the first game. We showed good energy and from the first minute we knew what we wanted. I am proud of my team and we are going to the break after winning two important points.
We played a really good match as we did in Sweden. I have told my girls several times that they have the spirit so we have to keep playing and we know they are a team with a lot of potential and if we stop fighting then they will come back.
It was a very intense game. There were a lot of similar things to last week, and a lot of different ones. I think we found solutions for last week's problem in defence, and in offence as well. Today my players were calm and disciplined, that's why we could win.
19:58
What an evening! Here's the day review, in case you missed anything from those five games.
19:35 | FULL-TIME
After the loss last week, Vipers end 2023 on a high with a solid performance in front of their home crowd, despite a few technical errors at the end of the game. A brilliant Sofie Börjesson meant Vipers were not at all missing Katrine Lunde, and her 20 saves from 48 shots (41.7 per cent) ensured victory. Jana Knedlikova netted eight times from 11 shots for Vipers, while Alicia Fernández managed seven from 10 for Rapid.
19:28 | FULL-TIME
A couple of excellent saves from Rinka Duijndam and some more goals by Bruna de Paula and Viktória Gyori-Lukács complete the comeback for Györ. They left it late, but they pulled it off and secured their eighth win of the season to remain the only unbeaten side in the competition. 
De Paula finishes with eight goals from 10 shots; Karolina Kudlacz-Gloc (Bietigheim's penalty-taker) and Xenia Smits both scored five times for Bietigheim. 
In a totally different game from last week's 20:20 draw, Brest walk away with the win in Buducnost - a result never in doubt. Tanja Ivanovic for the hosts and Valeriia Maslova for Brest both scored six times, but the key was a magnificent Katharina Filter for Brest, making 14 saves from 27 shots (51.9 per cent).
19:23
Sandra Toft comes back on to take a penalty by Karolina Kudlacz-Gloc - and saves it! Viktória Gyori-Lukács then adds more hope for Györ by scoring an excellent goal, and the hosts lead 29:28 with less than four minutes on the clock. It could still go either way.
19:19
It's level in Hungary, and Linn Blohm nearly puts Györ ahead for the first time, but her shot hits the crossbar and misses. Antje Döll adds another for Bietigheim - it remains very close.
19:12
Györ have found something and are starting to shift into a higher gear, playing faster and more aggressively, and it's got them back to within a goal of Bietigheim a couple of times now. Bietigheim keep responding, however. 
Vipers also responded to the threat from Rapid and have gone up 26:19.
19:05
Aware of the need to start off well, Györ bring it back to a three-goal game briefly, but two goals from Bieitigheim, including a penalty by Karolina Kudlacz-Gloc, make it 22:17 to Bieitigheim and Ulrik Kirkely calls a timeout. The record champions have failed to make an impact in the opening 10 minutes of the restart. 
Vipers still lead Rapid, but Rapid are trying to make a move.
18:55
They're getting ready again in Kristiansand, while the other two games have already restarted.
18:42 | HALF-TIME
Last week in Bucharest, Vipers led by three goals at half-time and then Rapid came back for the win. Today, the home team have a little bit more of a cushion but they will know the visitors have the ability and the players to come right back once more.
Both Jana Knedlikova and Alicia Fernández have scored four times and both Sofie Börjesson and Diana Ciuca have made 11 saves!
18:37 | HALF-TIME
Györ have had some unlucky misses, but Bietigheim are playing like the team which won the first five matches of the season, and not the team which lost the last two games. They are playing well in both attack and defence, counter-attacking strongly and moving well in the transition after scoring. A poor start from Sandra Toft didn't help Györ's case. But the home team have some work to do in the second half if they are to maintain their unbeaten streak.
Last week, it was 9:9 at the break in Brest - this week is entirely different, and Brest are storming ahead against a rather lacklustre Buducnost. A switch between the posts, with Julie Foggea giving way to Katharina Filter, has also helped Brest as Filter has a 62.5 per cent save efficiency (five saves from eight shots). 
Valeriia Maslova is top scorer, with five goals so far.
18:24
This goal from Pauletta Foppa was Brest's 2,500th in the Champions League! What a milestone - and a great goal to celebrate it with.
18:21
Diana Ciuca was key for Rapid last week against Vipers, and she started off in the same vein today - but Sofie Börjesson is also on fire and keeping her team ahead.
Györ are having real trouble with Bietigheim, who just keep sneaking ahead again. It's 12:10 to the visitors, and Ulrik Kirkely has switched Sandra Toft out of goal and put Rinka Duijndam in after his number one goalkeeper started the match very poorly (one save from 12 shots). 
Brest lead Buducnost 10:6 - not the opening to the home game the Montenegrin side wanted.
18:13
Sofie Börjesson takes a shot in the face - accidental - but after a bit gets up and seems fine. Vipers have taken a 6:4 lead over Rapid now.
Brest lead Buducnost 5:3, and Györ have come back level with Bietigheim in a high-scoring game, where it's now 8:8.
18:08
Bietigheim have taken a lead over Györ, a strong start. It's closer in Kristiansand and Buducnost.
17:57
The day's last three games are about to start.
17:45
Ready for more handball? Three games are coming up at 18:00 CET. 
Today, Györ welcome back goalkeeper Silje Solberg-Oesthassel, who was on maternity leave having given birth to her daughter Emma only three months ago. It's unlikely she'll play much of the match, but it's definitely good to see her back and the fans will surely give her a warm welcome!






17:34 | FULL-TIME
Evelina Eriksson spent most of the match in goal for CSM and she performed amazingly, saving 20 out of 43 shots (46.5 per cent). That was a major difference which helped the visitors to a good win over DVSC, despite the home team's spirited defence in the second half. They closed the gap somewhat, but just not quite enough. 
The top scorers of the match was Stefania Stoica (eight from nine shots), but Szimonetta Planeta scored six from seven for DVSC. 
17:27 | FULL-TIME
It's a little closer than last week, but Odense didn't really have to work too hard in the second half. Sävehof remain winless until 2024 and Odense are second in the group, ahead of the upcoming match in Györ. 
It's the third match in a row in the Champions League where Odense have scored at least 40 goals. Today, Elma Halilcevic was top scorer, with seven out of 10 shots. Mie Højlund is the only Odense player who did not score. 
Nina Koppang and Olivia Mellegård both score three for Sävehof, and Yara ten Holte is the best goalkeeper with 10 saves from 21 shots (47.6 per cent).
17:14
DVSC are keeping the pressure on CSM, who are staying ahead mostly because of Emilie Hegh Arntzen who's filling in nicely for the absent Cristina Neagu.
17:08
A couple of changes in goal in Odense: Althea Reinhardt has replaced Yara ten Holte for Odense, and Annie Linder has taken over from Johanna Bundsen. So far, neither is having much success and despite a couple of good fast breaks from Nina Koppang, Odense extend their lead to 30:14.
CSM have stopped DVSC from closing the gap any more, but four goals (21:17) is still not much and the fans are sensing that their team could maybe come back. There's a small pause while Vivien Grosch and Alexandra Dindiligan get rid of a patch of resin on the court, and then we're back into the match.
17:00
Four goals for Odense since the restart and none for Sävehof, and a win for the Danish side looks inevitable.
DVSC came out of the dressing room with spirit, scoring twice in a minute, but another missed penalty gave CSM the chance to steady things. However, the gap is now three goals rather than six and you have to wonder if CSM's 12 outfield players will have the stamina to counter if DVSC keep up the charge.
16:50
While we wait for things to restart, enjoy some of the best saves of the matches so far!
16:40 | HALF-TIME
This is much better from CSM than last week, although they have allowed DVSC to have four penalty shots. Luckily for the visitors, only one seven-metre throw has gone in. A really good defence, backed up by a superb Evelina Eriksson (10 saves from 19 shots, or 52.6 per cent) means CSM lead by more than last week's 17:14 at half-time. However, they will be conscious that DVSC came back into the match in Bucharest and could do so again.
Emilie Hegh Arntzen, Stefania Stoica and Vilde Ingstad have all scored three goals, and they are currently the top scorers.
Sävehof had such a good start but once Odense got into gear there was no stopping them. Now, the home team are in cruise control again and the half-time score is identical to last week in Sweden. 
Andrea Hansen leads the scoring, with six goals from seven shots, and Yara ten Holte has made six saves (35.3 per cent). That's one of the differences between the sides - nine Sävehof players have managed to score, but nobody more than twice, and Johanna Bundsen ended up with just five saves (21.7 per cent) after a really good start to the game.
16:32
Stefania Stoica is in charge of leading the CSM attack going into the break, with clear instructions from Adrian Vasile in the timeout. The visitors have a chance to go into the dressing up comfortably up.
In Odense, another 40-goal game could well be on the cards for the home team as they now lead 18:10.
16:24
Twenty minutes in, and CSM still have a lead over DVSC - 10:6 - with Evelina Eriksson stopping a good number of shots for the visitors. Generally, CSM are finding it easier to score and putting up a bit more solid defence. 
16:13
It's worth noting that CSM have travelled to Debrecen without their talismanic left back Cristina Neagu, who injured her knee last week and is recovering from the injury - hopefully in time for the upcoming world championship.
So far, it doesn't matter, as CSM take a 4:0 lead with a solid penalty throw by Crina Pintea. DVSC call their first timeout. 
Over in Denmark, Odense have resolved their early problems against the Sävehof defence and lead 7:4.
16:05
And we're underway for the last round of 2023!
Sävehof have clearly learned from last week and are putting up a solid defence to Odense's attack. Coupled with a good start by their goalkeeper Johanna Bundsen - who sits second in the overall goalkeeper stats - they lead 3:2 after just under five minutes.
CSM have also had a good start, scoring twice to DVSC's zero.
15:55
We wonder what Adrian Vasile is thinking before this match in Hungary? His team are tied on points with DVSC, although CSM are ranked fourth in the group thanks to a better goal difference. With Brest only two points behind them, the race for the play-offs is looking extremely tight.
Everything begins in five minutes, so find yourself a comfy seat and turn on the television or EHFTV now!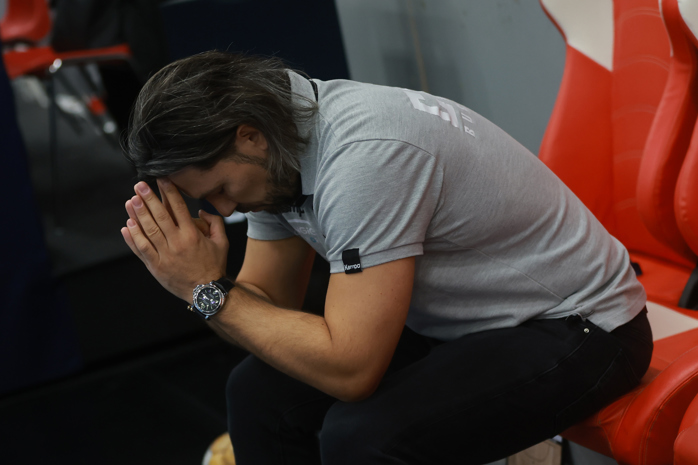 15:45
Later on this afternoon, three games will happen at once: Györ vs Bietigheim and Buducnost vs Brest in group A, and Vipers vs Rapid in group B. The latter two were close last week, with Rapid seizing a win by a single goal and Brest and Buducnost recording a draw, but Györ continued their superb run. They have the best defence in the competition.
Some records to look out for in Buducnost: if the home team win, it will be their 160th Champions League victory, making them only the second team ever (after Györ) to reach that number. And Brest's sixth goal will be their 2,500th in the competition, which would make them the 17th team to hit that target.
15:35
Warm-ups are well underway for the first two matches, which begin at 16:00 CET: DVSC Schaeffler host CSM Bucuresti, and Sävehof have travelled to Odense. Odense have scored over 40 goals in the last two rounds and are on superb form - what will Sävehof have learned from last week's game?
DVSC are also on good form with three unbeaten games in a row. But this match will be intriguing, as they have a record of three wins from four home games, while CSM have performed better away than at home. Maybe this is the match which is most likely to end in another tie?
15:20
So let's recap a bit what happened in round 7, because every match this weekend is a mirror image of last week:
CSM drew 29:29 with DVSC Schaeffler in Bucharest
Odense beat Sävehof 44:20 in Sweden, their biggest-ever Champions League win
Györ defeated Bietigheim 34:26 away to remain unbeaten
Brest and Buducnost drew 20:20 in France
Rapid beat defending champions Vipers 30:29 on Romanian soil
FTC were too strong for Lubin, winning 35:22
Esbjerg won the Danish derby 35:34 in Ikast
and Metz beat Krim 28:22 in Ljubljana
It would be quite something if we managed to get another two draws this week, but certainly not impossible.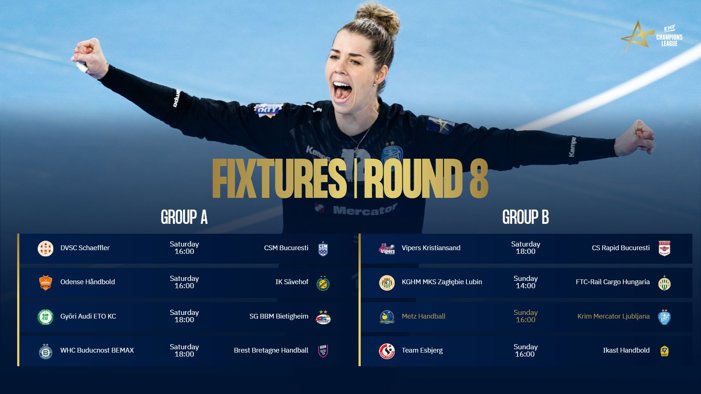 15:00
Welcome to round 8 of the EHF Champions League Women 2023/24, where Györ will try and maintain their winning streak, there's another Danish derby at the top of group B, and Metz look for a home Match of the Week win to finish off 2023 on a high. 
To start things off, here's the round preview.