Summary: Metz win MOTW, Krim and Rapid cruise to victory
19:00
Here are some of the best photos from today's matches. Come back next weekend for round 11 of the EHF Champions League Women. Enjoy the rest of your weekend!





















18:45
Need more info on a specific match? Feel free to check our reviews below:
18:10
Here is what the coaches had to say after the conclusion of their matches, the first two concerning the Match of the Week, the other pair Rapid Bucuresti and Buducnost:
Of course we are very happy with the result, we want to finish in the first two places of the group and if we want to succeed we have to win this kind of game. We were very disappointed after the first game because we did not play well; tonight something changed, and we are satisfied about it.
First of all, congratulations to Metz. Obviously we are always disappointed after a defeat but we know when we come to Metz we sometimes make mistakes that we are not used to. We are happy with the intensity of our game but there is still disappointment.
A very tough match with good players who play very well one-on-one. I'm very happy with the team's work. We had a lot of injured players, but it s normal in this period. We played a good game because we focused throughout all the game. All the spectators who came to the Polyvalent Hall enjoyed a great show.
'I just want to say congratulations on the game, good atmosphere, good handball game. Our team was in the first 15 min good, we couldn't find good six players to play better defence in the second half. We couldn't find a good move in defence, we scored 29 goals but it is not enough, we will try to play better for the next matches
18:00
Here are the standings for Group A.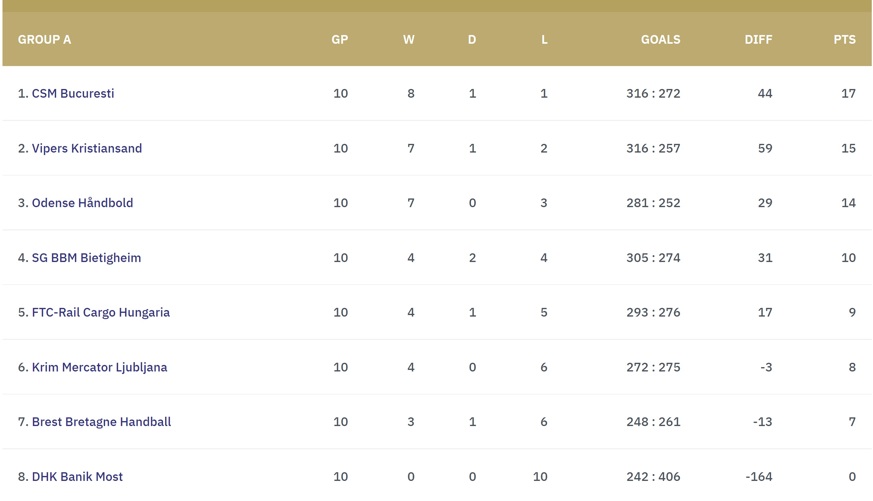 And this is how things shape up in Group B:
17:50
While we wait for post-match quotes from our latest matches, here are a couple from our first game:
Historic point for us in the EHF Champions League. When Kastamonu managed to defeat us in our premiere encounter of the season in Turkey, those were their first two points ever in EHF Champions League and now we managed to secure our first point and I'm really happy about it. There were once again a lot of ups and downs in our game but we pulled it off. The most important thing was making my players believe they can actually do it.
Obviously, we are disappointed with this outcome, but I have to use the opportunity and congratulate Lokomotiva. There were periods in which we were looking well and had momentum but we failed to use them to our advantage while Lokomotiva knew how to punish our every mistake.
17:30
FULL-TIME:
Metz Handball 26:24 Team Esbjerg
Krim Mercator Ljubljana 35:28 SG BBM Bietigheim
CS Rapid Bucuresti 39:29 WHC Buducnost BEMAX
Buoyed by Depuiset's crucial saves on the seven-meter line, Metz win the Match of the Week, and goalie Depuiset deservedly wins Player of the Match for her brilliant performance between the posts. Metz player Kristina Jorgensen and Henny Reistad of Esbjerg both scored seven goals for their respective clubs.
Other matches became one-sided affairs. Krim did not let up, almost having a double-digit lead, and gave Bietigheim yet another setback in Champions League play. Daria Dmitrieva scored twelve goals to top all players, and her teammate Jovanka Radicevic added ten of her own.
Rapid Bucuresti cruised to a double-digit victory over Buducnost, 39:29. Estavana Polman scored six goals to lead Rapid in scoring, although she had fewer goals than Raicevic (seven) and Godec (eight).
17:25
And that might just do it. Vinter Burgaard scores to make it a three-goal game with a little more than three minutes remaining. Esbjerg calls timeout once again in a last-ditch effort to get at least a draw.
17:20 
Our other matches are foregone conclusions. Rapid Bucuresti lead 37:27, and Krim are ahead by six with eight minutes left.
17:17
Esbjerg have been caught napping a couple of times after turning the ball over, giving Metz an easy empty-net goal on both occasions. Sensing his team losing their grasp on the match, coach Jensen calls a timeout while his team is behind 20:22.
17:08
When even Nora Mørk fails to score on a seven-metre penalty, you know the pressure is intense. Her teammate Michala Møller converts hers to give Esbjerg a 19:18 lead midway through the second half.
17:00
I have to give the goalkeepers in the Match of the Week their flowers. They have been excellent, especially blocking seven-metre shots where the goalies are at such a disadvantage. Kudos to Amalie Milling and Camille Depuiset for their performances today.
16:40
HALF-TIME:
Metz Handball 11:11 Team Esbjerg
Krim Mercator Ljubljana 19:14 SG BBM Bietigheim
CS Rapid Bucuresti 17:12 WHC Buducnost BEMAX
What an exciting contest we have for the Match of the Week! The last minute saw back to back saves from the goalies, the most impressive arguably coming in the final seconds on a fast-break opportunity stopped by Amalie Milling who blocked 10 shots of 21 for a 48 per cent save rate. Her counterpart on the other end Camille Depuiset has seven saves from 18 shots for a 39 per cent save effiency.
Bietigheim's nightmare in the Champions League continues. With their captain Danick Snelder still missing, the Germans trailed by as many as nine goals. They managed to get some momentum and cut their deficit to five, but it will be a tough challenge getting a positive result away from home in Slovenia. Daria Dmitrieva leads all players with six goals.
Rapid Bucuresti have led for most of the first half and were able to expand their advantage to the current margin of five, the biggest so far in the match. Two Buducnost players, Matea Pletikosic and Ivana Godec, pace all scorers with four goals each.
16:31
Esbjerg coach Jesper Jensen calls a timeout. The scoring has simmered down somewhat from the opening pace in the game. 10:10 with roughly five minutes left to play.
16:26
Check out this goal from Kaja Kamp Nielsen:
16:21
Meanwhile, Rapid Bucuresti have a lead over Buducnost, 9:7. The Romanian club has yet to trail so far in the match.
Bietigheim woes continue as they are struggling against Krim, losing now 6:13.
16:12
Camille Depuiset of Metz and Amalie Milling have both made great saves from the seven-metre line. The action is heating up as Sarah Bouktit scores her seven-metre in order for Metz to take a two-goal lead.
16:08
Metz had the early momentum at first, scoring four of the game's first five goals, but Esbjerg have rebounded well and tied the game at four each.
16:00
And we're off!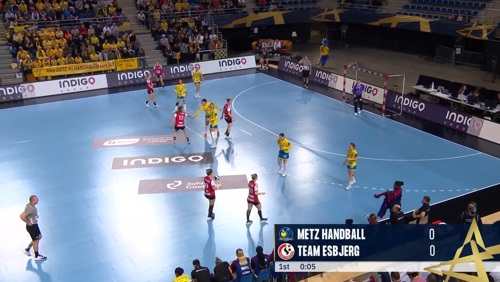 15:42
Here are the streaming links for each of the matches played at 16:00 CET on EHFTV. (Geo-restrictions may apply.)
MOTW: Metz Handball vs. Team Esbjerg
CS Rapid Bucuresti vs. WHC Buducnost BEMAX
Krim Mercator Ljubljana vs. SG BBM Bietigheim
15:27
FULL-TIME: RK Lokomotiva Zagreb 26:26 Kastamonu Belediyesi GSK
Both teams will be thinking "What if?" to themselves. Both teams had the chance to clinch victory in the final minute of the match, and players on both sides will have regrets about opportunities they failed to capitalize on. In the end, it's a draw for both teams. The Croatians are still looking for their first win, but at least they received their first-ever point in the competition.
Mouna Chebbah from Kastamonu led all scorers with eight goals, while her opponent Klara Birtic was her team's highest-scoring player with seven.
15:22
Kastamonu had a two-goal lead, but after another two-minute penalty where the opponent scored yet again in an empty goal, it's now tied at 26.
The Turkish team called a timeout, but turn the ball over and now it is the Croatians who have the chance to get the victory on the last play.
15:12
Kastamonu called a timeout with roughly twelve minutes left while tied. The Turkish club was able to reclaim a two-goal lead, but a couple of missed chances give the Croatians the opportunity to bring the match to a draw again.
15:03
It appeared the Croatians were about to lose the thread again after letting Kastamonu get a two-goal advantage again, but Lokomotiva roar back and take the lead once again with an empty-net goal. However, it's short-lived as Kastamonu respond quickly and Lokomotiva receive a two-minute suspension.
14:55
Seven minutes has passed, and Lokomotiva are on the verge of leveling the game again. Katarina Jezic receives a two-minute suspension, and Birtic scores again to tie the game at 17:17.
14:31
HALF-TIME: Kastamonu Belediyesi GSK 14:12 RK Lokomotiva Zagreb
A two-minute suspension to Kastamonu gave the Croatians some momentum, cutting the lead to one with an empty-net goal. However, some of the bad habits that they displayed in the middle of the half reared their head again: careless turnovers and sloppy play. If Mia Tupek had not scored in the final seconds, they would be down by three.
Mouna Chebbah leads all scorers with five goals. Klara Bartic paces her team on the offensive side with three, all coming in the first eight minutes.
14:22
Lokomotiva coach Nenad Sostaric has seen enough. His team trailed by two with roughly eight minutes left in the first half. Unfortunately for him, a Lokomotive player takes too many steps once again and Kastamonu score on an effective counter-attack to lead 11:8.
14:13
Kastamonu had a couple of chances to tie the score, but after a careless pass get intercepted and a wonderful stop from the Lokomotiva keeper, it remained at 6:5 until Mouna Chebbah scores to bring the match back on level terms.
14:07
It was all going in Lokomotiva's favor, but Kastamonu have come back. Klara Bartic already has three goals in her name as Lokomotiva take a three-goal lead before two consecutive goals from Kastamonu cut the lead to one at 5:4.
14:00
And we're underway!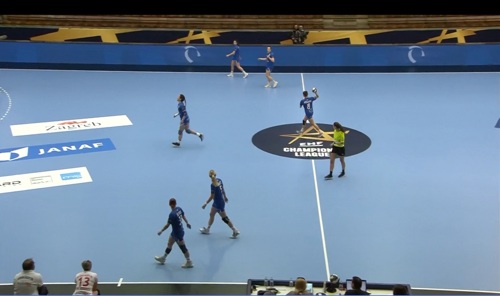 13:45
Friendly reminder while we are minutes away from beginning today's action: You can watch the matches on EHFTV. (Geo-restrictions may apply.)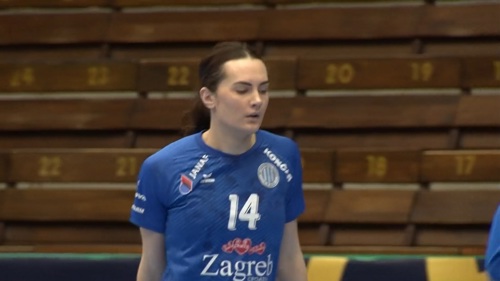 13:30
We may be roughly two and a half hours away from the start of the Match of the Week, but we are filled with anticipation for this mouth-watering match. You should be too!
13:15
Good afternoon! Welcome back to action from round 10 of the EHF Champions League Women. We have some exciting matches in store for you today, especially our Match of the Week between Team Esbjerg and Metz Handball.
Our first match of the day is Kastamonu against RK Lokomotiva Zagreb. Both teams are at the bottom of Group B, and the only points on Kastamonu's account came from their first encounter with the Croatian club who remains without a point. Croatian international Katarina Jezic, the leading scorer for Kastamonu with 47 goals, will be visiting her former club where she last played eight seasons ago.
Krim are one point away from sixth place and a play-offs spot. Last season European League Champions SG Bietigheim were riding a 64-match unbeaten streak earlier in the season, but are now reeling with multiple injuries to key players, including captain Danick Snelder, and a four-game skid in Champions League action. The first match saw Bietigheim get a comfortable 30:23 win over the Slovenian club.
Buducnost will have a major milestone today: their 300th match in the competition. While Buducnost had Györ snap their two-game win streak last round, Rapid Bucuresti are currently having one of their own. The first encounter was an exciting 30:30 draw in Podgorica.
Last but not least, our Match of the Week features Metz Handball and Team Esbjerg. The two teams have only three losses, two of which belong to Esbjerg. However, it was Esbjerg who handed the French side their only defeat, 28:35, so far. Henny Reistad is the Danish club's leading scorer with 61 goals, good enough for fourth in the goal rankings, while Metz back Bruna de Paula has six fewer.
Sunday games:
14:00 CET
RK Lokomotiva Zagreb vs. Kastamonu Belediyesi GSK
16:00 CET:
MOTW: Metz Handball vs. Team Esbjerg
CS Rapid Bucuresti vs. WHC Buducnost BEMAX
Krim Mercator Ljubljana vs. SG BBM Bietigheim
SATURDAY 7 JANUARY
20:40
To conclude the live blog for Saturday, we have a poll for you to vote in. Which performance was the most impressive from Saturday's four matches? Obviously we have selected the four winning teams as the options. However, the team that won by the biggest margin may not have been the most impressive, so have your say in our poll.
The live blog will return at 13:00 CET on Sunday for build-up ahead of the four matches.
20:20
There are four more matches to come on Sunday in round 10 of the EHF Champions League Women, headlined by Metz's clash with Team Esbjerg at 16:00 CET in Match of the Week.
After Györ's wide-margin win over Storhamar earlier this afternoon, Metz are in second position in group B, one place above Esbjerg. But with Györ's goal difference now standing at +74, Metz need a victory to return to the top of the group standings, while Esbjerg need to win by at least seven goals if they are to finish round 10 in first place.
Interestingly, when Metz and Esbjerg met earlier in the season, the Danish side won by seven goals, 35:28, but a repeat win is probably less likely in France. 
Sunday's schedule
14:00 CET
Group B: HC Lokomotiva Zagreb vs Kastamonu Belediyesi GSK
16:00 CET
Group A: Krim Mercator Ljubljana vs SG BBM Bietigheim
Group B: Metz Handball vs Team Esbjerg (MOTW)
Group B: CS Rapid Bucuresti vs WHC Buducnost BEMAX
20:09
Check out a selection of the best photos from Saturday's EHF Champions League Women matches in our gallery below. 





















20:02
We mentioned Anna Vyakhireva and Emily Bölk receiving Player of the Match awards for their respective performances in the Vipers Kristiansand vs FTC match.
Here are pictures of Bo van Wetering and Alicia Toublanc collecting their awards after Odense's 25:24 win against Brest Bretagne.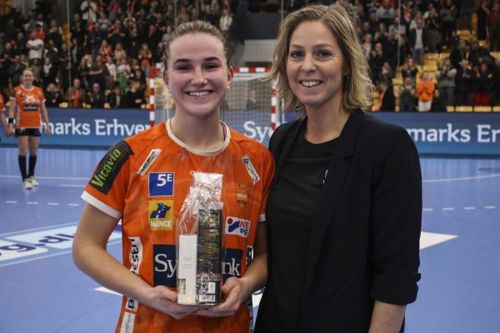 19:51
Every save matters in the EHF Champions League – just ask Althea Reinhardt and Odense after their one-goal win against Brest.
Would Odense have won if Reinhardt hadn't stopped Pauletta Foppa here in the 41st minute? We'll never have a definitive answer to that question, but we do know that Reinhardt's total of 12 stops helped Odense build a lead that Brest ultimately couldn't overturn.
19:45
It's an evening of one-goal wins in group A! Vipers Kristiansand secure a win by the narrowest margin in Norway against FTC-Rail Cargo Hungaria. Katrin Klujber, who equalised at the end of the first half for FTC, had the opportunity to earn the Hungarian side a point, but her shot in the final seconds was blocked by Vipers' desperate defence.
Anna Vyakhireva (seven goals) collected the Player of the Match award for the home side, while Emily Bölk (eight goals) picked up the award for FTC.
With the two points for the victory, Vipers Kristiansand now have 15 points in group A and have reduced CSM's lead at the top of the group back down to two points.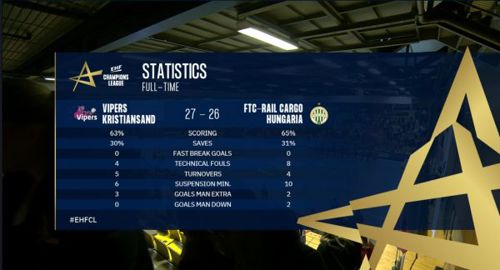 19:35
Odense earn a one-goal win over Brest Bretagne to extend their winning run in the EHF Champions League Women to six games and move to 14 points in group A. The final score is a testament to Brest's refusal to give up when the result appeared certain, as Odense led 23:17 after 48 minutes. 
Two of Odense's Dutch players had a big impact on the result, with Dione Housheer and Bo van Wetering both scoring six goals, while Alicia Toublanc and Tatjana Brnovic finished as Brest's top scorers with five goals each. Althea Reinhardt and Cléopatre Darleux both had save percentages of 36 per cent – though Reinhardt made three more saves as she faced eight more shots.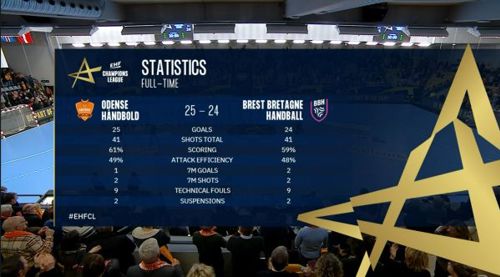 19:17
Brest are wearing black this evening but some of their travelling supporters are sporting pink scarves.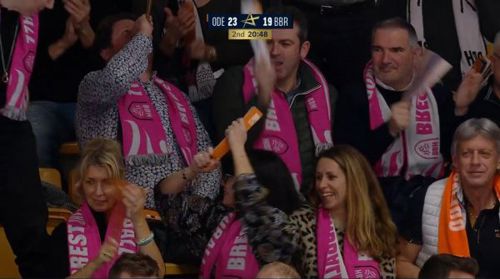 19:09
Brest are now using an extra attacking player as they look to cut Odense's lead. However, Odense are also using the strategy as they look to extend their advantage, so neither coach is taking a step back. Odense lead 21:16 after 45 minutes. 
Our goal was to get the points because we want points from every Champions League match if we want to fulfil all our team goals for this season. It was a good match and I am glad that we won, but there are things to improve – one of them is efficiency.
18:59
Emily Bölk has just added to her four-goal tally from the first half against Vipers. FTC might need the German left back to match Markéta Jerábková's output if they are to take the two points back to Hungary.
18:48
Despite Emily Bölk scoring four goals for FTC and Angela Malestein scoring three times for the visitors, Vipers are level at the break in Norway. Indeed, while FTC led 13:11 as half-time approached, Markéta Jerábková's six-goal performance in the first half meant that FTC needed a buzzer-beater from Katrin Kljuber to end the opening 30 minutes on level terms.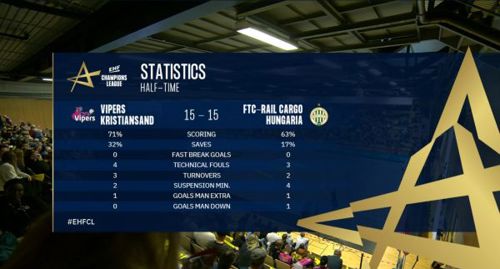 18:45
Odense hold a three-goal lead at half-time over Brest Bretagne in Denmark. After taking a 4:2 advantage in the eight minute, when Mie Højlund scored her first goal of the game, the Danish side have remained clearly in front.
With Dione Housheer scoring four goals in the first half, Odense have the top individual scorer – though Alicia Toublanc and Pauletta Foppa are only one goal behind. Perhaps more significantly, Althea Reinhardt's solid performance in the first half for Odense saw her finish with a 33 per cent save efficiency.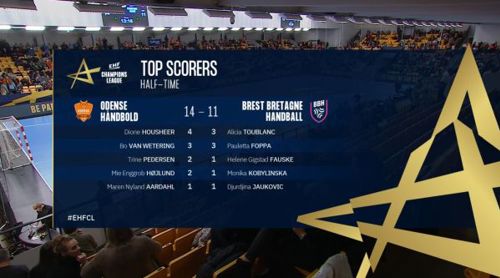 18:27
Dione Housheer has scored a breakthrough goal, a penalty and a goal from nine metres for Odense so far. The Dutch right back is seemingly the first option for Odense when an attack becomes longer than ideal. 
18:22
Cléopatre Darleux has replaced Julie Foggea in goal for Brest against Odense. Brest's shooting efficiency is below 50 per cent, as they have only scored six goals from 15 shots, but they have only registered 10 shots on target if you look at the number of shots that Odense's goalkeepers have had to face. Odense lead 9:6 after 19 minutes in Denmark. 
18:12
Post-match reaction from Györ's victory over Storhamar – courtesy of Ambros Martin and Line Haugsted – can be found below. 
With just over 10 minutes played in Denmark, Odense lead by two goals against Brest, 5:3, and the hosts have just received a penalty.

I am really happy right now – also for the team. We were in good form and played really hard. Of course I am happy because of my individual game that I could also contribute to the team's success.
The final result doesn't reflect how the game was played. Our opponent never gave up, but in the second half we were able to control the game better. We could control the moments in the second half much better, even if they pushed us very hard. We played stable and we can be really satisfied.
17:49
Odense enter their group A clash against Brest Bretagne on the back of five straight wins in the EHF Champions League. The Danish side's winning streak started when the defeated Brest 25:21 in October.
Odense head coach Ulrik Kirkely believes that his side can keep the two points in Denmark this evening.
"As a team we really look forward to welcoming a strong opponent in Brest Bretagne. It is an important game for us against a good team. All games in the European competitions are difficult, so we are ready to give 100 per cent. We have an expectation that we can take the two points to give us a good result before the last matches," said Ulrik Kirkely. 
17:44
As we have mentioned already, Silje Solberg's incredible start to the second half propelled Györ to a big win over Storhamar. Here is the Norwegian goalkeeper denying her Norwegian opponents. 
17:41
Banik Most ensured that the damage did not get any worse in the second half against CSM Bucuresti, but the Romanian side have taken the two points back home after a convincing nine-goal win in the Czech Republic.
Significantly, CSM have extended their lead at the top of group A to four points over Vipers Kristiansand. Vipers and Odense will be in action shortly, so the gap might not remain that big for long, but CSM know that they will finish round 10 as group A leaders.
17:36
After an impressive performance in the second half, Györ open their account in 2023 in the EHF Champions League with a 13-goal victory over Storhamar in Hungary. Györ's winning margin was one-goal shy of their 14-goal triumph over Storhamar in October. 
Although the Hungarian side's attack shone in the second period, scoring 22 goals, goalkeeper Silje Solberg was arguably their best player. Solberg finished the match with 12 saves from 26 shots faced – and she added an empty net goal with three minutes remaining. 
While Stine Oftedal and Linn Blohm both scored five goals to finish as Györ's top scorers, Storhamar's Anniken Obaidli eclipsed them with six goals. Significantly, Eszter Ogonovszky was the only court player on Györ's teamsheet who did not score this afternoon.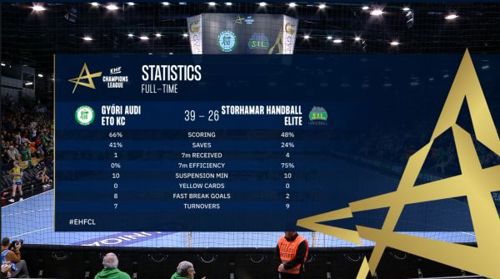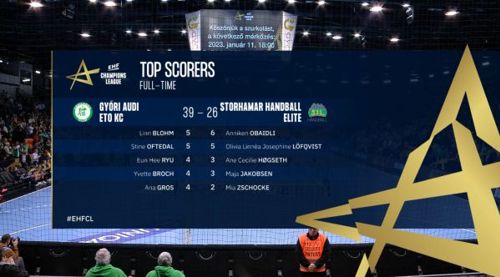 17:25
If you look at the shooting statistics for Györ's wing players, a total of seven goals from 14 shots might not appear overly impressive. 
Dorottya Faluvégi: three goals from five shots.
Nadine Schatzl: two goals from two shots.
Viktória Gyori-Lukács: one goal from four shots.
Csenge Réka Fodor: one goal from three shots.
Meanwhile, Silje Solberg is now on the scoresheet, so the goals are coming from almost every position for Györ as they head towards a comfortable win.
17:20
It is noticeable that Györ are using their wings in attack more and more as the second half develops. With a nine-goal lead (32:23) and the victory all but assured, Ambros Martin's side can afford themselves the opportunity to boost the confidence of every player.
17:05
Three players have already scored five goals or more for CSM Bucuresti: Cristina Neagu, Crina Pintea (both six goals) and Elizabeth Omoregie (five goals). Omoregie showed in the first half her ability to take any opportunity that comes her way. 
16:58
Silje Solberg, who saved one penalty from two shots faced in the first half, has started the second half in goal for Györ – and what a start she has made since replacing Sandra Toft! Solberg has stopped all five shots that have come her way since the break, and Györ now lead by seven goals, 20:13.

16:51
The goal timeline from the first half between Györ and Storhamar shows how the visitors found some consistency in attack in the last 15 minutes of the first half. Can Storhamar continue to test the Hungarian side in the second half? We're about to find out!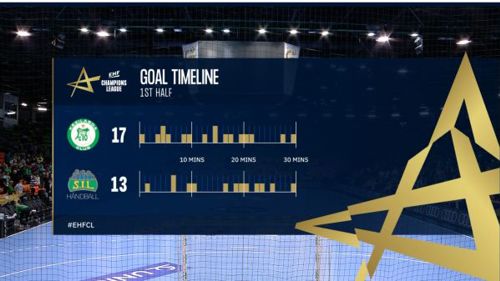 16:48
It is one-way traffic in the Czech Republic as CSM Bucuresti have opened a 10-goal lead over Banik Most after 30 minutes. Officially, CSM have scored 20 goals from 32 shots (63 per cent), while Banik Most's shooting efficiency is below 50 per cent as they have converted only 10 of their 23 attempts.
Significantly, Marie Skurtveit Davidsen finished the first half with a save percentage above 40 per cent after making seven saves from 17 shots faced. CSM appear on course to extend their lead at the top of group A - at least temporarily. 
16:44
Györ have a four-goal advantage at the break over Storhamar in Hungary. While the home side quickly took control to lead 5:1 after six minutes, with Stine Oftedal starring in attack, Storhamar have remained in contention through goals from Olivia Löfqvist and Anniken Obaidli.
Ambros Martin might be satisfied by the size of Györ's lead and their superior scoring percentage, but the Spanish coach won't be happy with the number of suspensions his side received in the first half.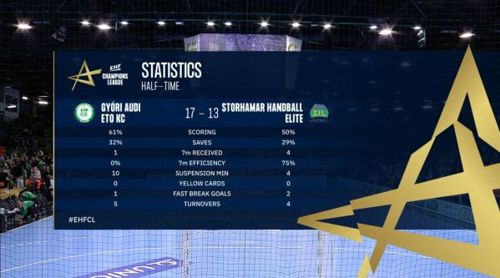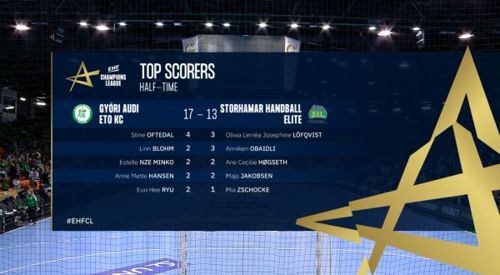 16:36
As you might expect from one of the best right backs in the world, Ana Gros has shown in the first half that she can provide finesse as well as power. 
16:33
Silje Solberg's first action of the afternoon saw her stop Olivia Löfqvist's penalty attempt. There was to be no repeat for Solberg when Anniken Obaidli stepped up to the seven-metre line two minutes later. 
16:28
Sofie Ege Grønlund has made seven saves for Storhamar in the first 24 minutes. The main problem for Grønlund and Storhamar is that Györ's chances are generally high quality opportunities. Of course, when the Hungarian also side need a blast from nine metres, Ana Gros is on hand to provide it. Györ lead 15:11. 
16:20
Storhamar coach Kenneth Gabrielsen called a timeout after 13 minutes with Györ leading 8:5. Györ have extended their advantage to six goals, 11:5, and Estelle Nze Minko attempted a rather ambitious behind-the-back pass a couple of minutes ago, indicating that the home side's confidence level is very high. 
16:13
Storhamar have already decided to start individually marking Stine Oftedal. The Norwegian centre back has scored three goals from five shots, but her ability to break through Storhamar's defence is clearly a cause for concern for the away side.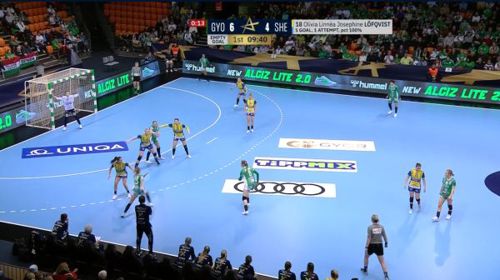 16:00
As the EHF Champions League anthem rings out in Hungary, the scene is almost set for the resumption of the competition.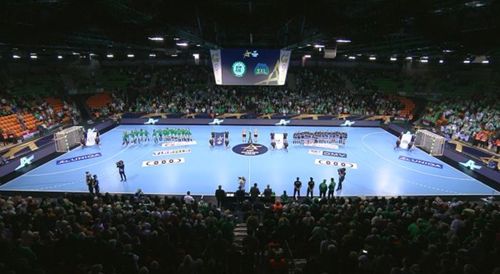 15:45
In Györ's last EHF Champions League match of 2022, Silje Solberg made eight saves from 22 shots faced against Buducnost – but she also starred when Györ beat CS Rapid Bucuresti (30:27) at the beginning of December.
This afternoon's clash against Storhamar presents Silje Solberg and Stine Bredal Oftedal with an opportunity to face a side from their homeland in Györ's Audi Arena.
15:30
Of course, while Ambros Martin is expecting Györ to play at a higher level this afternoon than they have in some EHF Champions League matches this season, the Hungarian side beat Storhamar by 14 goals when they met in October, 35:21. 
Meanwhile, Jiri Tancos, head coach of DHK Banik Most, was realistic about the Czech side's prospects when he spoke a few days ago ahead of their clash with CSM Bucuresti.
"We will play against the best team in our group. So we can expect maximum quality and our main goal in this match is to play equal part as long as it's possible. How long it will last is a big question, but we will try our best," said Jiri Tancos.
15:25
Györ head coach Ambros Martin is hopeful that the time his side have had to prepare will bring about an improved performance against Storhamar.

"This will be the first game in the Champions League in the New Year, and we will play against a young and motivated Storhamar, who represent the typical Scandinavian style. We expect to do a good job. It is rare that we had one full week of preparation for this match, and now we tried to fix all things in attack and defence," said Ambros Martin.
15:05
Good afternoon and welcome to the live blog for coverage of round 10 of the EHF Champions League Women 2022/23 group phase.
A three-week break from Europe's top-flight competition and a new calendar year might have provided some teams with an opportunity to refresh ahead of the final five rounds of the group phase.
With CSM Bucuresti, Györ, Vipers Kristiansand and Odense in action today, all four of Saturday's matches feature teams hoping to earn a direct place in the quarter-finals. Group A leaders CSM Bucuresti and Györ, who are in third place in group B, are the first teams in action this afternoon.
CSM Bucuresti will face DHK Banik Most in the Czech Republic – and the Czech side have lost all nine games in the competition this season. Meanwhile, Györ will face Storhamar in Hungary. Storhamar are also on a long losing run, having lost their last five matches in the EHF Champions League. 
Saturday's schedule
16:00 CET
Group A: DHK Banik Most vs CSM Bucuresti
Group B: Györi Audi ETO KC vs Storhamar Handball Elite
18:00 CET
Group A: Vipers Kristiansand vs FTC-Rail Cargo Hungaria
Group A: Odense Håndbold vs Brest Bretagne Handball
For more on all eight of this weekend's matches, check out our round 10 preview.