EHF Champions League
Summary: Barça join Veszprém and PSG as big first leg winners
As the EHF Champions League Men 2020/21 season entered crunch time, the knockout phase opened with seven first leg play-off matches across three nights.
While PSG, Veszprém and Barça all recorded big wins to move one step closer to the quarter-finals, Kielce's one-goal win in Nantes in Match of the Week on Wednesday means that some of the giants of European handball still have plenty to play for in the second leg matches.
21:00
We conclude the blog for the first leg play-off matches with the best photos from Friday evening's match between Elverum and Barça.
21:50
Adrian Costieu's review of Barça's authoritative win against Elverum is now online for you to read.
As we mentioned earlier, the second leg of that tie is scheduled to take place on Monday at 18:45 CEST. 











21:18
While Elverum scored the last two goals of the match, Friday evening clearly belonged to Barça as they record a 37:25 win in the first leg of the EHF Champions League Men play-off tie between the two teams. 
From the statistics, Barça's potent fast breaks and lower error rate were clearly big factors in their wide-margin success.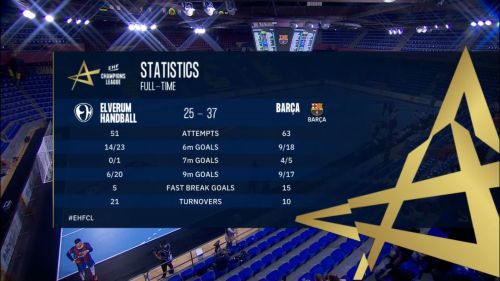 20:07
Elverum coach Börge Lund used his last timeout to revert back to six-on-six play, but with his side down a player due to a suspension, Barça have added two more empty net goals and the lead is now 14 goals (37:23) – double what it was at half-time. 
19:59
There was some concern a few minutes ago as Fries was carried off the court after slipping as he raced back into goal. We obviously hope that it is not a serious injury!

19:54
Elverum goalkeeper Thorsten Fries has made 14 saves in the match and has arguably been their best player, but there is nothing that he can do to stop Barça taking advantage of empty net opportunities that have stemmed from the Norwegian side using an extra attacking player.
19:47
Here is Luc Abalo converting one of Elverum's fast break goals in the first half. 
19:42
With nearly 35 minutes played, Barça have made five turnovers compared with Elverum's much higher figure of 11. The difference shows both on the scoreboard and in the fast break category, which Barça lead seven goals to three – as per the EHFTV statistics.

19:27
HALF-TIME: Elverum 12:19 Barça 
Elverum have reduced the deficit against Barça at half-time to seven goals. Whilst that remains a comprehensive lead for Barça, the Norwegian side can at least be hopeful that the worst of the damage is over.
Interestingly, no Barça played scored more than three goals in the first half. Dika Mem, Luka Cindric, Aleix Gómez and Alex Pascaul all scored three times.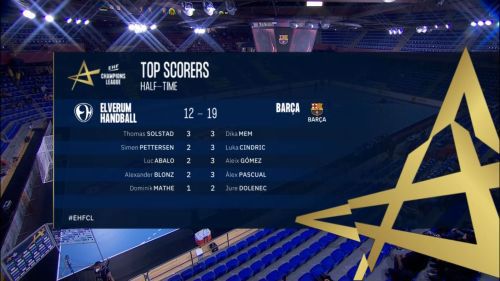 19:18
Barça's attack was flying in the early stages, but Gonzalo Perez De Vargas produced the big 'highlight' moment for the Catalan giants with a top save in the opening minute. 
19:06
Dominant is one word that you could use to describe Barça's display against Elverum so far this evening. Barça opened up a 10-goal lead in 15 minutes to lead 11:1. Elverum have found the net three more times, but Barça's advantage is still in double figures after almost 18 minutes (14:4).
18:49
We are underway and Barça have made a rapid start, taking a 3:0 lead with just over three minutes played.
In case you missed them, here are the line-ups for both teams from EHFTV.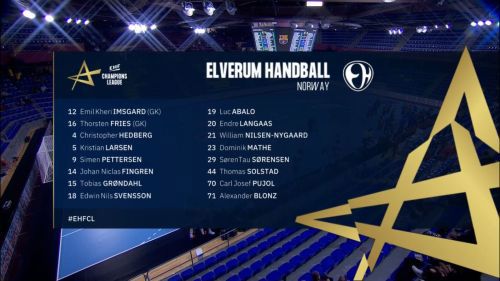 18:39
Live coverage of this evening's match between Elverum and Barça from the Palau Blaugrana is now underway on EHFTV!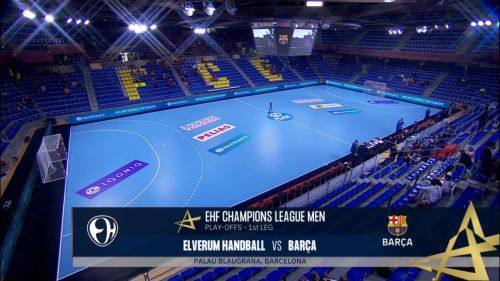 18:15
Welcome to our live blog coverage of this week's final EHF Champions League Men first leg play-off match: Elverum vs Barça. As most people will be aware, both matches from this tie will be played in Barcelona and the second leg is scheduled for Monday.
Barça won both encounters against Elverum in the 2019/20 group phase, which is probably unsurprising given their incredible record in the group phase in recent seasons. 
Head-to-head record
12.10.2019 Barça vs Elverum Handball, VELUX EHF Champions League – Group A 33:24 (15:12)
09.02.2020 Elverum Handball vs Barça, VELUX EHF Champions League – Group A 26:30 (14:16)
23:15
Here ends our coverage for tonight... but we will be back already on Friday for one more first-leg game in the EHF Champions League Men play-offs:
18:45 CEST: Elverum Handball vs Barça
See you tomorrow!

23:04
Read how Porto and Aalborg leave it all open for the return leg in Denmark next week, as the Portuguese side earn a three-goal home win tonight:
23:01
Celje lost Josip Sarac with a knee injury in the opening minutes - and not much went in favour of the Slovenian team for the rest of the match again PSG, either.
Let's hear from Celje head coach Tomaž Ocvirk, who is full of praise for the French side:
PSG are an extremely strong team and this year they are showing better performances from game to game. I think that they are the team that will win this year's EHF FINAL4 if they keep the form they are in at the moment.
22:51
Two close matches, two huge wins: this EHF Champions League night had something for everybody. Here are the best pics:
22:46
Read how PSG have all but booked their ticket to the quarter-final, taking a commanding 13-goal lead over Celje:

22:25
Fast break, fine finish!
22:17
RESULT | FC Porto vs Aalborg Håndbold 32:29 (18:14)
Victor Iturriza for Porto and Sebastian Barthold for Aalborg both score eight goals as Porto take a useful, but far from deciding advantage over Aalborg.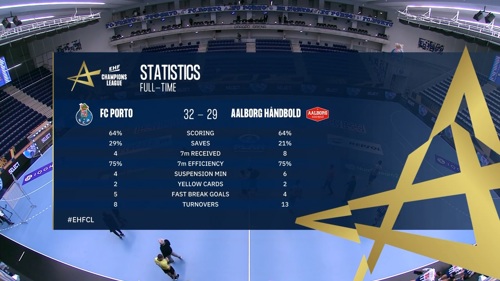 22:13 
RESULT | RK Celje Pivovarna Lasko vs Paris Saint-Germain HB 24:37 (11:21)
Even without top star Mikkel Hansen, PSG were never in trouble in Slovenia and take home a 13-goal advantage for the return leg against Celje next week.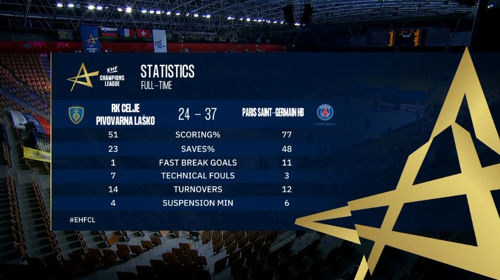 21:55
Halfway through the second half but there is no way back for Celje as PSG increase their lead to 12.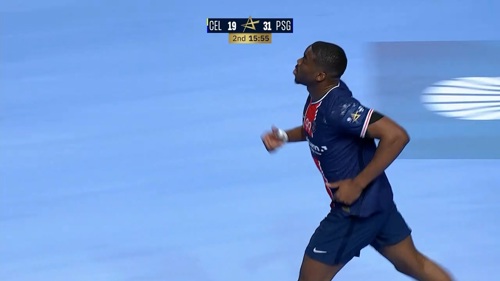 21:34
Read how Motor have beaten Brest by two tonight, setting up an interesting second leg next week:
21:23
HALF-TIME | FC Porto vs Aalborg Håndbold 18:14
HALF-TIME | RK Celje Pivovarna Lasko vs Paris Saint-Germain HB 11:21 
Porto take a useful lead over Aalborg, while Celje and PSG have put the exact same numbers to the score board we saw earlier at Vardar vs Veszprém, 11:21...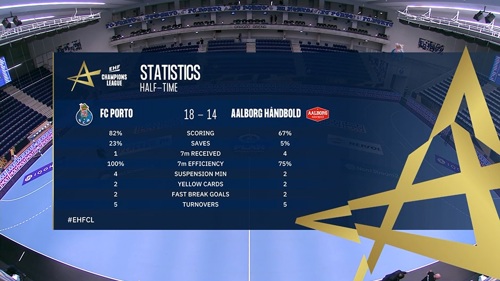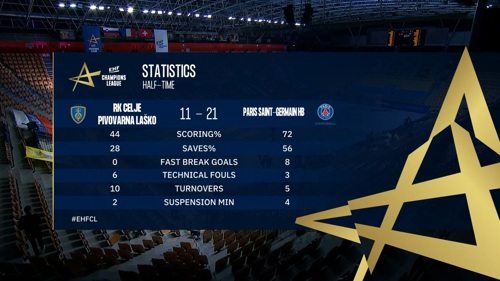 21:14
Porto 14, Aalborg 9... That's not the score line Danish coach Stefan Madsen had in mind before the match.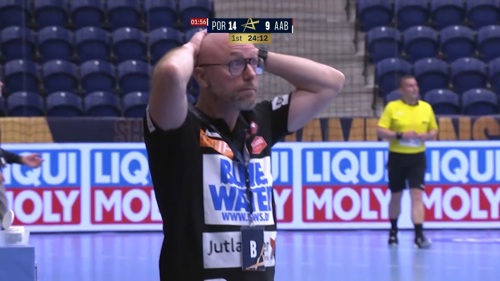 20:51
Read how Veszprém not only rewrote the history books against Vardar but also took more than a step towards to quarter-final:

20:38
The fun continues with two more matches tonight: We travel to Portugal for Porto vs Aalborg and to Slovenia for Celje vs PSG. You can see both games on EHFTV again - though geo-blocking might apply in certain regions.

20:19
RESULT | HC Motor vs HC Meshkov Brest 32:30 (15:12)
Well done to Motor, who hold on to a first-half lead to beat Brest by two. The return leg is going to be match to look forward to next week!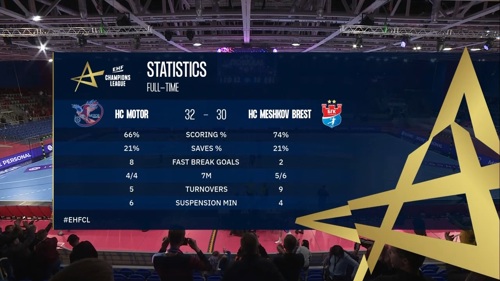 20:12
RESULT | HC Vardar 1961 vs Telekom Veszprém HC 27:41 (11:21)
Wow, that's the biggest win ever for Vesprém over Vardar, and what a time to get it!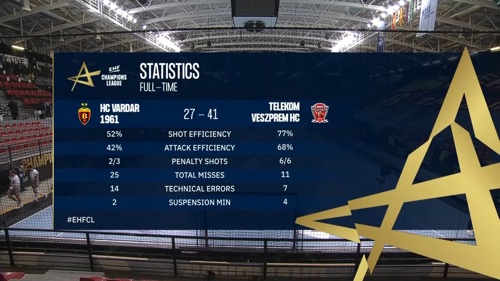 19:59
There is just no way to stop Veszprém tonight: 14 goals up on Vardar and still 10 minutes left...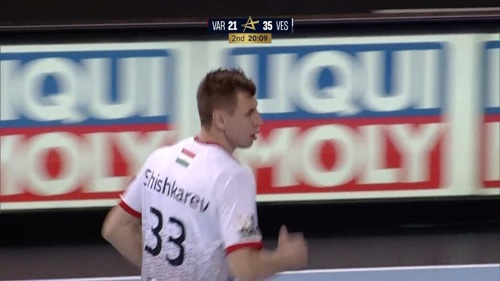 19:52
You need to KNOW where the goal is, you don't need to SEE it...

19:48
10 minutes into the second half and it remains close in Zaporozhye - Motor vs Brest 21:19 - while the Veszprém train keeps rolling in Skopje as they lead Vardar 29:19.
19:37
One of the best for Brest in the first half:

19:22
HALF-TIME | HC Motor vs HC Meshkov Brest 15:12
HALF-TIME | HC Vardar 1961 vs Telekom Veszprém HC 11:21
Motor have their nose in front against Brest but this match can still go either way after the break. As for the other match, I am not so sure as Veszprém have opened a double-digit gap in the first half.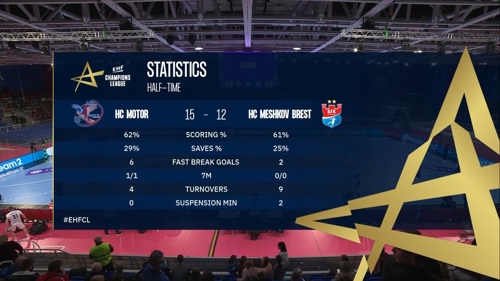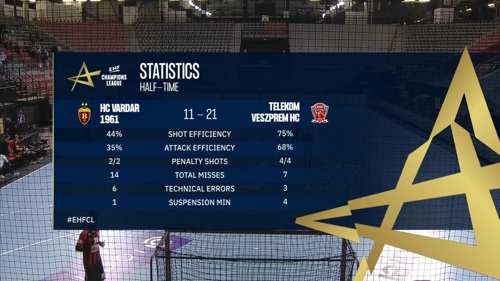 19:17
Just how you want to start a match!
19:10
Team timeout Vardar. The hosts trail Veszprém already by seven goals (14:7) so time for coach Stevce Alushovski to instruct his players how to turn the tide.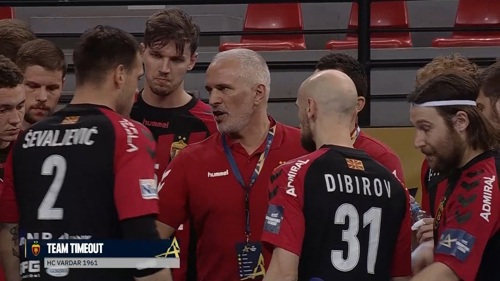 19:02
Veszprém have opened a three-goal gap in the early stages against Vardar (7:4), while Motor and Brest seem in for a close battle (6:5)

18:40
The countdown is running... time to tune in to EHFTV for the streams: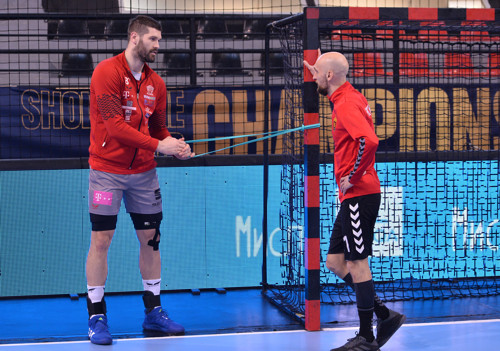 18:20
The second match starting at 18:45 CEST is a rematch of the 2019 final, when Vardar defeated Veszprém 27:24 at the VELUX EHF FINAL4 in Cologne to win the trophy for the second time in three years.
A lot has happened since and Vardar came through this season's group phase with just one win from their played matches - though that victory was against group winners Flensburg.
Veszprém finished runners-up to Barça in the other group and their squad includes five players that previously wore the Vardar jersey: Vuko Borozan, Dejan Manaskov, Jorge Maqueda, Rogerio Moraes and Daniil Shishkarev.
Could be a good match in Skopje - and while he won't underestimate Vardar, Veszprém's Lékai Máté believes the Hungarian side should win both legs:

18:05
Tonight's schedule takes us first to Ukraine.
Motor impressed in the group phase with a six-match winning streak, while Brest did well to finish fourth in the other group as their campaign included a win over PSG. Brest won both encounters when the teams also met last season.
Fun fact: Viachaslau Bokhan (Motor) and Mikita Vailupau (Brest) are joint-third on the season's top scorer list, with 67 goals each.
17:50
Good afternoon and welcome back to the live blog for the second day of the play-offs first leg!
Tonight we have four matches coming up:
18:45 CEST: Motor vs Brest
18:45 CEST: Vardar vs Veszprém
20:45 CEST: Porto vs Aalborg
20:45 CEST: Celje vs PSG
Check out our play-offs preview for detailed info on all matches.
23:06
That brings us to the end of tonight's EHF Champions League Men play-offs coverage! But the fun is far from over.
We return tomorrow with another four first-leg play-offs coming your way:
Vardar vs Veszprém at 18:45 CEST
Motor vs Meshkov Brest at 18:45 CEST
Celje vs PSG at 20:45 CEST
Porto vs Aalborg at 20:45 CEST
22:48
After a great opening night in the EHF Champions League Men play-offs, it's time to reflect on the matches and how they were won. Read all about Kiel and Kielce's important first-leg victories, both taken away from home, below!

















It's really a pleasure to come here, where I started my career, but also a bit strange. For me, it's like a draw. Nothing is done. We have to be really serious next week.
22:27
The Player of the Match award for the MOTW is Alex Dujshebaev! The EHF EURO 2020 champion and World Championship 2021 bronze medallist was the driving force behind Kielce's lift in the second half and subsequent win. 
22:11
MOTW RESULT: NANTES VS KIELCE 24:25
Kielce secure a one-goal win that is certainly a positive for the Polish team, but also leaves this play-off tie far from decided as Nantes have every chance to turn the tables in the second leg.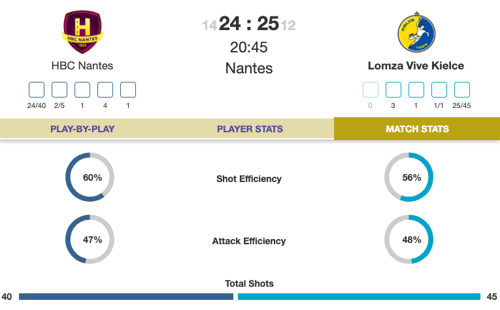 22:08
Just under two minutes left and we are seeing plenty of drama! The advantage is back with Kielce as Angel Fernandez nets for 25:23 following a red card for Nantes' Dragan Pechmalbec, who takes a five from five goal-scoring record for tonight's clash with him. 
22:06
Below, see the moment Kielce took the lead for the first time since the opening stages of the match thanks to this superb goal from Arkadiusz Moryto. 
22:03
Nantes' determination is rewarded as they level courtesy of Kiril Lazarov, 22:22, with just over five minutes left. 
We are set for a cracking end to the MOTW — and no doubt a fiery second-leg encounter as well, with what will now certainly be a fairly narrow score line or perhaps even equal result to end tonight's clash. 
22:00
Nantes are running short of luck in an effort to level the game — every time the French team come within one, Kielce pull ahead by two again. 
With seven minutes to the buzzer, it's 22:21 for Kielce.  
21:50
The clock ticks past 45 minutes and Kielce remain in front, 19:17. 
Dujshebaev has led the shift in momentum from the visitors and now tallies six goals to be the top scorer so far. On Nantes' side, Kiril Lazarov is the top scorer, with four goals. 
21:45
After 10 minutes of play in the second half, Kielce have just grabbed the upper hand thanks to a goal from Igor Karacic. The Polish side now lead 17:16. 
21:34
The opening whistle sounds and the second half of the MOTW Nantes vs Kielce begins!
The Polish side are hoping to fight back from the narrow deficit created in the first half, and plays like the one below will surely help their mission. 
21:22
As we wait for the second half to resume, check out this highlight from Kielce back Alex Dujshebaev — this is one hammer Nielsen could not stop. 
21:19
HALF-TIME UPDATE: NANTES VS KIELCE 14:12
Nantes hold on to their edge as we head to the break in the MOTW, but the two-goal distance is far from insurmountable for Kielce.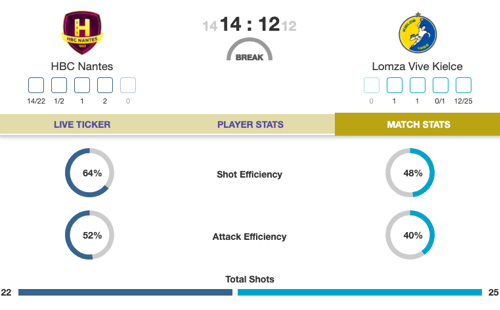 21:12
Inside the final five minutes of the half, Nantes have extended their advantage a touch, sitting three goals ahead at 13:10. 
Nielsen is proving the key weapon for the French side. Just take a look at the save below! 
21:03
With 12 minutes remaining in the half, Nantes are starting to take control, holding an 8:6 lead over Kielce. 
So far the star of the MOTW is Nantes goalkeeper Emil Nielsen, who has racked up seven saves at a rate of 54 per cent. 
21:00
No doubt the back court led Kiel to victory tonight, with a combined 21 goals scored by Sander Sagosen (eight), Harald Reinkind (six), Domagoj Duvnjak (four) and Miha Zarabec (three).
But we still enjoyed some nifty moves from the German side's wings, like this one from Niclas Ekberg. 
Read how Kiel secured the critical victory in our match review. 
20:57
As we pass the 10-minute mark in the MOTW, it's a level game so far. Kielce have a narrow upper hand at 5:4. 
20:46
THROW-OFF IN FRANCE: MOTW LIVE NOW!
We are live with the Match of the Week! Head over to EHFTV.com now to catch the second play-off of the night, Nantes vs Kielce. 
20:28
It may not have been a close encounter but what a performance from Kiel as they secured their first win at Szeged since October 2011. Enjoy the best photos of the clash below!













We came here with huge respect towards Hungary and MOL-PICK Szeged. I have to admit, I am really happy after the game. The first half was probably the best this team has ever played. In the second half, we attacked with less than 50 per cent efficiency — that's the only thing I am not happy about, yet, we'll go home absolutely satisfied. We are happy because we won against a strong Szeged. The second leg will definitely be hard — we have to play like we did in the first 30 minutes of the game. I do congratulate for my players, but we have to stay focused.
20:12
RESULT: SZEGED VS KIEL 28:33
Full-time in Hungary sees Kiel clinch a five-goal victory that sets them in a strong position to reach the quarter-finals, with the prospect of a home encounter in the second leg.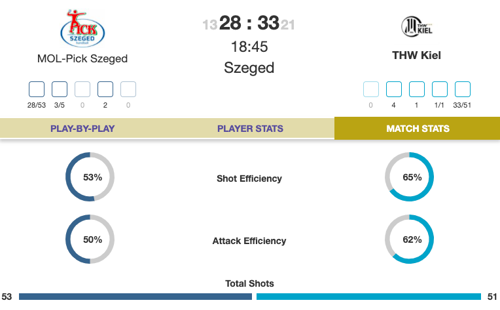 20:10
We are inside the final minute of the first play-off and while it's now sure that Kiel will leave Hungary with an advantage ahead of the reverse fixture on home turf, it will not be as clear as it could have been. 
And that is largely thanks to the oustanding performance from Alilovic, who has a 43 per cent save rate at this point. Check out one of his best below!
20:04
MOTW is fast approaching! The second play-off taking place on Wednesday, Nantes vs Kielce, begins in less than 45 minutes. 
Enjoy some photos of the arrival and warm-up below, where it is evident Nicolas Tournat has enjoyed a warm welcome back at his old club. 






19:54
With 15 minutes left on the clock, Niklas Landin makes a save that keeps Kiel in front 27:22. But the score line is slowly decreasing and Szeged could be on the way to at least a more manageable deficit ahead of the second leg even if they cannot come back and take the win. 
19:45
The entry of Mirko Alilovic has helped Szeged considerably, as the Croatian keeper stopped three of the first five shots that came his way for an otherworldly 60 per cent rate in the first six minutes of the half. The question is now whether he can sustain that performance and help the Hungarian side come back fully. 
In the 36th minute, they've closed the gap to six, 17:23. 
19:38
Given the score line and the number of goals from Kiel in the first half, it's clear that Szeged's defence has been struggling to contain the visitors' attack. 
Just look at this goal from Patrick Wiencek as an example of how Kiel have been scoring from anywhere and everywhere, and sometimes without even looking...
19:35
We are all set for the second half to begin! Watch now on EHFTV.com. 
Szeged may be trailing by a clear margin, but we have still seen some spectacular moments from the Hungarian side, such as this great save from Roland Mikler. 
19:22
HALF-TIME UPDATE: SZEGED VS KIEL 13:21
The situation does not look great for the Hungarian hosts as they go to the break with an eight-goal deficit against them. Should Kiel continue running rampant, Szeged will have a mountain to climb in the second leg in their hope of reaching the quarter-finals.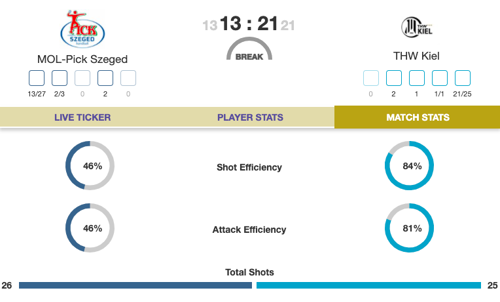 19:17
Take a look back to the opening goal of the play-offs, scored by back-to-back world champion Magnus Landin, below!
The wing sits on two goals now as Kiel lead 19:11 with less than three minutes till the break. 
19:10
Inside the last 10 minutes of the opening half, Szeged are still struggling to mount a comeback against the defending title holders and Kiel are firmly in front. 
Sagosen and Domagoj Duvnjak are having a field day, with five goals for the Norwegian and four at 100 per cent efficiency for the EHF EURO 2020 MVP.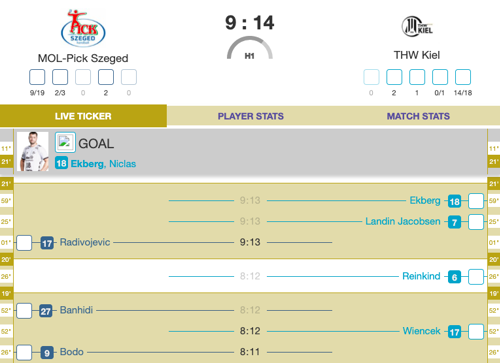 18:56
At 10 minutes on the clock, Szeged coach Juan Carlos Pastor calls his first timeout as Kiel hit a 6:2 lead. Sander Sagosen has already scored three goals for the German side. 
18:53
As we hit the eight-minute mark, the advantage is with Kiel, at 4:2. The German side scored three unanswered goals to start the match, with Kiel wing Magnus Landin the first to shake the net. 
18:44
THROW-OFF IN HUNGARY: SZEGED VS KIEL LIVE NOW
We are all set for throw-off in the first EHF Champions League Men play-off! Head over to EHFTV.com now to watch live or follow the score and statistics live on the ticker. 
18:21
Now playing for Szeged but having spent two season with THW Kiel, it's a special night for back Joan Canellas. 
Canellas made headlines recently due to the announcement that he will move to Kadetten Schaffhausen.
His future teammate Jonas Schelker spoke of Canellas' arrival in our EHF European League feature on the rising Swiss star. Canellas also featured on the newly launched EHF Champions League series on eurohandball.com, This is me, where he tells his own story. 
Find both articles below!
18:08
THW Kiel have shared a sneak peak of their dressing room, as the German side prepare for the away battle in Szeged. Check it out below! 
17:57
We are less than one hour away from the first play-off match, with Szeged and Kiel set to take the court at 18:45 CEST.
Let's take a look at some key facts surrounding this encounter:
the sides met in the Champions League Last 16 in the 2015/16 and 2017/18 seasons, with Kiel proceeding to the quarter-finals twice thanks to victories on home ground after away defeats
Szeged's Joan Canellas and new arrival Marko Vujin used to play for Kiel. Vujin, who arrived from Vardar, replaces injured Croatian right back Luka Stepancic at Szeged
while THW goalkeeper Niklas Landin was in Covid-19 quarantine last week, defence specialists Hendrik Pekeler and Pavel Horak were injured during the 28:31 defeat against Flensburg
12:35
Wednesday's other clash is another big one and is very difficult to call. Reigning champions THW Kiel travel to Szeged on the back of a tough loss in the 'Nord derby' against Flensburg. But this season has seen them bounce back from tough losses with impressive victories and they will be hoping for more of the same today as they evoke the spirit that saw them win last season's title in December.
Szeged have had a season full of disruptions with COVID, accounting for their sixth-place finish in group A, but that makes them a seriously dangerous opponent. They can beat anyone on a given day and they will come out swinging tonight.
11:47
Tonight's Match of the Week marks the first time that HBC Nantes and Lomza Vive Kielce meet in an official match.
Kielce led group A for much of the campaign but ended up in third place behind group winners SG Flensburg-Handewitt and runners-up Paris Saint-Germain Handball, handing them a tricky play-off clash against Nantes, who ranked sixth in group B after a strong finish to their campaign with three wins, one draw and one defeat (against Barça) in their last five matches.
It will be a homecoming for Kielce line player Nicolas Tournat, who moved to Poland last summer after eight seasons with Nantes. Read what he had to say about the game below.
11:03
EHF journalist Kevin Domas ranked the top contenders for the title in the latest power ranking. In his top 10, two of this evening's teams are featured, Kiel and Kielce, while Nantes and Szeged were excluded.
A hint for what is to come? Read the ranking and decide for yourself.
10:50
Good morning and welcome to our live blog for this week's first leg of the EHF Champions League Men play-offs!
Seven matches coming your way this week, with Zagreb vs Flensburg postponed, and here's your schedule.
Wednesday 31 March
18:45 CEST - MOL-Pick Szeged (HUN) vs THW Kiel (GER)
20:45 CEST - MOTW: HBC Nantes (FRA) vs Lomza Vive Kielce (POL)
Thursday 1 April
18:45 CEST - HC Vardar 1961 (MKD) vs Telekom Veszprém HC (HUN)
18:45 CEST - HC Motor (UKR) vs HC Meshkov Brest (BLR)
20:45 CEST - RK Celje Pivovarna Lasko (SLO) vs Paris Saint-Germain Handball (FRA)
20:45 CEST - FC Porto (POR) vs Aalborg Handbold (DEN)
Friday 2 April
18:45 CEST - Elverum Handball (NOR) vs Barça (ESP)