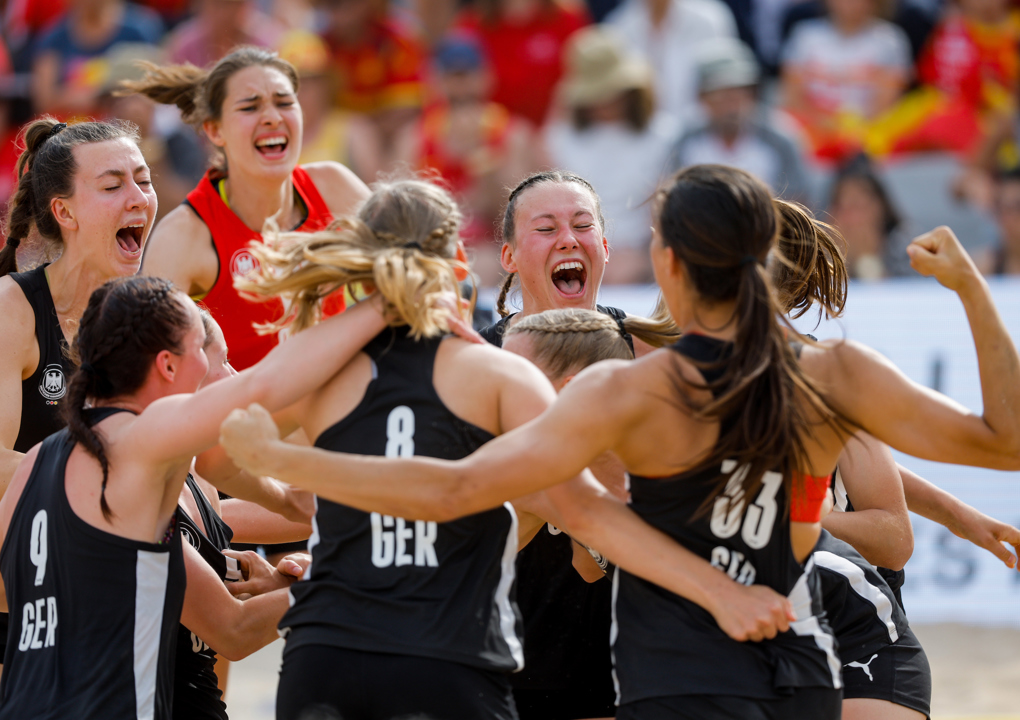 SUMMARY: Germany reach both finals; meet Hungary, Netherlands
On the fourth day, the EHF Beach Handball EURO 2023 entered its final weekend with the quarter-finals and semi-finals on Saturday. Hungary and Germany advanced to the men's final; Germany and Netherlands will contest the women's final.
day 4 of EHF Beach Handball EURO 2023 in Nazaré
SUNDAY'S FINALS: HUNGARY vs GERMANY (men); GERMANY vs NETHERLANDS (women)
men's event:
- quarter-finals: Denmark vs Norway 2:0, Hungary vs Ukraine 2:0, Portugal vs Spain 2:1, Germany vs Croatia 2:0
- semi-finals: Hungary vs Portugal 2:1, Denmark vs Germany 1:2
women's event:
- quarter-finals: Germany vs Greece 2:0, Norway vs Netherlands 0:2, Denmark vs Portugal 1:2, Spain vs Croatia 2:0
- semi-finals: Germany vs Spain 2:1, Portugal vs Netherlands 0:2
cast your vote for the EHF Beach EURO 2023 All-star Teams (until Sunday 14:00 CEST)
get detailed info on all matches in EHF's live ticker and watch all four courts live on EHFTV (geo-restrictions may apply, check the national TV broadcasters) 
follow the tournament on EHF Beach Handball Instagram, with additional coverage on Home of Handball Twitter
Eric Willemsen reporting from Nazaré; all photos © kolektiff images
Saturday 27 May 2023
Vote for EHF Beach Handball EURO 2023 All-star Teams
20:00
Here ends our live blog coverage of the penultimate day of the EHF Beach Handball EURO 2023. And what a day it has been, with Portugal surprisingly making it through to both semi-finals, men's titleholders Denmark dethroned after their back-to-back titles, and ultimately Germany reaching both finals, joined by Hungary and Netherlands respectively.
Here is the schedule for Sunday:
14:00 CEST, men's bronze medal match: Portugal vs Denmark
15:00 CEST, women's bronze medal match: Spain vs Portugal
16:00 CEST, men's final: Hungary vs Germany
17:00 CEST, women's final: Germany vs Netherlands
Of course you stay on for the The Sunset Show on Twitch with Chris O'Reilly and Márcio Menino and a range of guests from the world of beach handball, but for me on the live blog it is boa noite from Nazaré and see you again tomorrow!
19:42
So, play has been completed for today, but don't go anywhere, because the action on court 1 continues soon with our second The Sunset Show on Twitch live from Nazaré.
19:33
Netherlands, welcome to your first Beach Handball EURO final! They beat Portugal in straight sets: 16:14, 22:17.
Four years after winning bronze for their only medal so far, Netherlands have now secured their second medal – either in gold or silver. And what a final: against neighbours Germany!
Portugal have been bravely battling, but ultimately found their master. Still, playing the bronze medal game is an excellent achievement and guarantees them their best EURO finish ever.
19:28
Things looking good for 'Oranje' now. They lead 17:11 in the second set with just over two minutes to go. And Portugal produce too many misses and mistakes, it seems, to turn this around.
19:15
And the set does go to Netherlands, but they need a missed penalty from the hosts in the last second to seal it, 16:14.
Of course, it will be the country's first Beach Handball EURO final, whoever gets through.
19:12
So, so close again. Portugal led by four early on, then Netherlands by four... and now by two (16:14) in the closing seconds of the first set. 
18:58
Last match of the day, last semi-final spot at stake. It is Portugal against Netherlands in the last women's semi-final – and of course you can watch this match live on EHFTV.
18:41
Germany survive the shootout against Spain and are through to the final again!
Well, so much drama on court 1 today, so many emotions, too. In another dramatic shootout, Germany are the more lucky team, needing just one point with their last attempt at 6:6, and Lucie-Marie Kretzschmar duly delivers.
Germany in both the women's and the men's final tomorrow, that is unglaublich!
But who are the opponents in the women's final: Portugal or Netherlands? That is our last match of the day here on court 1 in Nazaré.
18:31
24:16 Spain – and a shootout it is! Will Germany stretch their winning streak or can cause Spain the next upset of today and enter their first ever final?
18:26
Are we heading into a third shootout in the third semi-final? Spain lead the second set by five points (15:10) with exactly three minutes left on the clock. Spain star pivot Asun Batista already on 17 points for the match...
18:14
An intense fight on court 1, just what you expect from two teams really striving for a place in the women's final. Germany have the upper hand in the first part, 26:22 against Spain.
Are Germany going to do what Denmark did in 2019 and 2021: reaching both the women's and the men's final? Still (at least) a second set to play.
17:50
On to the women's event again, let's have a quick look at their semi-final pairings:
18:00 CEST: Germany vs Spain
- Germany: gold 2006, 2021; silver 2002, 2007; bronze 2004; fourth 2002
- Spain: bronze 2017, 2021; fourth 2015
19:00 CEST: Portugal vs Netherlands
- Portugal: – (first semi-final)
- Netherlands: bronze 2019
17:39
It is... Germany!!!
They are through to the men's final, playing Hungary for the title on Sunday.
Germany dethrone the 2019 and 2021 champions, Denmark, in a match they were so well prepared for. Winning the first set, just losing the second, but flawless in the shootout. After back-to-back misses from Denmark's Mikkel Staerk Just and Nicolaj Mogensen, it is a one-pointer from Lars Zelser that sends Germany through.
Not the final most would have expected a few days ago, but judged by both teams' performances, we could be in for a cracking gold medal match tomorrow!
17:30
Denmark and Germany head into a shootout, too!
Denmark clearly led in the second set but were lucky that a last-second attempt from their opponents didn't find the net: 22:20.
You can feel the tension on court 1: who is going to play Hungary on Sunday's final?
17:11
Impressive display from Germany so far, who outplay Denmark for parts of the opening period and deservedly take the set 19:14. But we can be sure the two-time defending champions will dig deep in the second period to try to turn the tide and keep their streak going that started four years ago in Stare Jablonki.
16:58
Who follows Hungary into the men's final?
Are Denmark going for their third straight appearance in the gold medal match? Or can Germany end a 19-year-wait to play for the trophy again?
Let's find out now live on EHFTV!
16:41
Hungary are back in the Men's Beach Handball EURO final after 17 years!
The 2006 silver medallists edge out hosts Portugal in a dramatic shoot-out. Portugal led 8:6 in the shootout but saw Gabriel Conceição miss a one-pointer which would have sent them through to the final. And when Tomas Van-Zeller also missed the next one, Portugal's gold dream was over.
What a result for Hungary! They have been to the semi-finals four times in the last five EURO events, but missed the final each previous time.
Let's find out who they are going to play for gold: either two-time defending champions Denmark or Germany, who seek their first final since 2004.
16:29
And a shootout it is! Portugal take an early lead in the second set and never look back: 21:16. This has become the toss of a coin now.
16:21
Portugal are definitely not giving in after losing that opening set to Hungary, now taking a commanding 14:8 lead in the second, with just under five minutes left to play.
Is this one going down to the wire? Exciting stuff!
16:12
It is first set Hungary, 26:22. They certainly had the better start into this semi-final, but the way Portugal clawed their way back into this match and even levelled up things briefly leaves everything open for the second set.
Great stuff here on the sun-soaked court 1 here in Nazaré!
16:10
Team timeout, and 24:20 to Hungary with 22 seconds left. Can Portugal avoid dropping this opening set?
16:00
Yes, the semi-finals have started! Hungary against Portugal first. Join us on live on EHFTV – if you are not already doing so! (Geo-restrictions may apply, though.)
15:45
Let's have a quick look at the men's semi-final pairings:
16:00 CEST: Hungary vs Portugal
- Hungary: silver 2006; bronze 2007, 2009, 2019; fourth 2015, 2017
- Portugal: – (first semi-final)
17:00 CEST: Denmark Germany
- Denmark: gold 2019, 2021; bronze 2013, fourth 2009
- Germany: silver 2004, fourth 2006
15:05
A bit of time to catch our breaths before the semi-finals throw off...
Just want to take the opportunity to show you this EHF Beach Handball Instagram post, with EHFTV commentator Chris O'Reilly sharing his beach handball passion and knowledge as usual.
Oh, you hear Chris again for the semi-finals of course, but you will also see him co-hosting The Sunset Show on Twitch with Márcio Menino after play has been completed for the day.  

14:41
This. Is. Sensational! Hosts Portugal do it twice!
The women surprisingly defeat Denmark in a shootout to reach the quarter-finals for the first time – just two hours after the men's teams achieved the same feat.
Portugal found something special after losing the first set without a chance (16:8), before taking the second 25:14 and coming back from behind again to win the shootout 8:6. Mariana Rocha made it 8:6 before Line Gyldenløve Kristensen stepped on court to take the last one... but she did what she hardly ever does: missing.
So, no third straight medal for Denmark, after gold in 2019 and silver in 2021.
14:33
So, it Spain who enter the quarter-finals, winning the second set against Croatia as well, but close: 21:10. They will meet Spain in the semi tonight. But who will be the last team through? Portugal or Denmark?
14:32
Can you believe it?! Portugal take the second set 24:14 and force Denmark into a shootout on court 1!
The men did it earlier today, can the women follow?! Remember, Portugal never finished better than fifth in either the women's or the men's competition.
14:19
Denmark and Spain are one step closer to the women's semi-finals. On court 1, 2019 champions Denmark dominate Portugal in the opening period (16:8), with Frederikke Lærke Seeliger contributing 10. On court 2, Spain beat Croatia 25:17 and are close to their fourth semi-final in the last five European Championships.
14:04
The last women's quarter-finals are running, but I want your attention for something else: the EHF has just released the nominations for the EHF Beach Handball EURO 2023 All-star Teams. And the best thing: you can vote right away to pick your favourite players! Note, voting is open until Sunday 14:00 CEST.
Men's EHF Beach Handball EURO 2023 All-star Team nominations
Goalkeeper:
Martin Nørlund Christensen (DEN)
Moritz Ebert (GER)
László Nahaj (HUN)
Defender:
Francisco Santos (POR)
Josip Leko (CRO)
Dario Mata (ESP)
MVP:
Igor Kopyshynskyi (UKR)
Martin Vilstrup Andersen (DEN)
Attila Kun (HUN)
Kristoffer Stenberg Henriksen (NOR)
Gabriel Conceição (POR)
Victor Paldanius (SWE)
Women's EHF Beach Handball EURO 2023 All-star Team nominations
Goalkeeper:
Katharina Filter (GER)
Magdalini Kepesidou (GRE)
Ditte Folden Vind (DEN)
Defender:
Lucie-Marie Kretzschmar (GER)
Elisabeth Hammerstad (NOR)
Catarina Oliveira (POR)
MVP:
María Asunción Batista Portero (ESP)
Meike Kruijer (NED)
Isabel Kattner (GER)
Marte Sirén Figenschau (NOR)
Line Gyldenløve Kristensen (DEN)
Eleni Kerlidi (GRE)
13:53
Two spots taken, two spots up for grabs. Which teams join Germany and Netherlands into the women's semi-finals?
On court 1, the 2019 champions and 2021 runners-up Denmark take on hosts Portugal, with the winners setting up a semi against Netherlands. And over on court 12, Spain and Croatia will battle it out for a place in the medal matches, with Germany as their next opponents later today.
13:41
Just no stopping this Germany team! After a tight opening set (23:22, golden goal), the defending champions dominate the second (27:12) to stretch their winning streak to 32 matches – and more importantly, secure their place in the semi-finals.
And what to say about Netherlands? They return to the semi-finals since winning the bronze in 2019, beating Norway 27:22, 25:22 in a high-class encounter on court 2.
Soon we will find who Germany and Netherlands will meet next in the semi-finals later today.
13:16
Just the close match you would expect here on court 1 but it is Germany who take the first set on a golden goal: 23:22. On court 2, the Dutch have a flying start against Norway and end the first period on 27:22, with Meike Kruijer scoring more than half of her team's points: 15.
12:56
Wow, what a breathtaking start to day 4!
Now right on to the women's quarter-finals, with defending champions Germany taking on 2018 World Champions Greece in the first session on court 1. The DJ treats us to Udo Jürgens' all-time classic "Griechischer Wein" – something for both teams, I guess ;-)
Women's quarter-finals, at 13:00 CEST:
court 1: Germany vs Greece
court 2: Norway vs Netherlands
At 14:00 CEST:
court 1: Denmark vs Portugal
court 2: Spain vs Croatia
For the semi-finals later Saturday, it will be Germany/Greece vs Spain/Croatia, and Denmark/Portugal vs Norway/Netherlands.
12:42 
Court 1 in Nazaré erupts for joy! Portugal edge out Spain in a dramatic shootout and advance to the semi-finals – already securing their best ever finish at a Beach Handball EURO! Simao Santos with 16 and Gabriel Conceiçao with 13 the leading scorers against Spain, the three-time champions that will not add another medal this time.
12:36
Germany end Croatia's title dreams! In two periods that could not be closer, Germany win 2:0 (22:20, 23:22) on a golden goal in the last set. Pure drama, and the world champions are out!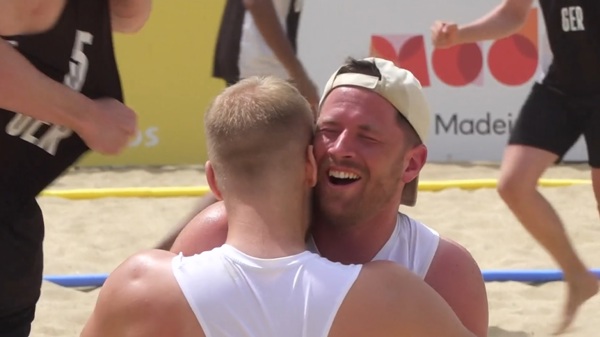 12:16
Well well, first advantage goes to the hosts on court 1, as Portugal win the opening set 22:18 against Spain. Over on court 2, Germany take the first set against Croatia 22:20.
All to play for the second sets, you feel. Those are both excellent, close games!
12:00
We have Denmark and Hungary as confirmed men's semi-finalists – but who are they going to play for a place in Sunday's final?
Denmark will face the winners of Germany vs Croatia (on court 2); Hungary will be up against the winners of Portugal vs Spain (court 1).
11:32
Denmark keep their title defence well on track! They down Norway in the first quarter-final on court 1, with a golden goal in the first set (23:20) and a clear advantage in the second (20:14). I posted Martin Vilstrup's video here on the live blog earlier this morning, and he is the big man for Denmark with a tally of 20 points.
Over on court 2, Hungary live up to their billing as the favourites against Ukraine and take a clean 2:0 win as well: 26:22, 26:18. Norbert Gyene once more the outstanding scorer for Hungary, with a stunning 24 points.
Next, let's find out who they are going to play...
11:14
The first two quarter-finals are in full flow, so watch them now live on EHFTV – though be aware that matches might be geo-blocked for local broadcasters' rights reasons.
Denmark take a intense opener on a golden goal 23:22 against Norway, while Hungary win the first set against Ukraine 26:22.
Time to quickly check the highlights from day 3:
11:01
Yes, play is running on all courts!
(Of course, on courts 3 and 4 the cross matches are being played, see the full schedule and scores on our EHF beach handball liveticker.)
10:52
We haven's counted if we had exactly 100 questions for Martin Vilstrup, but we were close, I think. Anyway, watch the Denmark evergreen talk about beach handball, the EURO, his career, his personal life, well about almost everything:
10:43
So, men's quarter-finals first, and we get the action on court 1 underway with a true Scandinavian derby between titleholders Denmark and neighbours Norway, followed by the Iberian derby between hosts Portugal and Spain later:
Men's quarter-finals, at 11:00 CEST:
court 1: Denmark vs Norway
court 2: Hungary vs Ukraine
At 12:00 CEST:
court 1: Portugal vs Spain
court 2: Germany vs Croatia
For the semi-finals later Saturday, it will be Hungary/Ukraine vs Portugal/Spain, and Denmark/Norway vs Germany/Croatia.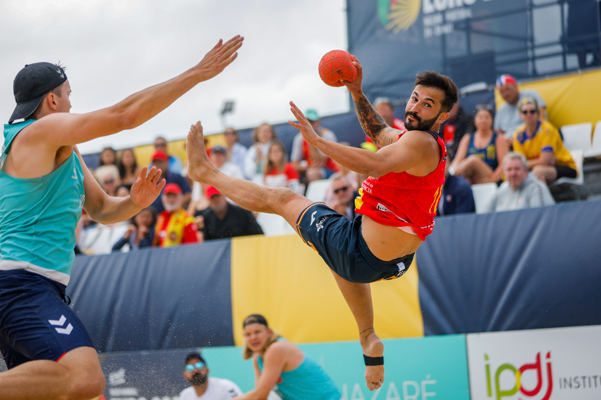 10:35
Bom dia from Nazaré!
Welcome to the live blog for day 4 of the EHF Beach Handball EURO 2023. It is the start of the final weekend so all matches are 'make or break' now.
We start in just under half an hour with the men's quarter-finals, then the women's, followed by the semi-finals in both competitions after a one-hour-break in the afternoon.
Busy schedule, you say? Well that is not all, as we will have the announcement of the All-star Team nominations (for which you will be able to vote!) at 14:00 CEST and the second The Sunset Show on our Twitch channel after play has been completed on court 1 this evening.
But let's start with a look back at the Top 5 Plays from yesterday: