SUMMARY: Titleholders Germany, Denmark win main round openers
The second day of the EHF Beach Handball EURO 2023 in Nazaré on Thursday brought the preliminary round to an end and got the main round underway in the afternoon. The eight main round teams in each the men's and the women's competition have now played one match in order to get a favourable position for the quarter-finals.
day 2 of EHF Beach Handball EURO 2023 in Nazaré
main round play started after completion of the preliminary round 
main round in men's event:
- group I: Norway 2 points, Germany 2, Spain 0, Hungary 0
- group II: Portugal 2 points, Denmark 2, Ukraine 0, Croatia 0
main round in women's event:
- group I: Norway 2 points, Germany 2, Portugal 0, Croatia 0
- group II: Spain 2 points, Denmark 2, Netherlands 0, Greece 0
get detailed info on all matches in EHF's live ticker and watch all four courts live on EHFTV (geo-restrictions may apply, check the national TV broadcasters) 
follow the tournament on EHF Beach Handball Instagram, with additional coverage on Home of Handball Twitter
first episode of The Sunset Show on Twitch from 19:00 CEST tonight
Eric Willemsen reporting from Nazaré; all photos © kolektiff images
Thursday 25 May 2023
EHF Beach Handball EURO 2023 "The Sunset Show" on Twitch
18:49
What a lovely way to finish day 2: Portugal bring women's defending champions Germany on the brink of defeat but ultimately the hosts come up just short in the shootout: 2:1 (24:17, 14:17, 7:6). So, Germany's winning streak continues and has been extended to 29 official matches now...
In the other main round game that started at 18:00 CEST, Spain beat Greece 2:0, with Asun Batista scoring no less than 24 points. Legend!
18:22
Play on day 2 is slowly coming to an end, so a reminder that you should not go anywhere: we are going to witness the first The Sunset Show from court 1 here in Nazaré at 19:00 CEST:
17:50
Great match on court 1 to get the women's main round underway! Denmark and Netherlands both dominate one set, and Denmark stay flawless in the shootout for a 2:1 win.
In the simultaneous game, Norway win two very close sets to down Croatia 2:0
One more round of matches to close day 2, with defending champions Germany set to play hosts Portugal on court 1 and Spain talking on Greece on court 2.
17:21
Want some terrific moments from the men's games today? Here you go on EHF Beach Handball Instagram:

16:58
And now, the courts belong to the women again for their start into the main round, with Netherlands vs Denmark on court 1 and Norway vs Croatia on 2.
16:54
A tight, tight finish to the men's main round play for today. Germany pull off a surprise as they come from a set behind to beat three-time champions Spain 2:1, while in the same group I, Norway overcome a slow start to down Hungary 2:1.
It just tells you how close this Beach Handball EURO is, many teams that could potentially go all the way.
You find the latest men's result and standings on this beach.eurohandball.com page.
16:16
In the second batch of men's main round matches, Spain are currently playing Germany over on court 2. I caught up with Spain head coach Juan Vázquez-Diz after their last preliminary round match earlier today to talk about his role as coach, as former star player, and as sports scientist, for this feature on beach.eurohandball.com.
For Vázquez-Diz, it is always about improving, about the next step: "The high performance you get is multidisciplinary; you have to become bigger in your skills – psychology, nutrition, technique, physical condition."
15:43
Portugal just keep going! The hosts down record four-time champions Croatia 2:0 in the first match of the men's main round. Both teams obviously hampered with a handful of regular players missing, but this is a convincing start for Portugal into the business end of their home EUROI.
Also, Denmark overcome a first-set scare before beating Ukraine 2:1, closely winning the second set and the shootout. The two-time defending champions remain firmly on course for another strong result.
15:00
No time to waste, so on to the men's main round, with Portugal vs Croatia on court 1 and Denmark vs Ukraine on court 2.
Here is the full playing schedule – men and women – for this afternoon:

14:47
What a finish to the women's preliminary round! No less than three matches in the last batch of four have gone into a shootout as the battle for the coveted main round spots has gone to the wire.
Most notably, Greece beat Hungary in a shootout as the 2018 world champions go through. Spain beat Poland and Croatia defeat Romania in close matches with a shootout, too.
That confirms the women's main round:
group I: Germany, Portugal, Norway, Croatia
group II: Denmark, Netherlands, Greece, Spain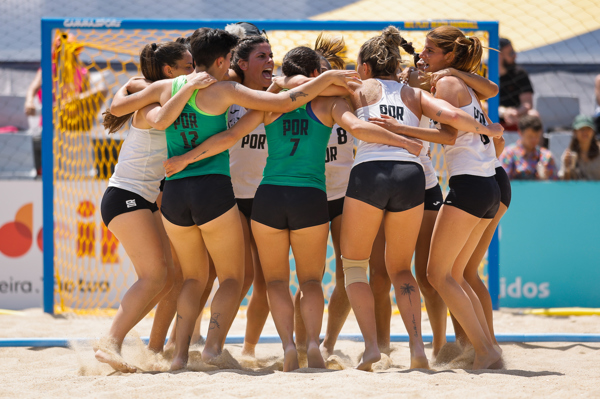 13:41
Well done to our 2021 gold medallists Germany! They beat Denmark 2:0 in the highly anticipated re-match of their 2021 women's final in Varna, when Denmark were the defending champions. Amelie Möllmann with 12 points and Belen Gettwart and Isabel Kattner with 11 each the best scorers; Frida Nygaard Ulrichsen leads for Denmark with 10.
Both teams through to the main round from group A, of course.
The same goes for Netherlands (2:0 against Ukraine), who have dominated group B and take Portugal (2:0 against North Macedonia) with them into the main round.
13:24 
Now officially confirmed by our competition department, here is the men's playing schedule for this afternoon.
main round group I: Norway, Hungary, Spain, Germany
main round group II: Croatia, Portugal, Ukraine, Denmark

13:13
Here is a heads-up for tonight, so you don't go anywhere after the last ball has been thrown...
... because we are bringing you the first episode of our Beach Handball EURO 2023-dedicated series The Sunset Show live on our Home of Handball Twitch channel. Starting at 19:00 CEST and presented by Chris O'Reilly and Márcio Menino, be prepared for about 90 minutes of fun and facts, as there will be a lot to laugh about, but also some serious in-depth beach handball talk with a range of special guests.
Don't. Miss. This!

13:00
It is women's time again! They now play the preliminary round to a finish. On court 1, hosts Portugal are facing a team that are only competing in their second Beach Handball EURO since 2011: North Macedonia. This is an excellent learning experience for them, also thanks to their coach... Anja Althaus.
Read this story with Anja Althaus from Filip Mishov we published just before the championship:
12:42
That is a wrap for the men's preliminary round! Spain (2:0 against Ukraine) and Denmark (2:1) against Germany win the important remaining games in groups C and D.
So, all clear for the main round then, but we briefly wait for the official confirmation of the tournament direction and then we will post the lineup of both groups.
11:43
Congrats to Norway and Croatia, who take the top-two spots in group B, after Norway won their duel 2:0... which means heartbreak for Netherlands, who defeated Norway yesterday and Poland – in a shootout – today, but still have to settle for third due to set difference: Norway (+2), Croatia (+1), and Netherlands (0).
That completes the main round lineup in the men's event, since we learned the teams that advance from groups C and D already on Wednesday – although we still have to wait and see who exactly finish first and who second in those two groups.
11:36
The next tickets for the men's main round go to... Portugal (2:0 against Italy) and Hungary (2:0 against France)! Group A ends with three teams on four points, but the set difference gives the hosts (+3) the edge over Hungary (+2), while France (0), despite their two wins yesterday, continue in the consolation round.
Group B also going down to the wire at the moment...
11:02
Day 2 action is underway on all four courts, as groups A and B in the men's competition will be played to an end first.
In A, Croatia lead the way with two wins from Wednesday, while Netherlands and Norway both have one. A similar situation in B, where France have the maximum four points, followed by hosts Portugal and Hungary on two each.
10:55
No better way to get in the mood for day 2... by watching the highlights from day 1!
10:42
So, it is make or break for a lot of teams when the preliminary round comes to an end. Just one match, one last chance to grab that coveted spot in the main round.
Well, 10 teams have already secured their spot, but they will still play for important main round points: the men's teams of Spain and Ukraine, and both the men's and women's teams of Germany and Denmark.
We start with the last eight matches in the men's preliminary round. A good place to see an overview of all matches and get real-time score updates is our beach handball live ticker.
10:30
Bom dia from Nazaré!
Welcome to the live blog for day 2 of the EHF Beach Handball EURO 2023. Before we head into today's packed schedule, have a look at the Top5 Plays of the great opening day on our dedicated EHF Beach Handball Instagram account: