EHF Champions League
Can Brest finally overcome Györ?
The long wait for the DELO EHF FINAL4 is over — two years after the title was last decided in Budapest, the top four teams in the DELO EHF Champions League are set to fight for the trophy over one action-packed weekend.
It all begins on Saturday afternoon with a blockbuster clash that pits the defending champions Györ against a team in top form with nothing to lose and plenty to play for, Brest Bretagne.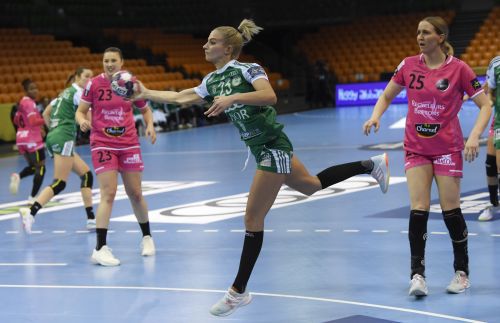 SEMI-FINAL
Györi Audi ETO KC (HUN) vs Brest Bretagne Handball (FRA)
Saturday 29 May, 15:15 CEST, live on EHFTV
Brest have never beaten Györ in an official match, but have come very close multiple times
three of the last four clashes between the sides — played since 2019 — ended in draws, while the other was a one-goal victory for Györ. The two matches prior to that saw clearer wins for the Hungarian powerhouse
two of those recent draws occurred in the group phase this season. Györ won group B after collecting 24 points — 10 wins; four draws; no losses — while Brest ranked third (behind CSKA) with 17 points — six wins; five draws; three losses
Györ have won the DELO EHF Champions League five times — once before the EHF FINAL4 format was introduced, in 2012/13, and four times at the pinnacle weekend in Budapest, including the last three trophies available. The Hungarian team have played the semi-finals a further seven times
reaching the DELO EHF FINAL4 is a historic achievement for Brest, as the French club have never contested the semi-finals. Their best result in the DELO EHF Champions League was the quarter-finals in 2019/20 before the competition was halted due to Covid-19
Györ take the court with a 55-game unbeaten run behind them, stretching back to January 2018 when they lost to CSM Bucuresti
Brest's Ana Gros will almost certainly claim the season's top scorer crown. The Slovenian right back enters the DELO EHF FINAL4 with 118 goals, 35 goals clear of her nearest rival still in the competition
Györ's top scorer coming into the DELO EHF FINAL4 is Veronica Kristiansen, with 83 goals. She is closely followed by two other backs for the Hungarian side: Estelle Nze Minko, with 79 goals, and Stine Oftedal, with 76
Györ changed coach only weeks out from the DELO EHF FINAL4 following a shock loss to FTC in the Hungarian league. Ambros Martin, who guided the club to four of their five titles, returned early and will lead the side on the final weekend
Brest will farewell coach Laurent Bezeau after this season, following eight years with him at the helm
Brest back Gros will leave Brest for CSKA over the summer, while Györ back Eduarda Amorim will transfer to Rostov-Don. Györ legend Anita Görbicz is set to end her career after this season, as the only player to have passed the 1,000-goal mark in the EHF Champions League
Brest back Kalidiatou Niakate is back after an injury, while fellow Brest back Monika Kobylinska returned to the team in May after a seven-month absence