Big margins, close decisions and many well-known faces
The group phase is history, the play-offs are to come between 18 and 26 March and the four top teams which made it to the quarter-finals have been confirmed. Before the Women's EHF Champions League starts its knock-out stages, here are the most important facts and figures from this season's 112 group matches.
0 duels between teams from the same country will occur in either the play-offs or in the quarter-finals
0 teams finished the group phase with a perfect record, Metz came the closest; they were only defeated once
1 team - Banik Most - finished the group without a point, Lokomotiva Zagreb did not take a victory either, but drew once
2 teams which had been part of previous EHF FINAL4 tournaments will face each other in the play-offs: Brest (2021) and Esbjerg (2022)
2 former Champions League winners will have go through the play-offs: Krim (2001 and 2003) and Buducnost (2012, 2015)
2 EHF Champions League debutants made it to the play-offs: Rapid Bucuresti and Storhamar Elite from Norway
2 players - Jovanka Radicevic and Cristina Neagu - scored their 1,000th Champions League goals during the group phase, respectively 
2 players still in the competition can win their seventh Champions League trophy: Katrine Lunde (Vipers) and Nora Mørk (Esbjerg); last year, they tied the record for the largest number of titles in history for a single player, with Bojana Popovic (coach Buducnost) and Ausra Fridrikas
4 teams - Metz, Vipers, Györ and CSM - booked a direct spot to the quarter-finals
4 teams which played in the play-offs in the 2021/22 season, are again in the play-offs: Krim, FTC, Odense and Brest
4 - which means all - teams which had been part of the 2022 EHF FINAL4 in Budapest, are still in the race for the trophy: Vipers, Györ, Esbjerg and Metz, three of them are already qualified for the quarter-finals
4 countries and four clubs were represented by the eight EHF FINAL4 winners so far: Hungary (4), Norway (2), Montenegro and Romania.
4 former or current female IHF World Players of the Year, combining for eight awards, are part of the knock-out stage: Cristina Neagu (CSM/2010, 2015, 2016, 2018), Andrea Lekic (Krim/2013), Sandra Toft (Györ/2021) and Stine Oftedal (Györ/2019).
5 former Champions League winners, all the winners since 2012 and all EHF FINAL4 winners, are still part of the competition: Vipers (2021, 2022), Györ (2013, 2014, 2017, 2018, 2019), CSM (2016), Buducnost (2012, 2015) and Krim (2001 and 2003)
5 group matches were attended by 5,000 or more fans, either in Györ or in Bucharest
5 of the 111 group matches decided on court saw the teams score 45 or fewer goals
7 different countries are represented by the 12 teams that are part of the knock-out stage - France, Hungary, Romania, Norway and Denmark (two teams each), Slovenia and Montenegro. Last season, it was almost the same countries although now Montenegro replaces Germany; 1 country is represented by two play-off teams: Denmark (Odense and Esbjerg)
7 teams which have been part of an EHF FINAL4 have made it to the knock-out stage: Vipers, Györ, Esbjerg, Metz, Brest, CSM and Buducnost
7 teams which were part of the 2021/22 quarter-finals are still in the competition. The only exception is excluded side Rostov
7 years: the length of time Györ did not lose a Champions League home match, before the 24:28 defeat against Metz in September
7 group matches ended by a margin of 20 or more goals
7 of the 112 group matches ended in draws, four in group A, three in group B
9 times in 112 group matches, the teams scored 70 or more goals combined
9 of 12 teams which qualified for last year's knock-out stage are still in the competition: Vipers, Györ, Esbjerg, Metz, FTC, Brest, CSM, Odense and Krim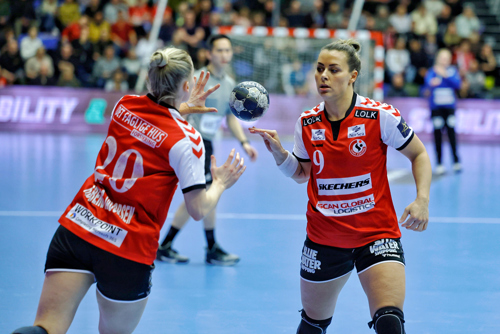 11 nations represent the previous winners of the Women's EHF Champions League: Denmark, Hungary (6 titles each), Austria (4), Norway (3), Slovenia (2), Montenegro (2), North Macedonia, Spain, Croatia, Russia and Romania (one title each)
13 different clubs have been part of the seven EHF FINAL4 events: Györ (6 times), Vardar (5 times), Buducnost (4), CSM (3), Kristiansand (3), Metz (3), Rostov (2), Midtjylland, Volgograd, Larvik, CSKA, Brest and Esbjerg (all once each)
15 times in 112 group matches, a team scored 40 or more goals in a single game
25 goals was the biggest winning margin in the group phase when Metz beat Lokomotiva 38:13, ahead of 24 goals in the Storhamar vs Lokomotiva (37:13) and FTC vs Most (43:19) matches.
25 points in 14 group matches was the total of group winners Metz, ahead of Vipers (23), CSM and Györ (both on 22), Esbjerg and Rapid (both on 20).
26 group matches were attended by 3,000 or more fans
29 group matches ended in a margin of 10 or more goals
41 goals in the FTC vs Brest (20:21) match was the lowest scoring of the group phase, followed by 43 goals in the matches of Lokomotiva vs Györ (16:27) and Buducnost vs Lokomotiva (25:18)
43 times in 112 group matches, the away team was the winner, 21 times in group A, 22 times in group B
45 times in 112 group matches, the fans saw 60 and more goals
45 goals was the overall margin in the two group matches of Bietigheim vs Most (23:46 and 47:25)
47 goals were scored by Bietigheim in the match against Most (47:25) to level the all-time highest score in this competition, when Vardar beat Krim 47:29 in 2015
57.24 goals were scored on average in all group matches which were played (only Buducnost vs Kastamonu needed to be cancelled due to the earthquake), the highest average in history
61 times in 112 group matches, the home team was victorious, 30 times in group A, 31 times in group B
76 goals in the Most vs Brest (30:46) match was the highest combined score in the group phase, ahead of 73 goals in the matches Most vs FTC (27:46) and Krim vs Most (42:31)
+97 was Györ's goal difference after 14 matches, topping the ranking ahead of Esbjerg (+88), Vipers (+83) and Metz (+77)
107 goals were scored by Esbjerg's Henny Reistad, making her the top scorer of the group phase. The Norwegian EHF EURO 2022 MVP is two goals ahead of Cristina Neagu (CSM/105 goals) and Czech Markéta Jerábková (Vipers/95 goals).
347 goals were conceded by Györ, giving them the best defence ahead of Metz (352), Buducnost (366), Esbjerg (367), Vipers and Odense (both 373).
456 goals were scored by Vipers in the 14 group matches to top the attack ranking, ahead of Esbjerg (455), Györ (44), Rapid (441) and CSM (439)
1,056 goals have now been scored by Jovanka Radicevic in 19 Champions League seasons; on 4 December 2022 she passed Anita Görbicz as the all-time top scorer of the competition, netting her 1,017th strike. Cristina Neagu is currently on 1,015 goals.
5,100 fans at the crucial final group match between Györ and Esbjerg was the highest attendance in the group phase
6,354 goals were scored in the 111 group matches which were decided on the courts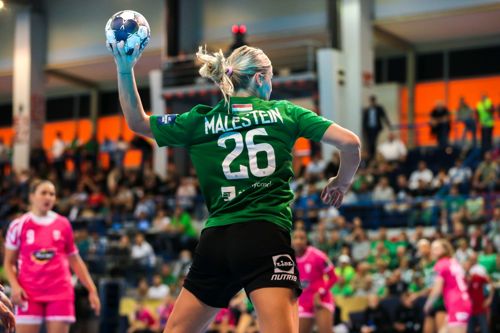 Biggest winning margins in the group phase matches:
+25 goals: Metz vs Zagreb (38:13)
+24 goals: FTC vs Most (43:19)
+24 goals: Storhamar vs Zagreb (37:13)
+23 goals: Most vs Bietigheim (23:46)
+22 goals: Most vs Vipers (21:43)
+22 goals: Bietigheim vs Most (47:25)
+20 goals: Bieitgheim vs FTC (40:20)
Highest-scoring group phase matches:
76 goals: Most vs Brest (30:46)
73 goals: Most vs FTC (27:46)
73 goals: Krim vs Most (42:31)
72 goals: Bieitgheim vs Most (47:25)
71 goals: Most vs Krim (29:42)
71 goals: CSM vs Odense (40:31)
70 goals: Kastamonu vs Esbjerg (27:43)
70 goals: Esbjerg vs Kastamonu (39:31)
70 goals: Metz vs Rapid (36:34)
Lowest-scoring group phase matches:
41 goals: FTC vs Brest (20:21)
43 goals: Zagreb vs Györ (16:27)
43 goals: Buducnost vs Zagreb (25:18)
45 goals: Zagreb vs Metz (18:27)
45 goals: Brest vs FTC (24:21)
46 goals: Brest vs Odense (21:25)
46 goals: Brest vs Krim (22:24)