Beach Handball
Beach EURO Live: 16 teams confirmed for knockout phase
The main round of the Beach Handball EURO 2021 in Varna has ended Friday, with the line-up for the quarter-finals in both the men's and women's event confirmed.
12 matches in the women's and 6 in the men's competition on day 4 to round off the main round
in the men's event the quarter-finals are: Denmark vs Portugal, Spain vs Poland, France vs Russia, Norway vs Croatia
in the women's event: Denmark vs Poland, Netherlands vs Norway, Spain vs Portugal, Germany vs Hungary
all matches live on EHFTV and covered in the Beach Handball EURO liveticker for real-time updates from all courts
all times CEST
Eric Willemsen reporting from Varna, all photos © kolektiff | Uros Hocevar, Jozo Cabraja, Axel Heimken
19:30
So that, beach handball friends, is that as the sand settles on a dramatic final four here in Varna. We'll be back bright early beside the Black Sea for the quarter-finals and semi-finals on Saturday. What a day in prospect.
But, before we go, it would be rude not enjoy the highlights from the men's and women's competition from today's gripping matches.
Have a great evening whatever you're up to.













17:28
What a day here in Varna! Quick recap to get you up-to-date on what happened:
16:42
So, this is how the women's quarter-final line-up looks like:
Denmark vs Poland
Netherlands vs Norway
Spain vs Portugal
Germany vs Hungary

16:36
Stop the count! The main round is officially over... and unfortunately we have lost 2019 semi-finalists Croatia (2:0 defeat against Hungary), as well as Turkey (2:0 loss to Spain).
Denmark come back from a huge deficit in the second set to win the match for first place against Norway 2:0.
Let me sum it up for you: the teams through from group I are (in correct order):
Denmark (10 points), Spain (six), Norway (six), and Hungary (four).
15:54
Now get ready for another close call. Women's group I is the last one to be concluded before we know which four teams also advance and who will play who in tomorrow's quarter-finals.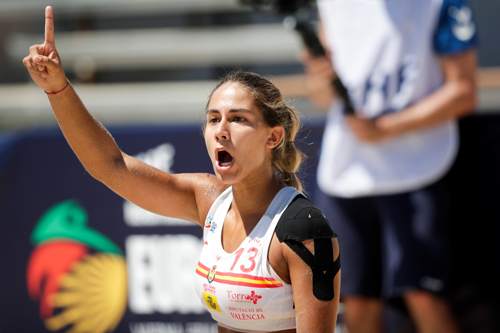 It is Denmark vs Norway for the group win, and Turkey vs Hungary and Spain vs Croatia to determine the other teams going through.
Hold your breath!
15:42
It is all over in women's main round group II, and my prediction some 20 minutes ago turned out to be pretty accurate.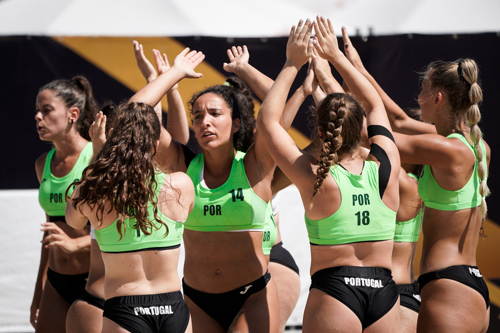 In other words, Germany beat Poland, Netherlands beat France, and Portugal beat Greece, all 2:0, which means that Netherlands, Portugal and Poland - in this order - finish in the top four and can start preparing for the quarter-final. Congrats! 
15:20
Meanwhile, women's group II is nearing its conclusion with the last round of matches running now.
Remember? It was Germany through with eight points, but Netherlands, Poland and Portugal all following on four; and France and Greece both on two.
Netherlands win the first set against France, and Portugal against Greece, and Germany against Poland.
As it stands now, Netherlands, Portugal and Poland would go through as well... but hey, this is beach handball.

15:02
So here we are, this is how the men's quarter-final line-up looks like:
Denmark vs Portugal
Russia vs France
Spain vs Poland
Croatia vs Norway
14:55
Norway have done it again!
They only just scraped through the prelims, and now they have only just qualified for the quarter-final - as the eighth and last men's team.
The 2019 runners-up lose the opening set (23:20) against Ukraine, but that is probably exactly what is needed to get them going, and led by Kristoffer Henriksen's 18 points, they turn the tide and win the second set (27:16) and the shoot-out (19:6).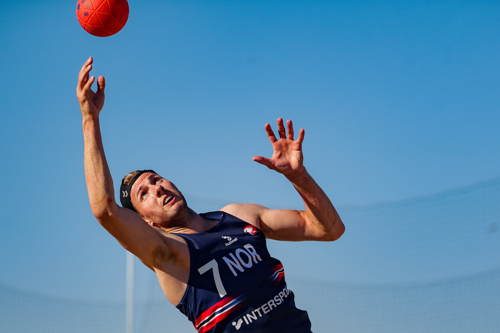 You have got to feel for Hungary, who even beat Spain in their last match 2:1 to share fourth place with Norway, but the Scandinavians won the direct duel.
And Denmark? Nothing is stopping them: an easy 2:0 against France as they continue their quest for a successful title defence.
13:55
Let's bring men's group I to an end!
Here are the standings before the teams get on court one more time: Denmark (8), Spain (6), France (6) are through; Hungary (2), Norway (2), Ukraine (0) follow.
And this is how they play:
Norway vs Ukraine
Denmark vs France
Spain vs Hungary
Who oh who will be the fourth team we are going to see again in the quarter-final?

13:47
Congrats to Croatia and Poland, who both finish their main round campaigns with a 2:0 win, against Russia and Portugal, respectively.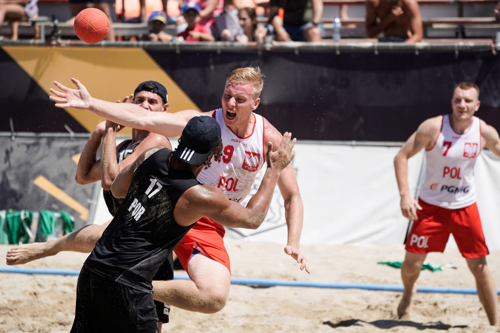 Are Croatia on their way to a record-extending fifth European title? They win the group and have not dropped a set all week long. Russia finish second, Poland third, and Portugal fourth.
Germany have at least some consolation following a 2:0 win over Sweden.
12:36
Group II in the men's main round will be played to a finish next.
Even though all four teams advancing have already been confirmed, there is a lot at stake as the final group standings obviously determine the quarter-final pairings.
And we have No. 1 vs 2 and No. 3 vs 4 coming up at 13:00 CEST:
Croatia vs Russia (winners finish 1st, losers 2nd)
Poland vs Portugal (winners finish 3rd, losers 4th)
Sweden vs Germany
12:24
To fill your break before the men get going, here is our daily minute of beach handball vibe in the Mix Tape from Day 3:












11:47
Well, well, what is happening here?
Spain hand Norway their first defeat in women's group I, coming back after clearly losing the first set (23:14) to win the second (24:14) and the shoot-out (12:10).
And that is not it: Turkey get their first win of the main round by upsetting Croatia, the 2019 semi-finalists, winning the shoot-out 7:4.
In yet another shoot-out, defending champions Denmark hold off a challenge by Hungary.
So, where does that all leave us for the last matches?
Denmark with eight and Norway with six points are through to the quarter-final. Spain, with four, are not there yet, as Croatia, Hungary and Turkey all follow on two points.
And it will be Spain vs Croatia and Turkey vs Hungary this afternoon.
This is seriously good stuff!
11:20
You've seen the women's one, here is the men's one! Enjoy the Top 5 Plays from Thursday:

10:56
The teams from women's group I are now taking the courts.
Here we have Norway and Denmark clearly leading the pack with the maximum of six points each, followed by Spain, Hungary and Croatia all on two. Should I say 'tight' again?
This is the schedule for 11:00 CEST:
Hungary vs Denmark
Norway vs Spain
Croatia vs Turkey
10:43
I said before that group II was tight - well, that looks like an understatement!
OK, Germany remain the untouchables and safely qualify for the quarter-final with (again) a 2:0 win, this time over Greece.
But then, Poland edge Netherlands in a nervy shoot-out to pull level with the Dutch on four points. And so do Portugal, who defeat France 2:0.
So it's Germany on eight points; Netherlands, Poland and Portugal all on four; and France and Greece both on two.
Get your calculators ready for the last group matches this afternoon when it's Poland vs Greece and Netherlands vs France...
10:29
Always a treat: here are the Top 5 Plays from the women's main round Thursday:

09:41
The main round action starts with women's group II - and this group could hardly be more tight.
Unbeaten leaders Germany are on six points and Netherlands on four, but all other teams are on two, so the battle for a top-four spot and that coveted quarter-final ticket is really on! Check the full standings here.
Playing at 10:00 CEST:
Greece vs Germany
Poland vs Netherlands
France vs Portugal
PS: Bulgaria have now actually won that match against Romania, 6:4 in the shoot-out!
09:24
Memorable moment at the beginning of day 4: the women's team of hosts Bulgaria have finally won their very first set this championship!
In their second match of the consolation round, the team of head coach Samet Murtazali took the first set against Romania on a golden goal, 19:18.
Read more about the Bulgarian teams in our feature from the start of the championships.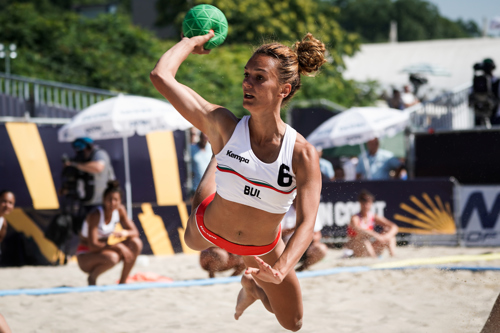 Oh, the women's main round resumes at 10:00 CEST!
09:10
Welcome back to Varna, welcome to another day on the beach! It is day 4 of the Beach Handball EURO 2021 and we are going to wrap up the main round today.
That means, we will know all teams advancing to the quarter-finals by the end of the day. We already saw seven teams progressing in the men's event Thursday, so the focus will now be more on the women's competition, where all teams still have two games on their schedule.