Beach Handball
Beach EURO Live: Men's quarter-final line-up takes shape
The main round of the Beach Handball EURO 2021 in Varna has thrown off Thursday, with 12 men's and 12 women's teams aiming to take the next step towards the medal matches.
12 matches in the men's and 6 in the women's main round on day 3
Denmark, Spain and France are through to the quarter-final from group I, as well as Croatia, Russia, Poland and Portugal from group II of the men's event 
Norway and Denmark are still unbeaten in group I, as are Germany in group II of the women's event 
all matches live on EHFTV and covered in the Beach Handball EURO liveticker for real-time updates from all courts
all times CEST
Eric Willemsen reporting from Varna, all photos © kolektiff | Uros Hocevar, Jozo Cabraja, Axel Heimken
21:25
Day three is done and to wrap it up, let's take a look at the highlights from today's action in Varna. Bring on tomorrow! See you then and enjoy!
19:19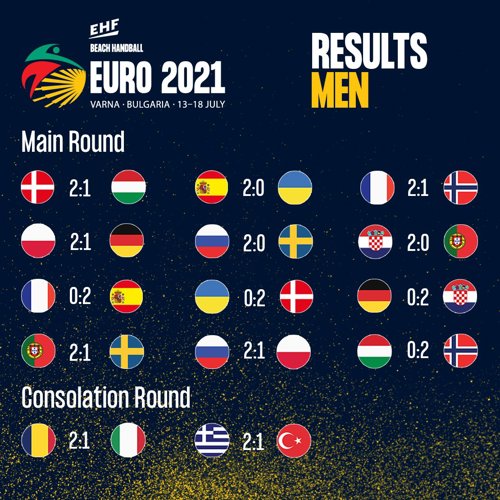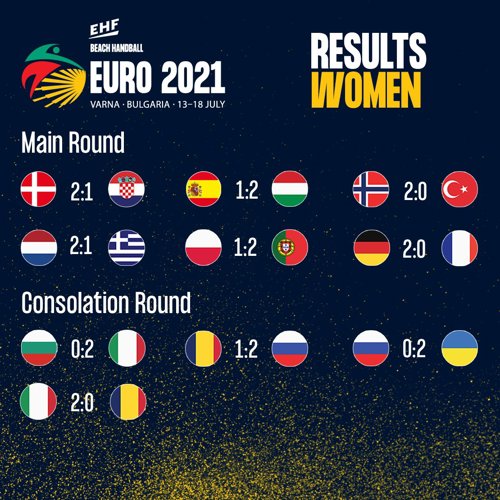 Above the results, below a quick round-up from the first day of main-round play:









18:31
Croatia edged Portugal in two very, very, very close sets, with the second only decided on a golden goal: 17:16, 26:25. The difference was mainly due to Ivan Juric, who gathered 19 points, which earns him the Player of the Day award on day 3:   
18:12
She was part of the stunning Croatia team that won bronze at the Women's EHF EURO 2020 in Denmark. She reached the final of the European Cup Women last season with HC Lokomotiva Zagreb. And now she is here.
Enough reason to catch up with Andrea Simara:
17:58
Scoring 22 points against Croatia in a brilliant outing earns Frida Ulrichsen the Player of the Day honours in the women's championship:
17:52
And talking about crucial wins, Norway have got one as well.
The 2019 silver medallists grab their last chance in group I with a 2:0 win over Hungary. It puts them level on two points with Hungary in fourth place, but with the advantage of having won the direct duel.
Denmark, Spain and France are all safely through from this section.
17:44
Day 3 of the men's competition ends with crucial wins for Portugal!
Portugal come from behind to beat Sweden in a shoot-out (24:27, 23:22, 8:6) and book their spot in the quarter-finals, as the hopes of Sweden, as well as Germany, have officially ended in the group II.
It's first time since a looooong, looooong time we see Portugal in the quarter-finals.
Russia beat Poland 2:1 but both are also through in this group, alongside the so far superior Croatians.
17:32
Play is still going on, but don't go anywhere once the matches are over. Because Chris O'Reilly and Márcio Menino can't wait to bring you another episode of the Daily Sunset Twitch Show live from Varna. At 18:15 CEST on the EHF's Twitch channel.

16:52
That's a first defeat for France. And Spain have done it to them.
After winning the first set on a golden goal, Spain dominate the second (24:12) to get level with the French on six points in group I.
Meanwhile, leaders Denmark keep cruising and have never given Ukraine even a glimmer of hope for something: 30:10, 23:11 is the result of this Scandinavian masterclass.
Over in group II, Croatia remain unstoppable with a clear 2:0 win over Germany.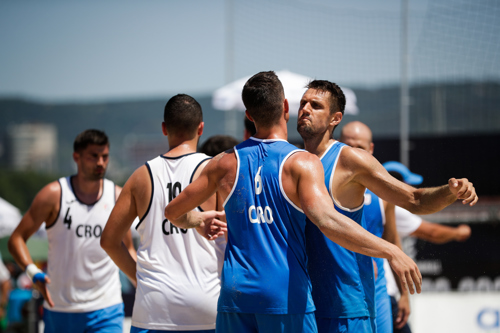 15:50
Get ready for the next batch of main round matches in the men's event! Starting in 10 minutes, we are going to see Germany vs Croatia, Ukraine vs Denmark, and France vs Spain.
Remember, Denmark and France are currently leading group I with the maximum of six points, followed by Spain on four.
The battle for the coveted quarter-final spots is really on now!
14:47
Yes, they are the defending champions...











13:51
And we have seen shoot-outs in the other two games, with Portugal beating Poland and Netherlands coming from behind to defeat Greece.
Those results move Netherlands, backed by their loudly cheering orange-clad fans, into second position of group II behind Germany. How far can the bronze medallists from 2019 go this week?
13:44
Germany are going like a rocket this week in the women's event! As group II leaders with the maximum amount of points, they beat France in their main round opener 2:0 - but don't think they are already in party mode.
"We hope there will be a big party Sunday," Lucie Kretzschmar says with a big smile to EHF's Márcio Menino, referring to the finals day of the Beach Handball EURO 2021.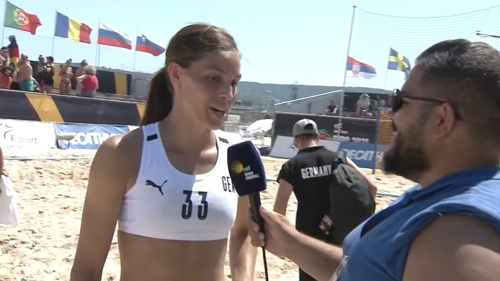 12:52
Norway and Denmark have just opened a four-point gap at the top of group I in the women's main round.
Norway downed Turkey 2:0 after a shaky start with a golden-goal winner in the opening set, while Denmark was forced to go all the way against Croatia.
The defending champions, led by Frida Ulrichsen's 22 points, won the first set 24:15 before conceding a last-second equaliser in the second and losing it on the golden goal, 25:24. But Denmark kept their nerve to win the shoot-out.
12:23
Yes yes, things are heating up here in Varna...
12:12
That one minute of packed fun is here again! Enjoy the Mix Tape Day 2:
11:40
Some more really tight contests as all teams have to bring their best to the court to get a result in this early stage of the men's main round.
Now we see Croatia being pushed to two close sets by Portugal, but the four-time European champions win them both - the last one thanks to Lucian Bura's golden goal: 17:16, 26:25.
And well done Ivan Juric, who contributes 19 points to Croatia's tally.
Similar story for Russia, who keep their perfect record and are still yet to drop a set this week after edging Sweden, 28:26, 24:20.
Poland keep following the two group II leaders, coming from behind to beat Germany in a shoot-out: 14:21, 22:16, 10:8.
11:02
You want to see the best of the best from the women's competition on Wednesday? We do, too! So here we go, this is the Top 5 Plays:

10:53
One more shoot-out was needed to decide the winners - at France against Norway, with the French team, led by Lucas Goedert's 14 points, coming out just on top: 22:20, 10:16, 9:8.
In the other main round game, Spain earned a straight-set win over Ukraine.
The results mean Denmark and France strengthen their position on the top-two spots of group I.
10:47
What a start to the men's main round! Denmark maintain their unbeaten status against Hungary, but the defending champions drop a set for the first time this tournament: 17:14, 20:21, 7:6.
Hungary's Norbert Gyene scores the golden goal in the second set, but is also one of two players to miss for his team in the shoot-out.
"We are still undefeated, that is what counts," Denmark specialist Martin Vilstrup tells EHF's Márcio Menino in the post-match interview.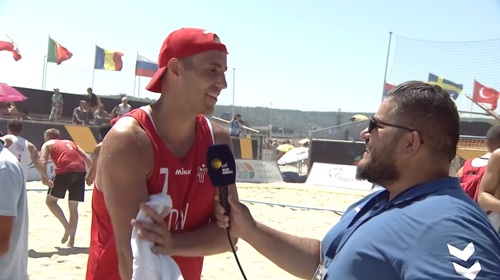 09:46
Just over 10 minutes to go before the start of the main round... and what better way to spend that time than watching the Top 5 Plays from the men's event Wednesday:
09:24
We will throw off the main round with men's group I - and that gives us three cracking matches right away: France vs Norway, Spain vs Ukraine, and Denmark vs Hungary, all starting in just over half an hour.
Here is the full men's schedule for today: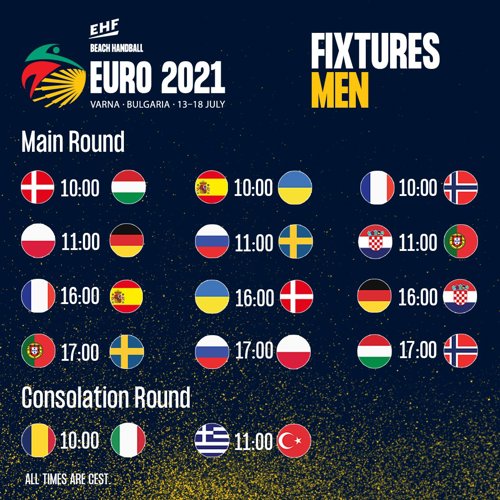 09:00
Good morning and welcome back to the beach here in Varna!
Today we are throwing off the main round, with men's action starting at 10:00 CEST. In total we have 12 men's and six women's matches coming up.
Those teams who didn't make the flip start in the consolation round but our focus obviously will be on the 24 teams in the main round.
Meanwhile the first matches in the women's consolation round are starting, so let me first give you the women's schedule for today: