Beach Handball
Beach EURO Live: Norway escape early exit, main round spots confirmed
The preliminary round of the Beach Handball EURO 2021 in Varna has come to an end on Wednesday, with the 12 men's and 12 women's teams advancing to the main round now confirmed.
day 2 features 22 matches across the men's and women's championships, with qualification for the main round at stake
Norway have been close to missing the main round in the men's event but ultimately beat Turkey in a shoot-out, while no favourites stumble in the women's event 
all matches live on EHFTV and covered in the Beach Handball EURO liveticker for real-time updates from all courts
all times CEST
Eric Willemsen reporting from Varna, all photos © kolektiff | Uros Hocevar, Jozo Cabraja, Axel Heimken
18:50
That brings our coverage of day 2 of the Beach Handball EURO 2021 to an end. The sun is slowly going down here in Varna, so wherever you are, enjoy your evening as much as we do.
Good night for later and see you tomorrow for the start of the main round!
18:45
You have been waiting for this, haven't you?! Here they are, all the highlights from day 2!
18:33
Who made the cut for the main round and who didn't? Here is a quick recap of day 2:
18:29
Greece are the 2018 women's world champions, and they have a world-class goal keeper. Magdalini Kepesidou is our Player of the Day:
17:58
Russia's men's team kept a clean sheet in their preliminary round campaign, and Egor Kochura is one the reasons! He our Player of the Day:










17:08
End of play, that means... it is time for the second episode of the already famous Daily Sunset Twitch Show with Chris O'Reilly and Márcio Menino.
Don't miss it on our Twitch channel! Here is what happened in the first episode Tuesday:
16:57
Goodbye prelims, hello main round!
The busy preliminary round schedule has been completed, and we now know which men's teams will continue their quest for gold in the main round:
group I: Denmark, Spain, Norway; France, Hungary, Ukraine
group II: Croatia, Poland, Sweden; Russia, Portugal, Germany
Well done to the four group winners, who all advanced without defeat: Denmark, France, Croatia, and Russia.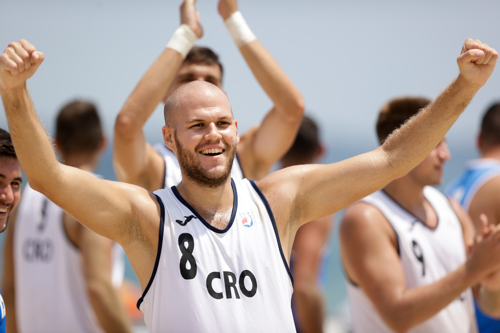 16:50
Talking about Norway, I had a chat with the one and only André Lindboe earlier today. The former EHF Champions League player for Elverum explained me his love for beach handball:

16:42
Pfff, how close was that?! Norway, the 2019 silver medallists, were on the brink of missing the men's main round. Needing a win against Turkey to finish third in group A, they found themselves with their backs against the wall as Turkey took the opening set 24:22.
But Norway recovered, winning the second 24:20 and the shoot-out 9:6 to join group winners Denmark and Spain in the main round.
15:51
That's it for the prelims in the women's event!
Spain (2:0 against Ukraine) and Germany (2:0 in the fight for first place against Netherlands) are the only teams to remain unbeaten.
Here are the 12 teams that advance to the main round:
group I: Spain, Denmark, Turkey; Norway, Croatia, Hungary
group II: Germany, Netherlands, Portugal; Poland, France, Greece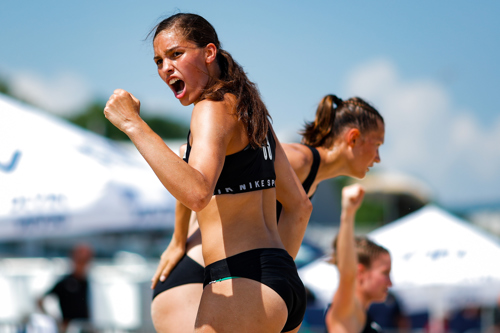 14:47
With the preliminary round nearing the end, we start to get an idea of which teams might go deep in these championships. Who do you think are the teams that could stage a surprise?
Head over to our Twitter account and share your opinion:
13:54
Get ready for the wrap-up of the women's competition. We have eight matches coming up that will remove the lasts doubts about which teams we see back in action in the main round on Thursday.
Starting at 14:00 CEST, we will find out who win group C - with already qualified Netherlands and Germany going head-to-head - and who join those teams in the main round: Portugal or Romania?
Also, group D will be completed with leaders France taking on Greece and Poland trying to hold off a late challenge from Russia to get into the main round.
13:30
Play here in Varna resumes in 30 minutes. So you have time to watch our Day 1 Mix Tape 30 times!
OK, I am getting carried away a bit, but I am sure you enjoy this one-minute clip:










11:51
Hold your breath... here are the Top 5 Plays from day 1 of the men's event:
11:38
Done! The first groups in the men's competition are completed. 
Croatia down Poland 2:0 in a direct duel for the No. 1 spot in group C, while Sweden finish third after ending the main round hopes of hosts Bulgaria, also with a 2:0 win.
And how close was that in group D? Russia win two very tight sets against Germany to win the group with six points, ahead of Portugal, who defeated Netherlands 2:0. Germany in third are also through to the main round.
That leaves us with just four more men's matches this afternoon, when groups A and B play to a finish.
10:53
You love watching entire matches? But you also love watching the best moments? We got you covered! Here are the Top 5 Plays from day 1 of the women's competition:
09:55
It is time to bring out the boys on the beach! Today's men's schedule starts on all four courts, including 2019 silver medallists Norway looking for their first win, against Romania.
Here is the full men's schedule for Wednesday: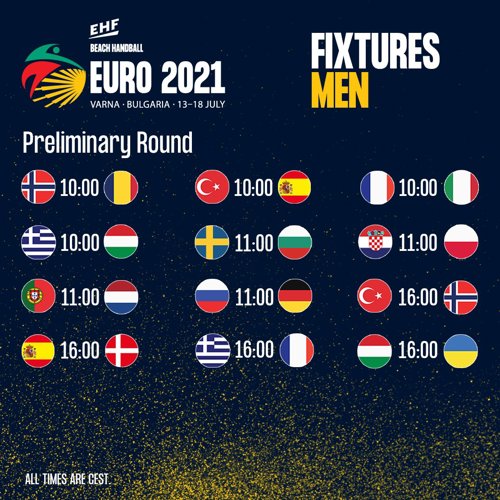 09:37
That's two 2:0s to start the day with: Both Spain (against Bulgaria) and Denmark (against Turkey) don't make a mistake. This group A is panning out nicely, with now four teams on four points each!
This is the women's schedule for the day: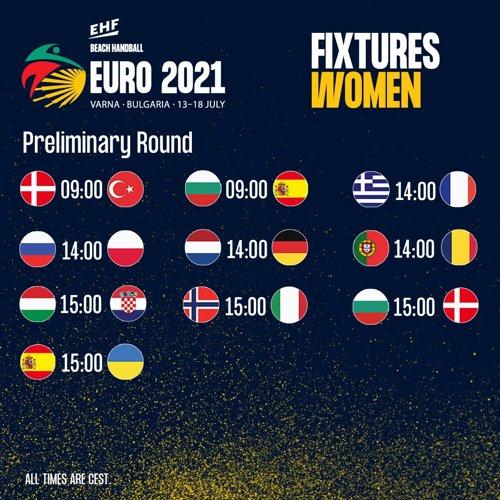 08:54
Two interesting matches to start with. Denmark lost a match yesterday so they will be eager to avoid another slip-up, against Turkey. And the home team, Bulgaria, face an uphill task against Spain, but spirits are high in the Bulgarian camp. Read the feature we did on them:
08:40
Good morning! Welcome to day 2 of the Beach Handball EURO 2021. We are treated to crisp blue skies again and the beach is waiting for us here in Varna so we can't wait to get the games going again.
It is ladies first again and we throw off with two group A games in 20 minutes' time. It is the only group in the women's competition with five teams, and we will first see in action hosts Bulgaria vs Spain and defending champions Denmark vs Turkey.
For a quick overview of what happened on Tuesday, see our day 1 review: