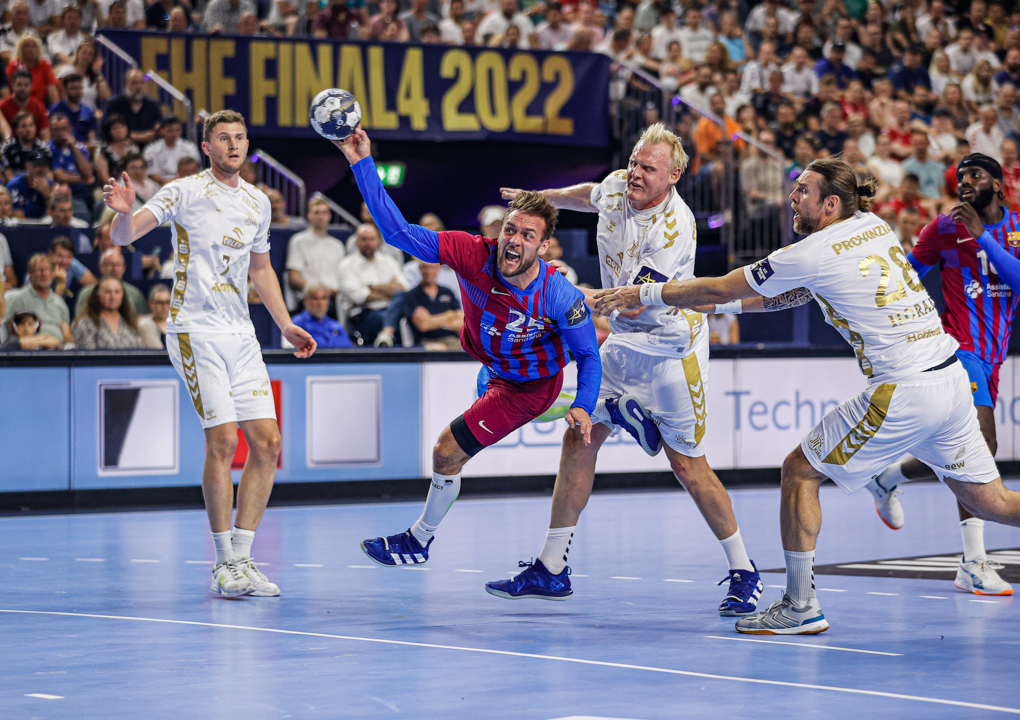 10th trophy for Barça or second for Kielce?
Barça and Lomza Vive Kielce will face each other for the first time in history in a final of the EHF Champions League on Sunday in Cologne.
After winning their intense semi-finals on Saturday, Kielce aim for their second trophy in the competition and Barça can win the title for the 10th time — and become the lone record winners at the EHF FINAL4 in Cologne.
Besides the race for the trophy, the fight for the golden ball for the Champions League top scorer is still open: Dika Mem, Aleix Gomes (both Barça) and Petar Nenadic (Veszprém) can all finish on top.
FINAL
Barça (ESP) vs Lomza Vive Kielce (POL)
Sunday 19 June, 18:00 CEST, live on EHFTV
Kielce beat Veszprém 37:35 in the semi-final on Saturday; Barça were victorious 34:30 against Kiel
Barça can become the first team since the implementation of the EHF FINAL4 Men to defend a title won in Cologne
Barça can add a 10th trophy to their cabinet since they took their first in the EHF Champions League in 1996 and can become the first team to win four times in Cologne. Kielce took the trophy once, in 2016
Kielce won both group matches against Barça this season (32:30 at Palau Blaugrana and 29:27 on home ground); in the overall balance, Barça won six of 11 duels, two matches ended in a draw, and Kielce won three times
at the EHF FINAL4, Barça have won both previous matches against Kielce — the 2013 semi-final (33:28) and the placement match in 2019 (40:35)
Barça are playing their 10th EHF FINAL4 and have reached the final in Cologne for the seventh time, while Kielce have their fifth appearance and second final
the coaches combine for 11 Champions League titles: Carlos Ortega won six trophies as a Barça player; Talant Dujshebaev won the trophy once as a player (1994 with Santander) and four times as a coach (2006, 2008 and 2009 with Ciudad Real and 2016 with Kielce)
as a coach, Dujshebaev faced Barça twice in an EHF Champions League final. In 2005 he lost in the old two-leg format with Ciudad Real. In 2011 he lost with Atletico Madrid in Cologne
Barça's Aitor Arino and Gonzalo Perez de Vargas can become the first players to win the trophy four times in Cologne after 2011, 2015 and 2021
three more players have the chance to win their third trophy — among them the two Croatian internationals playing the final, Igor Karacic (Kielce) and Luka Cindric (Barça), and French line player Ludovic Fabregas (Barça)
Karacic, Cindric and Alex Dujshebaev won the title together with Vardar in 2017
Karacic (2019) and Perez de Vargas (2021) were MVPs at previous EHF FINAL4 Men tournaments
two Barça players lead the top scorer list of the EHF Champions League 2021/22 with the same number of 94 goals: Dika Mem and Aleix Gomez. Gomez climbed the standings with a huge 12 goals in the semi
Kielce were winners of group B, eliminated Montpellier in the quarter-finals and have a season balance of 12 wins and four defeats. Barça finished second in the same group and were victorious twice against Flensburg in the quarter-finals
We are one step closer to our objective, which is winning the Champions League. Tomorrow [Sunday] we will need another great fight, no matter who wins the second semi-final, it will be a top team. We try to win again.

3/4 PLACEMENT MATCH
THW Kiel (GER) vs Telekom Veszprém HC (HUN)
Saturday 19 June, 15:15 CEST, live on EHFTV
both sides scored 30 and more goals in their semi-finals, but Veszprém lost 35:37 against Kielce and Kiel 30:34 against Barça
Kiel never finished third at the EHF FINAL4; Veszprém only once, in 2017, after beating Barcelona
the overall balance of these sides in the long history of direct duels is completely equal, Kiel and Veszprém won 11 matches each, and drew once. In Cologne, the balance is equal too: Kiel and Veszprém won twice each. All those matches were semi-finals (2014, 2015, 2016, 2020)
Veszprém coach Momir Ilic was a player for THW Kiel before — and even took his two Champions League titles with the German side in 2010 and 2012 together with THW coach Filip Jicha
Veszprém's left back Petar Nenadic can become top scorer of the EHF Champions League 2021/22. He is currently on 91 goals, three below Barça's Mem and Gomez
We have a possibility to show up tomorrow [Sunday] and give something back to our fans who came a long way to support us.