EHF European League
SUMMARY: Alingsas stun Magdeburg, Toulouse and Leon cannot be separated again
The EHF European League Men's Group Phase reached round 4 on Tuesday and once again provided its fair share of exciting matches and surprises.
With eight games on the agenda, there was plenty of top handball action to follow and here is how the evening unfolded.
Alingsas surprise Magdeburg for first upset win of the night, while Dinamo and CSKA also claim victory in the 18:45 CET throw-offs
Fenix Toulouse and Ademar Leon draw for the second time, while Sporting, Berlin, Löwen and Montpellier score clear wins in the late matches
Reporting by Chris O'Reilly
23:09
We'll leave you for tonight with the best images from around Europe on what was another entertaining Tuesday in the European League. We're back next week with more of the same, who will provide us with the big headlines next? Goodnight!
22:41
Here is your overview of this evening's results, minus the 28:28 draw between Toulouse and Leon, which is a round 8 fixture brought forward.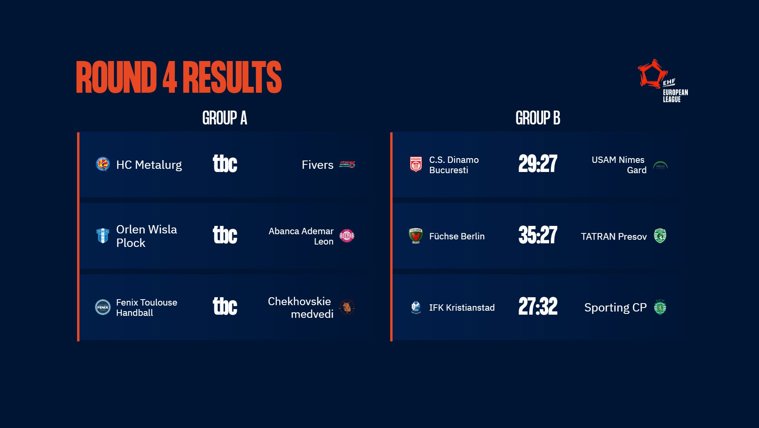 22:34
Which of this evening's top clashes entertained you most today? Have your say below.
22:22 - RESULTS
Fenix Toulouse Handball 28:28 Abanca Ademar Leon
Füchse Berlin 35:27 TATRAN Presov
IFK Kristianstad 27:32 Sporting CP
Montpellier HB 40:16 Besiktas Aygaz
Rhein-Neckar Löwen 28:20 HC Eurofarm Pelister
They drew 26:26 back in round 2, much to the delight of the away team, this evening Toulouse and Leon drew 28:28 and again it's to the delight of the away team - this time Leon.
Toulouse had done so well to muster a six-goal turnaround in the second half and lead by two with three minutes left, but Leon had one last puh in them and drew level in the final minute through Jaime Fernandez. We should see these two battle it out more often, great entertainment!
22:10
Our first result from the late games is in and Montpellier were ruthless today, beating Besiktas 40:16. The Turkish club did not score often but when they did, they made it memorable.
22:04
Things have changed dramatically in France. Toulouse take a 25:24 lead thanks to Sadou Ntanzi's first goal of the game and for the club as he just arrived from PSG on a loan switch with Luc Steins.
Just eight minutes remaining and it's definitely the game to follow if you fancy a bit of late drama.

21:54
What did I tell ya? There's still life left in the games I chose to focus on - Toulouse have cut the deficit against Leon to 22:20 and Kristianstad are right back in the mix, just one goal down against Sporting. Let's have some drama in the final 17 minutes!
21:51
They are producing some good stuff but it appears Presov are being outclassed by the second-tier masters Füchse Berlin - 27:19 with 15 minutes left to play.
21:34
Montpellier are having a laugh this evening and playing some delightful handball against Besiktas. Look at this move, finished by young Georgian Giorgi Tskhovrebadze.
Tskhovrebadze played at last year's Emerging Nations championship on home soil and I was also there, playing for Ireland. One afternoon, my teammate Alex Kulesh and I walked into the hotel's common room and caught Giorgi looking at his own YouTube highlight video on the large screen... I guess when you can score goals like the one below, you can do whatever you like.
21:25 - HALF-TIME
We've reached the break in our late throw-offs and a couple of lop-sided scores coming our way. I still have a feeling the games in Toulouse and Kristianstad will offer us some drama but only time will tell...
Fenix Toulouse Handball 14:17 Abanca Ademar Leon
Füchse Berlin 18:13 TATRAN Presov
IFK Kristianstad 11:16 Sporting CP
Montpellier HB 23:7 Besiktas Aygaz
Rhein-Neckar Löwen 14:11 HC Eurofarm Pelister
21:20
A finish as sweet as Swiss chocolate from everyone's favourite Swiss player (and for many, the only Swiss player they know). They lead Pelister 14:11 at the break.

21:09
Sporting looking really strong in the opening 20 minutes against Kristianstad - their right wing Darko Djukic already has six goals, including some fine penalties, and they lead 13:7.
It is much tighter in Toulouse as Fenix are all-sqaure with Leon - 12:12 in a fiercely contested game so far.
20:55
In case you missed it live, here is that slick winning goal for Alingsas against Magdeburg!
In our present games, Sporting have opened up an early 8:5 lead away to Kristianstad, while Berlin and Montpellier appear to be trying to finish these contests before they really begin...
20:39
Today has already been a wild ride and it's about to get wilder as we now bring you five matches beginning at 20:45 CET. Plenty to keep an eye on, but we'll try to focus a bit more on the action in Toulouse and Kristianstad, then see where the evening takes us.
Fenix Toulouse Handball (FRA) vs Abanca Ademar Leon (ESP)
Füchse Berlin (GER) vs TATRAN Presov (SVK)
IFK Kristianstad (SWE) vs Sporting CP (POR)
Montpellier HB (FRA) vs Besiktas Aygaz (TUR)
Rhein-Neckar Löwen (GER) vs HC Eurofarm Pelister (MKD)
20:21 - RESULTS
Dinamo Bucuresti 29:27 USAM Nimes 
HC CSKA 29:18 RK Nexe
Alingsas HK 30:29 SC Magdeburg
Incredible scenes in Sweden as Samuel Lindberg squeezes a shot into the top corner of the goal with no angle to shoot from on the right wing, just before the buzzer, handing Alingsas a stunning victory over Magdeburg!
Dinamo found another gear when it mattered most to turn the tide against Nimes and secure their first victory of the group phase.
CSKA's victory was far less dramatic, but no less pleasing I'm sure as they were on top form against Next. Just check out this goal by Fokin, brilliant.
20:05
Magdeburg showing their class late on in Sweden as a 6:1 run puts them one goal to the good against Alingsas with just over six minutes remaining.
The away side also leads by one in Bucharest, 24:23 to Nimes in another contest which looks set to go down to the wire.
19:57
Victor Kireev may look a bit possessed in the picture below but whatever he is possessed by, it's working! The CSKA goalkeeper has a 55% save rate and they lead Nexe 27:15 with 12 minutes remaining.

19:45
Early days in the second half but Alingsas are continuing to give Magdeburg a headache. They now have their largest lead of the game, 21:18, after a Benjamin Halender penalty. 
19:36
Earlier, I said if you feed Benjamin Gallego, he will score, well this is the tastiest dish to the line I've seen in a good while from Minel!
19:23
We have hit half-time in our early throw-offs and here's how they stand at the break.
Dinamo Bucuresti 14:15 USAM Nimes 
HC CSKA 15:8 RK Nexe
Alingsas HK 15:14 SC Magdeburg
Curiously, all three leading teams have hit the 15-goal mark by half-time. What on earth could it mean..? Probably nothing.
I think it's fair to say that the outstanding player so far today has been Andreas Lang. The Alingsas right back has shown his deadly power from distance and fired in six goals so far, giving his side belief that they can pull off a surprise result tonight.
A big surprise for me so far is how comfortable CSKA appear to be with their seven-goal lead over Nexe in Moscow. We'll see if they can keep it going as the second half gets underway in a few minutes on EHFTV.

19:13
Another fascinating contest developing in Bucharest between Dinamo and Nimes. 11:10 to Nimes after 23 minutes with their line player Benjamin Gallego having a field day with five goals already - feed Gallego and he will score!
19:04
Alingsas are putting it to the more fancied Magdeburg early on here. The German club's coach Bennet Wiegert took an early time out, demanding to know why they were not doing as they agreed.
That seemed to kick Magdeburg into gear a bit in attack but they are still struggling to contain Alingsas' long-range shooters, Andreas Lang in particular with three goals as they lead 8:7 after 16 minutes.
18:58
A couple of pretty close games early on as Alingsas and Nimes hold narrow leads. Only CSKA have taken command so far, jumping out to a 7:4 lead over Nexe after 11 minutes.
18:46
We're underway with three matches on EHFTV right now
Dinamo Bucuresti (ROU) vs USAM Nimes (FRA)
HC CSKA (RUS) vs RK Nexe (CRO)
Alingsas HK (SWE) vs SC Magdeburg (GER)
18:35
One game in group D tonight and it's Rhein-Neckar Löwen vs HC Eurofarm Pelister. Löwen had their first group match last week with an easy win at GOG, while Pelister have let two leads slip through their hands at GOG (29:30) and Schaffhausen (25:25).
It's a first meeting between the clubs but Pelister's new arrivals Stipe Mandalinic (previously Berlin) and Josip Peric (Göppingen) will know what to expect.
18:15
Good evening! We're back to bring the live to live blog as we count down to this evening's opening matches in round 4, throwing off in just 30 minutes.
On to group C in our preview of tonight's action and beginning with HC CSKA vs RK Nexe and I really like the look of this clash as it features two teams with a lot of potential to shake things up. CSKA beat Bjerringbro in qualification and Nexe overcame Irun, showing they are capable of doing big things and both will fancy taking the two points today.

Alingsas HK vs SC Magdeburg looks like a tricky test for the home side, who are still missing Daniel Blomgren and Gustav Skagerling, while Johan Nilsson and team captatin Niclas Barud are out for the season.
Neither side are in great form in their domestic league but Magdeburg, who boast a large Nordic influence, will go in as favourites for the game in Sweden.
Montpellier HB vs Besiktas Aygaz features two teams with plenty of recent EHF Champions League experience, but while Montpellier won the title in 2018, Besiktas really struggled to make an impact. It is hard to look past a convincing Montpellier in here but I am very welcome to be proven wrong.

12:45
We're being treated to a full pot in group B, which is turning out to be very interesting.
Dinamo Bucuresti vs USAM Nimes will be Dinamo's first game in a month and they will not have much room for ring rust against Nimes, who bounced back from last week's loss to Kristianstad with a league win over the weekend.
Füchse Berlin and TATRAN Presov were both involved in one-sided games in their opening group phase fixtures but with very different results. Berlin cruised to victory over Kristianstad, while Presov will need to find some extra gears after their six-goal loss to Nimes
IFK Kristianstad (SWE) vs Sporting CP (POR) features two teams well-used to being in the EHF Champions League and should offer us an entertaining clash. Sporting won their only group game so far away to Dinamo and could draw level with group leaders Kristianstad if they can beat them in Sweden tonight.
12:32
Just the one game in group A today and it's an early reunion for Fenix Toulouse and Abanca Ademar Leon
The teams met in round 2 and the game ended in a 26:26 draw. Since then, Toulouse have loaned Dutch playmaker Luc Steins to Paris Saint-Germain for the rest of the season and Sadou N'Tanzi, coming from PSG, will replace him.
You can check out the highlights from their previous clash below and hopefully, we'll be treated to more drama like this later on.
12:00
Good afternoon everyone and welcome to the European League live blog as we cover Tuesday's round 4 action.
There are eight matches coming your way today - seven from round 4 plus Toulouse vs Leon, which has been brought forward after all three group A fixtures were postponed.
18:45 CET
Dinamo Bucuresti (ROU) vs USAM Nimes (FRA)
HC CSKA (RUS) vs RK Nexe (CRO)
Alingsas HK (SWE) vs SC Magdeburg (GER)
20:45 CET
Fenix Toulouse Handball (FRA) vs Abanca Ademar Leon (ESP)
Füchse Berlin (GER) vs TATRAN Presov (SVK)
IFK Kristianstad (SWE) vs Sporting CP (POR)
Montpellier HB (FRA) vs Besiktas Aygaz (TUR)
Rhein-Neckar Löwen (GER) vs HC Eurofarm Pelister (MKD)