EHF Champions League
Summary: home wins for Szeged, Barça and PSG wrap up round 8
The EHF Champions League Group Phase passed the halfway mark this week as a number of teams faced off for the second week in a row.
THURSDAY 26 NOVEMBER
22:45
Tonight's games saw some absolutely stellar goalkeeping, so the focus of the poll of the night is: which of the three goalkeepers who spent most time on court for the winning teams impressed you most? 
As a reminder, check out these massive stops from Roland Mikler and Kevin Møller.
22:40
With round 8 matches done, here's the wrap-up of all the results from tonight and yesterday. Kielce and Barça remain at the top of groups A and B respectively.






22:17 | FULL-TIME: BARCA 29:25 THW KIEL
It's yet another win for Barça, although notably 29 goals is their lowest winning score and four goals is the closest margin of the season so far.
EHF journalist Björn Pazen has some stats for you: this is Barça's 20th straight EHF Champions League win, and their 23rd straight Champions League home win. In fact in almost five years, they have won 40 Champions League matches and drawn one at home. The last time they lost was 5 December 2015 when Kielce beat them 33:31. Incredible.
22:11
Kiel may have run out of steam. Four minutes left, and Barça lead by four goals. Several of Kiel's big stars - Sagosen, Pekeler, Zarabec, Dahmke - are missing shots or finding Kevin Møller in their way.


21:58
One goal in it for Barça right now at 22:21. About 10 minutes earlier, this happened:

21:51
A goal apiece for Timothey N'guessan and Dika Mem - both powerful in-flight goals - and a missed shot by Miha Zarabec, and it's Barça's advantage again at 20:18. This match is ebbing and flowing at the moment, with neither side completely in control.


21:41
Before the break, we showed you Kevin Møller. Not to be outdone, here's a superb save from Niklas Landin too. We're three minutes into the second half and Kiel are 15:14 up!
21:23 | HALF-TIME: BARCA 13:12 THW KIEL
A rapid first half and a close one. Once again, only one goal separates the two sides at the break - last week, the half-time score was 16:15 to Barça. The question is whether Kiel can produce a better second half than they managed in round 7, when the Spanish club piled on the pressure.


 21:21
Kevin Møller is continuing in fine form after a stellar performance in Kiel, with yet another world-class block.
21:18
Whatever Jicha said, it worked. The score is level again at 12:12.


21:11
A sudden flurry of Barça goals and Kiel are 8:11 down. Filip Jicha calls a timeout to refocus his men.


21:03
Harald Reinkind has just scored Kiel's seventh goal of the match - and that is their 9,000th goal in their EHF Champions League Men history. Kiel and their opponents tonight are the only two clubs to have ever hit this incredible milestone.
20:48
Throw-off in Barça. Hendrik Pekeler and Sander Sagosen get Kiel 2:0 up; Aron Palmarsson then nets the hosts' first goal, but he's missed two as well already. Sagosen's second attempt goes wide and Kevin Møller has to go clambering up into the stands to fetch the ball.
20:42
Moments away from throw-off for the final match of the round, Barça vs Kiel. Barça have won every match so far and last week beat Kiel in Kiel 32:26, so will be expecting to win again.


20:27
Nedim Remili has been impressive this season and had another solid showing tonight. Although the 25-year-old missed three of his seven attempts at goal, this last one made sure of the PSG win and there wasn't much Alfredo Quintana could do about it.

20:17 | FULL-TIME: PARIS SAINT-GERMAIN 29:28 FC PORTO
Porto suddenly burst into life in the last 10 minutes of that match, closing the gap from 27:22 to 27:26. But PSG clung on to a 29:28 win. It was a much stronger second-half performance from Porto than they produced last week, but not enough. PSG pick up another two points.


20:09 | FULL-TIME: MOL-PICK SZEGED 36:27 ELVERUM HANDBALL
A dominant second-half performance gives Szeged their first season points after four matches. Richard Bodo in particular stood out with nine goals from 10 shots.


19:55
Alexander Blonz injured his knee way back in round 1, but is clearly back to full health. He's scored seven for Elverum so far - although Szeged continue to lead, now 28:24 as a timeout is taken.


19:52
Slipping back into the first half for a moment to admire this Andre Gomes rocket. 
19:46
It certainly looks as though both PSG and Szeged have finally found the sort of form we'd normally expect from them, after shaky starts to the season. Szeged now lead Elverum 25:20 with most of their big names on the scoreboard and they're playing with confidence.
Meanwhile Mikkel Hansen doesn't seem fazed by being asked to play centre back tonight and leads the scoring with six goals from seven shots. PSG have signed Luc Steins to replace the injured Nikola Karabatic, but he's not in tonight's squad.




19:31
Mikler might be playing well, but not well enough to stop Josef Michael Pujol with this stolen ball!
19:24 | HALF-TIME: Paris Saint-Germain 15:11 FC Porto
PSG threatened to go into half-time five goals up but Andre Gomes had something to say about that, scoring shortly before the buzzer to keep the margin to four. Last week, remember, Porto were four goals up at the break and PSG came back to take a three-goal, 34:31 victory. 








19:20 | HALF-TIME: MOL-PICK SZEGED 17:15 ELVERUM HANDBALL
A good start to the game by Szeged. Nik Henigman and Bence Banhidi are both on three goals, and Roland Mikler is having a great game. Here's an early, massive penalty save by the Szeged goalkeeper.
19:12
The difference so far tonight in Paris is the goalkeepers' performance. Vincent Gerard is saving nearly half the shots coming his way; Nikola Mitrevski has blocked just two and PSG remain four goals ahead. 
Szeged, meanwhile, kept cool when Elverum briefly took the lead and two Nik Henigman shots have given them a two-goal advantage close to the end of the first half.
19:05
Four unanswered goals and suddenly PSG are 9:5 ahead of Porto. If the visitors don't act now they risk letting this match get away from them at a very early stage.
18:55
It's been a fairly even start in both matches. Unlike last week, when Porto got out to a roaring start against Paris that PSG then had to catch up, today it's been goal-for-goal since Miguel Martins opened the scoring. Over in Szeged there's a similar picture; Szeged have arguably had a better start and thanks largely to two goals by Bence Banhidi are currently two goals up on Elverum.


18:25
Coverage of the first two matches tonight is beginning on EHFTV. Some cool stats from Barça on their Twitter feed about the rivalry between them and Kiel, but who will triumph tonight?
16:49
Szeged and Elverum are back in action at 18:45, playing each other for the first time this season. It is a clash between the bottom two in group A and although both sides have plenty of games in hand, they will be desperate to get some points on the board today.
As you can see below, it looks like Szeged will have a close to full-strength side for the first time this season.
15:47
Another interesting game on the way today, at 18:45, is PSG against Porto. The French champs rallied in the second half to claim just their second victory in the competition this season.
Since then, PSG confirmed the loan signing of Luc Steins, with Sadou Ntanzi going the other way for the rest of the season. Steins has been a standout player for Toulouse and impressed in January's EHF EURO for the Netherlands. If he fits in well, he is certain to inject a much-needed boost of speed into the PSG back court in attack.
14:40
Many people were surprised by the relative ease with which Barça managed their 32:26 win away to Kiel but I would not be surprised to see a very different performance from the German champions today.
Kiel have suffered a few setbacks already this season and so far have always bounced back in an incredibly positive fashion. Here's how last week's reverse fixture went down.
13:34
Below you can read the thoughts of Barça coach Xavi Pascual as he prepares to face Kiel for the second week in a row in tonight's headline clash. His side were sublime last week in their first major test of the season, can they produce a repeat performance today?
I look forward to a different match. When two teams of this level play anything can happen and there can be any score. Kiel are an extraordinary team and require us to be 100% if we want to win.

We have to be ourselves, continue to mark our model of play. There must be rhythm, we must be good in defence and be able to run... this must be the line. If we are not on the attack, we will suffer a lot in their counter attacks.
12:00
Good afternoon! The live blog resumes to guide you through today's action. After Wednesday's excitement, we have again three matches coming your way tonight:
18:45 CET - Paris Saint-Germain Handball vs FC Porto
18:45 CET - MOL-Pick Szeged vs Elverum Handball
20:45 CET - Barça vs THW Kiel
Which one will keep you on the edge of your seat?
WEDNESDAY 25 NOVEMBER
23:13
We will leave you tonight with a question: what tickled your handball muscle more - the shock of Aalborg or the display of pure control by Kielce? Have a vote and let us know. See you tomorrow! 
22:31
Of course, there was more action tonight in group B where HBC Nantes saw off RK Celje (31:25). Milan Milic was most prolific for the French side netting seven. This is Nantes' second win of the season after beating THW Kiel back in September. 
22:27
He didn't put a hand wrong tonight, our Player of the Match....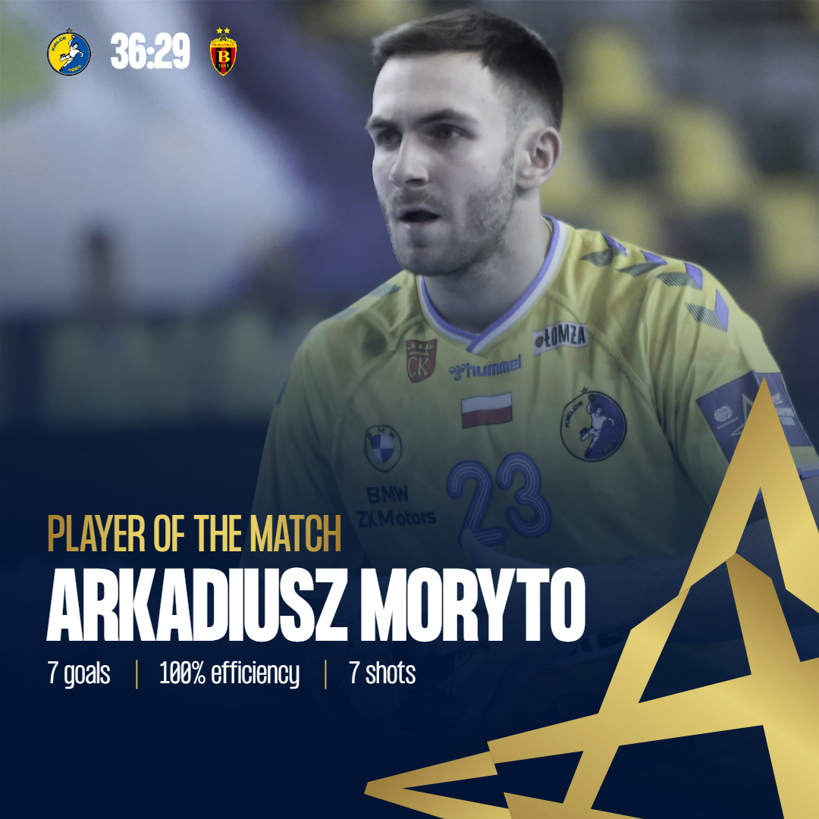 ...and he probably scored the goal of the game too! 



22:12
RESULT: Lomza Vive Kielce 36:29 HC Vardar 1961
It was close up until 10:10, then Kielce turned it up. And the Polish side never looked back - giving them their first win in Skopje in five years. They are looking very much like a well-oiled machine and are slowly starting to look like real contenders for the title this season. Vardar really struggled in the latter part of this game, a real bench being a big issue and the lack of goalkeeping form, hurt them today. But this being only their fourth game of the season they have a chance to turn it around. Kielce now go four points clear at the top of group A. 
21:50
As Chris O'Reilly has pointed out on EHFTV, the Vardar keepers have really struggled today. Ristovski has only one save from 22 shots (4.5%) and Robin Cantegrel only one from eight shots.  
On the other side of the court, we have Mateusz Kornecki with 11 saves who will be delighted that he was able to rise to the occasion.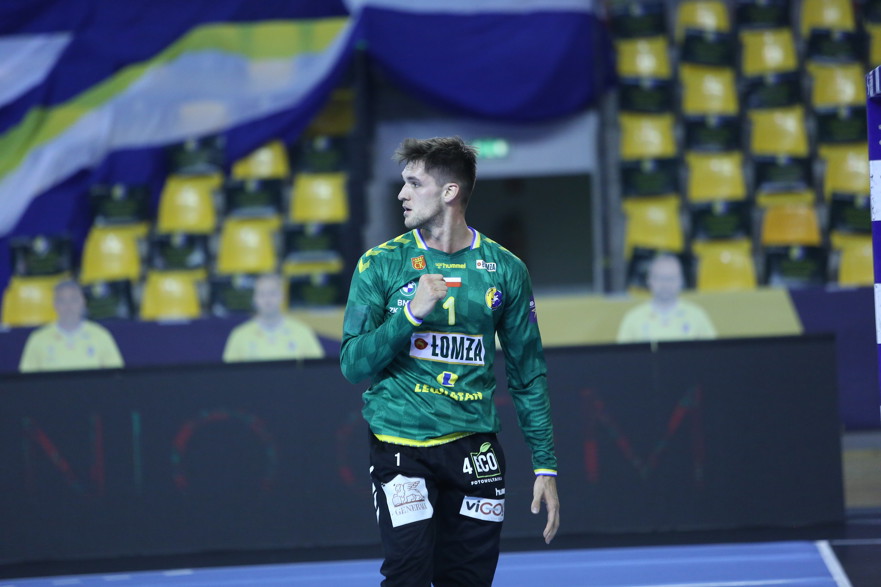 21:43
We are 10 minutes into the second half of Match of the Week, and it is getting hard to see a route to victory for Vardar. Each time we have seen a big switch on the bench from Vardar, Kielce with their deep squad were  able to turn the screw some more. It all looks fairly comfortable for the Polish side.

It's a six-goal game in Kielce's favour (24:18).
HALF-TIME: Lomza Vive Kielce 18:12 HC Vardar 1961

21:18
Moryto has seven goals so far in the first half - he is having a stormer. As Chris O'Reilly notes "Vardar seem to have run out of steam in the latter parts of the first half." The boys in red and black will be the happier to hear the half-time whistle! Kielce lead 18:12
21:05
We are mid-way though the first half and Kielce have opened up a two-goal gap for the first time in the game. And what a goal opened up that gap! Moryto (4/4) was on a fast break gets hit and rides the tackle and finishes it with a behind-the-back goal, just magic! It's showtime for champions, folks!
20:53
Vardar came bursting out of the gates and netted a 5:2 lead in the early minutes. And within a matter of two minutes Talant Dujshebaev's Kielce were back level 5:5. How fast handball can change! Don't blink or you'll miss it! 

Watch it here!  


20:46
Have you checked out our Instagram channel? Markus sat down with Andreas Wolff of Kielce and Christian Dissinger of Vardar in Breakfast for Champions! Have a look at it, it will put a smile on your face!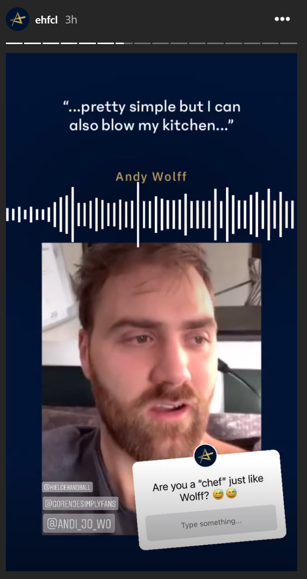 20:40
A big loss for Kielce will be the absence of Igor Karacic who will not play today due to a muscle injury in his leg.
20:31
Now onto Match of the Week: Lomza Vive Kielce vs HC Vardar 1961! 

The Polish side will be looking from another huge outing from Alex Dujshebaev who netting 10 last time out in the away win. 

You can join Chris O'Reilly on EHFTV.com right now for the build-up; the match starts at 20:45 (CET)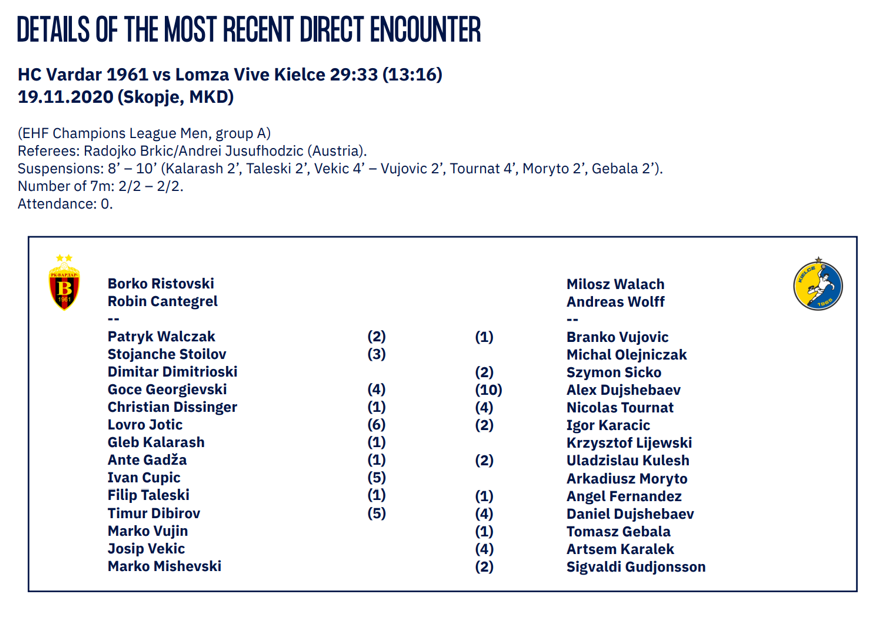 20:15
RESULT: Telekom Veszprem 30:32 Aalborg Handbold
Wow! Aalborg hand Veszprem their first loss of the season! Nenadic will be kicking himself for missing his last shot with a chance to pull it level. It was really dramatic stuff late in the second half with both sides feeling the pressure, it could have went either way in the end. But it is a huge night for the club of Aalborg Handbold; they narrow the gap now between themselves and the Veszprem in second position with, now, only one point between them in group B (but the Hungarian side have a game in hand). 

Buster Juul-Lassen who netted the last goal and his ninth was once again top scorer for the Danish side. 
20:08
We are in for a tense final few minutes! Since the departure of Mollgaard, Veszprem are back in it! Only a goal in it now with 3 minutes left. Crazy scenes as Mahe had a chance to level it with an open goal; he took a shot from his own half, it hits the post... 

Join us here to watch it...
20:02
Massive blow for Aalborg with Mollgaard seeing red. His game is over, and what an important defensive figure for the Danish side. He leaves the court with six goals to his name. 
19:55
Last time out, Veszprem took the lead early in the second half and never looked back. This is for sure a different-look Aalborg to the one we saw at the start of the second half last week. There is a real drive here in this team and thanks to saves like these from Simon Gade, the Danish side could be in with a shout of an upset today. They lead 27:23 with 47 minutes gone. Juul-Lassen for Aalborg is on fire with seven, but the spread of goal scorers for the Danish side is impressive with nine netting. 




19:26
HALF-TIME: Telekom Veszprém 16:19 Aalborg Handbold
This game is eerily like last round's match (in fact, only one goal difference). Perfect start by Aalborg with signs of what is to come from Veszprém. The big question is: have Aalborg done their homework from the first outing and can they this time ebb Veszprém's second half efforts. Borozan has been firing on all cylinders, he's 5/6 while for Aalborg Mollgaard (4/6) and Juul-Lassen (4/4) have netted most. 
19:02
Well, just as expected, Aalborg have come bursting out of the gates! What an opening few minutes they have played here in Hungary. They are causing the Veszprém middle block massive issues with their line play often carving open the hosts' defence. 
As it stands, it's Veszprém 7:13 Aalborg with about 15 minutes gone. 
18:49 
Last round Aalborg had a great first 30 minutes against Veszprém, can the Danish side stick it to Veszprem again at home? Find out right now on EHFTV!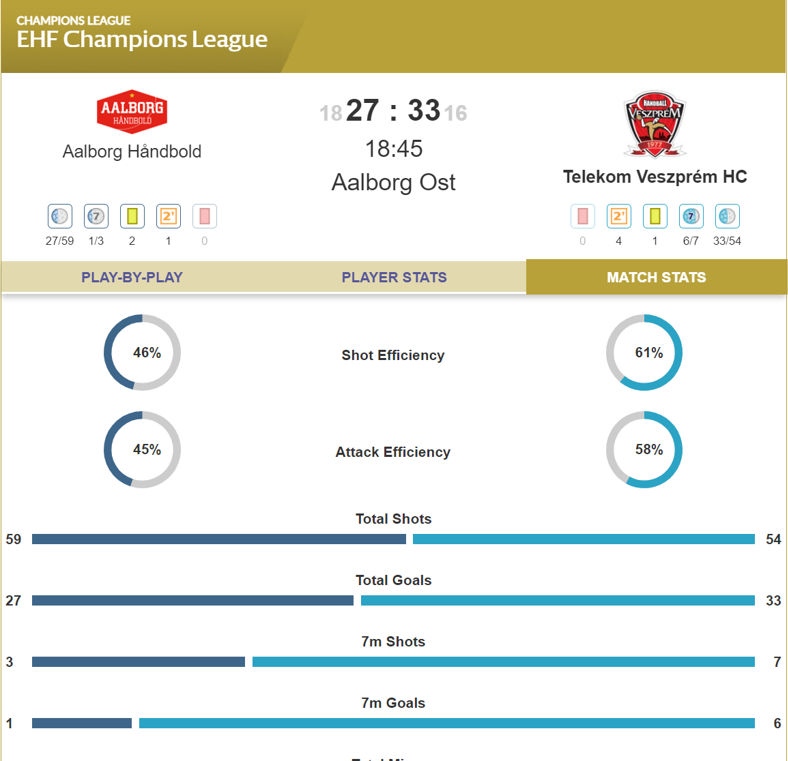 18:28
But up first of course is Group B match between Telekom Veszprem HC vs Aalborg Handbold (18:45) live on EHFTV.com

And the first images from the warm-up have just come in... 




18:13
Regarding MOTW up at 20:45 between Lomza Vive Kielce & HC Vardar 1961, while it is the clash of two massive names in handball, it is no secret who the in-form team is...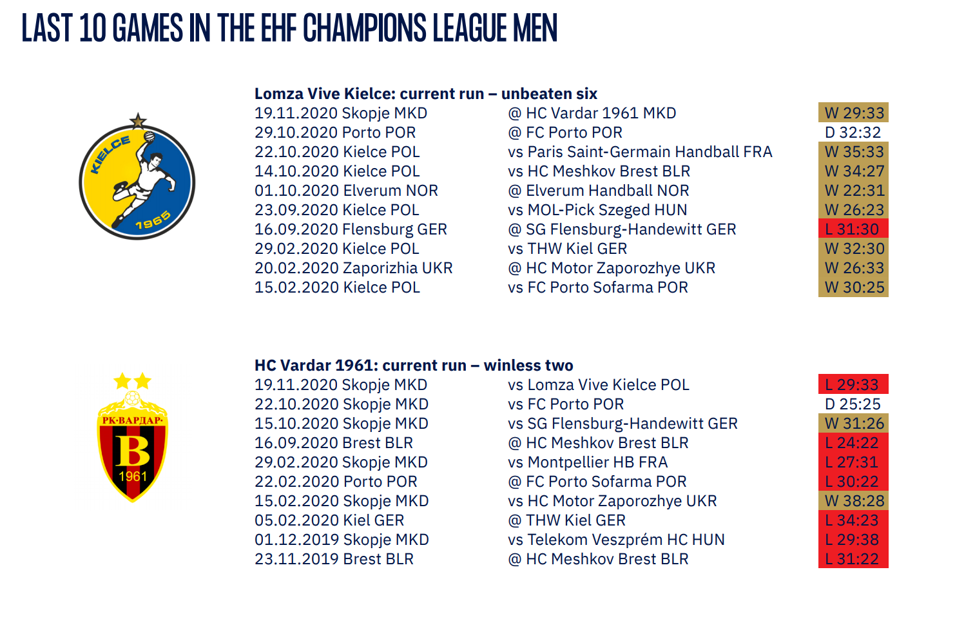 16:45
Two hours before Veszprém and Aalborg open tonight's round 8 action, I want to draw your attention to a Movember charity auction from the Hungarian club. You can bid for the shirt Jorge Maqueda is going to wear in tonight's game!
Read all the details in Veszprém's Tweet:
14:47
In the build-up to the MOTW between Kielce and Vardar tonight, EHF journalist Danijela Lemaić caught up Igor Karacic, the Croatian centre back who will wear the Kielce jersey tonight but has of course a past as Vardar player.
You can read the Karacic interview here or by clicking on the picture below.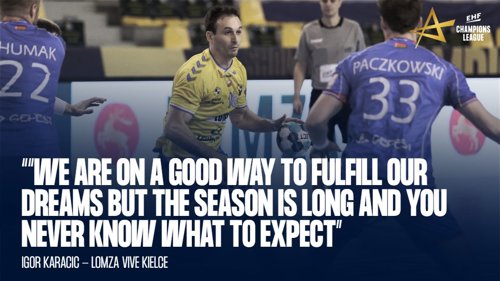 11:25
Here is today's schedule:
Telekom Veszprém HC vs Aalborg Håndbold (18:45 CET)
RK Celje Pivovarna Laško vs HBC Nantes (20:45 CET)
Lomza Vive Kielce vs HC Vardar 1961 (20:45 CET)
Celje and Nantes did not play last week, so we will take this chance to look back at Veszprém and Aalborg's match last week. In a game of two very different halves, the Hungarian powerhouse took their time to get going before storming to a relatively comfortable victory.
10:30
Good morning everyone and welcome to the live blog for the beginning of round 8 in the EHF Champions League. 
Three matches on the way this Wednesday, headlined by Match of the Week between Lomza Vive Kielce vs HC Vardar 1961 at 20:45 CET.