EHF Champions League
Summary: Brest and Metz taste victory in final round of 2020
The DELO EHF Champions League 2020/21 entered its final playing weekend before many of its stars will compete with their national teams at the Women's EHF EURO 2020 next month.
Round 9 contained four games in total on Saturday and Sunday, highlighted by the group B clash between Brest Bretagne Handball and Odense Håndbold in the Match of the Week. Here is how the weekend unfolded.
18:20
We will wrap up our coverage of this weekend's action with Sunday's best images. A pair of victories for France's finest leave both groups brilliantly poised for when we jump back into Europe's top-flight club competition in January 2021. Goodnight!
18:14
Today's games bring an end to the DELO EHF Champions League for 2020, with the group phase resuming in January.
The majority of the competition's stars now turn their attention to national team duty and EHF EURO 2020, set to begin on 3 December in Denmark if everything goes to plan. Here is the latest update from the EHF.
17:45
Below you can read the woman of the hour, Sandra Toft, had to say about the game and her team's fine run of form.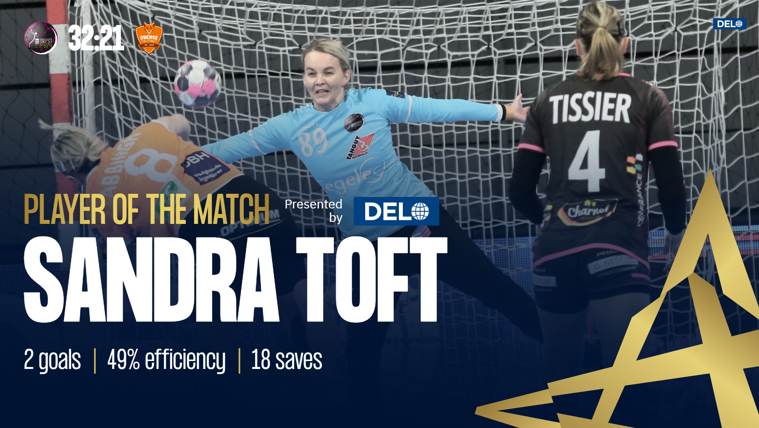 We played really well in defence in the second half. It is nice to score some goals as well, it doesn't happen so often.
We ended really well with four wins after a little bump against Moscow and it's really nice to finish the year in the top two.
17:24
No surprise that player of the match is Brest goalkeeper Sandra Toft, who was impeccable today. A 49% save rate and two goals scored into an empty net was her contribution today, but it was a brilliant team performance.
17:21
RESULT: Brest Bretagne Handball 32:21 Odense Håndbold
What a second half from Brest, who continue to find new ways of impressing in this competition. The French side were simply dominant in the second half and storm their way back into joint-first place in group B alongside Györ.
17:13
Difficult to believe this match was so close not so long ago...
The goal below saw Brest begin a 16:2 run! It's currently 30:17 and with eight minutes remaining it's a case of playing for pride for Odense now.
17:06
Sandra Toft, get outta here! The Brest keeper has scored as many goals as she has conceded in this second half - two.
Brest running the show here since half time and now lead 25:15 with 14 minutes left on the clock.
16:56
Brest have picked up where they left off in the first half. Three Gros goals and two from Foppa have given them a 20:15 lead eight minutes into the second period, while Odense are struggling to find a way past Sandra Toft.
16:42
Here is the brilliant double save I mentioned from Reinhardt earlier. A nice preview for the second half, which is just a few minutes away.
16:33
HALF-TIME: Brest Bretagne Handball 15:13 Odense Håndbold
It is half-time in Match of the Week and a Bella Gulldén buzzer-beater has given the hosts a two-goal advantage heading into the dressing rooms.
I mentioned Reinhardt already but check this out from the other top Danish keeper, Sandra Toft. Both keepers are well-over 40 per cent in saves and you get the feeling that the keepers could be the deciding factor today.
16:21
Odense continue to set the tone in Match of the Week with a 10:9 lead after 18 minutes. They are doing their level best to shut down the prolific Ana Gros, who has scored two from four attempts so far.
If you missed today's first match, take a look at the review below.
16:11
Odense look like they are here to play today. 12 minutes on the clock and they lead 6:5 after we have just seen a remarkable double save from their keeper Althea Reinhardt.
16:01
Showtime! We're underway in France and Odense are first on the board with a goal from Lois Abbingh.
15:47
Are you ready for Match of the Week? It is second vs fourth in group B today and just two points separate the sides with Brest ahead of their guests.
October's reverse fixture saw Brest claim a comfortable 31:34 victory but Odense have come on strong since then and victory over CSKA last week will have them believing they can turn the tables this afternoon.
Throw-off is at 16:00 CET and of course it is streamed live on EHFTV. 
15:30
RESULT: Team Esbjerg 25:28 Metz Handball
What a second half from Metz! After a collapse late in the first half, they seriously sorted themselves out at the break and came out with a brilliant performance. Scoring over 70% of their shots and winning the half 16:9.
This win puts Metz third in group A, while Esbjerg will need to scrap for a place in the play-offs early next year.
15:24
Esbjerg going with a fascinating three line player approach, which did not seem to be offering much until Kristine Breistøl fired in a shot over the pinned-back Metz defence. Metz still on top, however, and look almost home and dry with a 28:25 lead on 57 minutes.

15:13
Two very different attacking approaches on display right now. Metz looking to squeeze everything out of every attack as they preserve their lead, while Esbjerg look to strike early and often in an attempt to draw level.
25:23 to Metz as we enter the final 10 minutes.
15:06
Metz have flipped this game on its head once again! Meline Nocandy has been brilliant in this second half with five goals, leading the charge as the guests take a 23:21 lead with a quarter of the game left to play.

14:55
Bit of a scrappy start to the second half with some heavy challenged coming in. Tranborg gets herself a suspension for catching fellow Danish right back Burgaard in the face and Metz take advantage to cut the deficit to two - 17:15.
The away side will appreciate a few more saves like this if they are to turn this game around.
14:46
After being so cruelly denied a point by Rostov last week, Esbjerg are in dire need of some points before the winter break, sitting on just three from seven games. 
Two points today will launch them into a fascinating mid-table battle in group A, also featuring Metz currently on six points.
14:37
HALF-TIME: Team Esbjerg 16:12 Metz Handball
Emmanuel Mayonnade must be wondering what on earth happened to his Metz team in that final 10 minutes of the first half...
Esbjerg go on a stunning 9:1 run to lead by four at the break and at this rate probably wished half-time would never come.
Nerea Pena even grabbed a steal in defence, not something you see every day, and she seems to be settling in very nicely for Esbjerg with three goals so far today.
14:31
I have to give some credit to both goalkeepers, Rikke Poulsen and Hatadou Sako, who have made some brilliant saves from fast breaks today.
More importantly for now, however, Esbjerg have caught fire, storming to a 6:1 run and taking a 13:12 lead with three minutes remaining in the first period.
14:22
It is becoming a tense affair over in Esbjerg as both teams are providing us a mixture of great handball and some very dodgy play. A quickfire pair of fast break goals has given Metz their first substantial lead of the day - 11:7 after 20 minutes played.
14:09
An action-packed opening to Esbjerg vs Metz, with neither side taking an early edge. Sonja Frey is enjoying plenty of space to roam and is creating plenty of scoring opportunities but Metz have been more clinical with their finishing so far - 5:5 after 9 minutes.
13:47
Team Esbjerg vs Metz Handball get us started today and this should be a fun one. Esbjerg were on top for most of the reverse fixture in France, despite playing with a squad of just 10 women and no right wing, but Metz took the points.
Jesper Jensen's squad is looking a bit fuller today, particularly after the recent arrival of Nerea Pena from Siofok.
Metz may have a new signing of their own to celebrate in the near future as former EHF Champions League winner Yvette Broch has been training with the squad and is seemingly on the verge of a comeback after retiring in 2018.

13:30
It's an intriguing Denmark vs France day in Europe's top flight and the later throw-off between Brest and Odense is Match of the Week!
On our Twitter poll, most of you seem to fancy Brest as the favourites at home with 63.3% of the vote so far.
Sunday 22 November
13:10
Good afternoon everyone and welcome to our Sunday coverage of round 9 in the DELO EHF Champions League.
A bit of breaking news first - because of a positive Covid-19 case, it became necessary to postpone today's match HC Podravka Vegeta vs CSKA, initially scheduled for 16:00 hrs CET. A new playing date/time will be announced by the EHF in due course.
That means we have two games to look forward to today.
Esbjerg vs Metz (14:00 CET)
MOTW - Brest vs Odense (16:00 CET)
20:31
That is it for the opening day of round 9!
Tomorrow we have three DELO EHF Champions League clashes coming your way, including the Match of the Week, Brest vs Odense.
Follow our Instagram tomorrow as the Breakfast with Champions series continues with Sladjana Pop-Lazic (Brest) and Rikke Iversen (Odense), followed by exclusive coverage of the MOTW across all our social media channels and here on the live blog.
20:25
It was a great day for Hungary, as both their clubs took the points today. Check out the best photos of Saturday's action between FTC and Krim, Györ and Buducnost. 
20:13
Györ faced Buducnost with a depleted squad today, but with Nze Minko and Oftedal stepping up spectacularly, the Hungarian side still extended their unbeaten run to an incredible 45 matches.
Sergey Nikolaev walks you through how they did it in the match review below. 
19:56
Györ coach Gabor Danyi views tonight's victory over Buducnost as one of their most important of the season. Read his words below. 
I am very proud of my team, not only because of the game we played today, but also because of our attitude. This was one of our most valuable victories in this season. I would like to say thank you to Buducnost, that they played a very fair game today.
19:42
Time to take a look at the group standings after tonight's games. 
In group A, FTC have jumped several places, and now sit in third with eight points gathered from now four wins. Krim stay on four points in sixth place. 
In group B, Györ are the leaders with 14 points now, but just two ahead of Brest, who are to play the Match of the Week tomorrow versus Odense. The round 9 opponents, Buducnost, are still fifth with five points. 
See all the group standings here. 
19:26
FULL-TIME IN HUNGARY
Györ hold on to the end and keep the two points at home as they defeat Buducnost.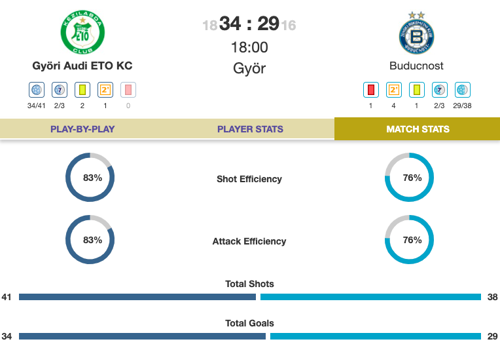 19:17
Lekic has been the absolute star for Buducnost tonight, scoring a total of 11 goals. Enjoy one of the best! 
19:03
And here you have it! Buducnost became the first team to reach 7,000 goals in the DELO EHF Champions League with these strikes. 
19:00
As we approach the 40-minute mark, Györ have well and truly taken control vs Buducnost, at 24:18 (minute 38). 
It remains a huge game from a few individuals, with Oftedal now on seven goals and Buducnost's Andrea Lekic on the same tally. Nze Minko stays on eight. 
18:35
HALF-TIME IN HUNGARY
As Nze Minko and Oftedal continue having blinding games, finishing the first half with seven and five goals, respectively, Györ grab the upper hand vs Buducnost right before the break.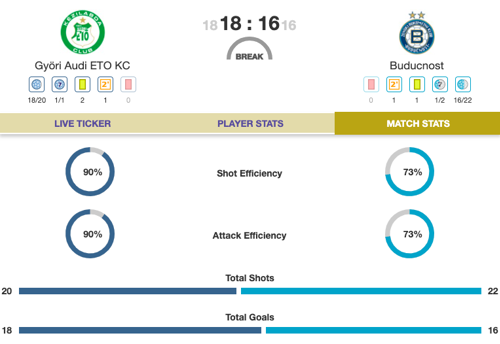 18:25
It's a tight game unfolding in Györ, with Estelle Nze Minko drawing the hosts level at 14:14 as we reach the 23rd minute. Buducnost temporarily opened a clear lead, but the Hungarian side were not willing to let that last long. 
While Nze Minko leads Györ with six goals scored already, Stine Oftedal has contributed three, including this incredibly well-placed and well-timed ground shot. 
18:20
FTC coach Gabor Elek credits an improved shooting performance as one of the keys to his side's win tonight. Read his words below. 
This is a very important victory for us. We knew it would not be an easy game. In the first minutes, we played very well, but later Krim came back and showed how good of a team they are. At half-time we spoke about everything, about our game, and then in the second half our shooting was better.
18:16
FTC have had a rough start to the season, and will be pleased to end their 2020 Champions League match schedule with tonight's victory over Krim. Adrian Costeiu takes you through how they did it in the match review below. 
18:09
LIVE NOW IN HUNGARY
It's a goal fest as Györ vs Buducnost gets underway, with 10 scored in the first nine minutes. Buducnost's next goal will take them past 7,000!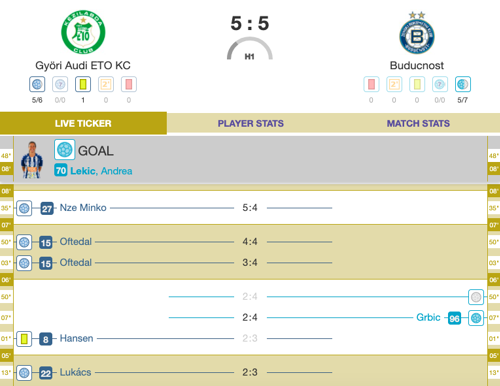 17:58
DON'T MISS THIS
Buducnost are sure to pass a historic milestone in this game: 7,000 goals in the EHF Champions League! They need six goals to do it, so be sure to watch live on EHFTV.com to witness the special moment.
Buducnost are the club to have scored the most goals in the history of the competition, so this is a never-before-seen achievement! 

17:44
We are not far from the second match of the day, Györ vs Buducnost. 
The Hungarian team are aiming to add to their unbeaten run and stay on top of the group, while the Montenegrin side need to gain some ground on the group frontrunners. They currently sit in fifth position in group B, with five points – five behind fourth-ranked Odense. 
17:41
Krim have started a charity initiative involving the sale of dolls as part of special ticket sales programme, replacing their usual season tickets. Funds raised are going towards athletes from socially disadvantaged backgrounds as well as the club's youth squads. 
Read more about it here and check out the photos they sent us today below!





17:24
FULL-TIME IN SLOVENIA
FTC secure the two points after showing great form it the second half and taking a 32:26 win vs Krim.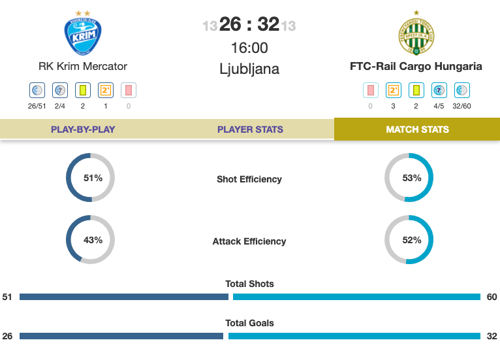 17:19
Inside the last five minutes, it is looking very much as though FTC have the two points all wrapped up. The Hungarian side lead 30:23 in minute 56. 

17:13
While Malestein has reached the eight-goal mark for FTC, her teammate Háfra is not far behind, with six goals so far. 
In the Interview of the Week, Háfra lamented having lost some speed and strength due to the lockdown period earlier in the year, but none of that is visible in this footwork on display below! 
17:11
As we approach the final 10 minutes in Slovenia, FTC are profiting off a strong start to the half and inching ahead.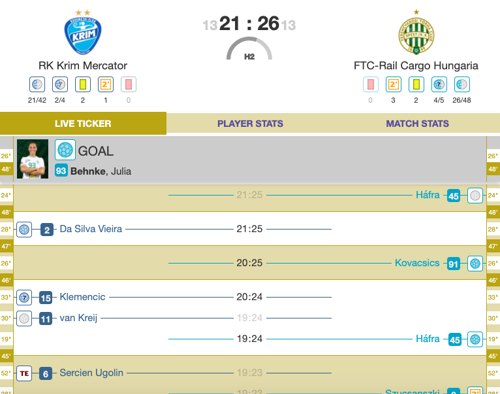 16:51
SECOND HALF LIVE IN SLOVENIA
We are back with the second half of this exciting clash Krim vs FTC. A defeat will be particularly devastating for the home side, who are currently sixth in the group with four points and will lose ground on the five teams ahead of them if they do not keep the points at home today. 
For FTC, the two points represent a chance to leapfrog both Metz and Vipers to settle into third position on the table. Should they lose to Krim, FTC will see the Slovenian side join them on six points. 
See all the group standings here. 
16:41
With four goals out of five shots, Sercien Ugolin was the leader in attack for Krim in the opening half. But her goals were not the only contribution.
Check out a great assist from the French back below! 
16:36
HALF-TIME IN SLOVENIA
We go to the break with the game still level, at 13:13. As the statistics show, it has not been a highly efficient half in attack from either side, so tidying up this aspect could be the key to the two points here in Krim vs FTC.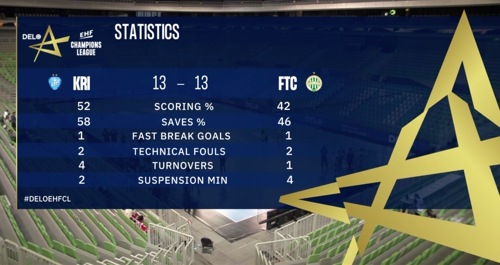 16:27
After pulling ahead to a lead as clear as five goals, FTC have seen their hosts come back and we now have a level game, 10:10 (minute 24), as the end of the half draws near. 
Angela Malestein was important for FTC early, scoring four goals so far, while Oceane Sercien Ugolin has contributed the same for Krim. 
16:01
STARTING WHISTLE IN SLOVENIA
We are live now with the first match of round 9, Krim vs FTC. Catch it live on EHFTV.com or follow on the live ticker.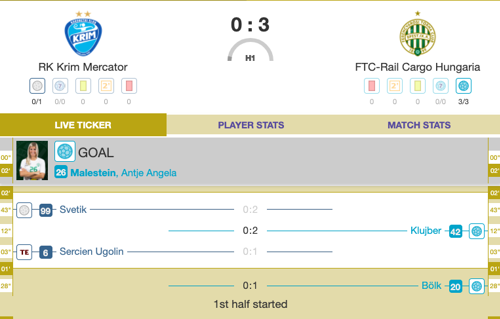 15:30
FTC back Noémi Háfra spoke to eurohandball.com in the Interview of the Week about the year so far and what's coming up next, including her hopes for her club team. 
Read the full interview here. 
A team works well when the members spend enough time together and there is enough time for the chemistry to be built. As we could not spend as much as we wanted to, we are lacking this chemistry. Our line needs to be warmed up together, get in form, to feel each other better.

SATURDAY 21 NOVEMBER

15:10
Welcome to the opening day of DELO EHF Champions League round 9!
Courtney Gahan here to take you through the two games on today's schedule: 
RK Krim Mercator vs FTC-Rail Cargo Hungaria 16:00 CET
Györi Audi ETO KC host Buducnost 18:00 CET
Both matches will be streamed live on EHFTV.com. 
FRIDAY 20 NOVEMBER
16:30
While we will take a closer look at all the other games when the live blog resumes on Saturday at 15:00 CET, we are going to leave you for today with a bit more detail on the Match of the Week.
Brest Bretagne Handball are on a three-match winning streak - including a 31:24 win in Odense - and Odense Håndbold are coming off a highly successful week, beating previously undefeated CSKA in the DELO EHF Champions League and adding a win over domestic rivals Viborg in a midweek Danish league game.
So let's hear from Odense coach Ulrik Kirkely:
We have a big focus on ending the fall season well before the European Championship. We are aware of keeping the momentum which we have created the last two matches, against CSKA and Viborg HK. The match is going to be a big challenge against a strong Brest team. We have to win the strong and physical duels and, of course, we need to control Ana Gros better than we did in our last match in Odense.

15:27
The schedule includes two games in group A and three in group B. To get into the weekend well-informed, reading the round preview from EHF journalists Adrian Costeiu and Sergey Nikolaev is a must.
That preview includes one match, initially scheduled for round 3, which was played Thursday night: Rostov-Don went top of group A with a clear 27:22 over CSM Bucuresti in Romania.
15:00
Good afternoon, welcome to the live blog for round 9 in the DELO EHF Champions League!
We are on the eve of the last playing weekend in 2020 before the attention in international women's handball will turn to the EHF EURO 2020, with the EHF Champions League resuming on 9/10 January 2021. So Round 9 provides the many stars with a last opportunity to shine for their club teams.
Here is our schedule for the weekend: