Israel secure M20 EHF Championship title in shoot-out
Israel claimed the M20 EHF Championship 2 2022 title in Bulgaria after beating Romania, 38:36, in a thrilling final on Sunday that culminated in a penalty shoot-out.
With less than seven minutes remaining, Israel led by five goals, 32:27, but Romania scored six of the last seven goals to send the title decider to a shoot-out.
In the bronze medal match, Switzerland overcame a two-goal half-time deficit against Greece to clinch third place with a 26:23 victory.
with Or Refael Levi scoring eight goals in the first semi-final, Israel claimed a 32:29 victory that ended Switzerland's perfect record in Varna. Israel built a commanding six-goal advantage at half-time and withstood Switzerland's fightback in the second half
in the second semi-final, Romania led by two goals against Greece at half-time. However, despite Erik Leonard Pop scoring nine goals in regular time for Romania, his side needed a shootout to progress to the final with a 35:33 victory
Switzerland goalkeeper Roman Bachmann made 14 saves from 37 shots faced (37 per cent efficiency) in their bronze medal match win against Greece on Sunday  
Israel and Romania were level at half-time and after 60 minutes in the final, but Israel claimed the title after winning the shoot-out 5:3. Or Refael Levi and Nadav Cohen scored seven goals each for Israel, while Erik Leonard Pop netted the same total for Romania
North Macedonia beat Luxembourg 27:23 on Saturday and Ukraine 26:23 on Sunday to finish in fifth place
For more details on the results and top scorers at the M20 EHF Championship 2 2022, click here













Penalty shoot-out drama highlights final weekend
On the final weekend of the M20 EHF Championship 2 2022 in Bulgaria, there was not one but two penalty shoot-outs that would contribute towards deciding the winners of the tournament.
In Saturday's second semi-final, Romania ended Greece's four-match winning streak with a 3:1 win in the shoot-out. For Greece, who a held a 30:27 advantage inside the last 10 minutes, missing their first three penalties of the shoot-out effectively ended their hopes of reaching the final.
While Romania enjoyed the thrill of winning a penalty shoot-out on Saturday, they experienced contrasting emotions in Sunday's final against Israel. For the second time in two days, Romania centre back Tamas Katona failed to convert a penalty in the shoot-out. Erik Leonard Pop, Ianus Dumitrescu and Alexandru Daniel Moldovan all stepped up to score again for Romania, but Israel clinched the title when Or Refael Levi scored their fifth penalty from five attempts.
Final ranking
Gold Israel
Silver Romania
Bronze Switzerland
4th Greece
5th North Macedonia
6th Ukraine
7th Luxembourg
8th Great Britain
9th Lithuania
10th Kosovo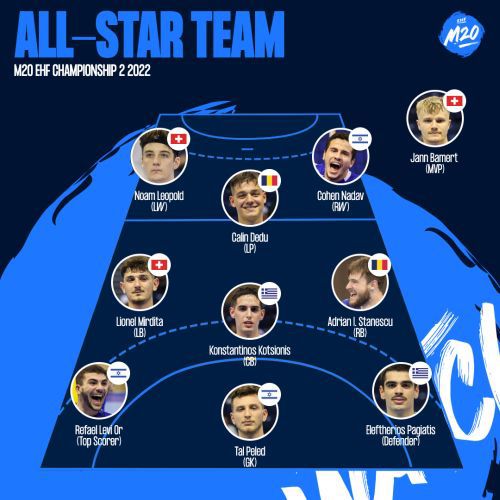 All-star Team
Goalkeeper: Tal Peled (Israel)
Left wing: Noam Leopold (Switzerland)
Left back: Lionel Mirdita (Switzerland)
Centre back: Konstantinos Kotsionis (Greece)
Right back: Ionut Adrian Stanescu (Romania)
Right wing: Nadav Cohen (Israel)
Line player: Calin Dedu (Romania)
Best defender: Eleftherios Pagiatis (Greece)
Most valuable player: Jann Bamert (Switzerland)
Top scorer: Or Refael Levi (Israel, 43 goals)